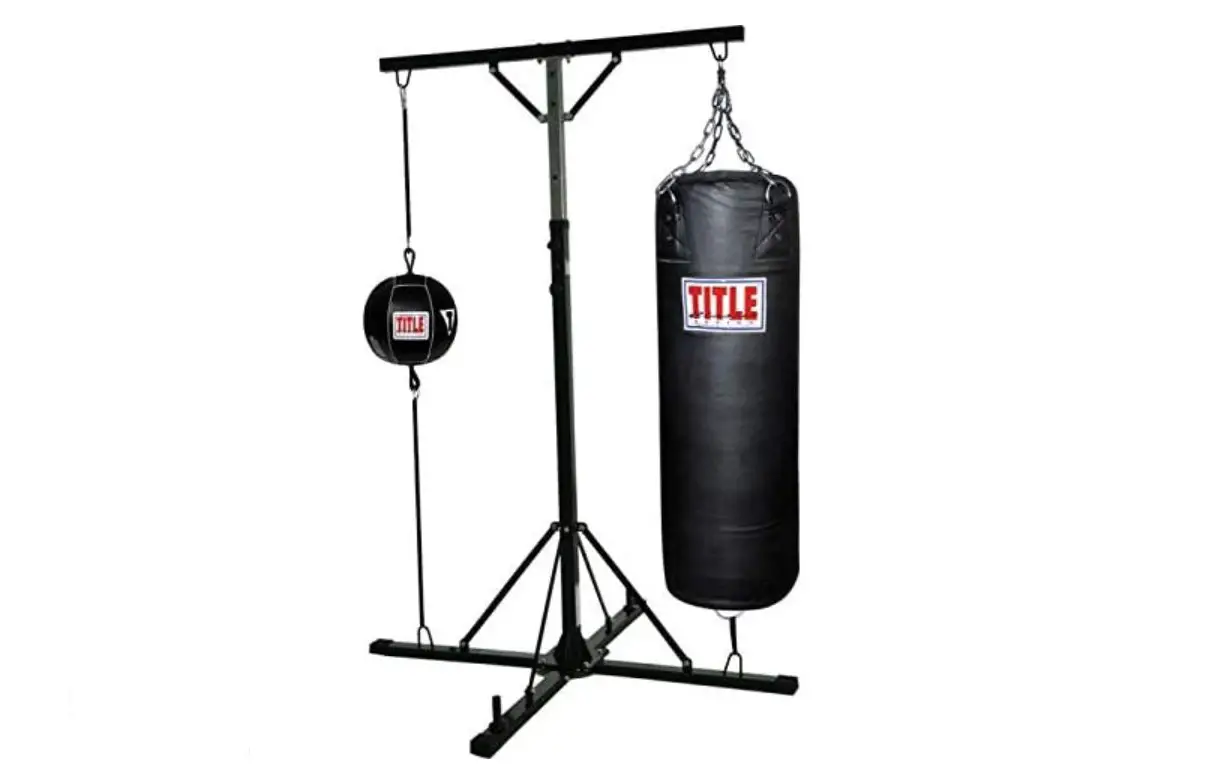 Having a personal heavy bag in your house or garage is probably a dream for everybody who's interested in fitness and especially boxing.
For the brave few who actually take this a bit further and look into doing it, we have compiled a guide for the best way to do it. You can either hang the bag from a wall or the ceiling or you can get a heavy bag stand.
All bag stands come in all different shapes and sizes and the biggest problem with them usually is that they restrict your movement around the bag so you can't work on your foot movement.
The title double trouble heavy bag stand has topped the list as the best budget option on the market and one of the main reasons is that the design allows you to move freely around the bag.As the name suggests, it also holds two heavy bags of 120lbs each are you can choose a combination of a double end bag and a heavy bag, and aqua bag, an angle bag or whatever suits you the best. All in all, it's a really good purchase.
Check Out The Reviews Here:

Design And Specifications
The design of this bag stand is what makes it so special. It has a cross design at the bottom, with four legs holding the stand steady when weighted down properly. Most other designs have two legs protruding at the front and one at the back and this stops you from circling the bag, creating angles and using your footwork.
For me that's one of the key parts of a good heavy bag workout and if I cant use my footwork I am not too interested in that bag.
The title allows this free range movement I want to start as effective as something like the Century Cornerman or the Onslayer bag stand, it is by far the best we've seen at this price point.
Adjustable Heights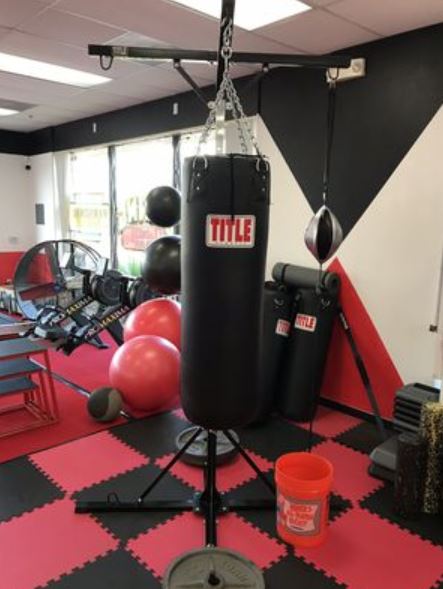 You can adjust the height of this bag to suit your individual needs, it goes up to 90 inches which will suit almost any height of fighter and the other options are 84″, 78″ and 72″.
The design is square at 60 inches long and 60 inches wide. at the bottom.
The stand has D rings at the top and the bottom for mounting the bag and keeping it securely tied. These are welded on and if the stand does degrade over the years this is probably the first thing that will go.
The other two sides have weight pegs on the ground. They are designed to put weight on to hold the stand in place. We find that the pegs are not useful as you don't want to put expensive plates onto a $200 stand. Getting bags and filling them with sand is a much better option.
Once you ensure that you have enough weight in the centre of the stand, it shouldn't rock back and forwards and make a lot of noise.
Two Options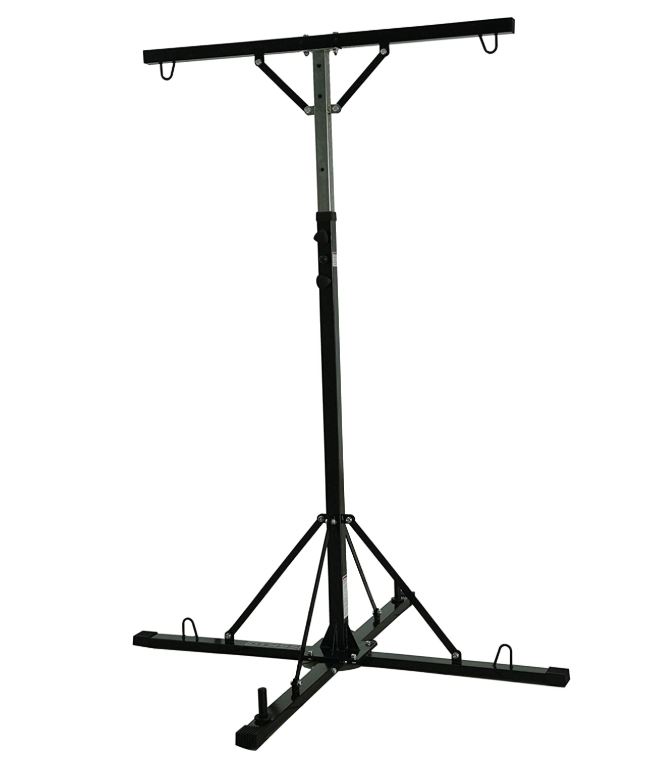 You can buy this on its own with just the stand and it will cost you only $200 are you can get it with a 70 lb title heavy bag and they're double end bag for $300 which also represents great value.
Pros of the Double Trouble Bag Stand
Excellent design allows movement all around the bag
Holds two bags when most only hold one
Can be secured with Sundays away place so it doesn't rock back and forth
Best Value Stand Bag on the market at this price
Cons
Bag is quite close to the stand
Need to use a lot of sand bags to hold it down
D Rings are welded on and might degrade with heavier bags overtime
Music
Check Out The Reviews Here:

Do We Recommend Buying The Title?
If you were on a budget and you want to get the most bang for your buck, there's nothing coming close to this unit for $200 or even for $300 with the two bags.
The best option for you will usually be a ceiling or wall mounted heavy bag. That is the cheapest way and what you usually find in commercial gyms, so it can give you a fully professional setup for less money. If you're renting your house or don't have permission to drill into walls this won't be an option for you.
If you have a bit more money, we would recommend that you look at the Century Cornerman unit
The Century Cornerman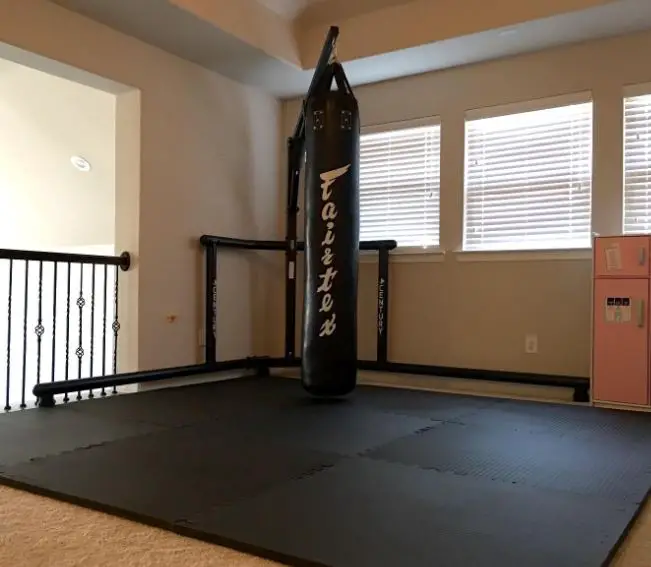 If you have more budget and you want a more professional setup, Century Cornerman is what you're looking for.
This has a unique design, with two legs that extend out horizontally 7 and a half feet each and a centre unit that hangs the bag away from it.
It raises to 100 to inches so it's perfect for taller Fighters and it can hang a 100 lb heavy bag.
The design of the Cornerman means you don't have to put any additional weight on it and it doesn't rock back and forwards making noise.
It can hang a full length Muay Thai bag but we always recommend the ringside 100 lb heavy bag as our number one choice. It is soft filled and it is the bag that Floyd Mayweather uses.
CHECK OUT MORE REVIEWS HERE:

The other option you have if you don't want to hang the bag is a freestanding heavy bag. We've compared freestanding vs hanging in this article.
Ringside Elite FreeStanding Heavy Bag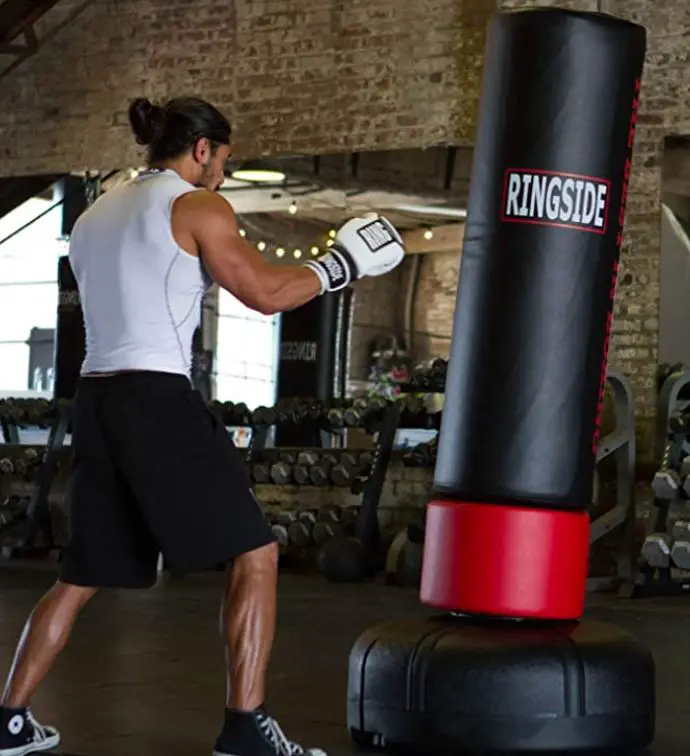 The best freestanding bag that we've seen is the ringside elite.
It is 6ft 4″ tall and no matter how hard you hit it it won't fall over like other free standing bags once you fill the base with sand or water it will sit steadily on the ground.
The bag is not too overly responsive so you can hit with combos as well as hard and explosive punches and Kicks.
It doesn't take up too much space and you can store it away afterwards.
Number 1: Our number one option is the wall mounted or ceiling mounted heavy bag
Number 2: will be the Century Cornerman but it costs $450 plus the cost of a bag.
Number 3: If you're on a budget number three will be the Title Double Trouble Stand Bag with the bags included for $300. It's not a high-end set up but it is the best available at that price.
Number 4: will be the ringside elite, it cost $400 but it's the only one who's seen that doesn't fall over and it can stand up to heavy workouts, I really like that back too.