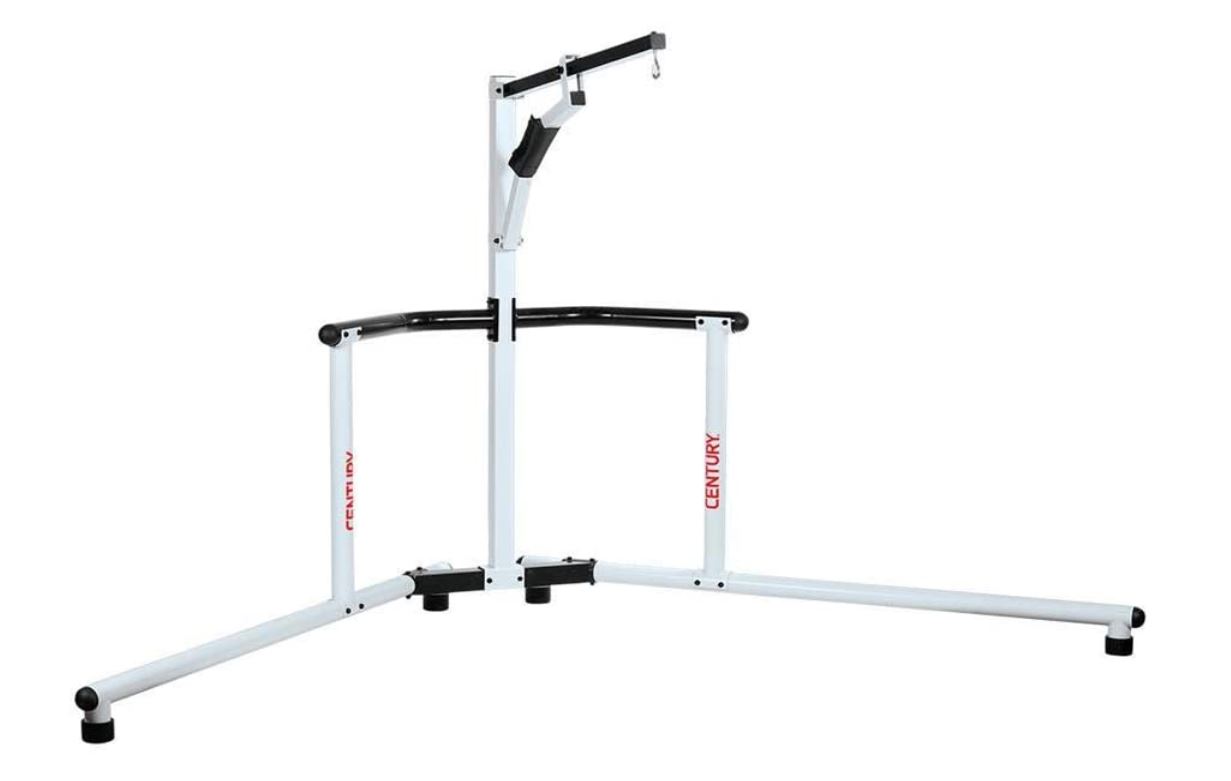 If you are starting a home gym, a heavy bag is one of the most coveted items that most people will immediately consider. Having seen many botched attempts over the years, it is important to get the bag right. Wall or ceiling mounts are ideal, but that is not suitable, heavy bag stands can be the perfect substitute.
The Century Cornerman is probably the best heavy bag stand that we've seen to date, it doesn't move, rock or make noise when you hit it. Allows you to move around the bag, practicing your footwork or creating angles for your punches along with practicing your kicks. Most heavy bags stands will improve your movement and that is why we always recommend the century cornerman.
Design And Specifications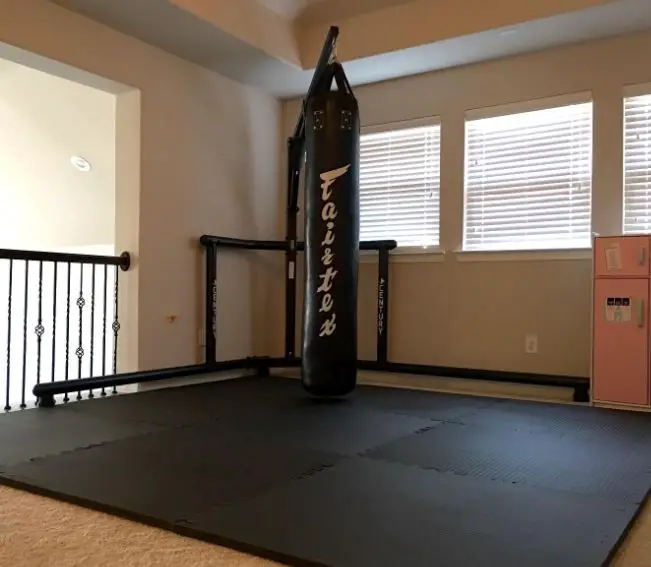 We feel that the corner man offers the perfect balance between quality and value. The unit is made from 3″ round, high-grade steel which ensures that this is a purchase that last for years to come. The Cornerman itself weighs 80 Lbs.
The design of the Cornerman is pretty much unique in the heavy bag stand market, it's got two legs which spread out vertically 7 and a half feet either side, and it facilitates a solid and robust piece of equipment.
The corner man has a central support beam that hangs out from the unit and allows you to hang a heavy bag. It has an adjustable fight from 72″ all the way up to 102″, and it can hold a heavy bag up to 100 lbs in weight.
This is perfect for holding a full length Muay Thai bag and pretty much any other bag you could think of that weighs 100 lbs or less.
What We Like About The Cornerman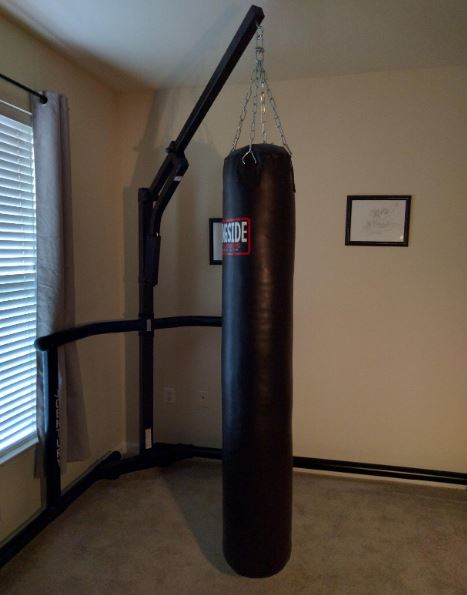 The Design Allows 180 Access To The Bag
One of the biggest downfalls with heavy bag stands is when the supporting legs stick straight out so you can only stand straight in front of it and throw punches.
Footwork and creating angles is one of the most important parts of boxing or martial arts and when this movement is restricted, it takes away a lot of the appeal of having a heavy bag in the first place.
This is brilliantly designed so the bag hangs far away from the wall and you have unfettered access to work around the bag at 180 degrees.
It Doesn't Make Noise
If you go with one of the cheaper heavy bag stands, you will need the way down weight plates or sandbags and even then the units for rock back and forward every time you hit it.
Those weight plates will Clank together making agreed just noise and if you live with someone else it will end up driving them mad, even if you're isolated in the garage.
The biggest noise that I find with the cornerman, is when I am hissing and shouting when I throw my punches, it virtually makes no noise by itself which is a huge plus.
The Height
When you're 6 ft 5 like me, one of the biggest concerns will naturally be whether the heavy bag stand will hold your bag high enough so that you can punch straight out or upwards.
When you invest in the corner man, you're getting a stand double adjust at any height even for the tallest fighters.
It Fits Perfectly In The Corner
This is not a heavy bag stand that's gonna impede into the middle of the room. The legs are designed to run parallel with your wall and you can always take the bag off when you're done.
The only restriction for having this stand bag, is that the walls in your room run at least 7 1/2 ft needed direction.
Achieve The Perfect Setup
The way the unit comes out from the wall it means you can cover the floor all around it with jigsaw mats and this will give a real authentic gym feel, right in the middle of your home.
Easy To Change The Bag
If you're anything like me, you liking all different kinds of bags. I like to go from the standard heavy bag, to the angle bag, to a wrecking ball bag and even a double end bag, over and over again in the same workout.
You can easily change bags with the corner man, just reduced the adjustable height, get a small step ladder and you should be able to change it without hassle or yourself or with a partner.
What They Could Do Better
Some people say that the quality of the steel could be a bit better but we found the unit to be strong, sturdy and reliable.
The price is high at $450 but, even at this price point there is no heavy bag stand that can come close to it.
Do We Recommend It?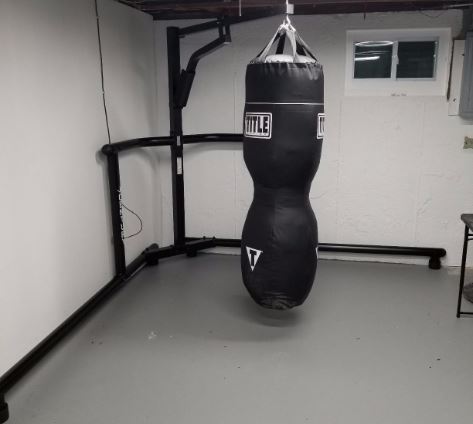 Ok, so a wall or ceiling mounted heavy bag is probably going to be the cheapest and best option. If, for whatever reason, you can't use a wall mount, you are renting the house or the walls aren't suitable, we truly believe that the Cornerman is your next best option.
If you go with the cheaper option, it is a bit of a minefield and it's going to cause issues in one of the categories whether that's noise, height, or restrictions in your movement.
It's very hard to fault the corner man and it gets a 10/10 recommendation from us as one that's definitely worth checking out, even though it costs $450.
Check Out More Reviews Here:

Other Heavy Bag Stands To Consider
Balazs Universal Heavy Bag Stand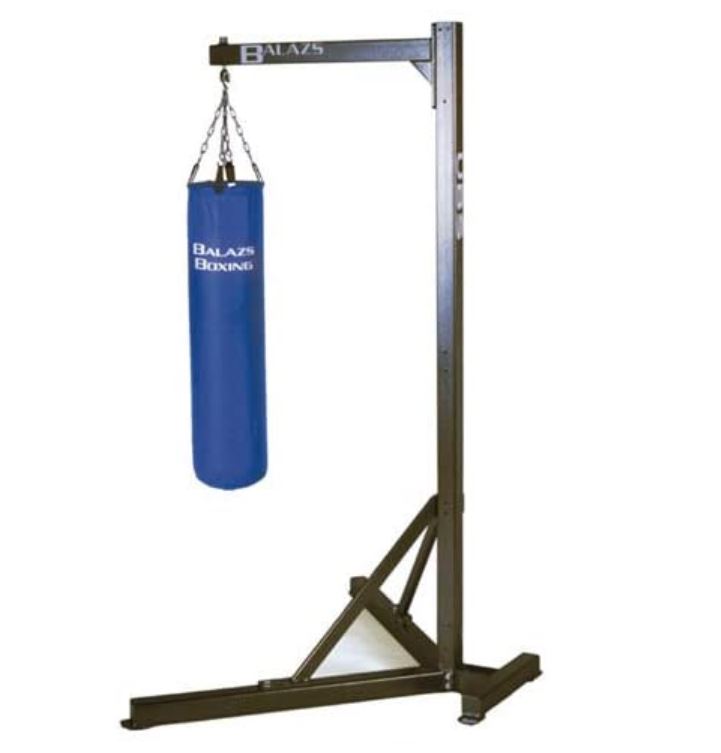 The Balazs stand Bag is another quality design, it takes off even less footprint than the corner man but it does cost a lot more at $1,300.
You don't need any ways to hold this one down and it doesn't make any noise. What's more, is that it can hold a 300 lb heavy bag. This also has a height of 95 inches and it can support a full length Muay Thai bag.
The movement is a little bit more restricted by the supportive arms and we would still recommend the cornerman even though this one is a strong contender.
Check Out More Reviews Here:

Title Boxing Double Trouble Heavy Bag Stand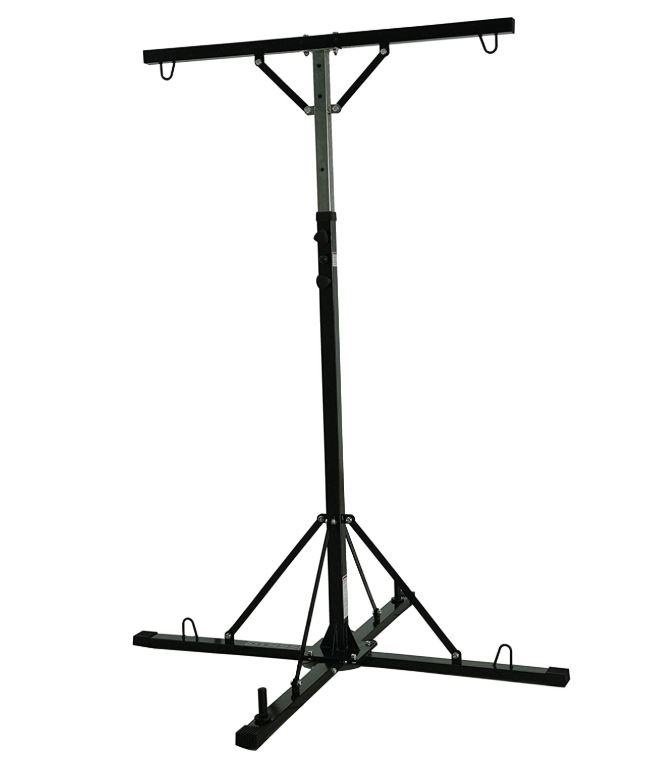 This is another innovative design and one of my favorites for allowing access to move around the bag. The Foundation of the stand is a cross shape, two legs have pegs to hold weight plates or sandbags and two of the lakes have the Rings at the top and bottom that allow you to hold a heavy bag or a double end bag.
You can buy this one on its own for $200 or you can buy it with a 70 lb title heavy bag and a title double end bag for $300 which is great value. The key issue with this one is going to be the noise, if you don't wear it down properly it will rock around and make a loud noise every time you put it.
That being said, it is probably the best budget option and something to consider if you don't like the corner man.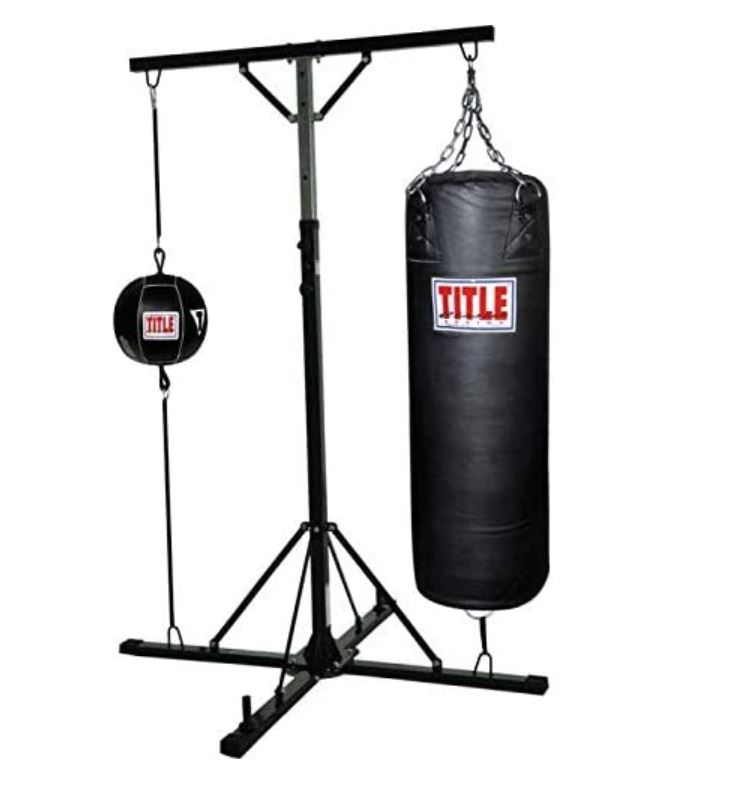 Check Out More Reviews Here:

A Look At The Other Century Heavy Bag Stand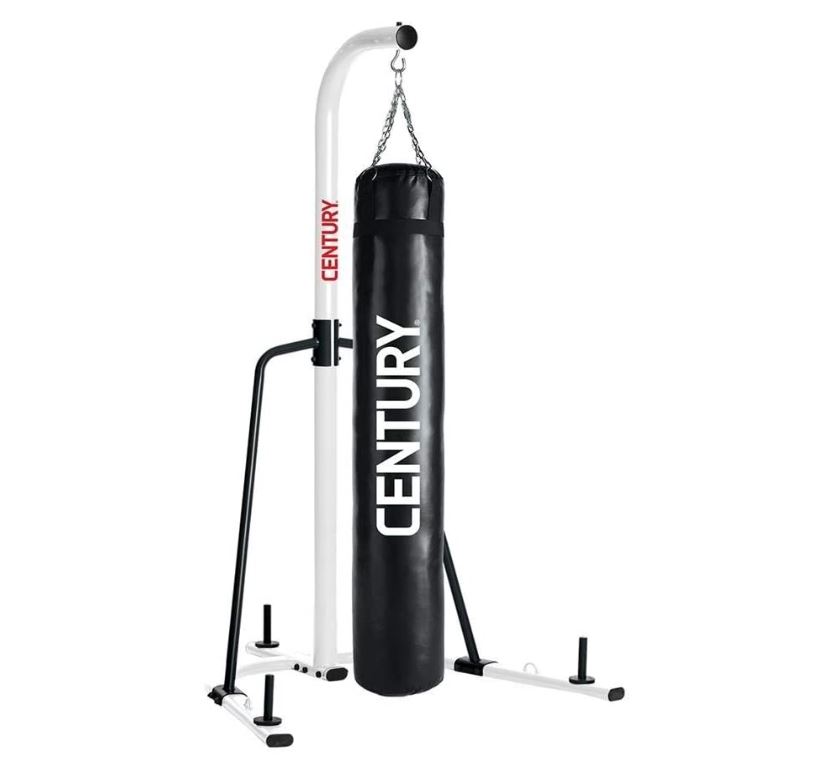 Century have another couple of entries that a heavy bag stand that is not so successful. The one size heavy bag stand has a restrictive design that doesn't allow you to move around the bag and you need to put plates on the front and back which makes a lot of noise.
The stand is made of good quality steel and it is well priced at $120 but the century cornerman is a far superior unit.
Overall
Overall, we would definitely recommend the cornerman as the number one heavy bag stand on the market. If you're looking for more info check out our heavy bag stand buying guide here.