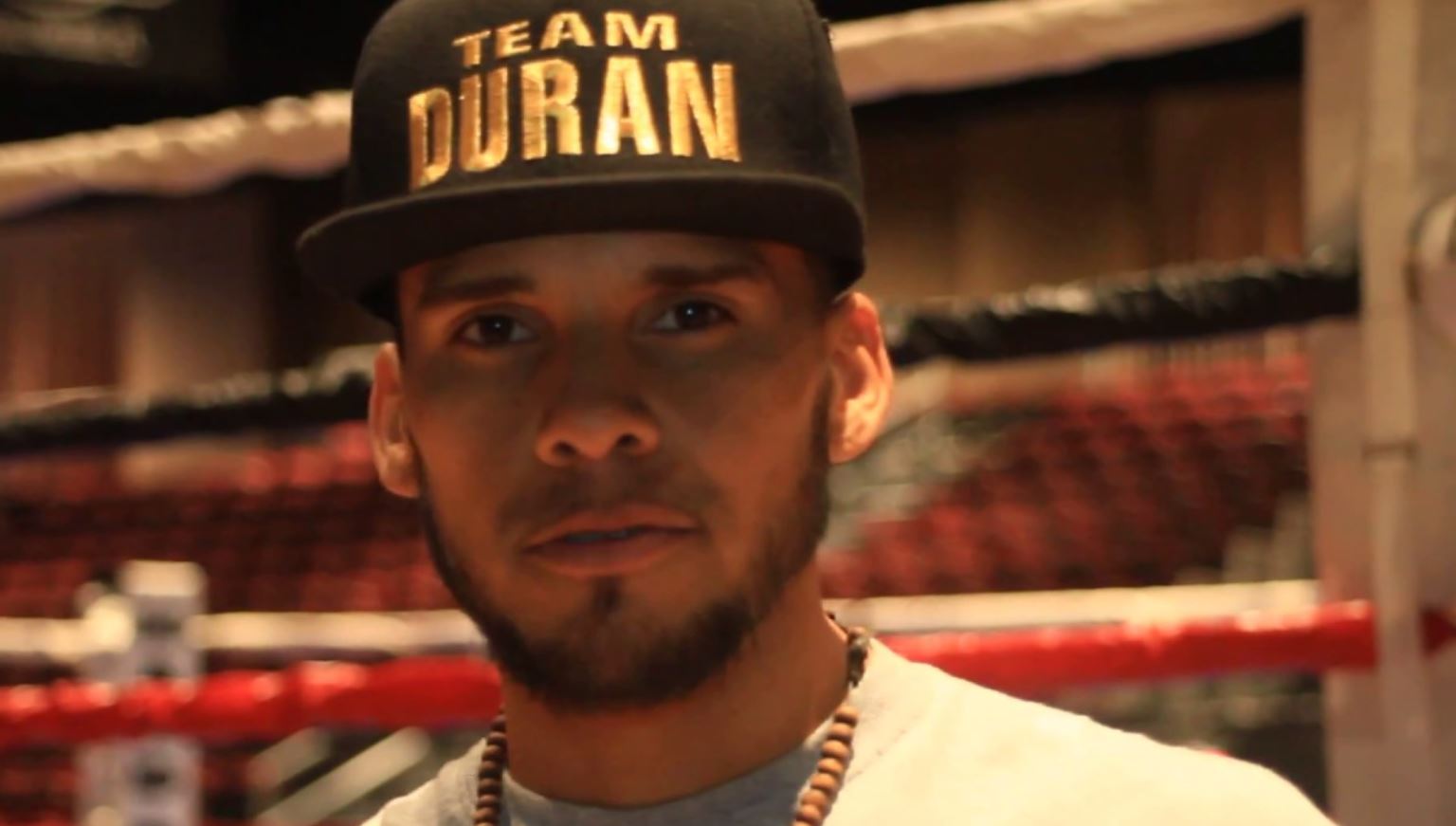 The name Roberto Duran is one that every boxing fan knows. When you have a father that won over 100 fights (103-16 record) then you have a lot of living up to do. That's the task facing Roberto Duran Jr. and it is one that he is relishing.
Roberto Duran Senior had a glittering career but knew how to take a loss and improve from it. It's a lesson that his son is already learning. Will Junior be able to make the same sort of impact that his father had and produce those special moments?
Roberto Duran Senior – Hands Of Stone
Roberto Duran carried the nickname of hands of stone after coming through a tough childhood, discovering boxing and quickly realizing that he had amazing power, knocking out opponents in sparring at will.
Roberto Duran would go on to be a 4 weight world champion, having many bouts with Marvin Hagler, Thomas Hearns and Sugar Ray Leonard as a member of the four kings, a prestige group of middleweights that set the standard with some amazing fights.
Robert Duran Jnr Career To Date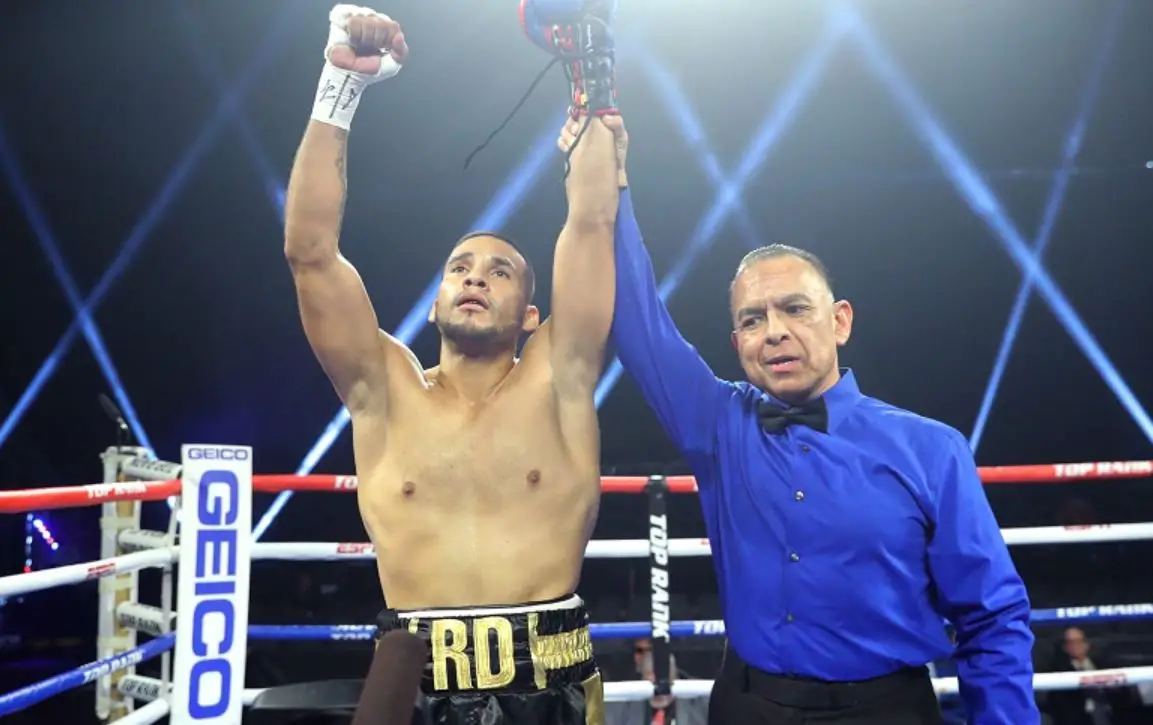 With having such a famous father and only having five fights, you'd be forgiven for thinking that Robert Duran Jr was a young guy. Instead, the 31-year-old has had to create his own path with the pair not having a relationship.
Junior carries a bitterness of hardly ever seeing his father as he grew up. He was able to win his first three fights but the fourth was a lot more difficult as he lost a four-round contest vs Jermaine Corley by a unanimous decision.
"My mom and grandparents would show me his fights, and tell me who he was. I was proud, when I was younger. It was a great feeling to have a father figure of that status but, as I got older, I realised he wasn't around so I no longer have the feelings that a son should have towards his father. When I was young, I would see him here and there. But we were never close, like he is with my other brothers."
Almost as a slight at his father, the man training Junior is Vinny Paz who fought, and defeated, Roberto Duran Senior on two occasions by unanimous decision. With no advice from his father, Junior has developed a close relationship with Paz.
It's clear that he carries a lot of power in both hands but has shown to get hit too easily. Against Corley, he was drawn into a horrible fight on the inside when he should have simply outboxed him. His last fight vs David Vargas showed more patience and ring craft.
Roberto Duran Jnr UK Debut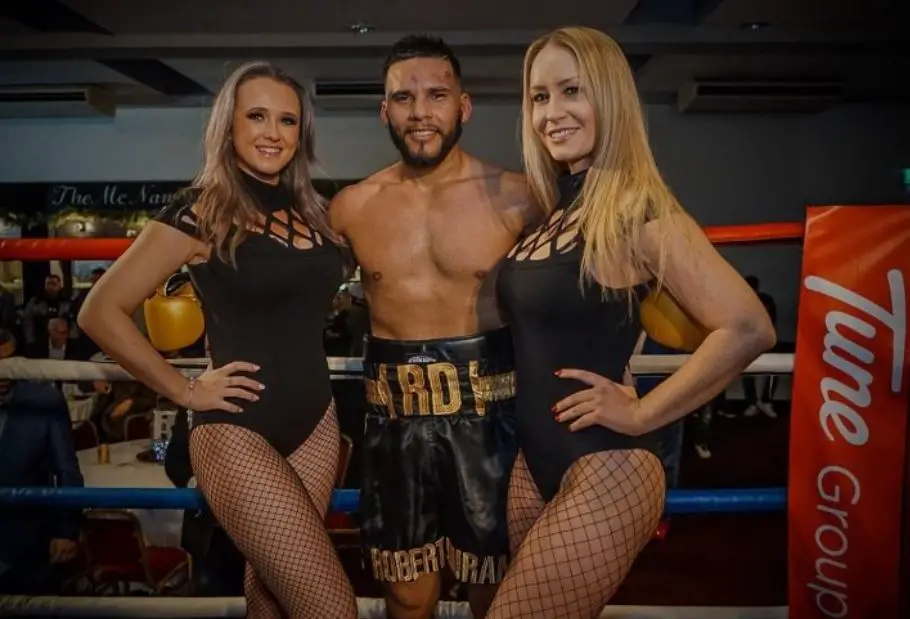 Duran Jnr kicked off his UK debut with a victory over Juan Carlos Santana at the end of 2019. The fight was part of jabbing, not stabbing Uk fundraiser and the Florida Based Duran Jnr went down at treat with a stoppage victory.
Robert Duran Jnr KO
Following on from his loss to Corley, Duran Jnr had to show improvements. He did that against David Vargas with a clinical performance and a stylish knockout. He dreams of a world title and needs to keep improving with solid performances.
Watch It Here:
Robert Duran Jnr Style And Comparison To Duran Senior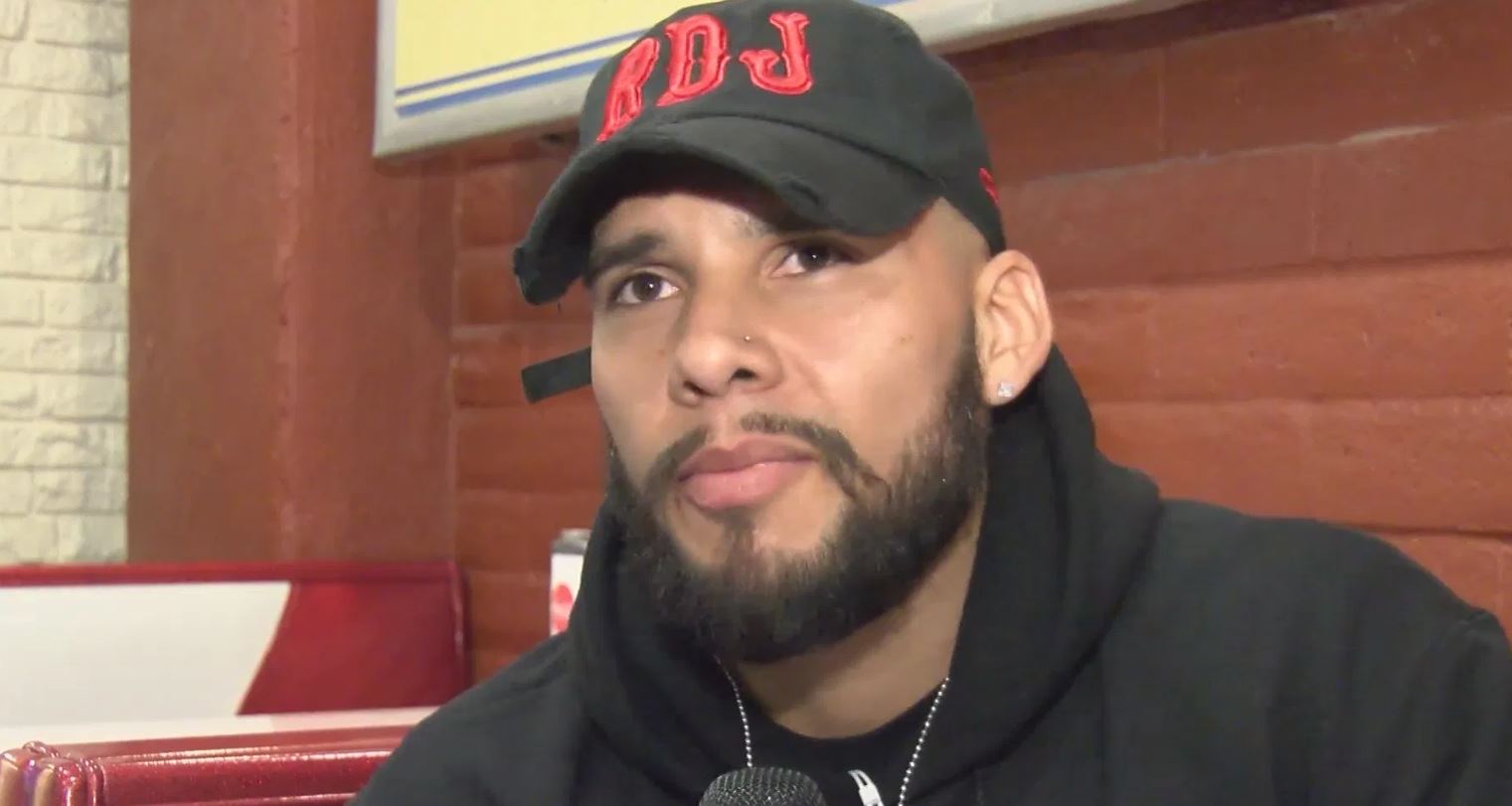 Despite the complicated relationship with his father, Junior watches his father's fights and considers it his homework. The two are very similar in stance with that right hand held up high and the left bobbing up and down.
It's clear that Jnr has styled himself on his father with keeping his hands loose and constant head movement. His father had the nickname of 'Hands of Stone' and going by his knockouts thus far, it seems his son carries a lot of power as well.
Possible Next Fights
At 5′ 10″, Duran is well built and fights in the welterweight division which seems like a good fit. He wants to become a world champion but at 31, time is not on his side and he'll want to take the next step as soon as he can.
The likes of Errol Spence and Crawford look a million miles away at the moment but a matchup against the likes of Devon Alexander may be a good testing ground. It may even be a good idea to match him up against another famous son, Nigel Benn's son Connor.
How far Duran Jnr can go remains to be seen. Hopefully he can achieve what he wants before he calls "no mas" on his boxing career.
Robert Duran And Son FAQ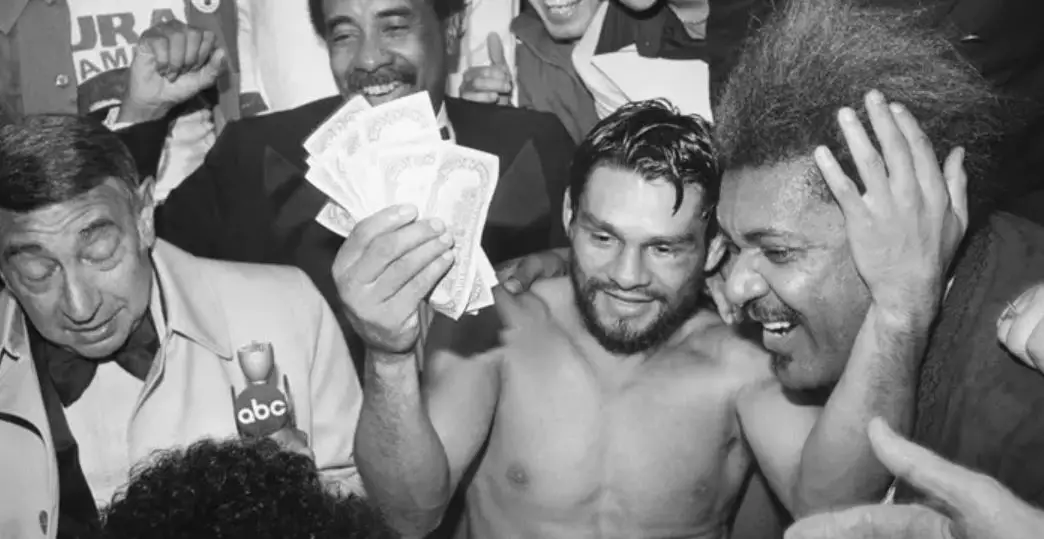 What nationality is Roberto Duran & His Son?
Roberto Duran and his son are Panamanian although Roberto Jnr now is based in Miami, Florida. Roberto had a tough life growing up on the streets before finding refuge in the boxing gyms and going on to greatness.
How many world titles did Roberto Duran win?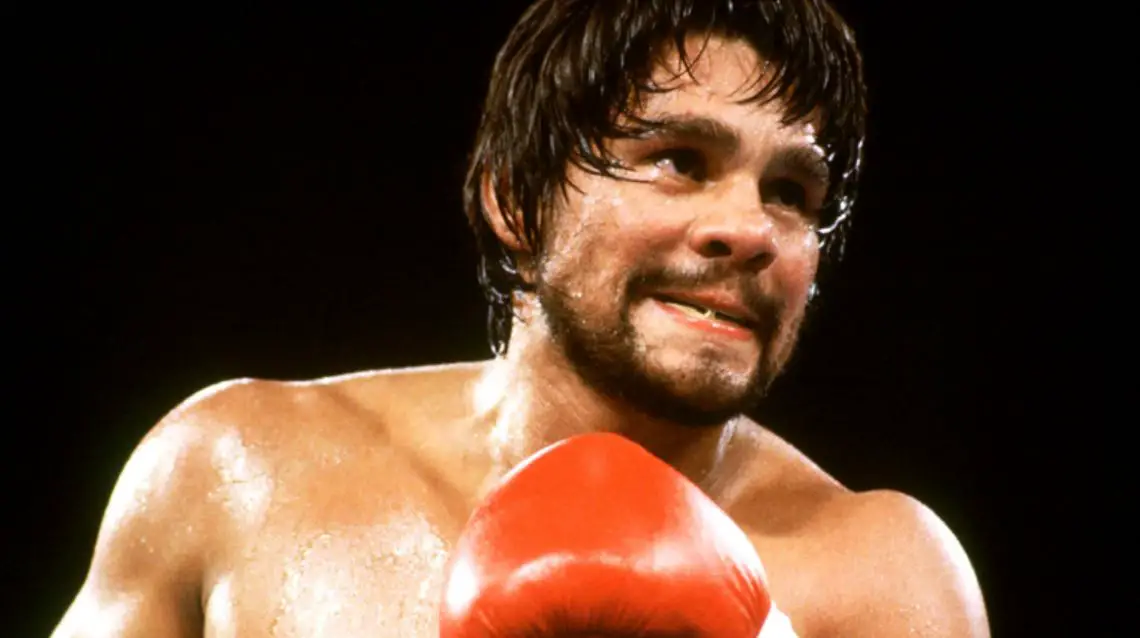 Roberto Duran won 4 word titles is an amazing career that spanned 4 decades. He started his pro career in 1968 and it ended in 2001, during which time he amassed an impressive 58% Ko Ratio.
His first world title came against Ken Buchanan in 1972 at Madison Square Garden where he won the WBA Lightweight world title which he would go on to defend 12 times before adding the WBC lightweight belt against Esteban De Jesus in 1978.
Duran won a huge fight against Sugar Ray Leonard whose son is now also fighting in 1980 at Montreal to become WBC Welterweight champion, although he lost the rematch and infamously said, No Mas during this fight to signal he would no longer continue.
Duran Added a Super welterweight WBA crown to his collection at the second time of asking against a game Davey before consecutive losses to Hagler and Hearns.
Duran would go on to claim middle weight glory in 1982, defeating Iran Barkley to claim the WBA middle weight championship of the world.
Why Did Duran quit?
Duran quit against Leonard out of frustration. Leonard boxed a clever fight and Duran couldn't deal with it. He couldn't land a bunch on Leonard and he didn't appreciate the way Sugar Ray was fighting so he uttered the immortal worlds 'No Mas' or 'No More'
Is Roberto Duran still married?
Roberto Duran married his high school sweetheart, Mia Felicidad Duran. Apparently, they have been together since she was 14 and they have raised 6 children together including Roberto Duran Jnr.
How old was Roberto Duran when he retired?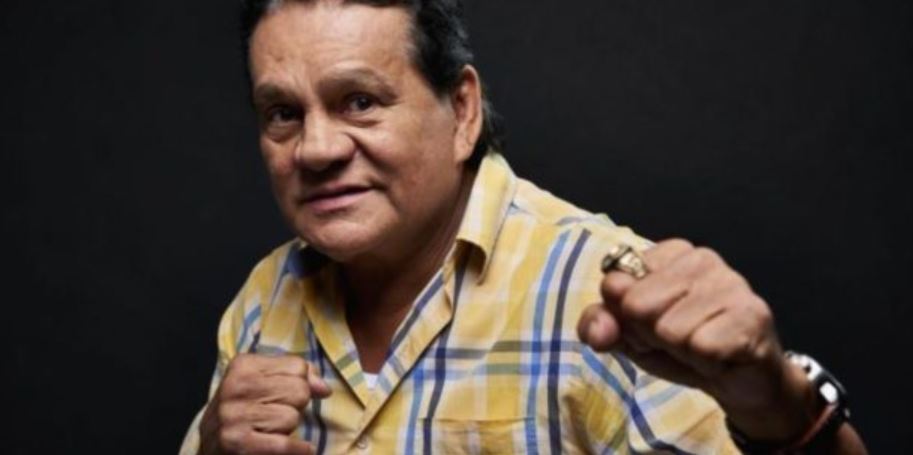 Roberto Duran retired in 2001 at a whopping 50 years old. His career ended with 103 victories and only 13 defeats making him Panamas all the best and a boxing hall of famer. A tough mantle for Duran Jnr to live up to.
Why was Roberto Duran called Hands of Stone?
Robert Duran was called hands of stone because he learned very quickly that he punched extremely hard as he would knockout seasoned veterans in sparring. Leading up to his fights he would fight much bigger guys and his style in the ring was aggressive and confrontational.