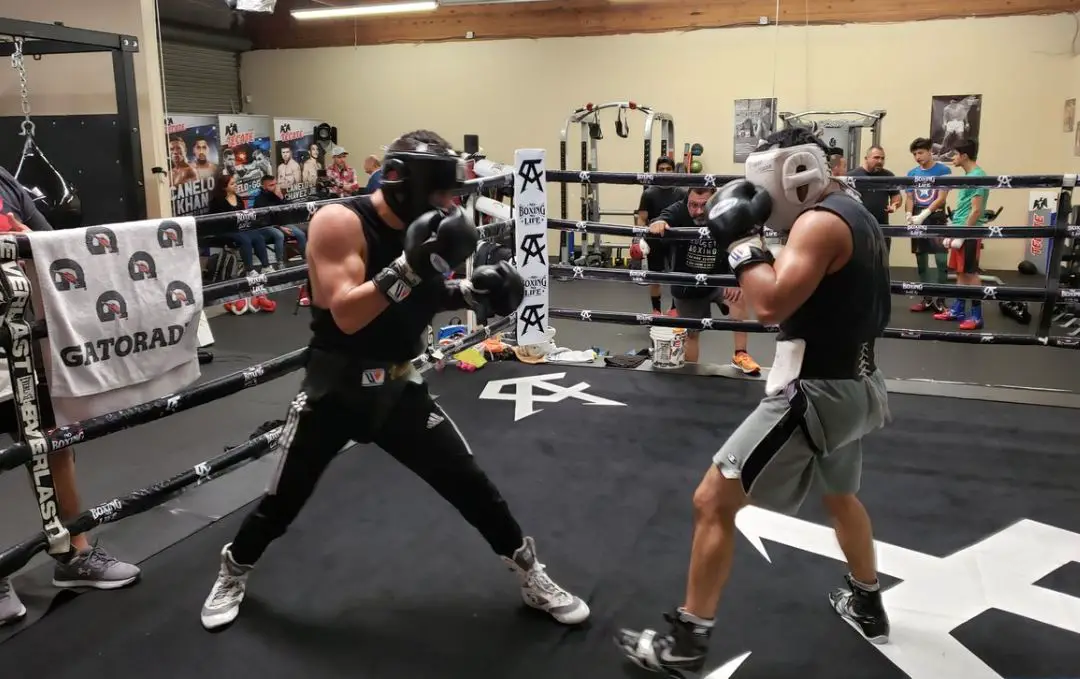 Boxing is a tough yet rewarding sport and sparring is one of the challenging yet enjoyable aspects of the game. The question of how long you should train before sparring will depend a lot on the gym you are in and whether you feel comfortable sparring or not.
Some gyms you might do some body sparring in the very first session where you throw light punches at your partners body to get used to giving and taken but full on sparring is a bit more serious and you will need to develop at least a basic offence and defence before you jump into the ring.
If you come from another sport, you may already be tougher, have good coordination and you may pick up the footwork and movements a lot more quickly than someone who is new to sport. It can still be a shock to a get a stiff jab in the nose so I would say to wait about 1 month of training before you jump in for proper sparring.
For people who are completely new to sports, you should take direction from your coach. A good coach will never throw you in at the deep end and you can always ask them if they think you are ready for sparring. I would say to give it at least 2 months from when you start out fresh in the game but you need to feel comfortable that you can protect yourself at all times and throw an effective jab with a few combos.
What To Keep In Mind For Sparring
When you do start sparring there are any number of things to keep in mind like picking a partner you are friendly with, so they can take it easy on you, teach you the ropes and help you to improve quickly.
If you have experience in another combat sport like Muay Thai or Kickboxing you will already know the ropes but keep in mind that they are different sports so you could give it a few weeks to get to know people you are going to be sparring and get used to just straight boxing.
Things You Need To Be Good At Before You Start Sparring
Foot Work
Foot work is the most important aspect of boxing. It allows you to close the distance on your opponent to land your punches but it also enable you to move out of the way of their attacks by moving backwards and to the side.
Footwork is the first thing you learn in boxing because everything else is built upon the fundamentals and basics.
You need to make sure you have to correct footwork to get out of the way when your opponent is moving towards you and looking to land punches before you start sparring.
As you get more comfortable in the ring, you can start pivoting and slipping to the side to create angles for you punches and avoid the counters coming back.
The Jab
The second most fundamental part of boxing is the jab. Nothing will stop your opponent in their tracks like a good stiff jab. If you cant throw a proper jab, their will be nothing to stop you opponent walking straight into to your range and throwing bombs so you really need to get a good solid jab before you jump into the ring to spar.
Not only is the jab important for defence, it is also crucial for your offence as almost all of your combos will begin with a jab. If you land the jab on your opponents gloves then you will know for sure that you also land the right hand afterwards and as you get more comfortable with sparring, you can start to put your combos together.
Keeping A Solid Guard
You have to be able to keep a good defensive guard so you can take your opponents punches on your gloves without feeling too much of the impact. You also need to be able to catch their body shots on your arms and protect your ribs and liver.
Keeping a solid guard is a must, you can't start panicking when there are combos coming towards you and you need to remain as calm as possible.
Keeping a good guard can also mean parrying the jab as it comes towards you and as you improve you will be able to catch and counter and use your opponents attacks to exploit the openings they leave behind.
Head Movement
You don't have to catch every punch on the gloves, you can slip your opponents jab and come back with your own right hand over the top. You can slip to the left as the right cross comes in and left a left hook to the body or the head.
If you are moving your head, your opponent will be more hesitant to throw punches because they will be more likely to miss and this is a solid form of defence.
You can also roll after you throw your own punches as you get better so your head is long gone by the time your opponent has time to answer back with their own combos.
Tips For Sparring
There are certain unwritten rules of sparring like you shouldn't bully anybody and if you are levels above them you should try to teach them to improve instead of beating them up but coming in as a beginner there are some crucial rules to live by if you want to come out of the ring unscathed.
Get The Right Gear
16 Oz gloves, a gum shield and a groin guard are going to be the bare essential key elements to protecting yourself and your sparring partners. Once you get involved in sparring you can also invest in boxing shoes as they will help you move around the ring faster and sharper.
Head gear might also be compulsory in the gym you are training in and although it might not stop concussions, it will stop your face from getting marked up, black eyes and cuts.
Spar Someone On Your Own Level
Take your time in the gym and try to get talking to people so you can find out people that will help you to learn in sparring instead of going to hard. Try to find someone that is around the same size as you and around the same skill level.
Don't Hit Harder Than You Want To Get Hit
If you go into sparring throwing bombs, you can expect to get bombs thrown back at you. It doesn't matter how good the person you are sparring is, they wont like full force punches flying at them from someone they can easily beat up and they will hit you hard to give you some warnings before they start to beat you up.
Sparring is an opportunity for everybody to improve, its not a 12 round championship fight so act accordingly and don't throw haymakers.
You Need To Be Fit
The last thing you want to do is gas out in sparring. One of the most feelings you can experience is have a fighter moving towards you throwing punches and you are too tired to even keep your hands up.
Boxing is an intense sport and you need to have a good level of fitness to be ready for sparring. If you box and you are already fit, it will still be tough but if come into the sport with no fitness, it will take at least 2-3 months to get ready for competitive sparring.
The get fighting fit you need to do 5-10km runs, shadowboxing, jumping rope, heavy bag, double end bag, speed bag and pad work. You also need to do conditioning drills on the bags and circuits to get a complete level of fitness for boxing.
Try To Relax And Control Your Breathing
When you do get into spar, try to stay as calm and relaxed as possible. Don't make you arms too stiff or it will cause you to get tired more quickly and it will affect the fluidity of your movement. Breath in through the nose and out through the mouth and exhale the carbon dioxide as you throw each punch.
Use your footwork to set a comfortable distance and move side to side to keep your opponent at bay until you are comfortable to exchange. Make sure you are comfortable in your skills and don't jump in at the deep end.
Know When Its Time To Increase The Intensity
If you and your opponent are the same size and the same level, the spar might get a bit more competitive. You need to be ready for this and if you get hit with a bigger shot, they key thing is to not get angry but calmly wait for an opportunity to land your own big shot.
A good fighter never gets angry and if you can keep your cool, you will quickly be able to find an opening to land you own shot as part of a good hearted spar where both fighters can improve.
Conclusion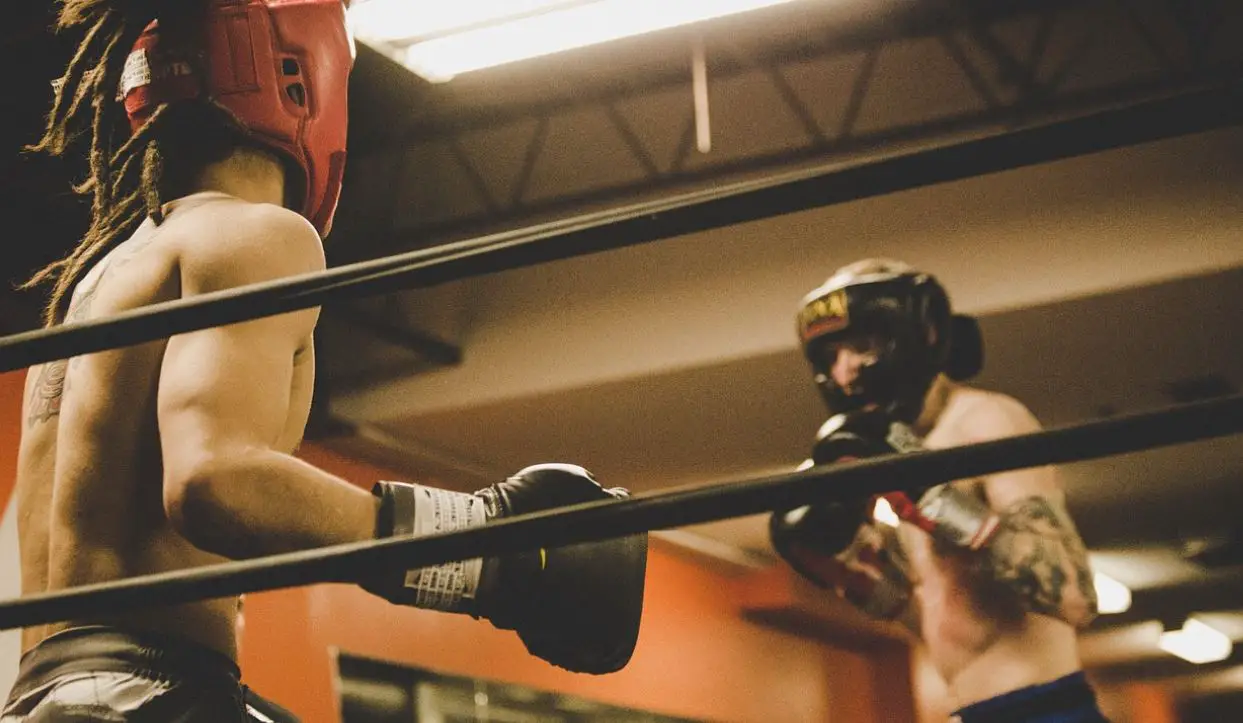 Sparring is a big step for anybody who want to improve at boxing. It is the ultimate test of whether or not you can fight and there no feeling like the one you get after a good sparring session.
If you have aspirations to go on an have a career as an amateur or even as a pro, sparring is one of the biggest steps you can take.
Don't jump in too quickly but don't leave it too long either, if you are in doubt about whether you should spar or not then you can always ask your coach. If you are getting better at the body sparring and you don't mind taking a punch, don't be afraid to give it a go.
Let us know how you get on in the comments!