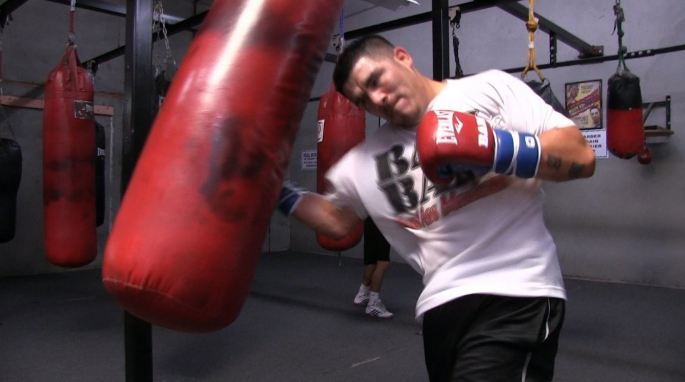 When it comes to starting your own home gym, the heavy bag is one of the coveted pieces of equipment.
With so many different types to choose from, creating the right setup is not exactly a straight forward process.
Free standing punch bags, hanging punch bags and even heavy bag stands are all options that you will need to consider.
It's important to know the pros and cons of each type and the best options in each category and that is what we are here to help you with.
Hanging Heavy Bag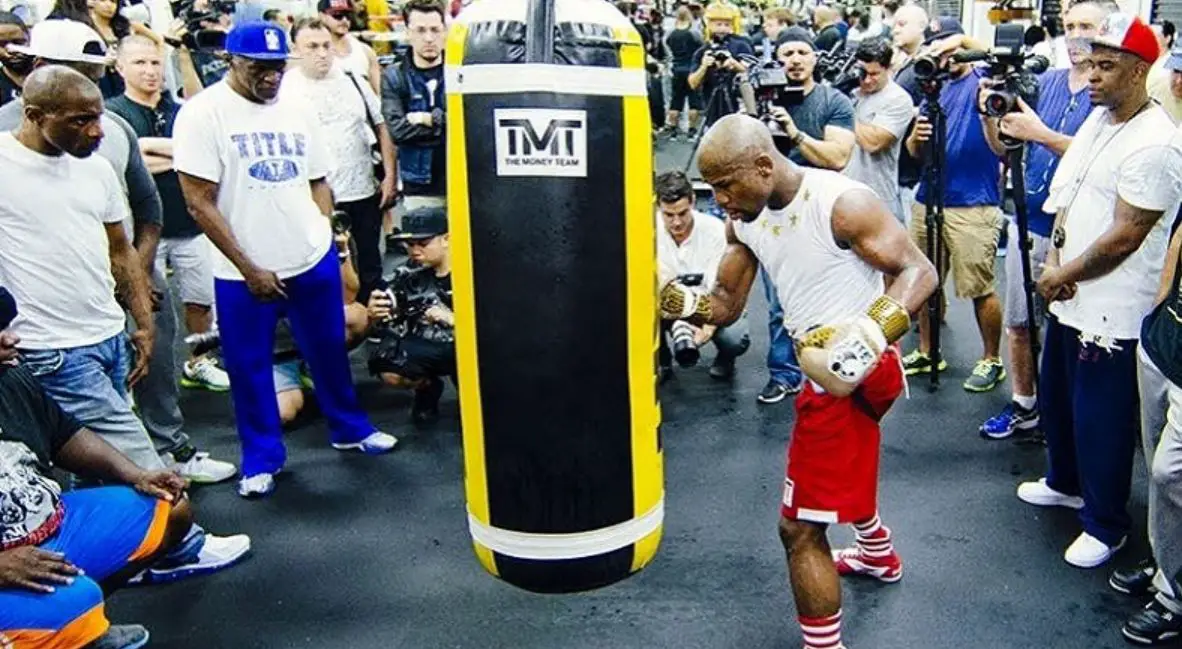 This is the most popular type that you will see in boxing gyms and it is usually the optimal solution, if possible.
You drill a couple of holes in the wall to hold your mount and you attach the bag, simple as that!
Another option is to find a supporting Beam in your ceiling and hang the heavy bag from that.
the thing about a heavy bag is that you have to drill into a wall or ceiling and if you are renting the property you might not want to do that.
If you don't have a good supporting wall to hold it, you don't have the space or you just don't want to drill into the wall, this is not going to be the option for you.
Pros Of The Hanging Heavy Bag
It's the most realistic option for simulating a fight.
The way the bag swings back and forward allows you to work on your footwork, forward and backwards as the bag moves.
Used in momentum of the bag to land with power. As the bag swings back towards you, you can nail it with a big hook or a kick.
They are heavy as the name suggests so you can hit them more power which can build up your strength and endurance.
Probably the cheapest option, you just need a cheap wall mount and a good quality bag.
There are plenty of different styles, each one allowing you to work on a different aspect of your game.
Cons
You need to drill into your wall or ceiling, which isn't always always possible.
If your bag is to light it will swing around too much and you won't be able to punch it as hard or with combos.
Needs space, the wave swings around will require space in your room.
A lot of choices and decisions to make.
Free Standing Heavy Bag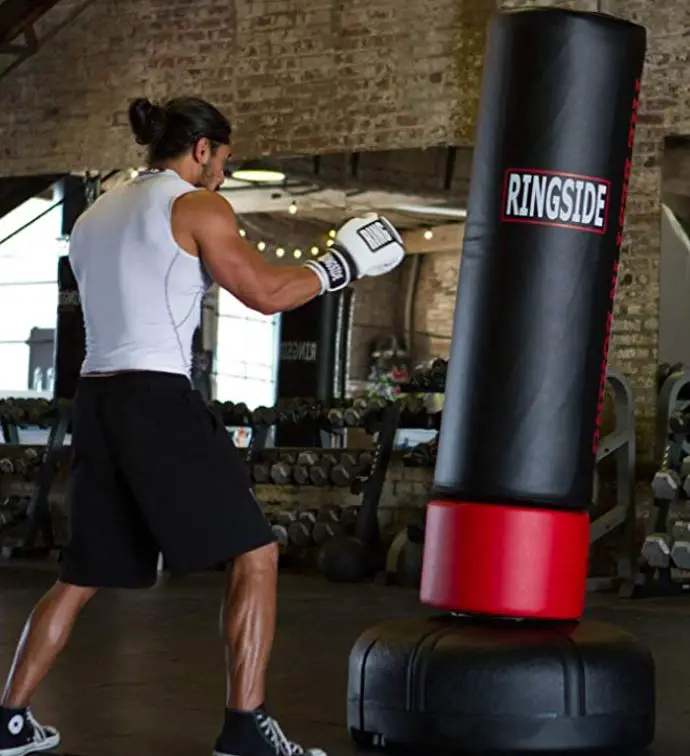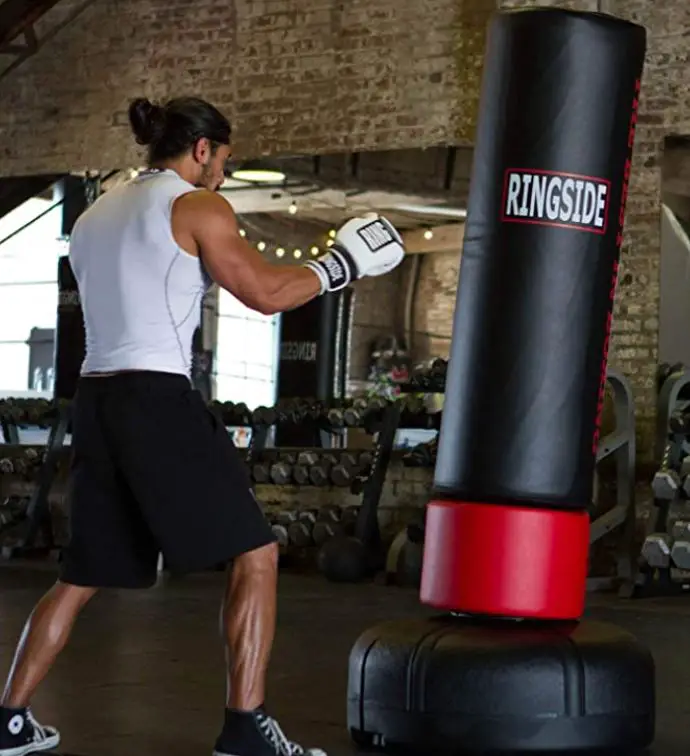 Free standing heavy bags at the easiest option, there is no messy installation involved and you can usually just fill the base and you are good to go.
Free standing heavy bags come in all different shapes and sizes and some are a lot better than others.
One of the biggest problems with free standing heavy bags is finding one that you can hit with your maximum force and it won't fly all over the room or topple.
That being said, they are better for speed, stamina and fitness work as opposed to getting more power.
Pros of Free Standing Punching Bag
No installation, just fill it with sand or water and you're good to go.
Good for cardio and high paced workouts
You can move it into storage when you're done
Perfect for working punches and kicks
Cons
Can be too light, if it's swings too much after you punch it, you won't be able to get into a good rhythm.
The swinging motion doesn't represent the real fight
Can't build power and endurance in the arms.
More suitable for fitness workouts then professional boxers and improvers.
Heavy Bag Stand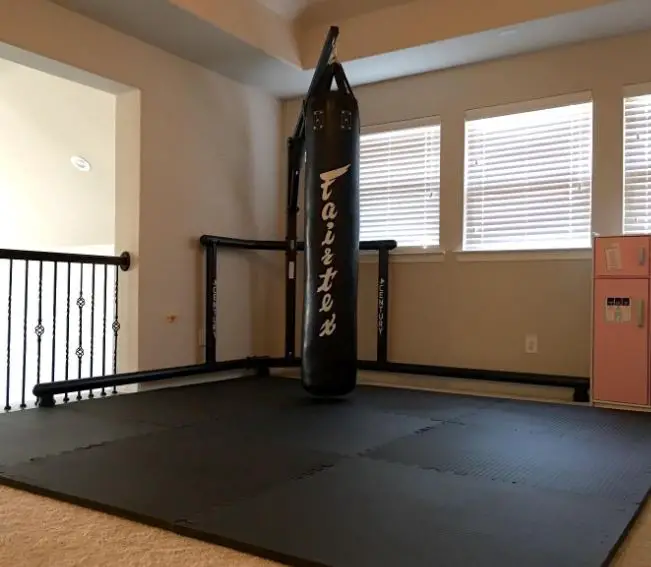 This is another option that makes sense to many people. You get all the benefits of the Hanging bag without having to drill into a wall or ceiling.
They do cost a bit more and you have to buy a bag as well, but if you get this set up right it's definitely a viable option.
The main problem with these will be that they can impede your access to move around the bag, so you can't work on your footwork and if you go too cheap, they might rock back and forward and make a lot of noise.
Pros Of The Heavy Bag Stand
Can offer the Hanging bag experience without drilling into the wall.
Allows 180 degree access to the bag if you get the right one.
Different styles and types to suit any space.
Perfect for working punches and kicks.
Can fit any style of bag.
Cons
Can be expensive
Poorly designed stands won't allow you to move around the bag.
Cheaper designs need to be weighted down with sand bags and eeight plates.
Can be noisy, if you go with a cheaper stand, it will rock back and forward when you hit it and it makes a tonne of noise.
Different types of free standing punching bag
Traditional Cylindrical Bag
The traditional cylindrical freestanding bag has a base that you can fill with water or sand and the rest of the design is like a traditional heavy bag.
The goal here is to find one with good stability that doesn't move around when you hit it. If you hit it with a good punch, you don't have to wait for a 2 or 3 seconds for it to come back so you can hit it again.
There are some good options on the market but don't go too cheap as these will usually be designed for kids. To get a good one you will usually need to spend $250 to $300.
Bob Style Freestanding Bag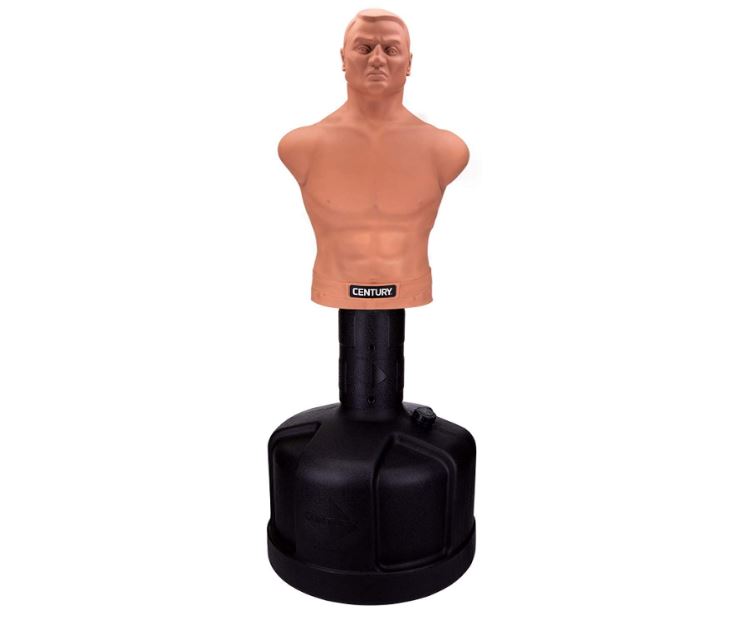 The Body opponent bag is a solid option for any home or commercial gym.
It has a large base that you can fill with sand and water and the upper portion of the bag is shaped like a human body. It will also have a skin like texture covering it and should be soft but firm to punch.
You can hit this hard and it won't move around once you have the base filled with sand or water.
The biggest problem I find with these is that it doesn't offer the same swing that you get with a traditional hanging a heavy bag.
The other thing with the Bob bag is that you cant practice low kicks, but you can kick to the body and head and that's also something to consider
Reflex Free Standing bag
These freestanding bags are another good option worth considering. It turns the disadvantage of movement into an advantage.
When you get the reflex bag it will swing back quickly so you can work on your defence and head movement when it comes back.
Ryan Garcia is the king of the reflex bag at the moment and he uses a cobra style reflex bag but they do come in many different styles.
The Cobra style is built for flexibility in the middle of the shaft so it bends halfway down making the action much quicker.

I prefer this than a standard reflex bag where the whole shaft moves because it takes too long to come back and it doesn't offer the same speedy workout.
Different Types Of Heavy Bag
There are also tons of different types of heavy bag you can choose from, each one has their own advantages and disadvantages and in an ideal world you can have a setup with many different types of bag.
Traditional Heavy Bag
These are long and cylindrical like the freestanding bag. You can fill them with either sand or cloth depending on how hard you want it to be and how much you want it to weigh.
With a mounted bag, you get the move around the bag 180 degrees, working on your footwork and creating angles. If you get the hang and weight right you can develop a nice pattern and rhythm with the bag as it moves back and forth that you can't really get with free standing bags.
Most of these bags come pre-filled to specific weights like 75 lbs or 100 lbs.
The traditional style is great for a straight punches, hooks and combos.
Angle bag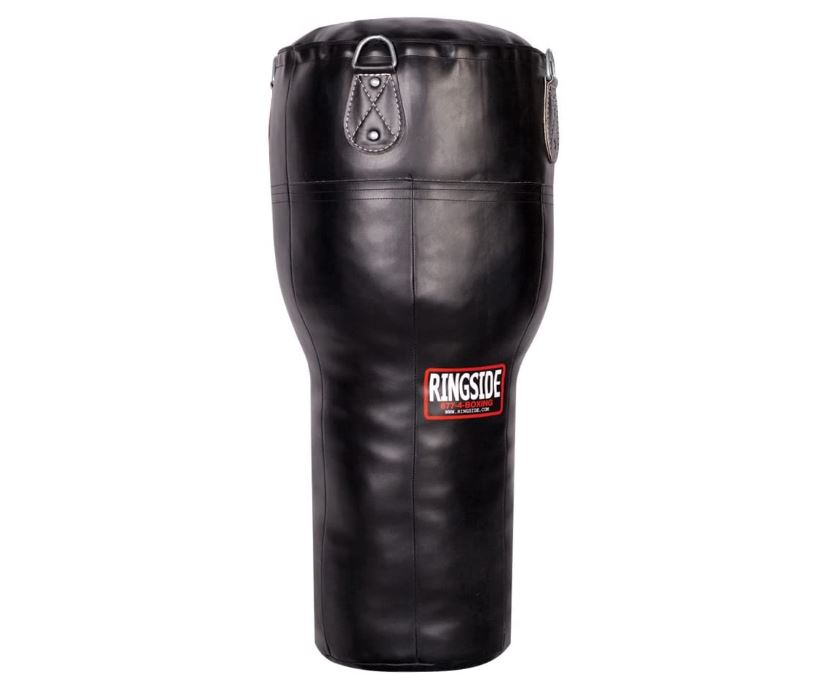 This one has a narrower face and gets wider towards the top. The design makes it perfect for throwing uppercuts and it offers a good distinction between body and head.
You can still throw straights and hooks on the angle bag and is more suitable for trying a variety of punches.
Muay Thai Style Bag
These bags are similar to a standard punching bag but it is often 6 feet long and perfect for practicing your low kicks and combinations.
Traditionally weighing 100 lbs and they won't move around as much when you hit them so you can't develop as much of a rhythm as with the standard size heavy bag.
Wrecking Ball Style Bag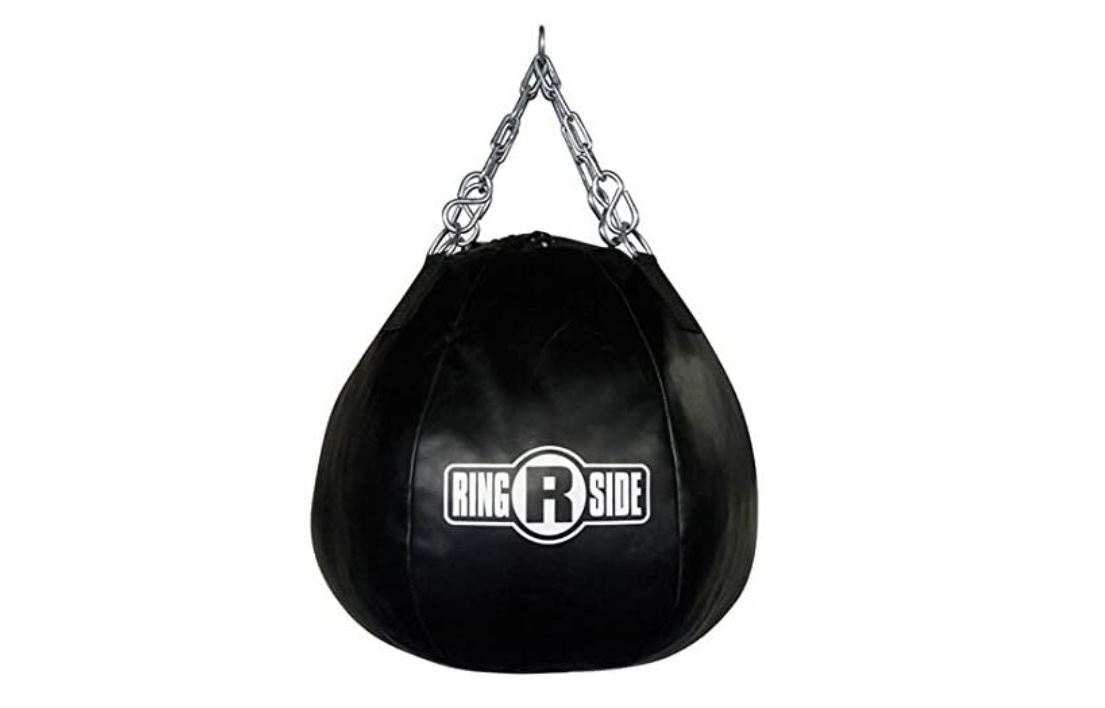 The Wrecking Ball Bag is built in a circle and perfect for throwing powerful shots.
You can get an angle for every type of punch and hitting this one as hard as you can should be a lot of fun.
It's not built for long combinations with a lot of straight punches but you can certainly throw straight punches as part of a short explosive combo.
Different types of heavy bag stands
There are two types of heavy bag stands we need to consider. 1 Style is going to have its foundational legs coming out the front which will stop you from moving around the bag and can stop you from throwing kicks.
Some companies have looked at this limitation and have developed some quality heavy bag stands that allow all the freedom of a mounted bag without any drilling required. The legs will instead shoot off to the side, allowing the bag to hang unimpeded, giving 180 access and a quality experience.
Hanging Bag Vs Freestanding Bag – Which Is Better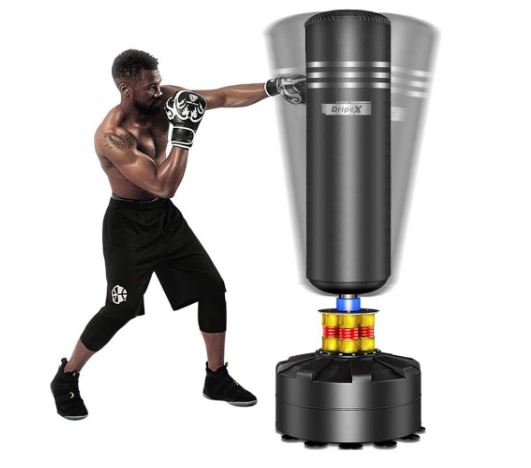 The way the Hanging heavy bag swings, is a better simulation of a real fight. You can hit that bag head with Combos and work on your footwork following the bag around as it swings.
Hanging heavy bag is what you see in Commercial gyms all the time and it's the best option if you're serious or improving your boxing.  It's also better option for increasing your punching power, arm endurance and building some muscle.
The only real problem, is you need to drill into a wall, buy an expensive stand and choose the right setup.
Conclusion – Which Type Of Bag Should I Choose?
Free standing bags are much easier to set up but they don't offer the same stability, they move around a lot after you punch them and you can't get into as good of a rhythm.
These are more suited for fitness workouts and cardio where you want to hit the bag with light and fast punches. You can load up your shots, but you'll probably need to wait for the bag to swing back towards you afterwards.
Different styles like the cobra reflex and the Bob varieties offer something different and can be a good compliment to an existing setup, but, if you have the choice between a hanging bag and a freestanding bag, the Hanging bag should be the winner every time.
If the Hanging bag is not an option, consider a heavy bag stand and if that's not possible you should consider a freestanding heavy bag.
Best Heavy bag
The Ringside Leather 100 lb Heavy Bag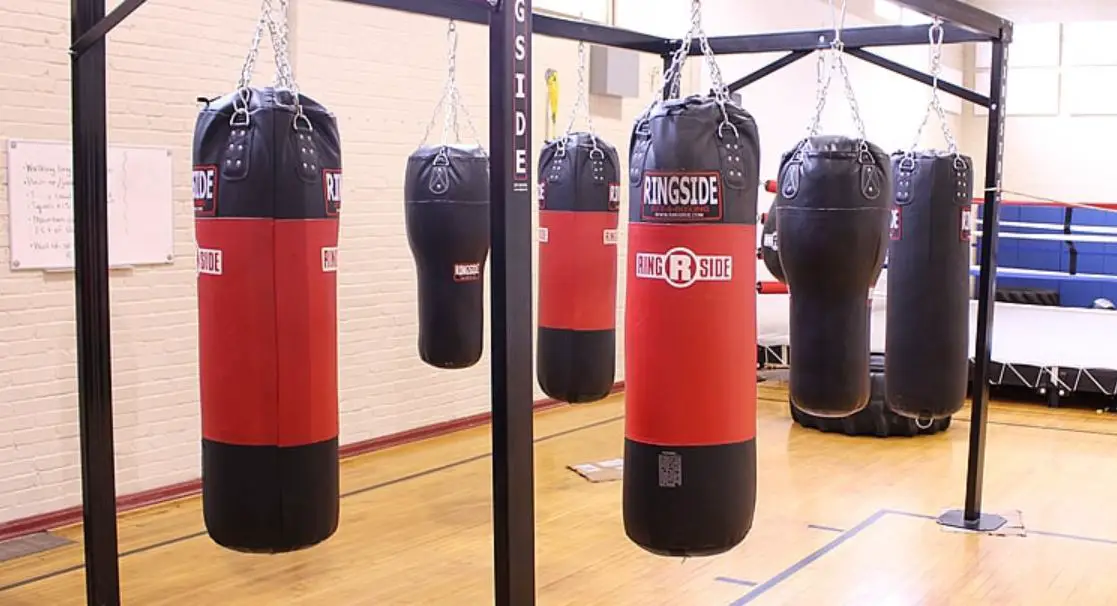 This is the best heavy bag we have seen in any boxing gym. It's the bag that Floyd Mayweather uses.
It comes soft filled, but you can easily add a heavier filling like sand through the zip opening at the top.
You can get the 100lbs or 150lbs version and 100lbs should be good for almost anybody except real heavy punchers and physically bigger guys.
You get the chain and the swivel with this one all you need to do is get a quality mount.
This is a serious bag for professional Fighters and it will cost you around $190.
Check Out More Reviews Here:

If you're looking for a budget option you can always consider the Everlast 70 or 100 lbs bags.
Best free standing bag
Ringside Elite Freestanding Boxing Punching Heavy Bag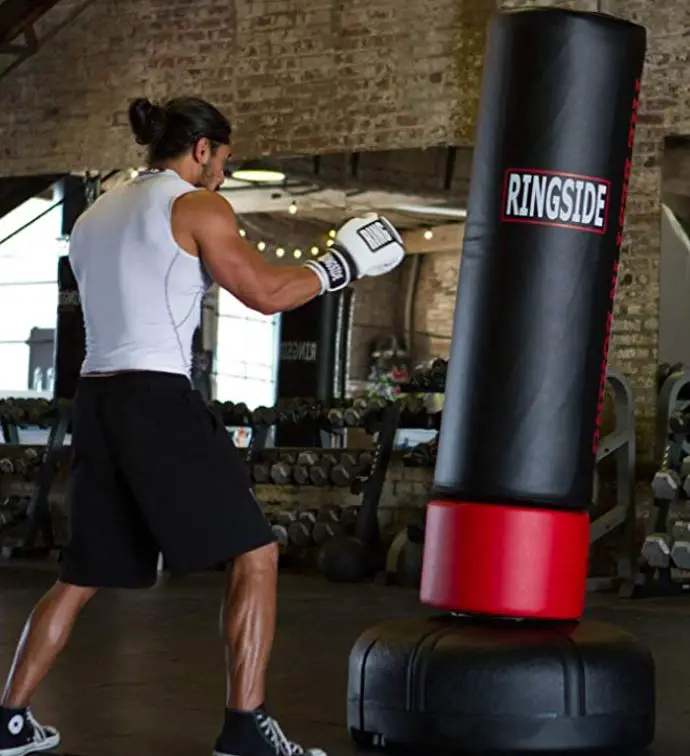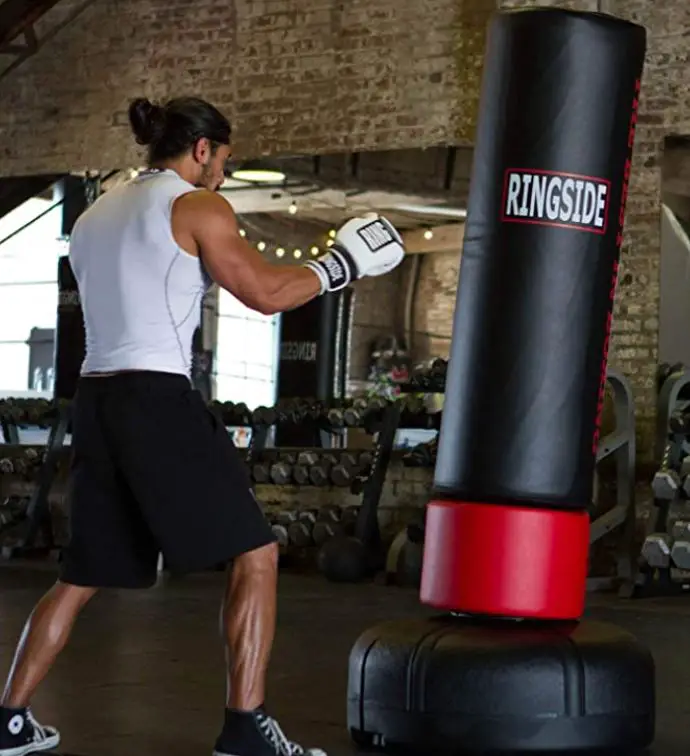 The ringside elite is one of the only free standing bags we've seen that can stand up to heavy punishment without falling over.
We tried out the century Xl and the Wavemaster and they can't stand up to heavy punishment without falling over.
The ringside elite is tall enough to suit any fighter, it never falls over and the base never moves.
The one drawback is that it costs $400 but if we have to recommend one free standing punching bag this is it.
Check Out More Reviews Here:

Ringside Cobra Reflex Bag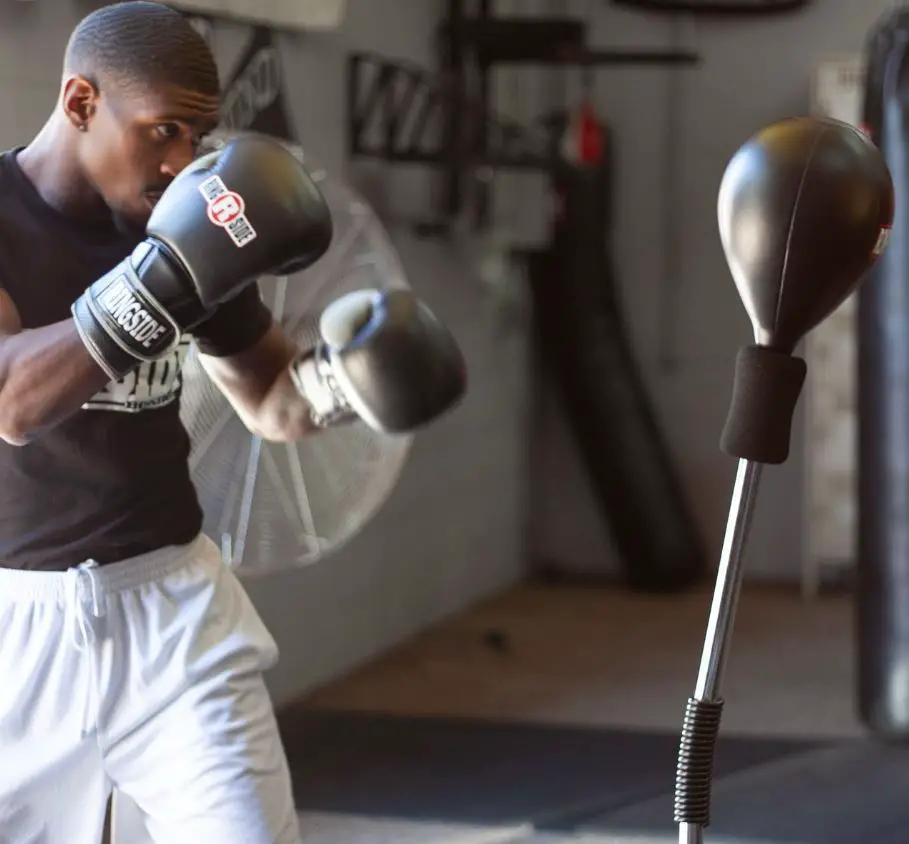 Ringside have the best Cobra, free standing bag as well. It's smooth, it doesn't make excess noise, it doesn't move around  on the ground and it's got an adjustable height.
This is great for working on your speed and reflexes and I will cost about $250.
Best used in combination with a heavy bag so try and aim for the best setup that you can.
Check Out More Reviews Here:

Best heavy bag stand
Century Cornerman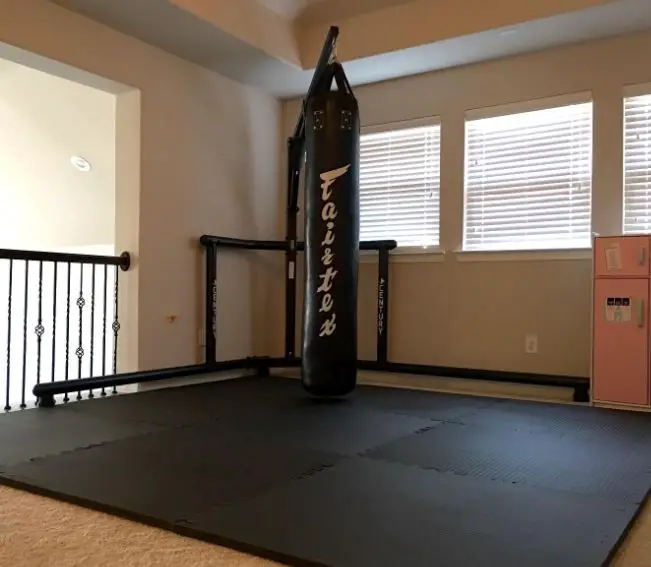 The century cornerman is our favourite heavy bag stand by far. It has got a unique design where the leg stretch out horizontally and they run parallel to your wall, so it takes up minimal space.
The heavy bag hangs out from the centre unit and it allows full access all around the bag.
the stand doesn't move around or make any noise if you pair this with the ringside heavy bag you will have a serious setup in your home.
Century cornerman cost $450, it's easy to set up and you can change the bag easily as well.
It's got an adjustable height an ideal option if you can't use a wall mount.
Check Out More Reviews Here:

Overall
Try to go with a ceiling mount or wall mount if possible, it will offer the most realistic and most intense workout. You can hit the bag as hard as you can and create a rhythm with the way the bag swings.
The heavy bag stand is the second best option although it is quite expensive, you can offer a perfect heavy bag  experience if you get it right.
Free standing bags, they move around a lot and it's hard to develop a rhythm with them. If you get a cheap one, it will fall over easily and a good one will cost you about $400.
Overall recommendation is the ringside heavy bag with a wall or ceiling mount.