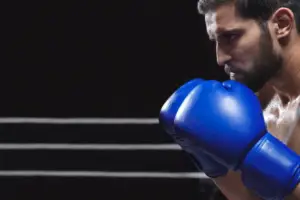 When it comes to striking, the types of pads used make all the difference in how the session is going to go and what you are going to be focusing on improving.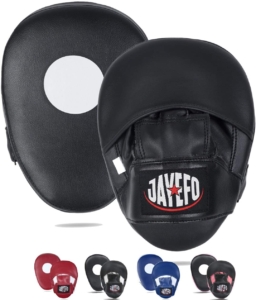 Focus Mitts are usually designed for boxing only. They are light weight and filled with foam padding and usually a wrist support to ensure that the pad holder doesn't get injured. They can be straight or curved. Thai Pads are much bigger, heavier and have more padding inside to protect the holder. They are built to absorb heavy kicks and knees from Martial Artists and offer a bigger target and more support for the holder.
While Thai pads would generally not be used in Boxing, Focus mitts would be used in other striking sports like Muay Thai, Kickboxing and MMA.
What Type Of Focus Mitts Are The Best
Focus Mitts can come in straight or curved variations and most boxing trainers will prefer the curved pads.
While punches will tend to slide off the straight pads, the curved pads will catch the punches much better, especially hooks, allowing the fighter's punches to land more cleanly and comfortably.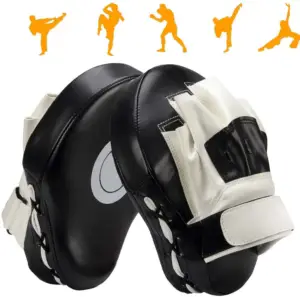 Focus Mitts also come in various sizes, from mini focus mitts, to regular sized to Large Hybrid Focus Mitts for punches and kicks.
Mini Focus Mitts
Perfect for working on speed and accuracy with fighters as opposed to just raw power as you will often see with the regular sized mitts.
Because the target is smaller, the fighter needs to focus on hitting the sweet spot much more.
Since they are lighter the trainer will be able to move them much more quickly and the fighter will need to move quickly to keep up.
Mini focus mitts are also perfect for training juniors and kids as they are smaller.
Regular Sized
Perfect for allowing the fighter to work on speed, power and accuracy all in one.
These are the most common type of pads used by trainers.
Perfect for throwing hard shots of all types while also working on defence, when the trainer throws punches with the mitts intending for the fighter to block or evade.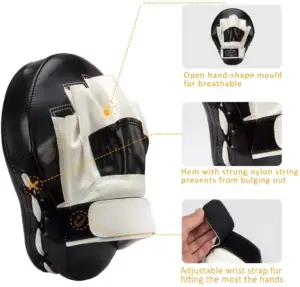 Hybrid Pads
A mix between Thai Pads and Focus Mitts.
Hybrid pads are small and light enough for a good punching workout while also offering more protection to absorb kicks and knees.
Maybe too light for catching harder kicks and too heavy for fast punching but a good option for a mixed workout focus on punching for a martial art sport.
Thai Pads
Thai Pads can also come in curved or straight varieties.
Again, punches and kicks will slide off the straight pads a bit more and it will be easier to catch all of the shots with the curved pads.
The curved pads are only going to be very slightly curved and the curve will form more completely as the pads are broken in.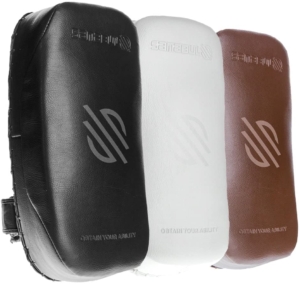 Thai pads are going to be a lot better for heavy sessions where the fighter is going to be smashing the pads as hard as they can with Roundhouse kicks, tips, knees and elbows.
As such, they are going to need to offer the trainer a lot more protection and will be a lot bigger, heavier and with more padding. They will also have thick Velcro straps on the back to fasten the pad to the trainers arm.
Because fighters will be less accurate with their kicks, these pads need to be a lot larger in size so that any stray shots won't hurt the trainer.
Pros and cons of focus mitts
Pros
light weight and fast
perfect for power, speed and accuracy
great for offense and defense
Cons
only suitable for punches
Pros and cons of Thai pads
Pros
perfect for practicing kicks
excellent for heavy knees and elbows
can be placed together for front kicks
offer a ton of protection
can be used for punches and kicks
Cons
very heavy
trainers arm may get tired
still may not offer enough protection against the heavy kickers
Do we recommend focus mitts for Muay Thai coaches
All boxing coaches are going to need focus mitts but not all Thai coaches will need to have a pair.
Muay thai pads are traditionally enough to train for the sport.
Having visited Thailand on more than one occasion I can attest that a lot of the trainers will also have a regular pair of focus mitts.

Even the Thai trainers have become increasingly aware of how important boxing is to their own sport.
I would recommend for every muay thai trainer to also have a pair of focus mitts because improving your punches can make you a much better fighter.
If you are training a fighter on the pads for five rounds, you can easily include one round on the focus mitts to really improve the fighters punching speed and accuracy.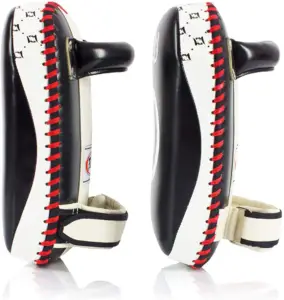 Other gear that we recommend for boxing coaches
Being a boxing coach can be tough and rewarding at the same time.
Having the right gear to train your fighter for every aspect of the game is crucially important.
Boxing paddles
Long skinny sticks that are designed to simulate the other fighters arms, an excellent way to get your fighter ready for defense and offense.
The paddles are also ideal for giving the trainers and the rest after absorbing all of the powerful shots through the, the arms, and the back.
Hitting the paddles is a lot more about speed movement and accuracy in getting powerful combos together on the focus mitts.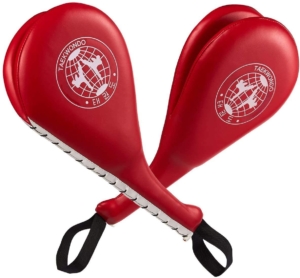 Body protector
Body protectors are an essential piece of kit for muay thai and boxing coaches alike.
Going to the body in boxing is just as important as going to the head, if not even more so.
You will often see boxers going to the body, especially in the early rounds to slow down your opponent, get their hands to drop and leave a bigger target to the head when they go looking for the knockout.
You can also get knockouts by going to the body which is why training to the body is one of the most important parts of getting ready to compete.
Focus mitts do not allow you to train to the body as much as you would like, and that is where our body protector will come in.
It allows the fighter to go naturally to the body and come back up to the head where the trainer is waiting with the focus mitts.
Leads to a fluid and natural movement from head to body like in a real fight.
Body protectors for muay thai trainers
In muay thai, we have to contend with kicks, Tips, and knees.
These are all heavy shots that need to be absorbed by the trainer one way or another.
This is especially true for Tips what its true you can catch them with the muay thai pads, it is a lot more natural to use the belly pad.
The belly pad allows you to put combinations together starting on including the tape a lot more easily and it also helps to take away the impact of powerful knees by the fighter.
Best focus mitts for training punches
Our article wouldn't be complete without recommending our favorite gear for you to buy.
Ringside Panther mitts
These are well-made focus pads, fashioned from real leather, and nicely curved.
These offer enough protection to absorb the shots of even the heaviest hitters and are built to stand the test of time.
They also look at great I come from a respected brand.
Check out more reviews here:
Best Muay Thai Pads For Trainers
Fairtex muay thai pads
Fairtex muay thai pads have the best name in the game.
These parts are often hand stitched in Thailand with real genuine letter.
It's a good idea to avoid the cheapest sets of pads as they can often fall apart to burst at the seams.
Fairtex have been around long enough that we know about the quality and how long that will last.

I set of these pads should last at least 10 years.
Check Out More Reviews Here:
Conclusion
Focus mitts are perfect for boxers and for strikers from all sports who like to use their hands and wanted to improve their hands in isolation.
Muay thai pads going to be a lot better for training a muay thai fighter or kickboxer for combat as you can literally throw any type of shots on these pads from kicks to elbows to knees and punches.
[/av_textblock]