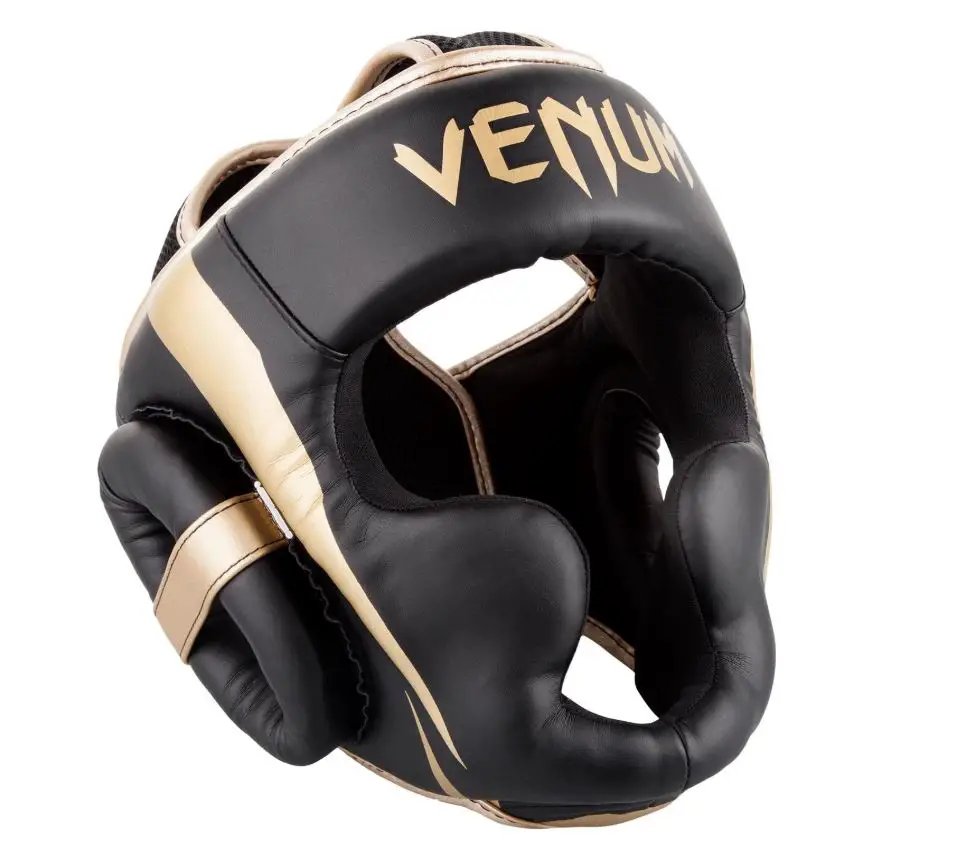 Venum Elite Headgear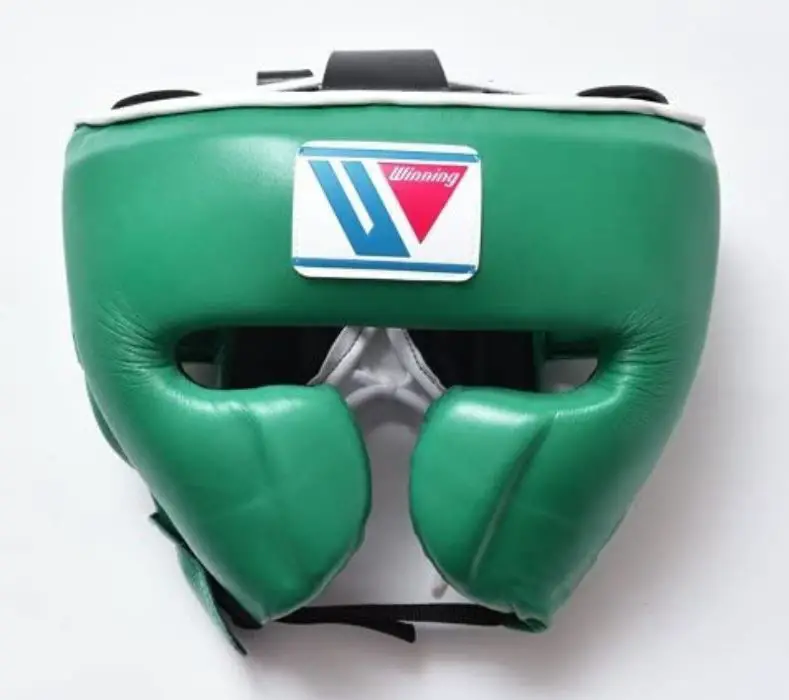 Winning Headgear FG2900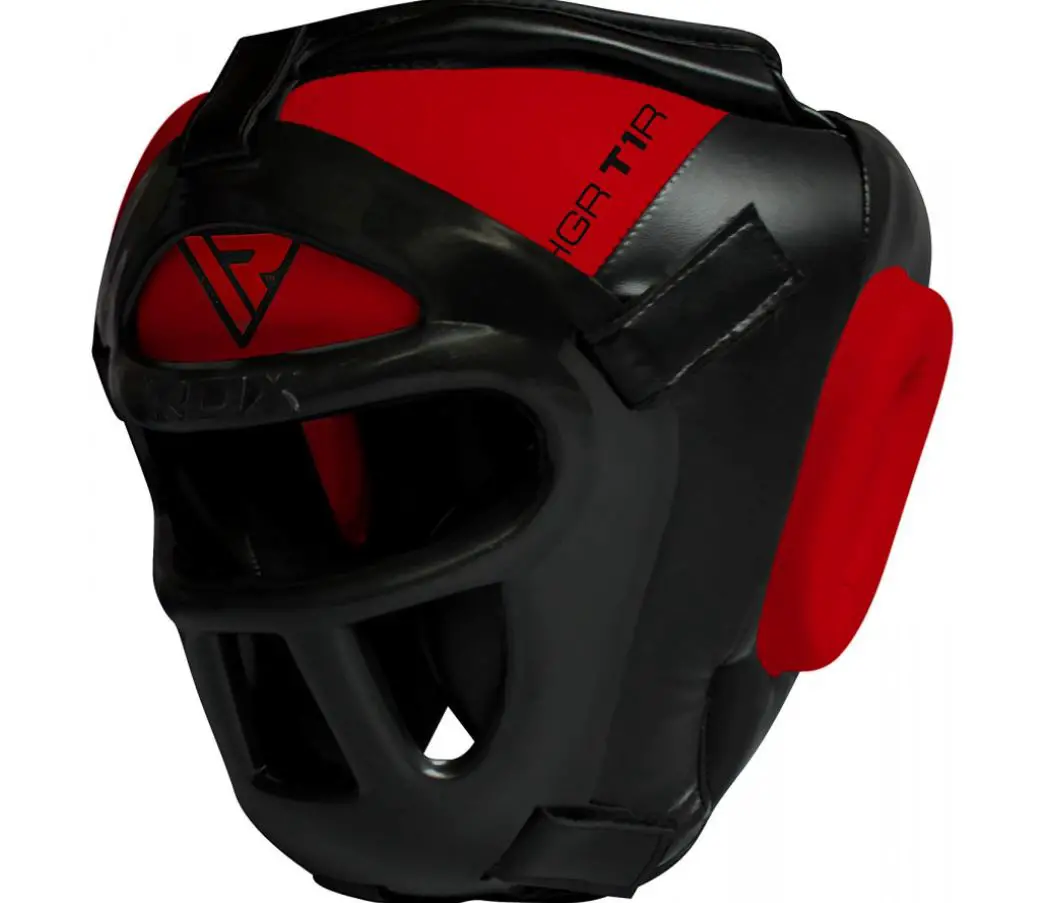 RDX T1 Headguard for Boxing
When it comes to boxing sparring, a lot of gyms will make headgear a mandatory but there are also plenty of benefits to wearing headgear in sparring.
Probably the most important advantage is that it will stop you from getting cuts and bruises on your face and it will also dampen some of the impact from the shots.
If you haven't checked out a boxing headgear buying guide you can do so here, but just to quickly summarise:
Boxing headgear is a game of trade-offs, you want to get the maximum protection for your face but you also need to make sure that your vision is not impaired.
You want a lot of padding, but you don't want the headgear to weigh you down and you don't want to make the target bigger for your opponent.
Generally speaking, there are three types of headgear, open face, with cheek protectors and full-face guards.
Usually the guards with cheek protectors at the most popular offering the most upside with the least downside.
That being said, let's go straight into the best boxing headgear for sparring of 2020:
1 Venum Elite Headgear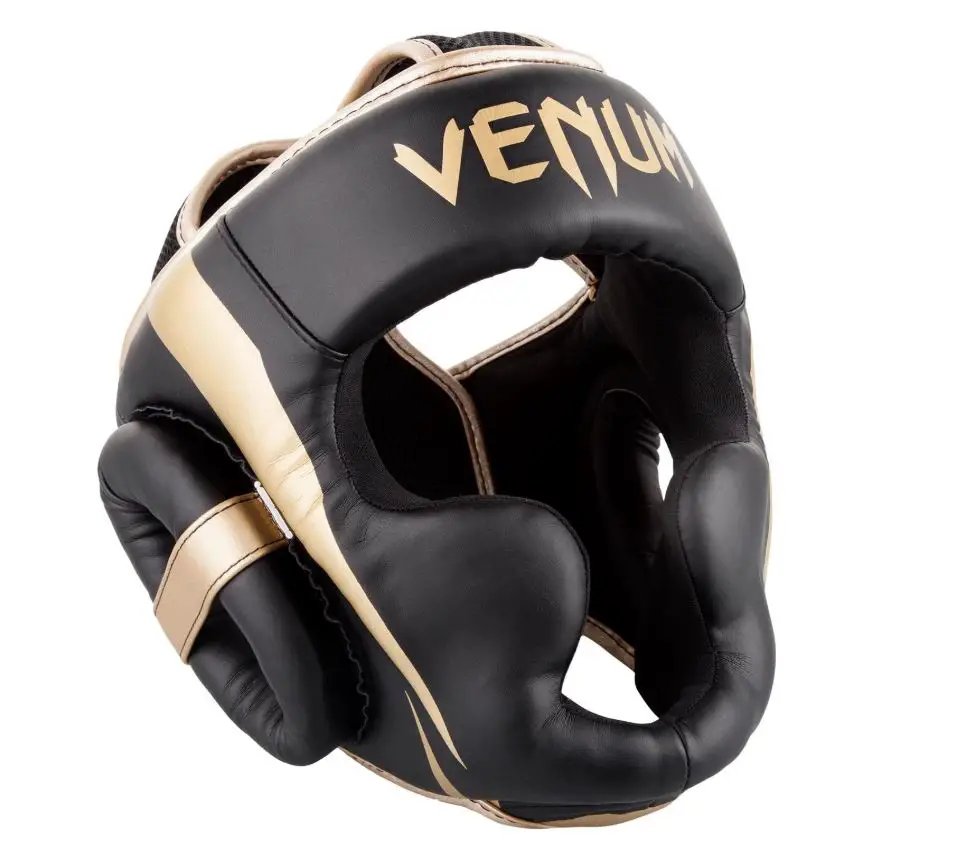 Number one on the list and coming from our favorite boxing brand of recent times is the Venum elite headgear.
We like this headgear for a number of reasons but the main reason is that it offers the perfect balance between protection, visibility and value.
This one comes filled with triple density foam which cushions the impact have any shots that land on you. It also has a wide visor that allows you to see all oncoming shots including hooks and uppercuts.
If you also do another sport like MMA or Muay Thai, you will be able to see any Kicks coming towards you which can be a big problem for head guards that block the Vision slightly.
This one also has a lot of open areas at the top, which offers breathability and it just makes sure that the head guard doesn't get too hot in the heat of battle, especially during the summer months when the gyms always tend to be a little busier.
The design is high quality and durable, these are hand made in Thailand using the trademarked skintex leather, which should see this one lasting at least three to five years.
This one also offers specially attached ear protectors that are comfortable and take the impact away from any shots around the side of the head.
They are enclosed by velcro at the back leading to a snug fit, and it is a one-size-fits-all design with the strapping at the top and back and controlling the size when worn.
Pros
Perfect visibility
Breathable design
Ear protection
Comfortable chin strap
Quality material
Durable
Cons
Might be small fitting for larger heads
Not approved for competition
Check Out Some More Reviews Here:

2. Premium Winning Headgear Fg2900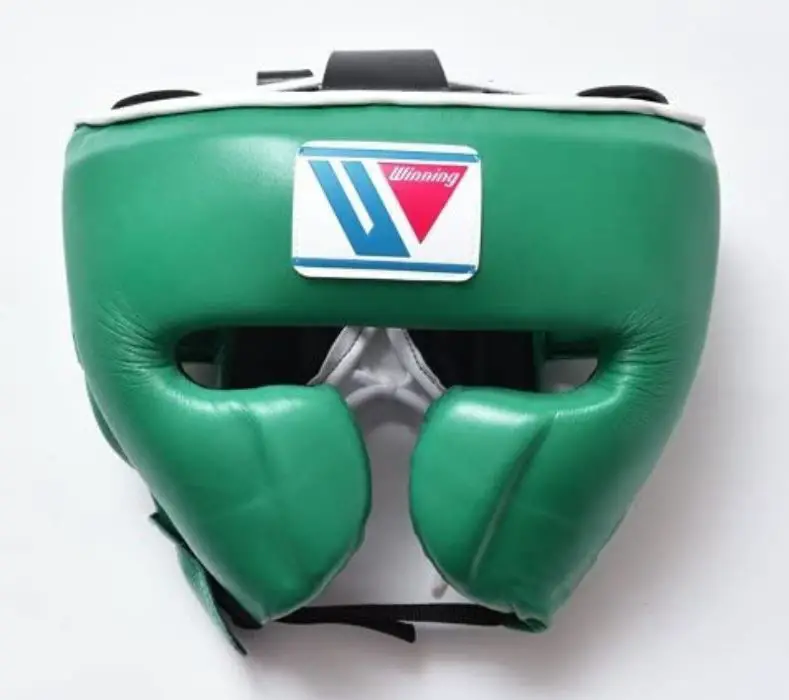 Coming in at number 2, and our premium choice is the Winning FG2900 headgear . This is undoubtedly the best-rated headgear available today. It is lightweight, extremely comfortable and provides good protection without interfering with visibility.
This one is designed in a way, with soft inner padding and a more firm outer layer, that it literally hugs your face. The shape hugs the face perfectly to provide perfect protection for the eyes and it also does a good job of protecting the nose, without being a full-face design.
Many companies have tried to mimic the high-quality fit without success and this is a product of the pros, seen in professional gyms all around the world, Think Wild Card and Manny Pacquiao.
The way the product is built actually allows the punches to roll off the face and the soft inner material absorbs the force of the impact extremely well.
Winning is known for its high quality, error-free products and this one is no different, hand made in Japan, this product is high and durable.
It comes in various different sizes and is secured by lacing at the back and on the top to ensure a premium fit.
It comes in many different colors, and this one is approved for competition.
The back and top areas are very open, which leads to very good breathability and it also makes the headgear lightweight for maximum maneuvering around the ring and evading punches.
It's by far the best head guard but it does come at a price, costing upwards of $300.
Pros
Competition approved
Snug fit
Lightweight
Quality material
Perfect visibility
Breathable
Comes in many different colors
Cons
It is expensive
Little protection around the back and side of the head
Check Out Some More Reviews Here:

3 RDX T1 Headguard for Boxing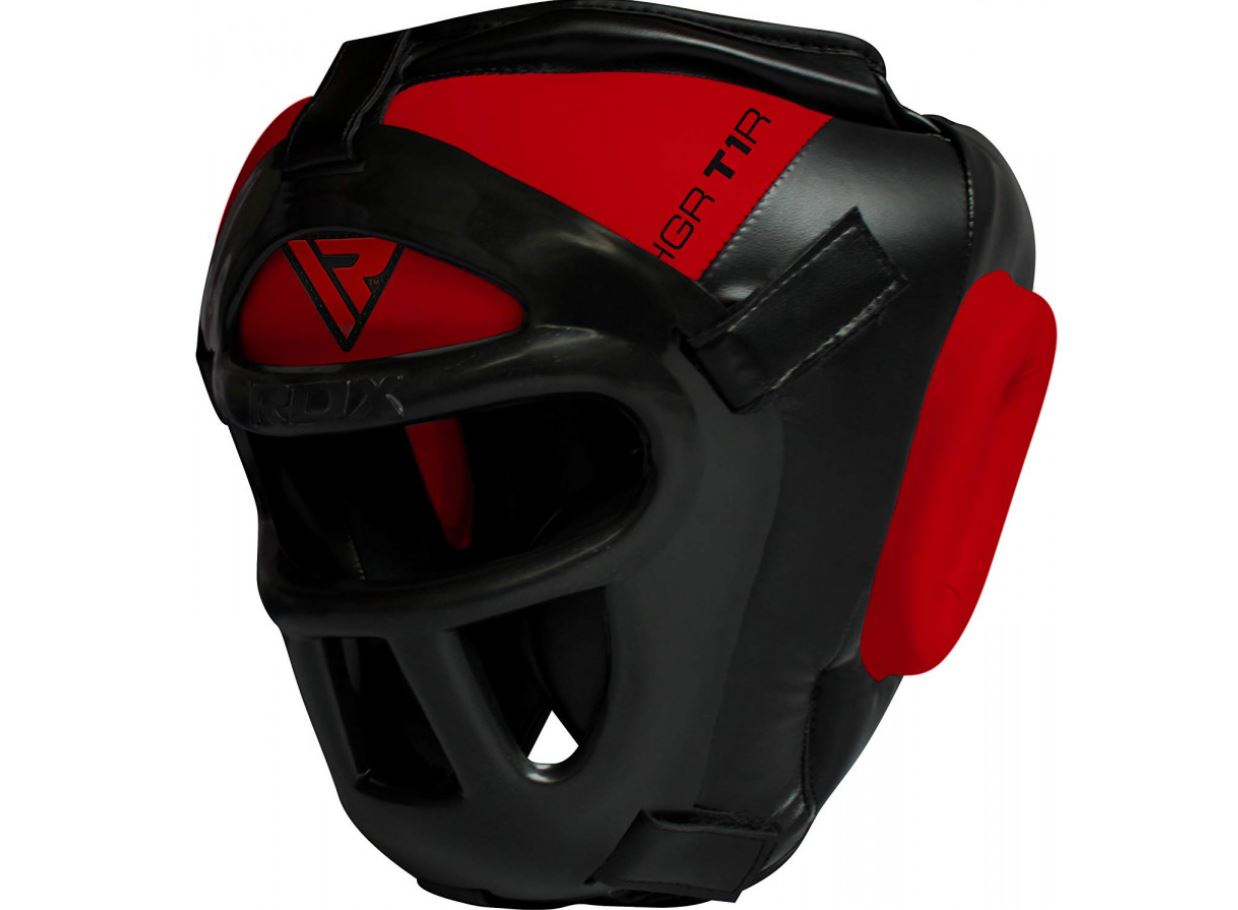 Coming in at number 3, and the first full-face headgear on our list, is the RDX t1 headgear for boxing. While we would recommend going with the high-quality choices when it comes to head protection, this one does a good job by protecting the full face including the nose while still offering perfect visibility once you get the sizing right.
It is made from highly durable Maya leather that has been proven to stand the test of time, and if it is important to you to protect the full face, if you work in an office or something and can't afford to get black eyes and facial injuries, this one might be a good option for you.
The design looks like something that Hannibal had to wear when he was in prison with openings for the eyes and mouth only. It has an easy hook and loop closure that will help it to fit perfectly, but it is always advisable to measure the circumference of your head and match against the guidelines that are provided.
The front faceguard is also removable which is ideal for light sparring or if your vision is impaired, this will ensure you can see perfectly but also reduces the amount of protection.
This one is constructed will tri slab shock-absorbing gel which is quite effective I taking the sting off the punches.
Overall, I'm a big fan of RDX, they offer really good quality at affordable prices, this one will only set you back $35 and performs as well as many higher priced guards.
Pros
Full face protection
Good visibility
Removable faceguard
Easy hook and loop closure
Range of different colours
Great price
Cons
May impair visibility
Face shield looks ridiculous
Make sure to get the correct size
Check Out Some More Reviews Here:

4. Meister Gel Full-Face Training Head Guard for Boxing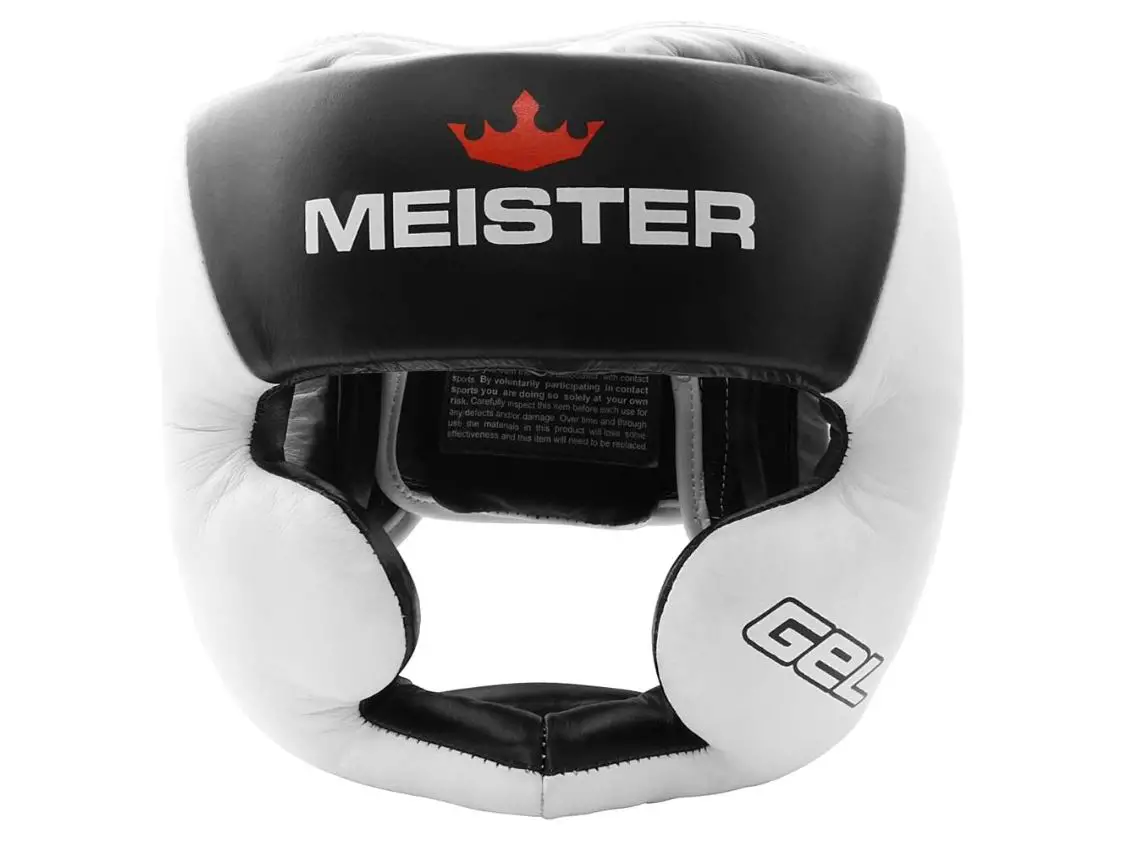 This full-face training head guard from Meister offers unrivaled quality and value in the market today.
We really like the fitting on this one, it comes in three different sizes all the way up to XXL to suit the bigger head sizes, although the sizes run a bit smaller.
We really like the design of this one, it offers great protection as well as perfect visibility which is exactly what we're looking for in any head guard and also offers 100% genuine leather for an unbeatable price at $45.
You can ensure a Snug fit with the velcro strapping on the back and it offers complete protection for the sides and back of the head as well.
The gel interior offers great shock absorption on the forehead, cheeks, chin and even the top of the head.
It's also got openings on the side and the top of the head to ensure that it doesn't get too hot and fill up with sweat in the heat of battle.
An unbeatable combination of quality and value this one is definitely worth checking out.
Pros
Complete protection
Fits perfectly
Perfect for larger heads
Open & Breathable
100% leather
The price is right
Cons
Can sweat up on the forehead area
Make sure to get the right size
Not great for long hair
Check Out Some More Reviews Here:

5. Ringside Competition-Like Boxing Headgear with Cheeks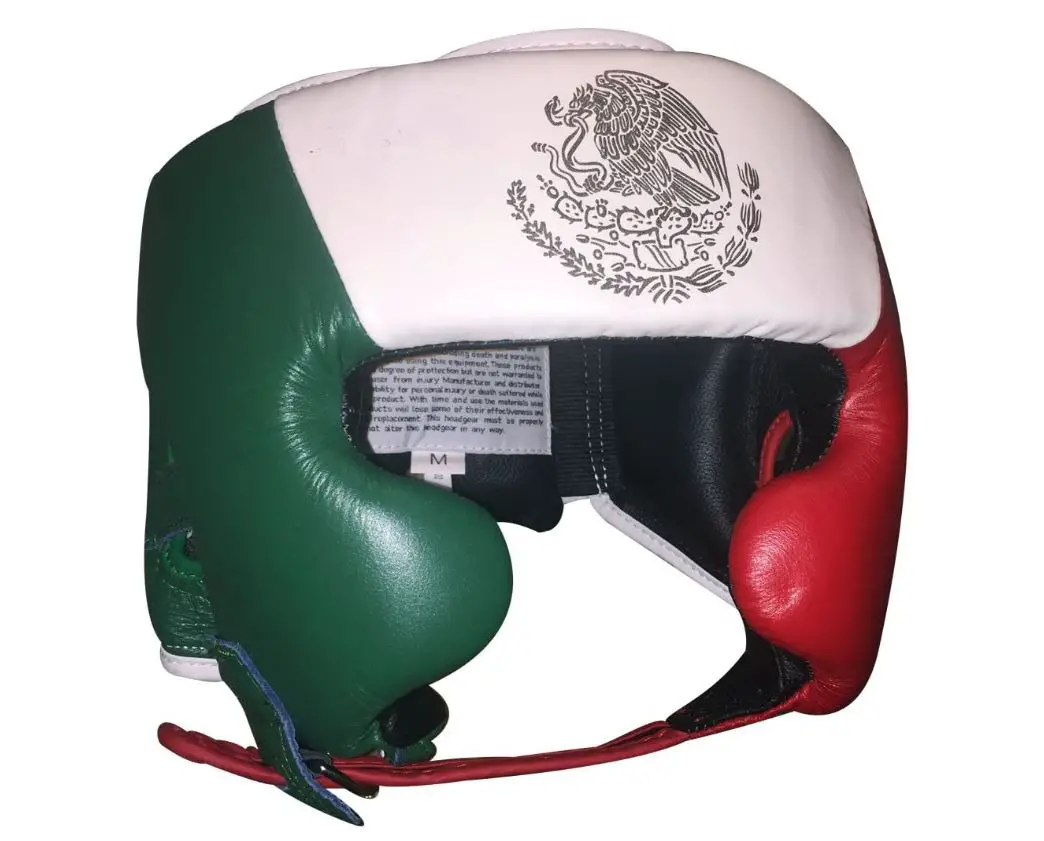 Number four on the list, is the ringside competition like headgear, it offers good protection for the face and the cheek protectors are quite effective, but it's also got a wide design so that ensures full visibility which is the most important thing when it comes to headgear.
It's made with durable leather and the quality design ensures that it will last for a number of years. It's got a hook-and-loop closure and it comes in various sizes so make sure you measure your head and get the correct size.
What we really like about this one, is that it comes with a number of quality designs, so you can get the Mexico flag or the USA flag or many other various colorful designs that will brighten up the gym.
It's got velcro strapping on the back and the dense foam offers quality impact absorption, this one comes in an affordable price at around $50.
You can also spend $20 more and get there same headgear that is approved for competition, if you feel like you're going to be competing. You'll probably be provided a head guard if you're fighting but that could be a handy feature anyway.
Pros
Perfect visibility
Made from leather
Excellent designs
Various sizes
Velcro and hook and loop strapping
Cons
Wide visor doesn't offer full face protection
Not competition approved
Check Out Some More Reviews Here:

6. Fairtex Headgear Head Guard Super Sparring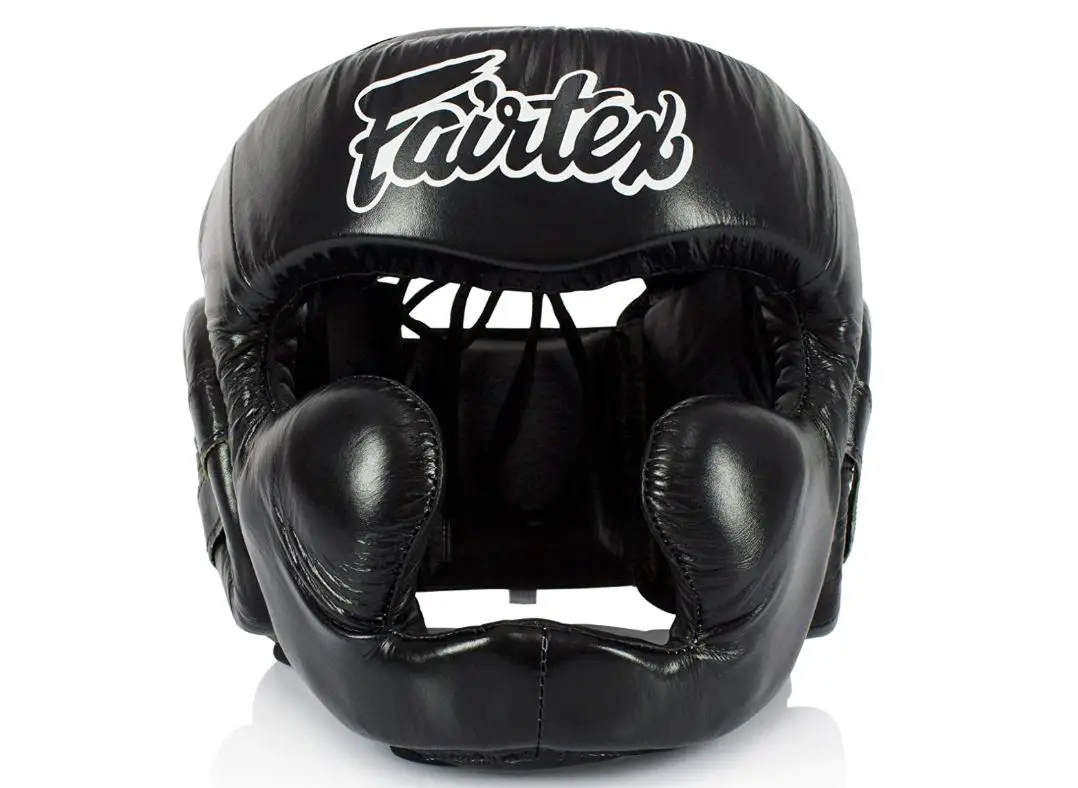 Fairtex a well-known brand in Muay Thai, but there is nothing wrong with this excellent headgear for boxing either.
It comes with really strong branding and various different beautiful designs but not only that Fairtex is also known for its high quality.
The cheek protectors on this one offer excellent protection for the eyes and also partially the nose, what does visibility is also perfect on this one. This one also has a parallel bar that runs along the chin area and that offers excellent protection from straight shots.
It is tied with lacing on the back and the ear protectors offer ample support for any oncoming hooks to the side of the head.
This one comes with soft yet high-density foam on the inside but it is made of tough durable leather on the outside, combining, to offer comfort, shock absorption, and a long-lasting boxing headgear.
It comes in various sizes with an easy to read size guide this is important with this one due to the completeness of the design.
This is definitely one of the leading head guards on the market and it comes in at around $60, which is quite competitive.
Pros
Perfect visibility
Complete protection
Chin protector
Beautiful designs
Impact absorption and durability
Quite affordable
Cons
May not fit odd-shaped heads perfectly
Leather inside and out can cause excessive sweating
Check Out Some More Reviews Here:

7. Hayabusa T3 Boxing Headgear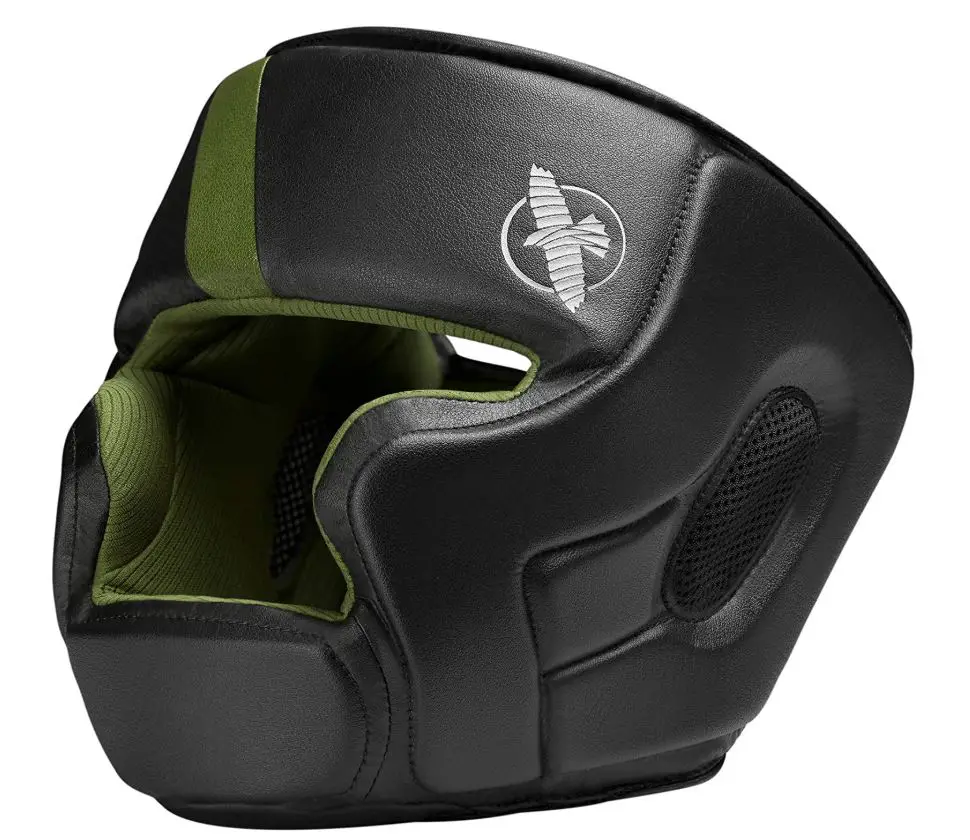 The Hayabusa T3 is another full-face protector with a parallel Chin Bar that offers very good complete protection.
Hayabusa has quickly become known as a leading, emerging brand in the MMA and boxing markets.
This one comes as a one size fits all model, with a patented T-lock system at the back to ensure a quality fit for everyone. That is the only reason that this head guard isn't higher on the list, because there is the possibility that it might not fit smaller or odd-shaped head sizes.
The cheek protectors on this one offer very good protection for the eyes and even slightly the nose, and it comes with a Crush Zone Core which offers very effective shock absorption.
As a full face guard, this one offers good protection around the back and sides of the head but it is also quite lightweight and ergonomic with a sleek design that doesn't provide a big target for your opponent.
Hayabusa are well known for high quality and durable gear and this one is quite well priced at $99.
Pros
Wide visor for Great Vision
Patented key lock for a snug Fit
Lots of different attractive designs
Lightweight and ergonomic
Cons
One size fits all may not suit everybody
Quite expensive
Check Out Some More Reviews Here:

8. Everlast Fresh Head Gear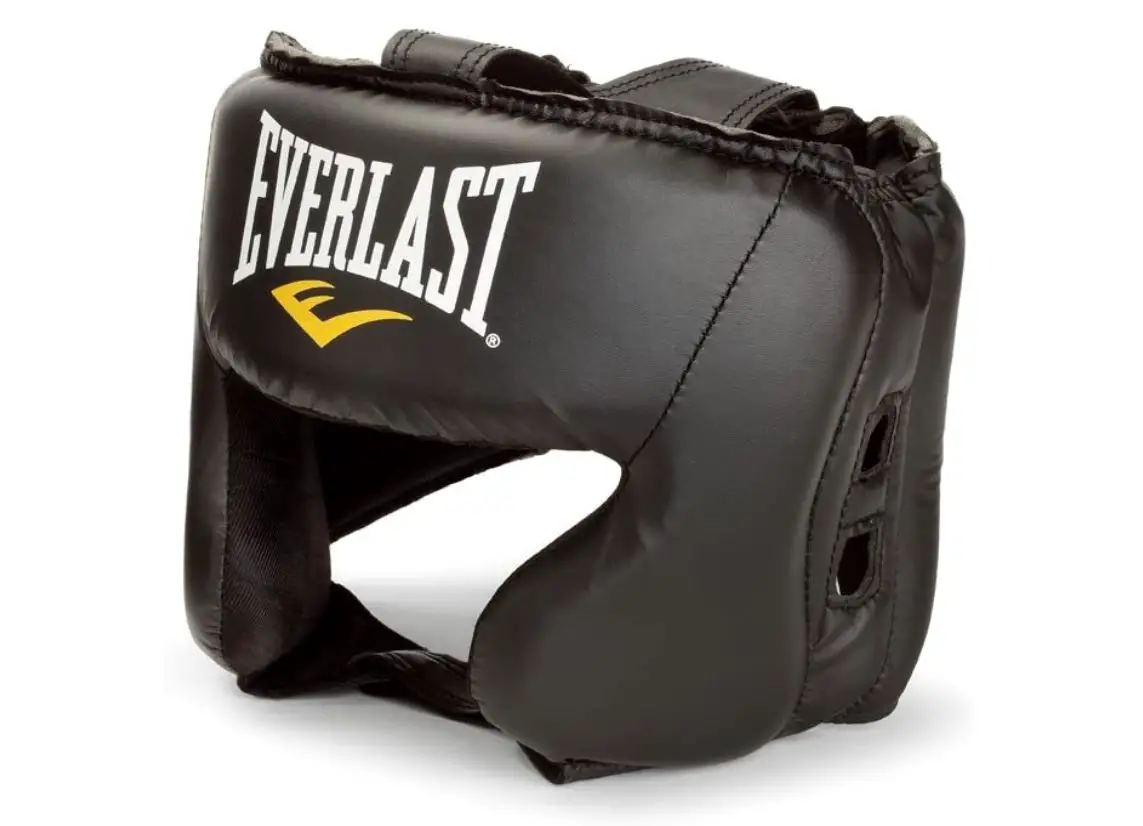 Lightweight and comfortable, the Everlast fresh headgear offers comfort and maneuverability in the ring.
Everlast is one of the leading names in boxing and this is a head guard designed to offer perfect visibility in the ring while the cheek protectors and dense foam filling offer good protection for the face and Shock absorption.
This one comes as a one-size-fits-all offering and the open back and top have a good breathability so it won't get too hot and sweaty in the summer.
The velcro strap at the back offers good adjustability to fit almost any head size.
This one is also quite cheap coming in at around $40 but it gets the job done effectively maximum Vision and a lightweight design is important for you.
Pros
Great visibility
Breathable design
Respected brand
Competitive price
Cons
Not much protection are on the back and side of the head
Other headgear offers higher quality.
Check Out Some More Reviews Here:

9. Ringside Ultra Light Sparring Headgear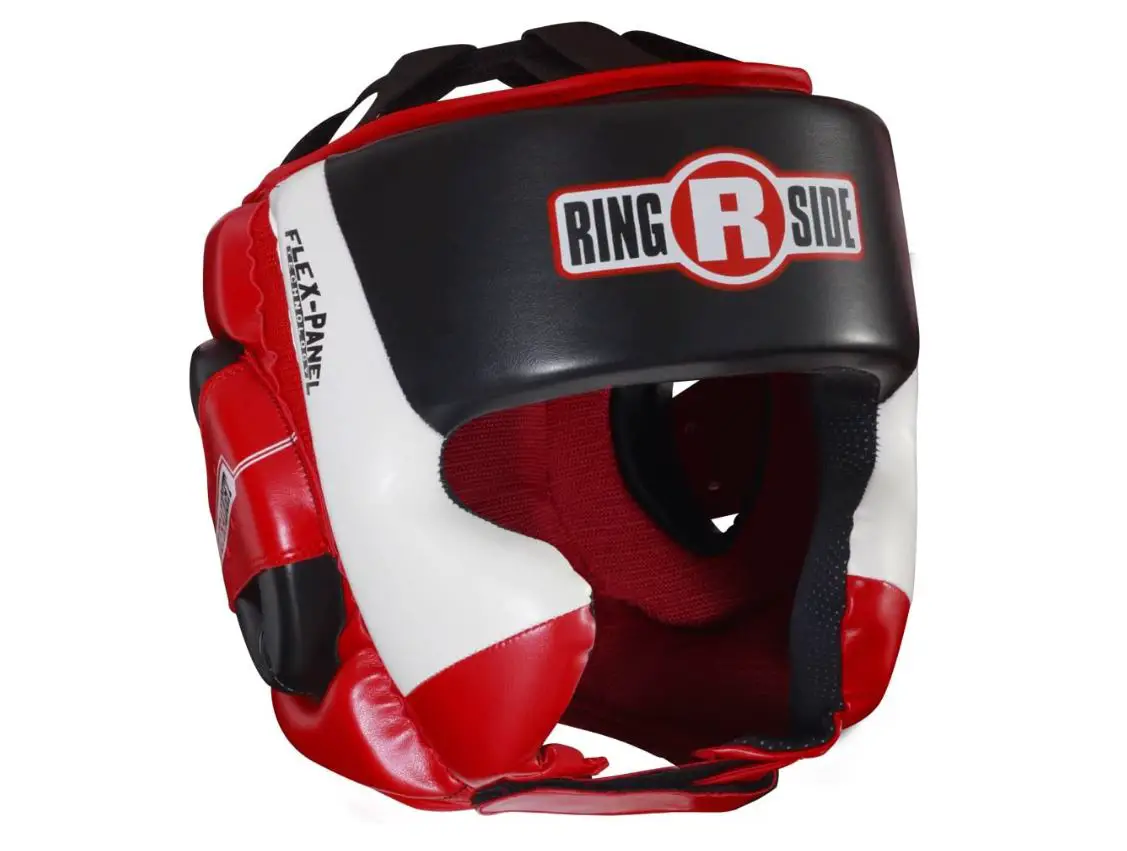 Another offering from ringside who are one of the leading boxing brands of the current moment. This one offers an ultralight design that allows maximum maneuver around the ring while not impeding on your vision.
The design on this one it's really nice and it fits very nicely with a hook-and-loop strap and a quick tie lace strapping on the back and the different sizes ensure you should be able to get a perfect fit every time.
The design includes lightweight cheek protection although you were sacrificing a lot of padding to make it a light ways and comfortable headguard.
It also offers ear protection and it has got moisture-wicking polyester interior with a flexible elastic liner.
This is perfect for minimum protection but if you like the spar hard or you're in the higher weight classes, you may want to go for something with a little more protection.
Pros
Great brand
Beautiful design
Lightweight
Perfect visibility
Excellent fitting
Cons
Not much padding
Doesn't protect the nose
Check Out Some More Reviews Here:

10. Sanabul Essential Professional Boxing Head Gear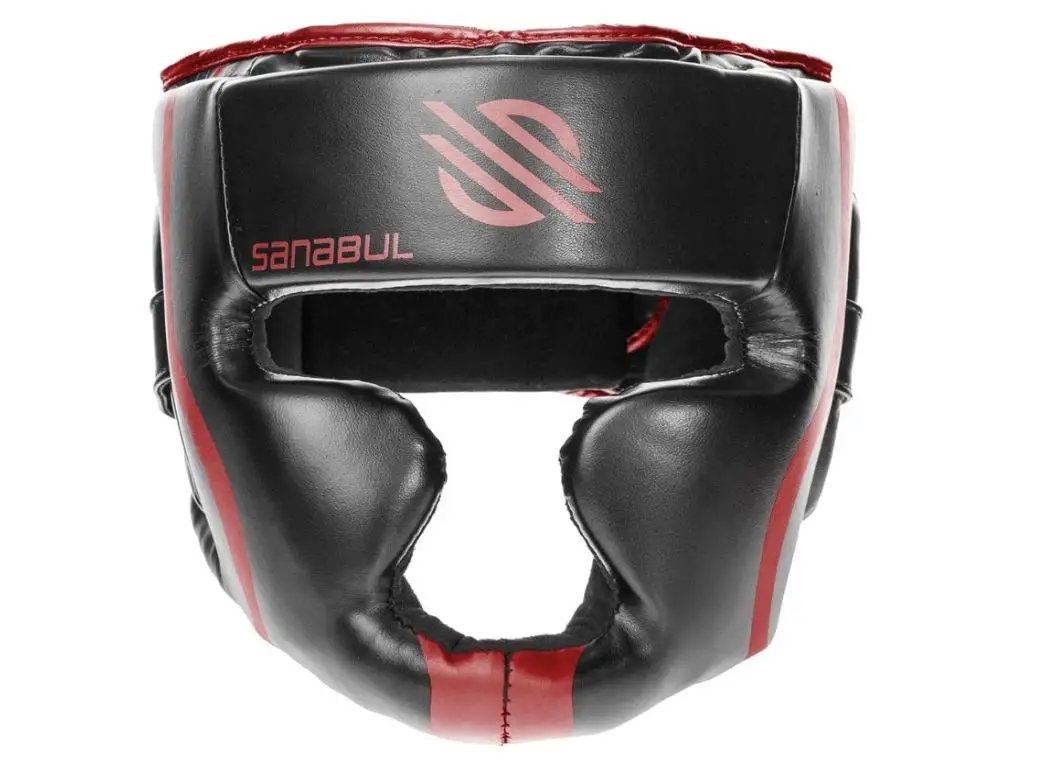 Sanibel are quickly becoming the leaders in budget boxing Gear and its a quality headset with cheek protectors is no different.
As long as you are not expecting the same quality as the winning set when you buy this, but understand and that there is a trade-off between quality and price, you will be happy with this one as it certainly gets the job done for under $30.
If you're new to the sport this can be a good advantage as you can replace this with a higher quality gear in a year's time when you know that boxing is the sport for you or MMA, Muay Thai, whatever it is.
The cheek protectors on this one offer good quality and the shock absorption matches that of certain higher priced brands.
The design is durable but it won't last forever and if you get the sizing right you will get good visibility on this one too.
It is lightweight and it closes with a velcro strap and also a hook and loop closing mechanism for the chin to ensure a tight and snug fit.
The main thing to watch out for here is that if you get the size wrong it may impede your vision.
Pros
Budget pricing
Protection
Shock absorption
Tight-fitting
Cons
May impede visibility
Stitching may come undone after some time
Check Out Some More Reviews Here:

Conclusion
Buying boxing headgear is a game of trade-offs, you want the maximum protection but you also want comfort, lightweight, breathable, durability and ease of use.
If you can afford the winning set that is the best on the market but if you're on a budget check out the Venom Elite, RDX T1 or the Meister set and let us know how you get on in the comments.