Looking for a good boxing book to read but don't want to sift through snorers? We were in the same boat. We love boxing. In the ring, only the world's most elite athletes survive and over the years, we have seen legends rise that never seemed like they were going to come back down.
So when they do, it's all the more shocking. The world of boxing isn't just about pugilism on stage. There is so much that goes on behind the scenes, long before and long after every single bout and all of these guys live colorful lives with more ups and downs than a rollercoaster.
So we thought we'd share a list of the 10 best boxing audiobooks that, in our opinion, will captivate the mind of any boxing fan.
1. Ricky Hatton's Vegas Tales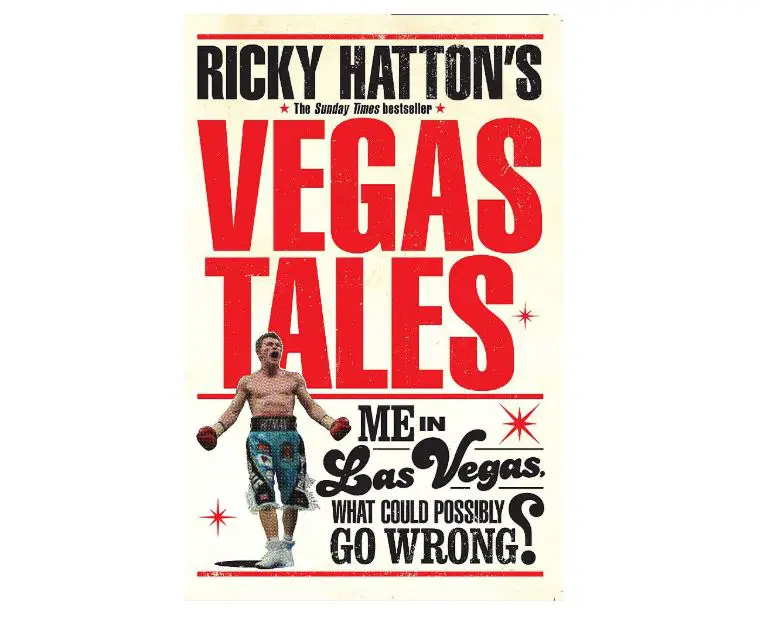 We start off with an audiobook in the biography/memoir genre.
Written by the UK's own Ricky Hatton himself, this book chronicles some of the outlandish experiences Ricky had in Las Vegas Nevada – both the exploits outside of the ring and the triumphs and defeats inside it. This is a book that we feel really has it all.
If you are titillated by scandalous tales of the Vegas strip, drama that cannot be fictionalized and tales of the highs and lows that only Sin City can afford a man, this would be a great book to start with.
Plus there are a bunch of legendary boxing counterparts of Ricky's in this book giving firsthand accounts of their experiences with Ricky. Some are downright shocking while others had us laughing in our cars so hard, we almost crashed.
While some of the anecdotes definitely don't fit the grandiose nature of the book as a whole (we refer you to the one where Ricky cobbled together a proper English breakfast as best he could stateside), most of them really make an impact.
Overall it is a very honest look into Hatton's character as a boxer and an individual. You almost feel like your friends with the man.
Overall Rating: 4.9/5 
Check Out The Reviews Here:

2. Undisputed Truth: My Autobiography (Mike Tyson)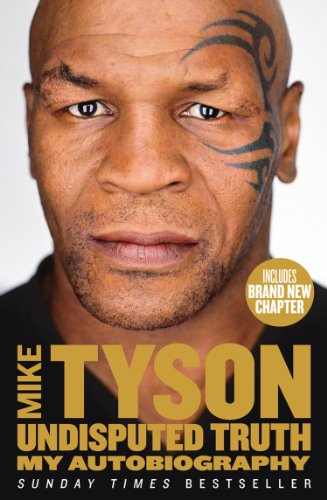 So we'll be upfront. We are huge Mike Tyson fans. Not just because of his dynamism and domination in the ring, but for the honesty with which he has always lived his life.
Mike Tyson is a polarizing figure – from drug charges to electrifying performances in the ring. But one thing you can't take away from him is that he has always been a seeker. As a young man, he knew there was something more as evidenced by his brief stint with Islam.
As an older man, he is still seeking something beyond the physical (we refer you to his appearance on the Joe Rogan experience podcast). Undisputed Truth gives you a good look at the early life of Iron Mike and chronicles his whirling rise to stardom – warts and all.
Written by the man himself, this autobiography/memoir audiobook was Mike's first autobiography. But there would be many biographies to come after it. This is a great opportunity to hear Mike's story in Mike's own words.
With the help of writer Larry Sloman, Mike weaves a tale of intrigue that is so brutally honest; it will have you entranced from start to finish.
Overall Rating: 4.8/5
Check out The Reviews Here:

3. Teddy Atlas From the Streets to the Ring: A Son's Struggle to Become a Man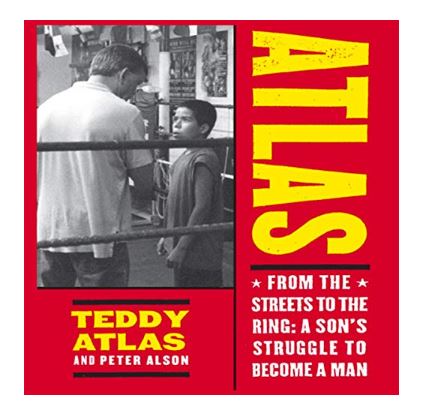 As a boxing fan, you have probably heard of the legendary trainer to champions and the stars, Teddy Atlas. In his memoirs, Teddy recounts his days as a youth up to his later career.
The audiobook is narrated by Teddy himself which we liked right off the bat. It goes into detail with his notorious association with Sammy Gravano: the infamous mobster who turned an entire organized crime family over to the feds.
This book has a lot of gears. It turns from a heart-rending account of a boy struggling to come to terms with the expectations of his father to organized crime documentary to philosophical ponderings that make the reader wonder right along with Teddy himself.
And all with a languid fluidity that doesn't make it seem forced. This is a great book for boxing fans, fathers, sons, crime documentary lovers and anyone who has wondered about their own perception of themselves.
Overall Rating: 4.7/5
Check out The Reviews Here:

4. Muhammed Ali: The Greatest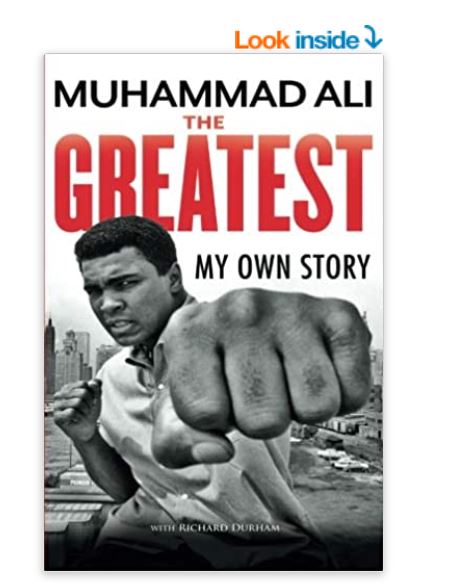 For those of us who weren't fortunate enough to be alive to see the greatest boxer of all time fight in the ring, hearing firsthand accounts like the ones that bubble up to the brim of The Greatest: My Own Story is a bit of consolation.
This audiobook, narrated by Dion Graham and written by Ali and Richard Durham, tells many of the tales outside of the ring that shaped this man who became so much more than an athlete.
It really shows the birth of Ali's legacy that would inspire so many subsequent athletes to stretch beyond their respective sports.
From his conversion to Islam, to his controversial relationship with revolutionary Malcolm X, and of course to his explosive rivalries with the world's greatest boxers, Ali bares all in his autobiography.
Overall Rating: 4.7/5
Check out The Reviews Here:

5. Tyson Fury – Behind the Mask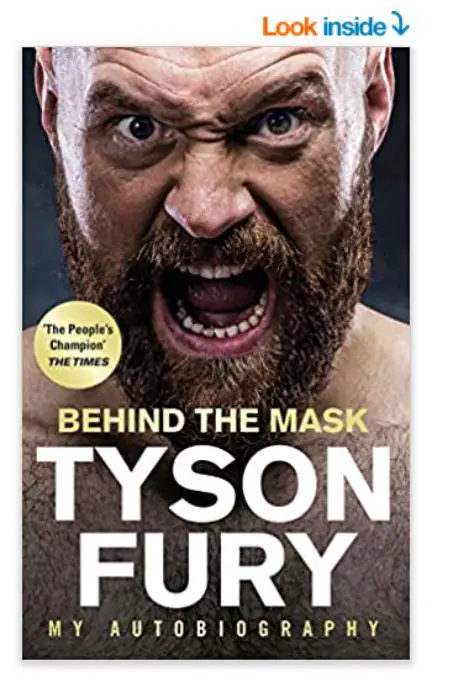 We were pretty blown away by this autobiography. We admittedly didn't know the details of Tyson's life. Just that he is a modern dynamo in the ring.
Beyond the Mask, which is narrated by Jake Wood, goes into detail from birth to the present day (published in 2019). We found out that Fury overcame staggering physical odds as a premature baby and that he was basically born to be a champion.
This is a romp through the rise, fall and rebirth of Tyson Fury. Tyson pulls no punches when it comes to the dark points of his life so listeners beware: this book isn't for the squeamish, faint of heart or anyone easily perturbed.
In the end, though, this is a story of triumph. We hear about the meticulous training regimen of a man who is admittedly mentally unwell and of the ways in which he faced and conquered his demons outside of the ring.
Overall Rating: 4.6/5
Check out The Reviews Here:

6. The Boxing Kings: When American Heavyweights Ruled the Ring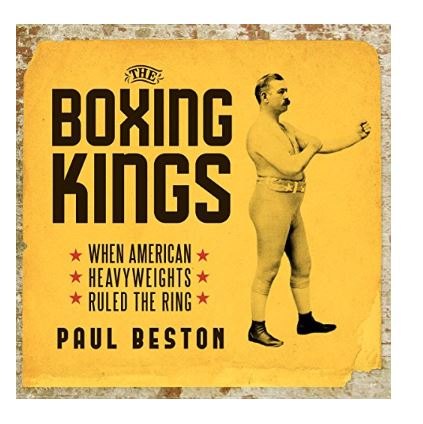 Paul Beston deftly takes us through American boxing history, landmarked by some of the greatest champions in the sport: Rocky Marciano, Mike Tyson, Muhammed Ali, Joe Louis and more.
In this non-fictional foray into the history of the American side of the sport since the turn of the century, we are given detailed glimpses into the titans of the game. We hear about how they used their influence to affect changes they wanted to see in society.
Beston does a great job of interweaving the stories of seemingly unlinked boxers from 1908, all the way to modern pugilists like Mike Tyson.
And in the end, you come away with a sense of the greater legacy of the American boxer. You realize that Beston was not giving separate, unrelated accounts; but he was telling a single story the entire time.
Overall Rating: 4.6/5
Check out The Reviews Here:

7. Cinderella Man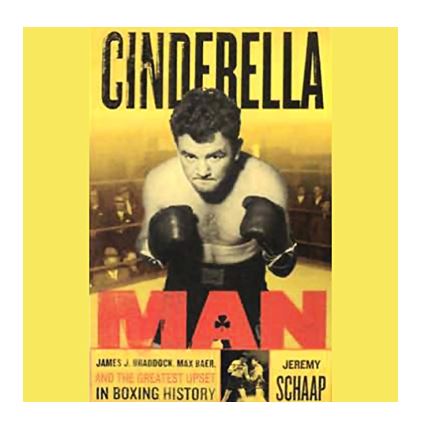 Who doesn't love a good underdog story? In this biography written and narrated by Jeremy Schaap, we are told the almost unbelievable tale of one of boxing's greatest underdogs.
We hear the story of James J. Braddock, a boxer of moderate repute in the times of the Great Depression. How he struggled to put food on his family's table. And the story of his manager Joe Gould who ultimately helped set him up for one of the most memorable fights in boxing history.
The heart-rending tale of struggles in the face of economic disaster, huge career and physical setbacks and of the friendship of Joe and  James all lead up to the fight of James' life. If you are a boxing fan, you probably already know the outcome of that fight against Max Baer.
Even so, Cinderella Man goes into obscure detail about what the fight meant to the American citizen. It wasn't just David Vs. Goliath. It was flash against grit. It pitted the haves against the working class.
Overall Rating: 4.5/5
Check out The Reviews Here:

8. I Am Duran – Roberto Duran
Boxing has always been an avenue by which determined athletes could raise themselves up from poverty. This is the story told in I am Duran, the autobiography of Roberto Duran.
The story begins in the streets of Panama where Roberto grew up and struggled against the challenges of poverty. Duran eventually is able to make a living as a pugilist and would ultimately rise to a level of stardom that few athletes reach.
One of the highlights of this audiobook is the recounting of the legendary "no mas" fight against Sugar Ray Leonard. You hear an account of that famous fight and phrase in Duran's own stirring words. That fight was the turning point of Duran's career and of his autobiography as well.
We thought we knew a decent amount about Duran's life before hearing this book but we were not prepared for the details of his personal life as he shares them with the listener. This is a great book filled with triumph, peril, failure and redemption.
Overall Rating: 4.7/5
Check out The Reviews Here:

9. Smokin' Joe The Autobiography of a Heavyweight Champion of the World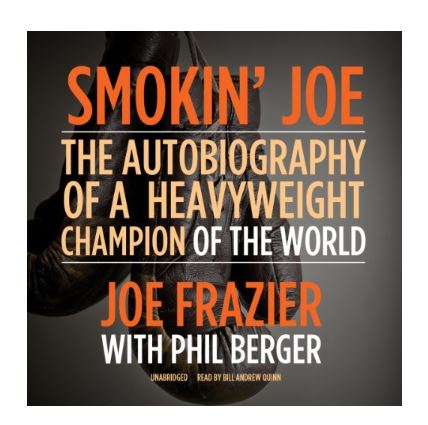 This autobiography written by Joe Frazier, Phil Berger and narrated by Bill Andrew Quinn, really has a way of taking us back to the Golden Era of boxing.
Those glorious days of the late 60's and early to mid-70's when all eyes were on the boxing world and we had heavyweight greats like Ali and Smokin' Joe Frazier.
While his autobiography lacks much of the audacity and scandal of some of the other audiobooks on our list, it is nonetheless one that captures the imagination of the listening boxing fan.
One of the key points of this book is Joe's description of his friendship and ultimate rivalry with Muhammed Ali. He vividly paints the glorious picture of his Olympic triumph and of the inauspicious days when boxing first became a multi-million dollar sport – and a corruptible one.
It is a fun romp through the old days when boxing was in its heyday. But it ends up as a stark reminder that behind all the glitz and glamour, something grimy and dirty was going on.
Overall, it is a well-balanced and at times, funny recounting of one of the most memorable periods in the sport.
Overall Rating: 4.6/5
Check out The Reviews Here:

10. Let Me Be Frank – Frank Bruno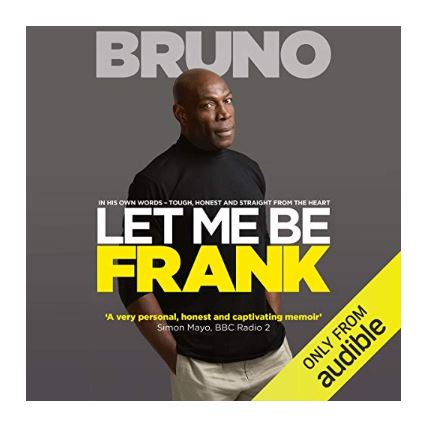 Lastly, we round out our list with an audiobook that we were keenly interested in listening to. Mainly because we felt that the Frank Bruno story ended too abruptly. Publically, the whole story of the downfall of Frank Bruno had not been told.
In Let me be Frank we finally hear a detailed account of what happened to Frank Bruno's career in his own words. Written by Frank Bruno, Nick Owens and narrated by Ben Onwukwe, this autobiography/memoir finally fills in the gaps of the Bruno story that we were lapping for.
Frank Bruno details his bouts with mental illness and how he went from one of the most promising athletes in the sport, to an almost obscure figure. Even as an inactive fighter, Frank still has legions of avid fans. And this book reminds us why.
Overall rating: 4.3/5
Check out The Reviews Here:

Summing Things Up
We really loved making this list because we became privy to some of the most uplifting, scandalous, heart-wrenching and inspiring stories in boxing. These books will teach you a lot about the sport that you never knew.
They will give you insight into the characters of your favorite boxers. They will help you relive your favorite fights and take you right to the different eras of boxing that hold special places in our hearts as fans of the sport.
With interesting history and story-telling from angles you have probably never heard before, any of the books on our list will help you fall in love with boxing all over again. If you are a true fan of the sport, we highly recommend picking up any or all of these audiobooks.