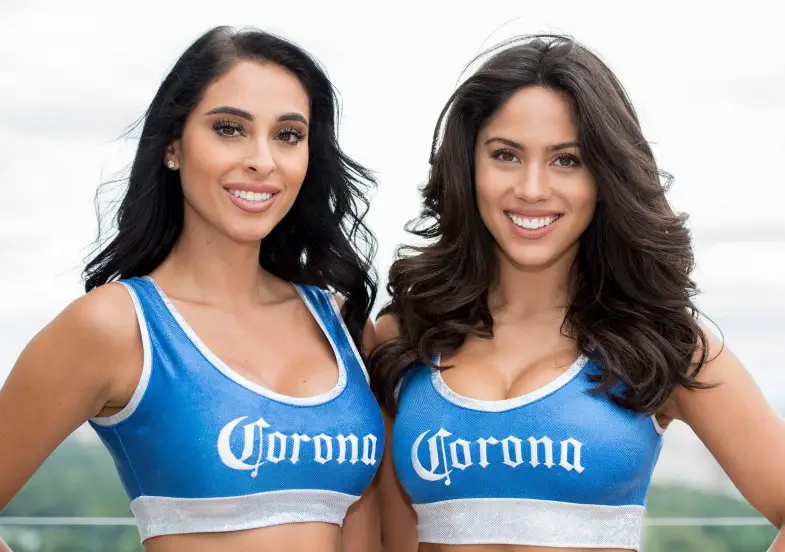 Sexy Ring Girls can often brighten up a dull fight and a boring press conference with their radiant smiles and inherent beauty. We have compiled our list of the 10 Sexiest Boxing Ring Girls that
1. Kiara Gomez
(Click For Slideshow)
Kiara Gomez is of latin decent and another 10/10 smoking hot corona ring girl whose partner in crime is readily described as being Samantha Kumiko.
2. Kyra Keli
Kyra Keli is another smoking hot Corona Ring girl that needs no introduction the world over. Kyra is an absolute knockout and she should also be number 1.
3. Samantha Kumiko
Samantha Kumiko is a smoking hot Corona Ring and our top choice for sexiest ring girl in boxing 2020. You may have seen Samantha at some major fights which included the likes of Carl Frampton and Daniel Jacobs. Samantha is a US native and a multi millionaire to boot.
4. Kendall Jenner
Kendall has a famous name and even more famous looks. She is a boxing ring girl in the Super 6 and she has also appeared on celebrity big brother. We hope the boxing gets started again soon, so we can see more of her in the ring.
5. Emma Milton
Emma Milton is a Super Six Boxing Ring Girl and a celebrity hottie who has in many fights, even George Groves vs Eubank Jnr. The future looks bright for Emma and we cant wait to see more of her going forward, and backwards.
6. Tawny Jordan
Tawny Jordan is a well known face for many boxing fans and definitely one of the hottest ring girls around today. We've seen her at many famous fights including Mayweather, Broner and Santa Cruz.
7. Janira Kremets
Janira Kremets Is a Tecate ring girl, multi millionaire and drop dead gorgeous model. Janira is well know for lighting up the faces of fight fans with joy as she does her thing. 10/10.
8. CJ Gibson
Cj Gibson is of Italian and Filipino descent and the result is electrifying. Known for having worked the Manny Pacquiao v Mayweather fight among many others. We hope to see CJ doing her thing as much as possible this year.
9. Stephanie Cook
Stephanie Ann Cook is a Top Rank Ring Girl with blonde hair and stunning looks and she has done fights including Lomachenko and Mayweather.
10. Jess Harbour
Jess Harbour is a well known Coroan Ring Girl that we hope to see time and time again this year
11. Alicia Espinosa
Alicia Napoleon Espinosa is of Latin American descent and one of the nicest, most beautiful girls you could ever wish to meet.
12. Gloria Friedley
Gloria Friedley is one of the most sought after ring girls in boxing and one of our personal favourites. Shes works on a number of different promotions and is one of the most beautiful women in the world.
We hope you enjoyed the list and if we missed any sexy female boxing ring girls, let us know in the comments below.
***Disclaimer – We found these images freely available on Google and Instagram. Please get in touch if you want any images removed***