The double end bag is my favorite bag to hit the gym as it provides a moving target, allowing you to work on your speed, accuracy, timing, reflexes, and defense while getting a quality work out.
If I had to recommend any bag to a beginner it will be this one as it helps to improve the hand-eye coordination and I think it's the bag that helps you to improve the most from a novice to a contender.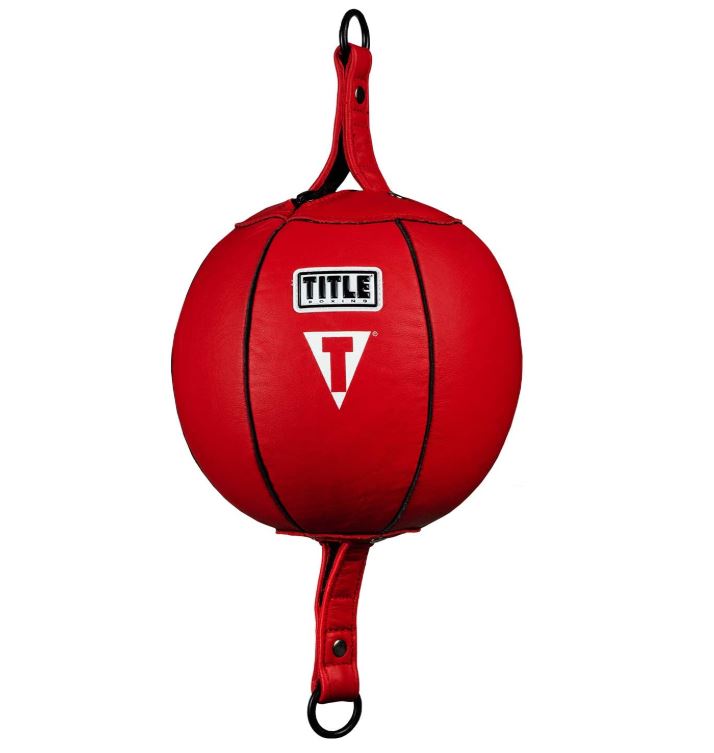 Title Double Boxing End Bag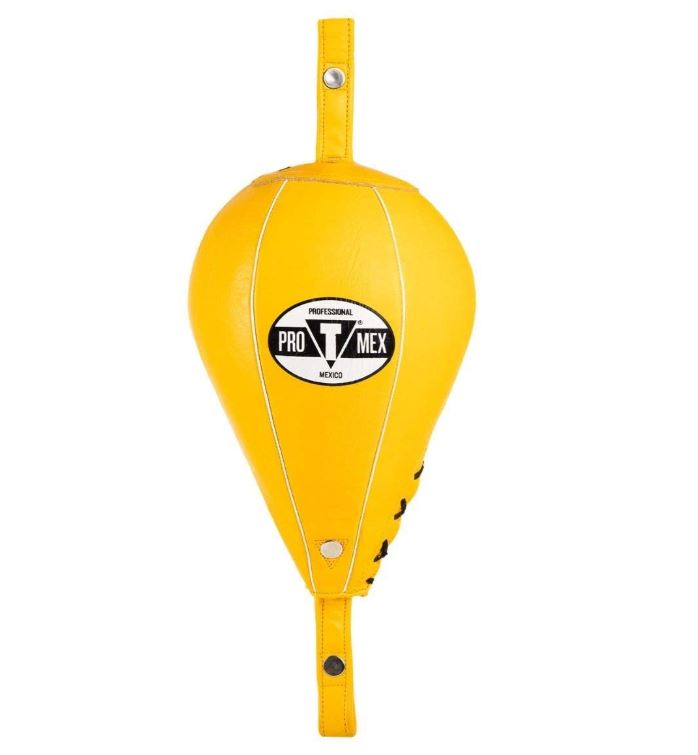 Pro Mexx Boxing Double End Bag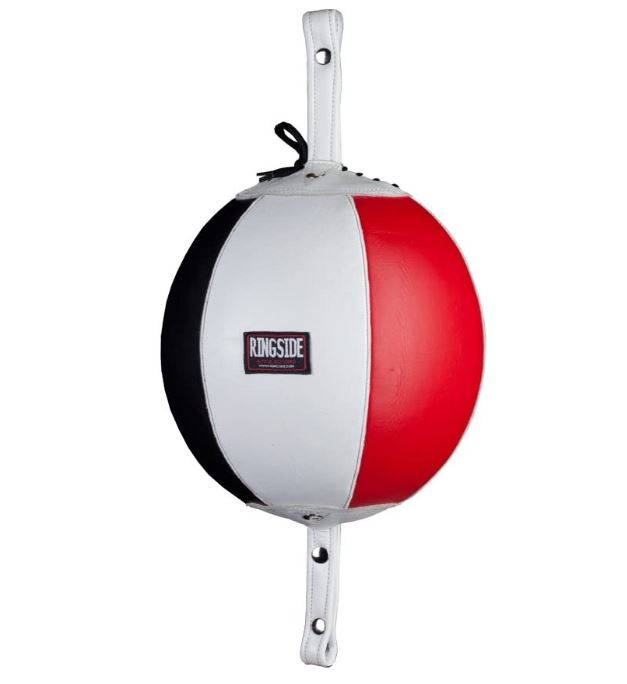 Ringside Double End Boxing Bag
1. Title Boxing Double End Bag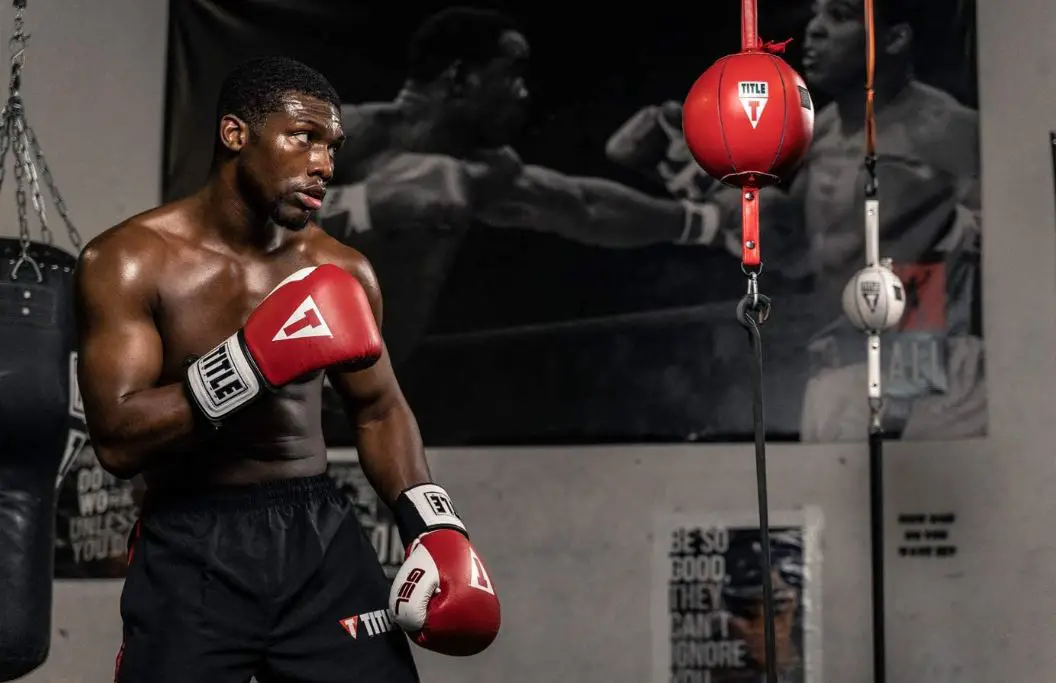 Title is a trusted name in the boxing equipment market especially when it comes to punching bags and this is no different with their double end bag that we really like.
What do you get?
You get the complete kit with a fully leather bag, two industrial rubber cords, two S hooks to attach the floor and ceiling and 2 three and a half-inch hook straps to attach the cords and hang your bag.
You get to choose between three different colors, red, black or yellow and this one has been around for a few years so we have a lot of feedback and reviews allowing us to know for sure that this is a good quality product.
You also get heavy-duty Chrome O rings that ensure the bag stays attached even throughout a heavy workout.
The top-grade leather ball is expertly stitched with nylon giving a durable product and there is easy access to the rubber bladder inside.
What we really like about this one is that it is very responsive to your punches, it's professional quality and you can throw punches from all angles well, working on your reflexes and head movement perfectly with this bag.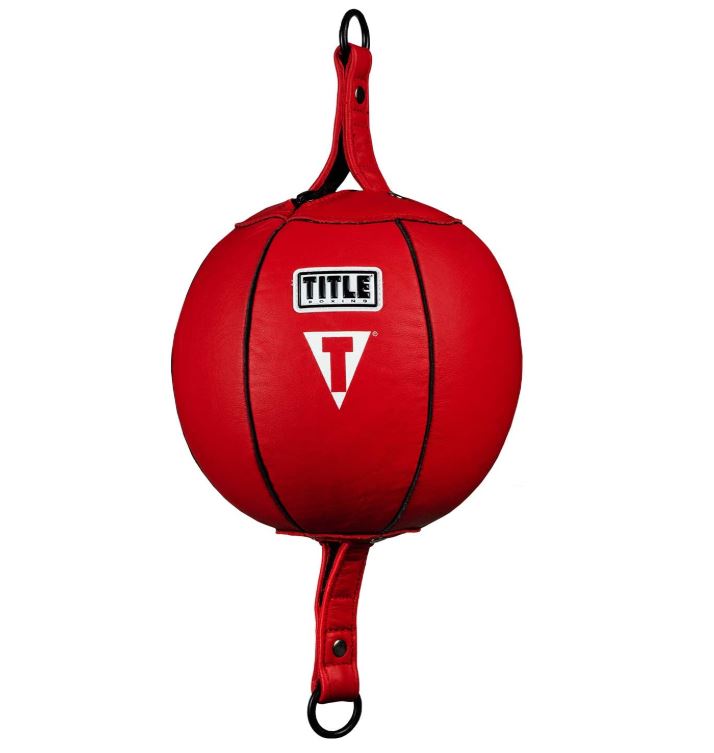 Check out the reviews here:

2. Pro-Mex Professional Double End Bag V2.0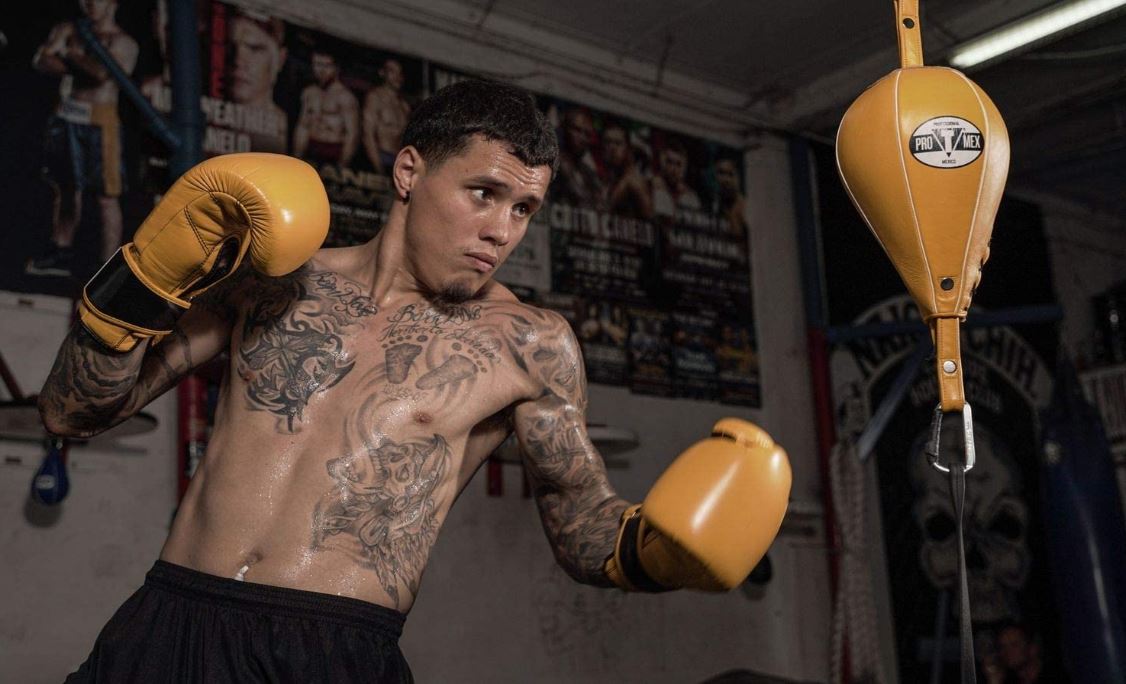 The Pro-mex professional double end bag is a premium choice and this is a dream to work out with in the gym.
What do you get
Constructed of premium goatskin leather, the feel and responsiveness of this bag is by far the best we have tested the date.
You get two different sizes to choose from, 5″ by 9″ are 7″ by 11″, depending on your skill level and what you are looking for from the bag.
I prefer the 7″ by 11″ as it is just easier to hit with bigger shots and to combine your shots, keeping the bag moving as you throw straights and hooks.
This one comes with nylon stitching, two reinforced loop straps, and the rubber inner bladder is built for Speed, durability and Performance.
You get to industrial rubber cables to connect a bag to a roof and a floor and this is probably the best bag you've seen in any gym to date.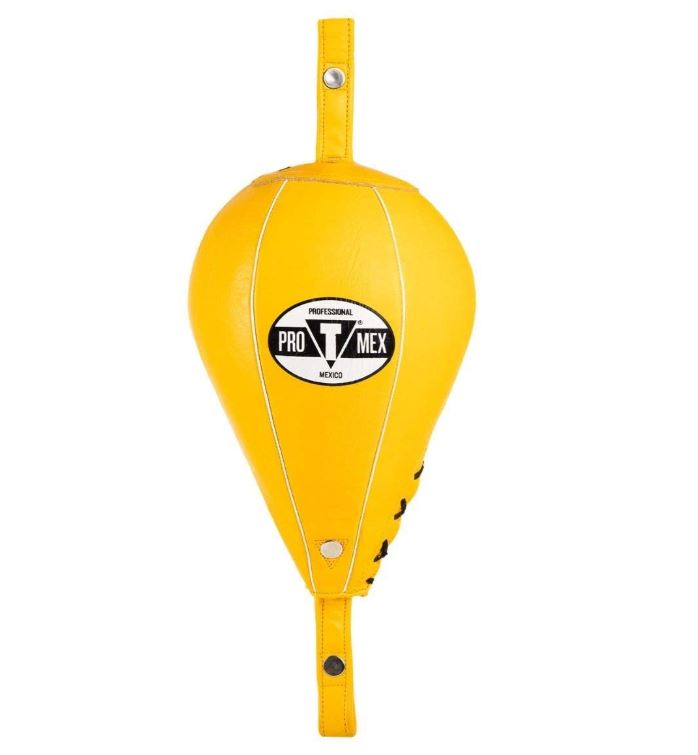 Check out more reviews here:

3. The Ringside Double End Bag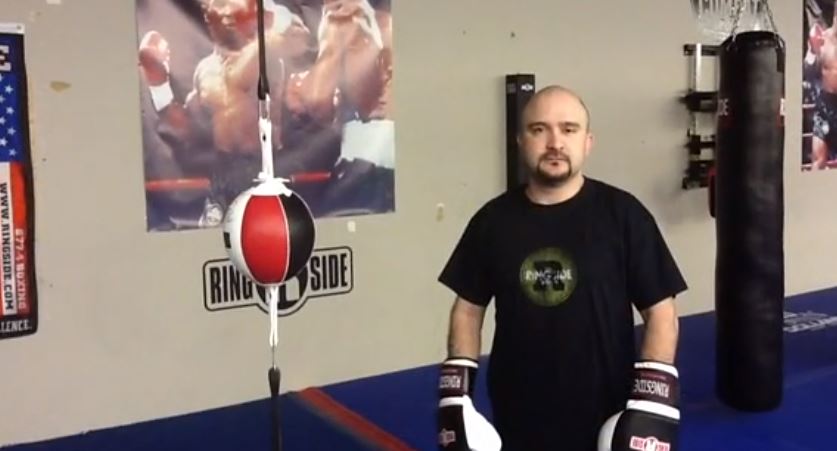 Ringside need no introduction in the boxing world, they are the main brand used in the Mayweather gym and they produce the most famous boxing bags in the world.
What do you get
This double end bag is made from premium leather with triple reinforced loops at the top and bottom to ensure that this is a bag that you can use for years to come.
It's tied at the top with lacing so that you can easily open it to replace the rubber bladder inside and this one comes in two sizes. You can get the 5 inch for speed, reflexes and precision or you can go with the nine 9-inch for power, speed and accuracy.
I always prefer the larger bag as you can hit it a bit harder and work on your combos more effectively.
You get to industrial rubber cords with this to attach it to the roof and the floor, and you can easily replace the rubber bladder when it does become deflated from use.
This one's been around for years and it has tons of good reviews.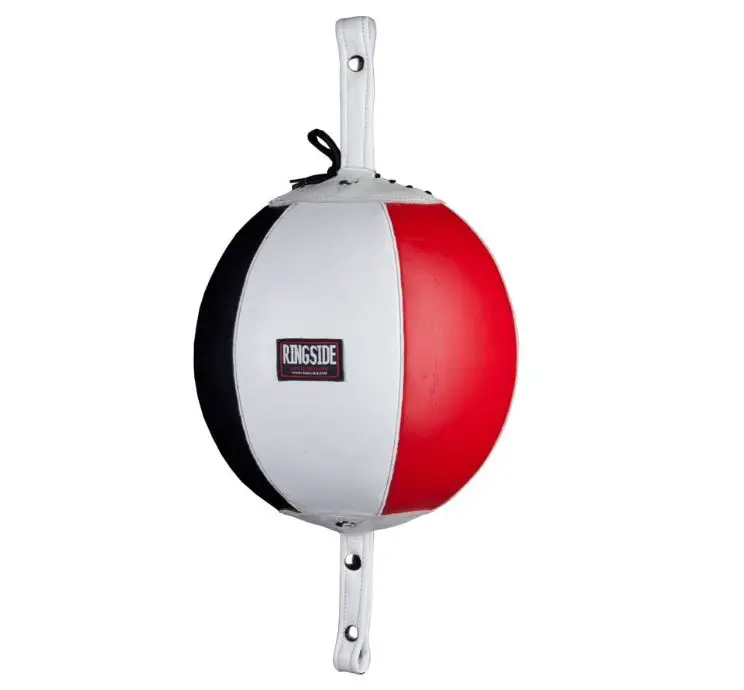 Get the best price here:

4. MaxxMMA Double End Striking Punching Bag Kit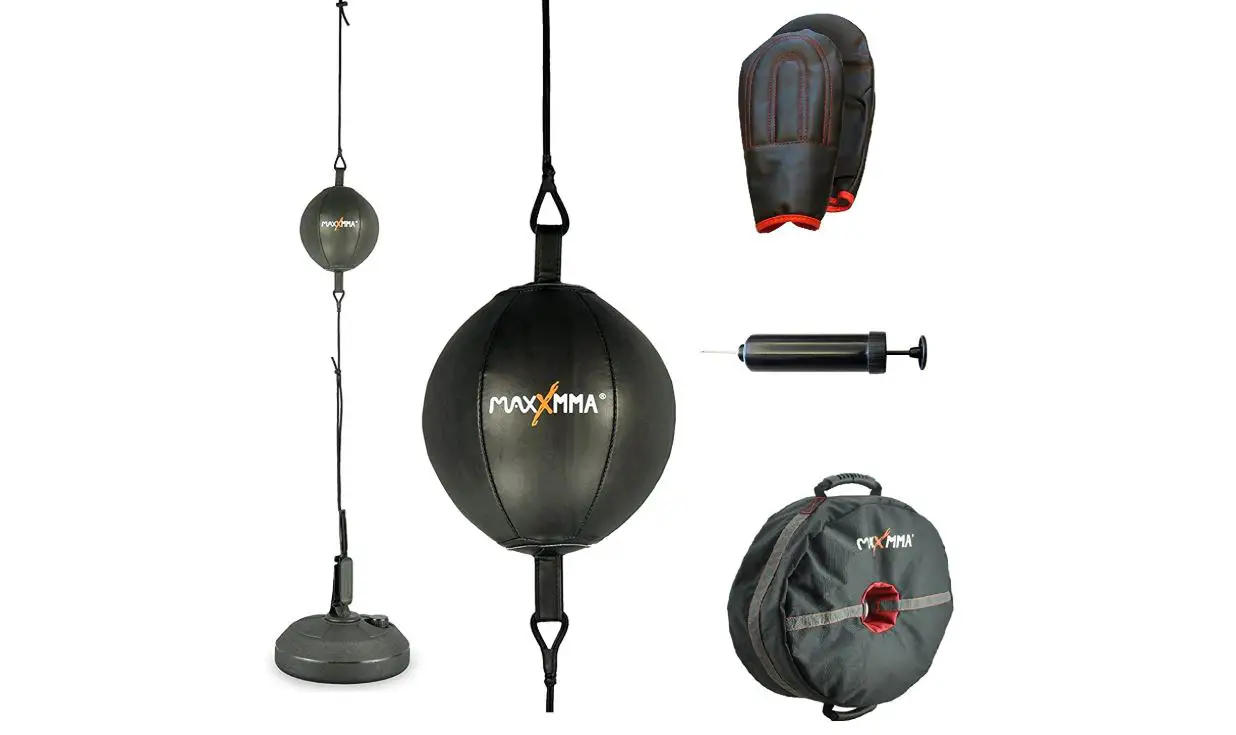 Coming in at number four is the double end punching bag kit from Maxx MMA who are a newcomer to the boxing equipment market, but this is a quality bag
What do you get
I really love this double end bag because you get a full kit that includes the pump, a weighted bag to hold it down at the bottom and you get super light bag gloves that give you a lot more feel on the bag and allows you to hit faster and more smoothly.
The bag itself is 9″ and is made of synthetic leather, it comes with two bungee cords, hooks and mounts so you can easily attach it to the roof and the floor.
We really liked how responsive this one was and it also seemed quite durable when were hitting it with hard shots and it was bouncing around really nicely. This is perfect for a home gym or even a commercial gym.
This one comes in a plain black style and the full kit costs $84.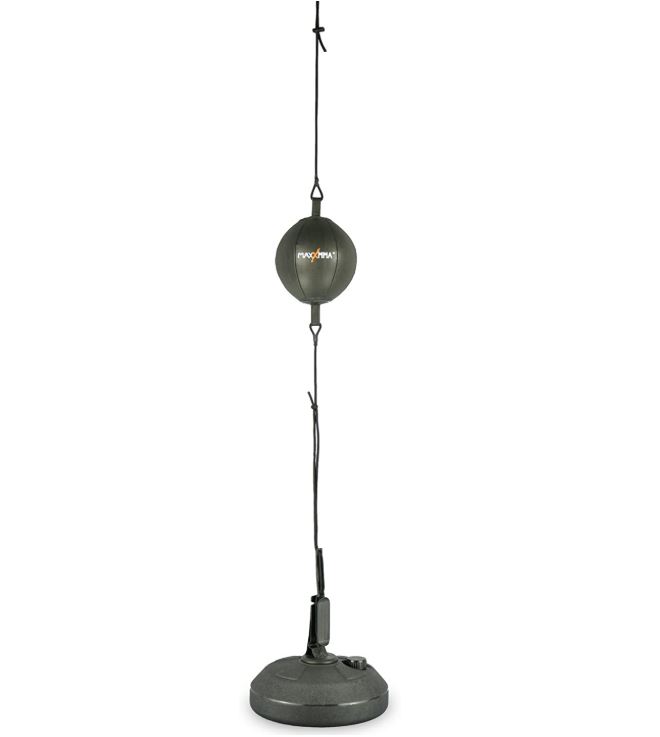 Check out the reviews here:

5. Pro impact Mexican style double end bag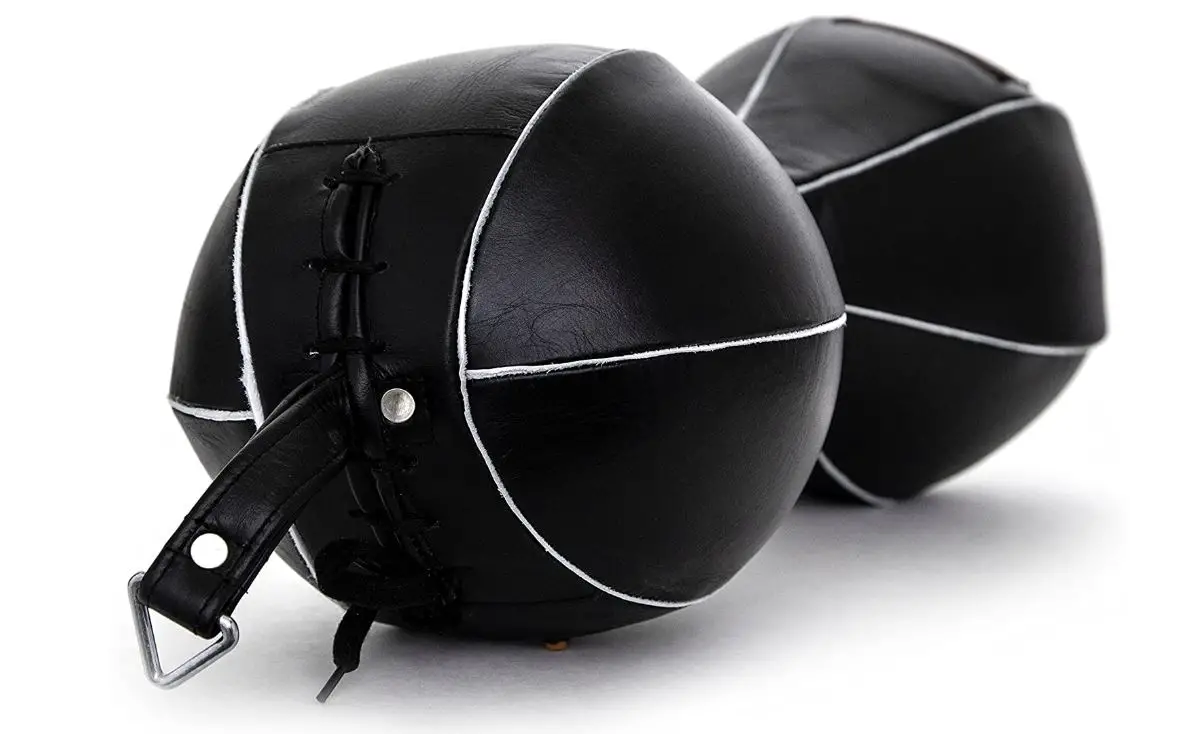 Pro Impact are a solid supplier of high end, commercial boxing gear. This is the first Mexican style bag on our list and this allows you to work the body and the head.
What do you get
The bag itself is high quality made from genuine leather and this one is very durable and responsive as well.
The bag is filled with a high-grade rubber bladder that ensures that it keeps its integrity even after being hit hard for a long time.
You get to durable hooks at the ends, S Hooks that attach to the rubber hooks provided that can hook straight onto your roof and floor.
We really liked the quality and responsiveness of this one and it's the number one double end bag on our list.
This one comes in an all-black style, red or black and white and it will cost you about $70.
Check out the reviews here:

6. The RDX Double End Bag Kit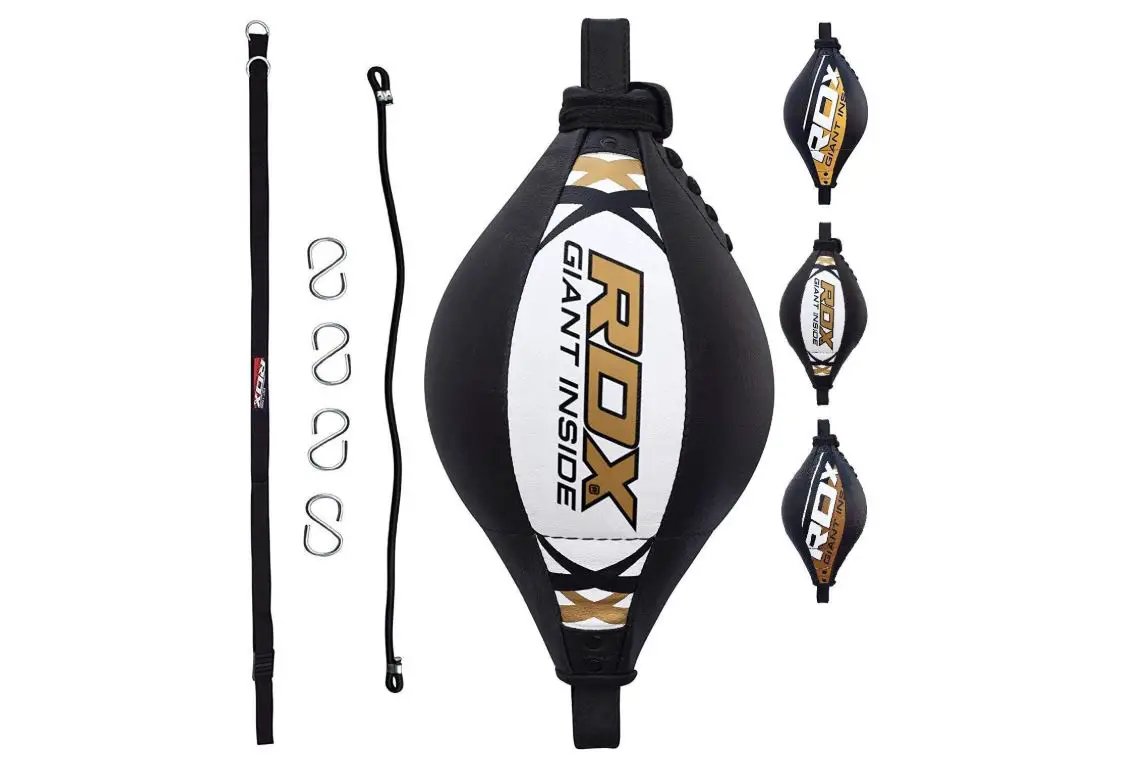 RDX are a solid supplier of Muay Thai, MMA and Boxing gear for reasonable prices. Their products are built to last and I have always been impressed when I have ordered from them.
What do you get
This 37 cm or 14-inch bag is made of durable synthetic Maya leather and it is built to last. This one is secure at the top with lacing and you can easily replace the highly durable rubber bladder when the time comes, although it should last for a number of years.
This one comes with all the hooks and chords that you need and the rubber bungee cords are built for speed and responsiveness.
You can get this one in black and white or black and yellow and it will cost about $40.
RDX is a new name in the boxing and MMA Industries and we really like the value that you get from the gear.
We really like this double end bag for the speed and responsiveness of it and that you can hit it with power as it is quite large and we definitely recommend taking a look.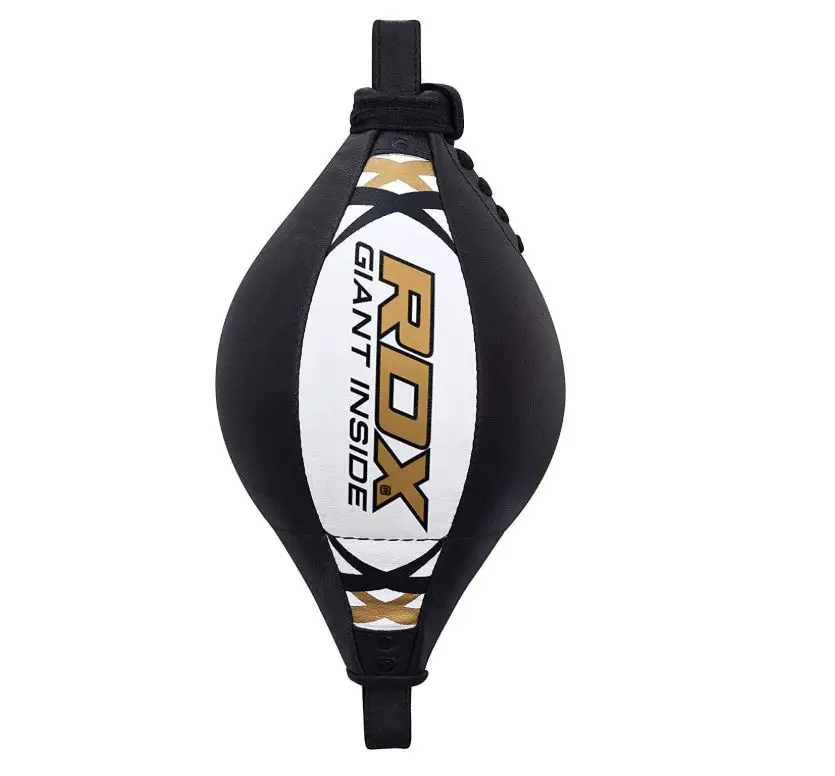 Check out some more reviews here:

7. The Title Mexican Style Double End Bag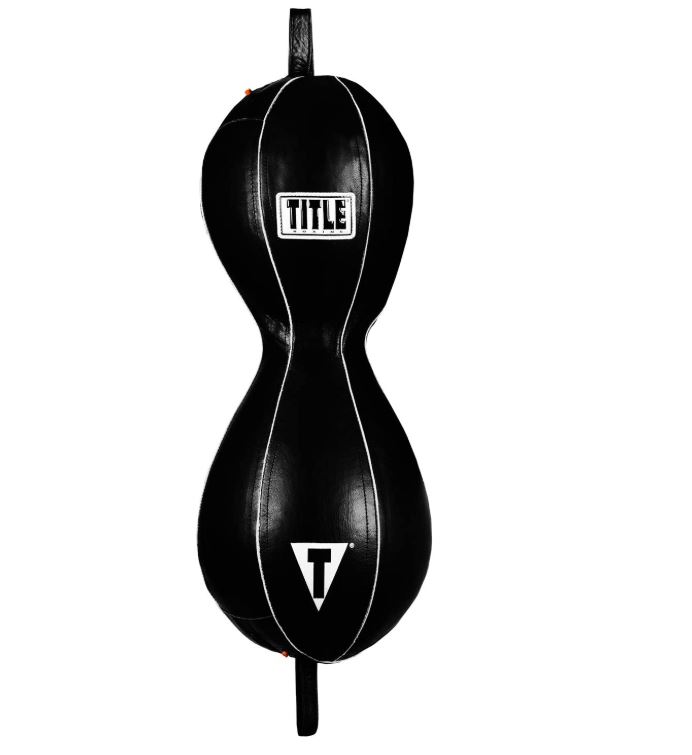 This is all the quality you've come to expect from the Title brand in a Mexican style version of the double end bag.
What do you get
The genuine leather covering is built to last and we really liked how responsive and fast that we could hit this one to the body and head before we had to block as it came backwards and move our feet.
This one comes with the S Hooks, secure looped endings that are stitched up with nylon and you get to industrial-grade rubber cords with this one to hook it into the floor and the ceiling.
This one was soft but firm, responsive and durable and we really liked trying out new combos with this one, especially trying the lead-hook to the head and throwing to right straight to the body and then the hook back up to the head.
It took us a while to get used to how this bag works but once we got into a rhythm there was no turning back and we really enjoyed the work out.
Check out more reviews here:

8. Ringside Apex 7″ Double End Bag
Another entry on our list from Ringside and this is the 7-inch double end bag and what we really like about this one is that it actually punches back.
What do you get
The bag has a small, 7″ design that is hard to hit but when you do it flies fast and comes back directly towards your face so you need to move your head or raise your gloves to block it.
We had a lot of fun working on this one and you can get it in blue and white or red and white, the design is great and it will only set you back $38.
You can also get this one in a 9-inch but we actually like the 7-inch of this just because we had to work on our defense so much.
The top and bottom loop straps are 4 and 1/2 inches long to keep the included rubber cords out of the striking area, and this flashy bag is made out of genuine leather with a durable rubber bladder included as well.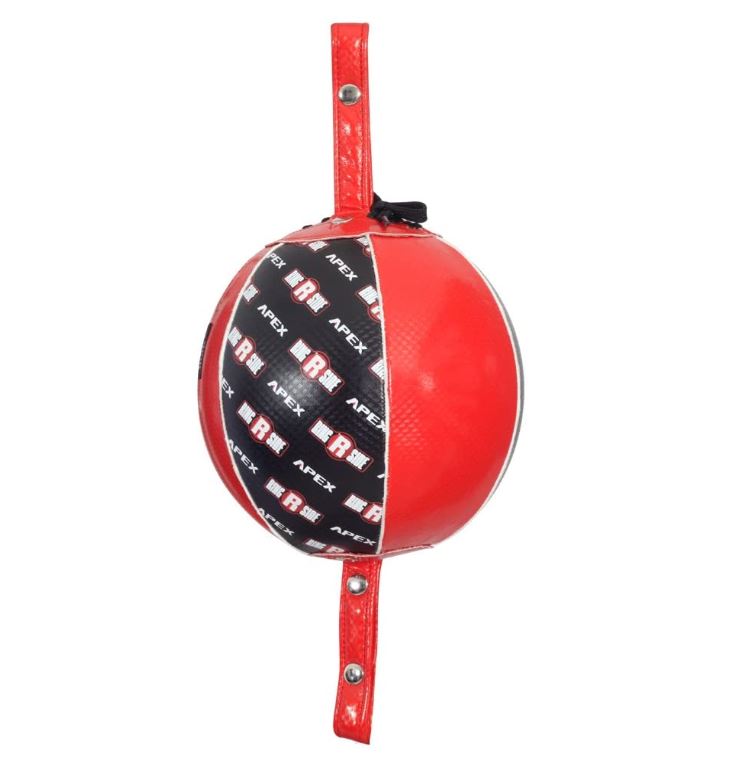 Don't forget to check out the reviews on this one:

9. Combat Sports Heavy Style Mexican Double End Bag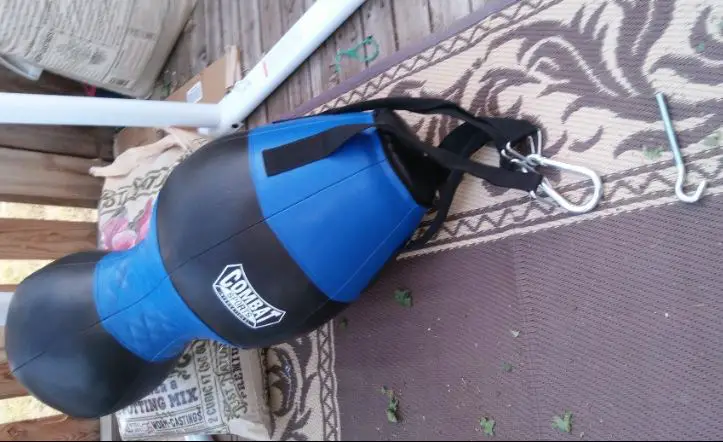 This is a new type of double end bag for our list, this one looks like the Mexican style double end bag but it weighs much heavier at 45 lbs.
What do you get
This one is a real beauty, it comes filled with sand and the weight was really good to land solid heavy shots to the body in the head. We really like working on our combinations on this one we could try hard right hands to the body and then come back upstairs with good solid left hook and finish it off and another right  cross to the head.
The bag itself is Black and Blue just like my sparring partners when I get done with them and it's made from reinforced synthetic leather.
You can tell straight away this one is really high quality, it's got four heavy nylon straps that can hook onto one single ceiling Hook and this will hold the bag up very nicely.
It's not a full 70 lb or 100 lb bag but you can really let loose on this because of the shape and the proportions of this one you can really let the shots go.
This one also has tons of positive feedback.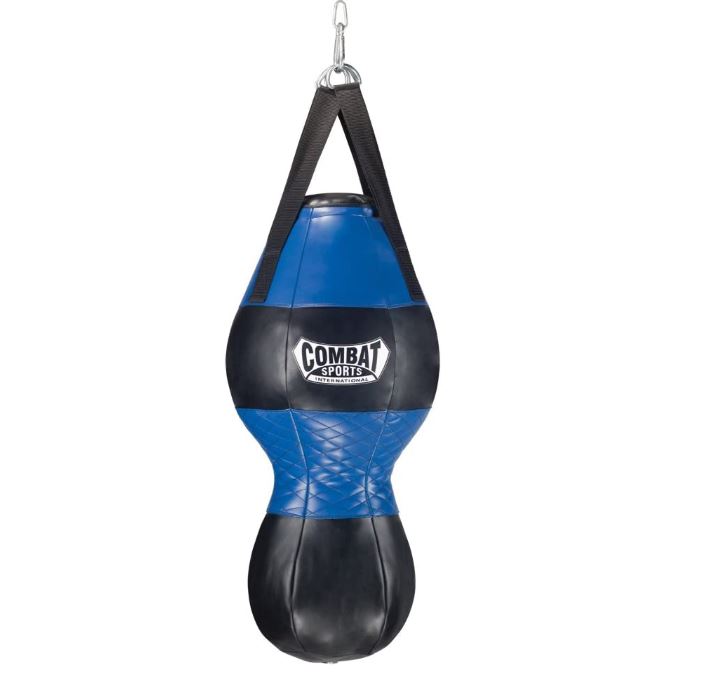 Check it out here:

10. Ring to Cage Mexican Style Leather Double-Double End Bag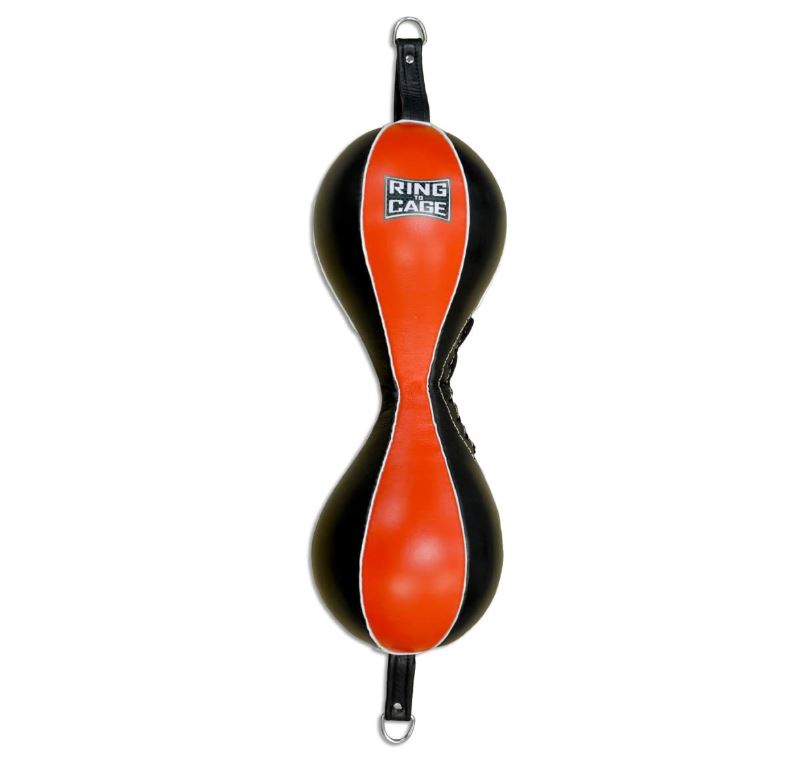 Ring to Cage are not the best known name in boxing equipment but this Mexican style double end bag is one of the best we've tested the date.
What do you get
This is made from all genuine leather and it gets the job done. The riveted ends are leather and attached with high-grade nylon to ensure that this bag is durable and stands the test of time.
You get S Hooks but the rubber cords are not included as part of the bundle so you will have to buy them separately from Amazon.
This bag is perfect for testing out your body and head combinations, working on your footwork and head movement as it swings back and overall we really like how this bag responds to our punches, just don't know why they don't include the elastic cords.
Check out more reviews here: