Some pretty vile and disgusting tweets have been doing the rounds on Social Media lately relating to IFL Tv Reporter Umar Ahmed which were widely expected to result in his dismissal his role at IFL tv.
Many will see this as a him simply grovelling to keep his job and avoid public backlash from those he has deeply offended.
Umar Went in on Tyson Fury, calling him a crackhead C*nt and hardly the best in the world.
In vile fashion he went on to call the people of Liverpool 'Bindippers' and he called Liverpool FC fans 'Murderers' for their part in the Heysel Disaster many years ago.
Other people Who Ahmed Took Shots At Included Eddie Hearn, who we dont feel sorry for! 🙂 Kell Brook who he called a mandatory avoider and called on him to take a 70/30 split. He also took aim at Joshua saying that he can't be compared to Ali.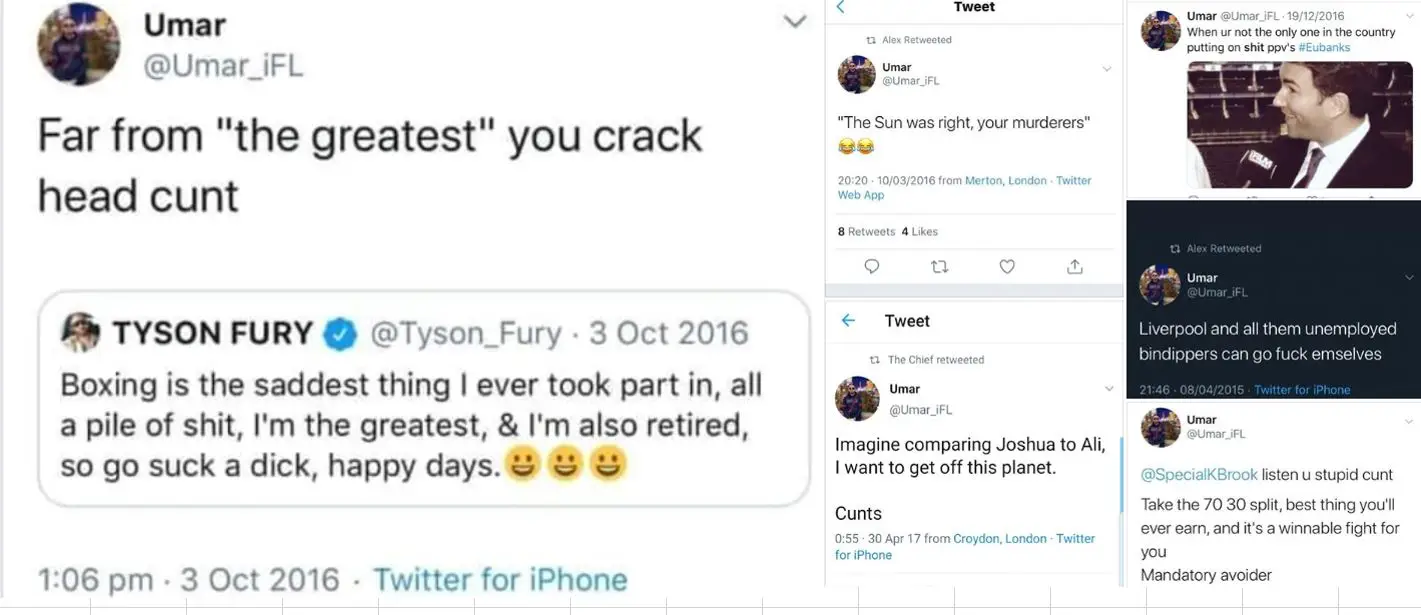 While these Liverpool posts are vile and we can understand people being very upset, the boxing ones we would certainly forgive seeming as this was in 2016 before he worked for IFL Tv.
We are strongly opposed to digging up peoples tweets from the past and apart from the Liverpool Tweets we see no harm in what he said.
I think personally that this apology should suffice and he should not lose his job over this but what happens remains to be seem with Kugan of IFL tv said to make the final decision.
Check out the video here:
Umar stated that he was a boy back in 2016 when he released these tweets and that he is a man no and would have no part in doing this as the man he is today.
We would be inline to forgive and forget and let this young man get on with his job. Everybody deserves a shot at redemption and we hope he ups he's game with quality reporting and takes the abuse he gest with good grace.