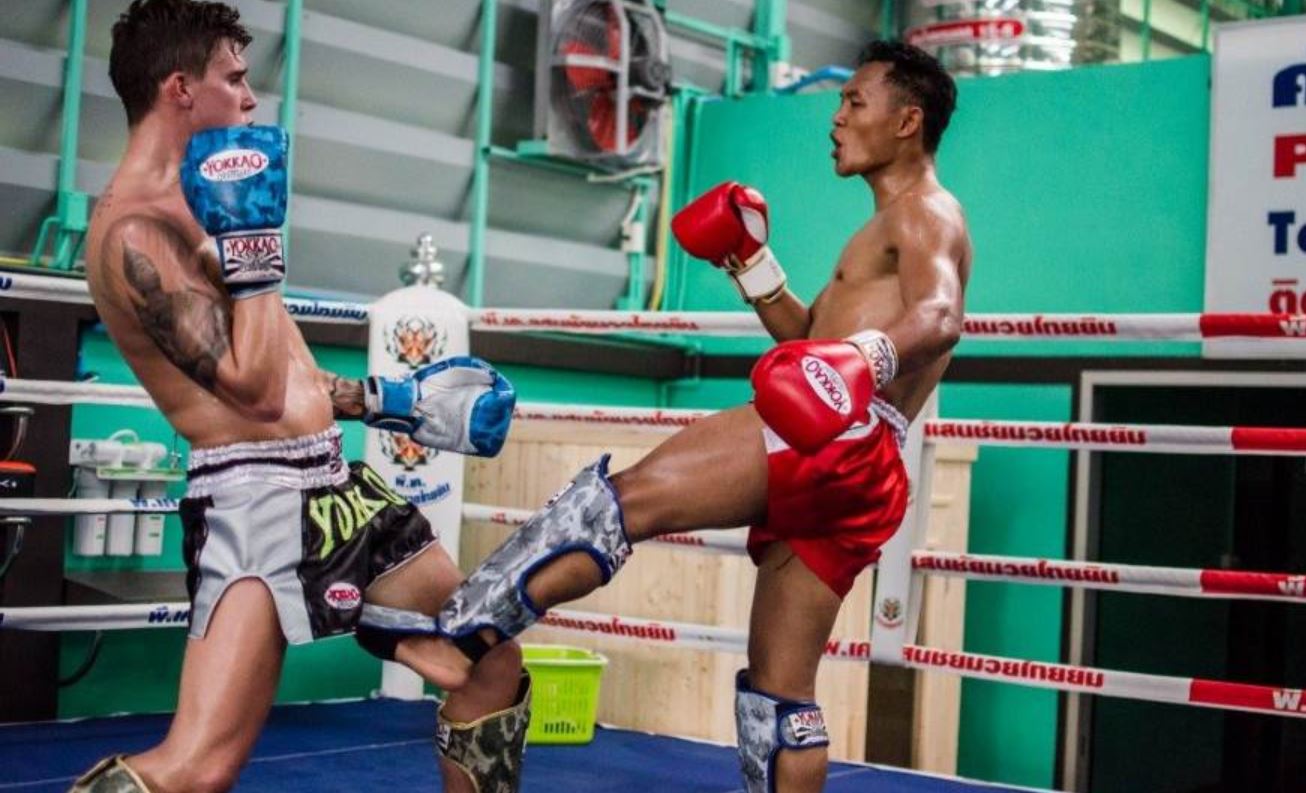 Shin guards are one of the first things you will have to buy when you start out on your Muay Thai journey, second only to a pair of gloves.
They are used for  sparring and  also used for Dutch style drills within the gym so you can't really get too involved in Muay Thai without buying them.
If you have been training and have tried kicking a hard bag with your shin or even had a slight shin to shin contact with your friend in the gym, you will know how much it hurts to have a kick blocked.
Muay Thai shin pads provide a way for fighters to spar without this intense pain and still practice all kicks and blocks whether that's in sparring or in dutch style drills.
Shin pads are also used for amateur fights to allow fighters to get used to competition without having to deal with really sore shins the next day.
There are a couple of things to keep in mind when buying to ensure that you get the most protection and bang for your buck.
Two types of shin pads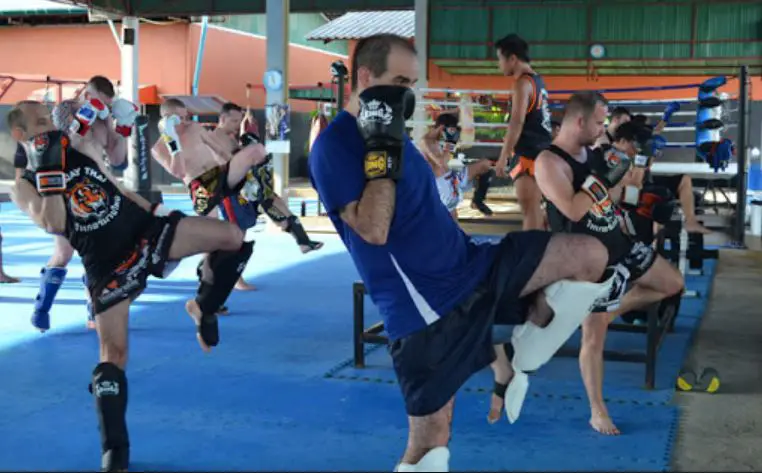 Leather With Velcro Straps
Generally speaking, there are two types of shin pads that you can choose from and one is vastly more popular than the other.
Leather or synthetic leather shin pads, with velcro straps are the one you will see all the time when it comes to training and these will be the ones that we recommend that you buy.
They offer thick protection so you don't feel pain, even when you are sparring hard.
They come in all different shapes and sizes and offer different amounts of padding so it's important to get the pair that suits you the best.
One of the biggest gripes that people have about this type is that they can move around during training if you don't get the fit right and if they aren't securely fitted to your shins and even if they are can still move around on occasion.
Cotton Sock Style Shin Pads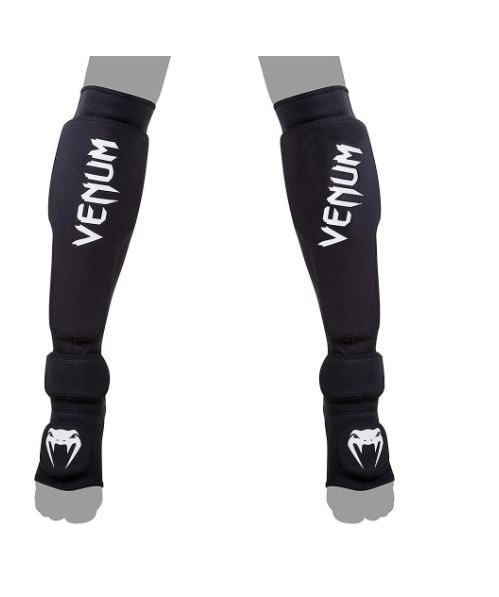 These are sock style shin pads and you wear them like you would a normal sock by putting your toes through and pulling them up to cover all of your ankles and shins.
The sock style shin pads, eliminate the problem of them getting misplaced during sparring as they are tightly fitted and secured so they can't move around.
The main problem with the sock style pads, is that they don't offer nearly as much protection so kicking and blocking can still hurt quite a bit and this can build up if your training day in and day out where your shins are bruised and you still need to spar.
These are useful for amateur fights as people get used to wearing less shin protection during contests and the pain won't be as bad in the morning.
They are also used by MMA fighters who want to include the ground game as well as Muay Thai sparring and these provide enough flexibility and freedom to allow both kicking and the ground game in the same session.
Things To Consider Before Buying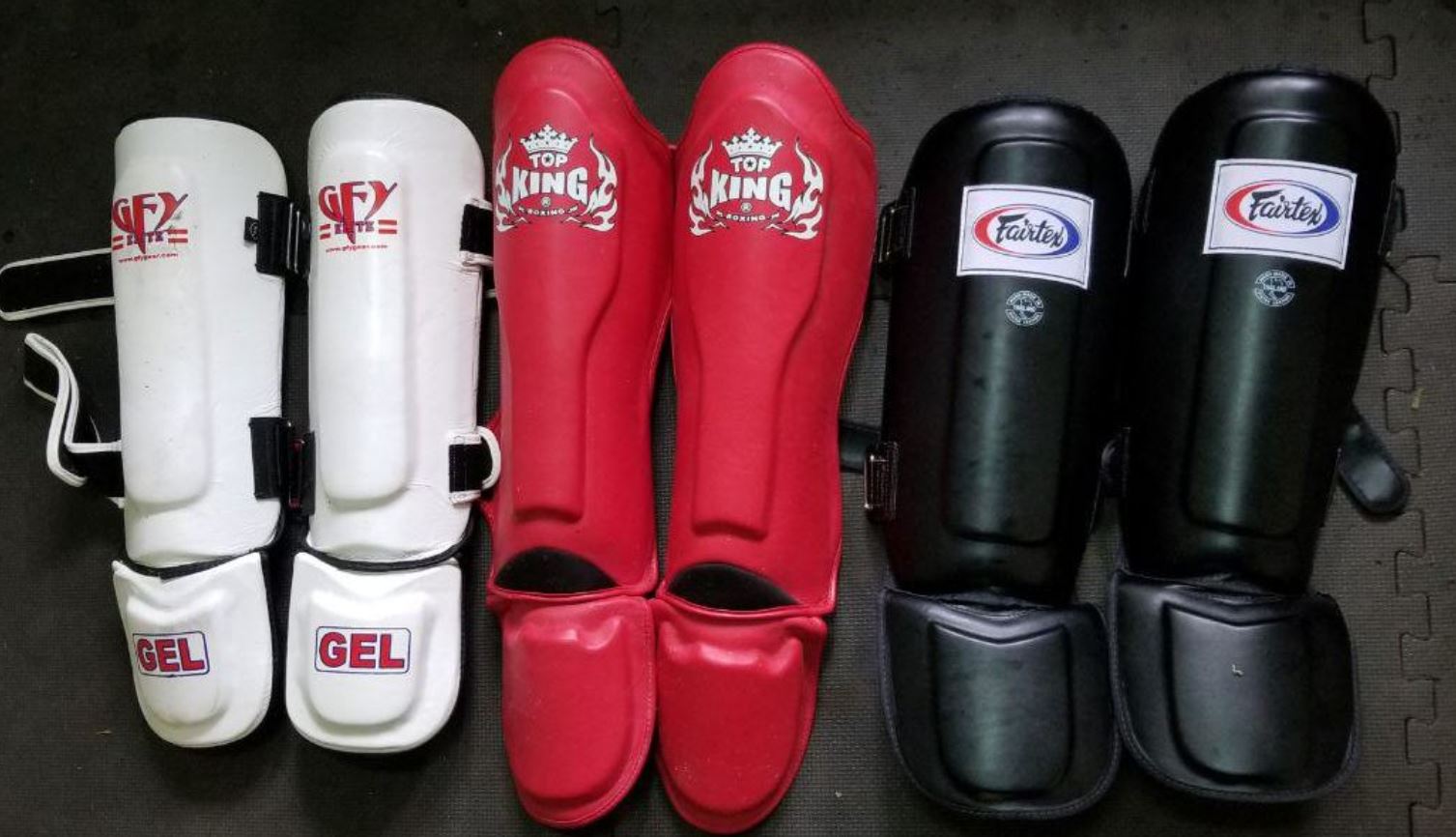 As with most buying decisions in boxing or Muay Thai there's usually a trade-off between speed and protection and finding the best balance for you is what is going to be most important as all shin guards will offer different amounts of padding and weight.
If you're someone that likes to attack a lot then you will want to be fast and a lighter shin pad might suit you better and if you're someone more focused on defence, a bigger pad might offer you more protection.
Wide vs Narrow
This is going to be a choice based on your body composition more than anything, if you are small and stocky with wide shins, then a pair with wider protection might suit you better like fairtex.
If you are tall and skinny like me, a more narrow and longer pair might suit you better like Top King.
In any event, it was best to do your research and find out which pair will suit you the best.
Toe and Ankle Protection
If you're anything like me, who has suffered multiple toe breaks, you will want to keep your little soldiers safe and secure so it's important to buy shin pad that offers complete protection for your foot or if you have any history of ankle injuries, that you get a guard that offers good protection for your ankles.
Choosing The Right Size
It can be easy to make a sloppy decision about the size, if you are large in t-shirt then you might just go for a large size in the shin guards too.
You have to keep in mind, that the sizes may run smaller, especially if they are made in Thailand and that you should check the size guide and measure out your foot so that you get the proper size for maximum protection.
Check out our best Muay Thai shin guards list we have included size guides as often as possible with each product, you just need to measure your own shins and legs to choose the best pair.
Authentic Thai Brands Are Best
The authentic brands that are handmade in Thailand are always going to be the best in our opinion. You want to get guards that are tried and tested over the years so that you know you're getting good quality and that they will last for at least 2 years of heavy use.
When you go with the cheaper brands, you can run into problems like not having enough protection or the velcro straps on the back ripping off and that they will just wear down more easily over time.
Don't Go With The Cheap Crap
Going with cheap shin guards can be an alluring option, especially when you see all the good reviews but just keep in mind that these companies can offer an incentive to give good reviews and it might not be a genuine reflection of how they hold up over time.
You usually get what you pay for there are plenty of  muay thai pads that have been tried and tested over the years and that we know are the best quality.
Choose The Best Materials – Leather If Possible
The thing about Muay Thai shin guards is that they will be subject to a lot of sweat, especially if you are in a hot climate but even if you are not as Muay Thai sparring is so intense that will bring on sweat almost every time. So shin guard makers prefer synthetic leather for the shin pads and it is not as important to have real leather as it is for the gloves.
Shin Pads Also Add Heat Because The Shins Sweat Profusely When Covered
When your shin pads are covered in sweat this is what causes them to break down, so if you go with the higher level materials like real genuine leather, they should hold up a lot better to the abuses of training over the long run.
It's the strapping on the back that will go first due to the weathering so buying a pair that you know where this doesn't happen is always advisable.
Choosing The Best Shin Pads
How Often Replace Your Shin Guards
I bought a pair of Top King shin pads in Thailand and the lasted me for close to 5 years, they were a real quality set and they took the tolls of heavy training, day in day out for a long time without ever breaking down.
If you're training in a hotter climate, you will sweat a lot more and this will cause the leather to break down over time and you might have to replace your shin guards every 2 years if you are using them all the time or maybe even once every year if you're training in Thailand.
How To Clean Your Shin Guards
Is important to wipe your shin guards down immediately after training when they are covered in sweat, to get as much of the moisture out as possible and you can leave them in the Sun as well to dry.
Your shin guards will probably end up covered in bacteria so you should spray disinfectant on them when you are wiping them down and that is the best way to ensure that they last as long as possible in good condition.
Can I Put My Shin Guards In The Washing Machine
Yes, it might be a good idea to put your Muay Thai shin guards in the washing machine once every month to give them a complete clean and if they're made of leather then this won't be a problem.
If they're made of plastic you can always zip them up in a pillowcase and wash them that way, to try and avoid getting skin rash on your shins from dirty pads.
How Do You Keep Shin Guards From Smelling
The same way that you will maintain them to make sure they last long will also ensure that they don't get smelly.
If you leave the shin pads to sit with all the sweat on them then they will definitely get smelly over time especially in a hot climate.
Using a Disinfectant wipe straight after training and then drying the shin pads as much as possible is the best way to keep them from smelling overtime.
Recommended Shin Guards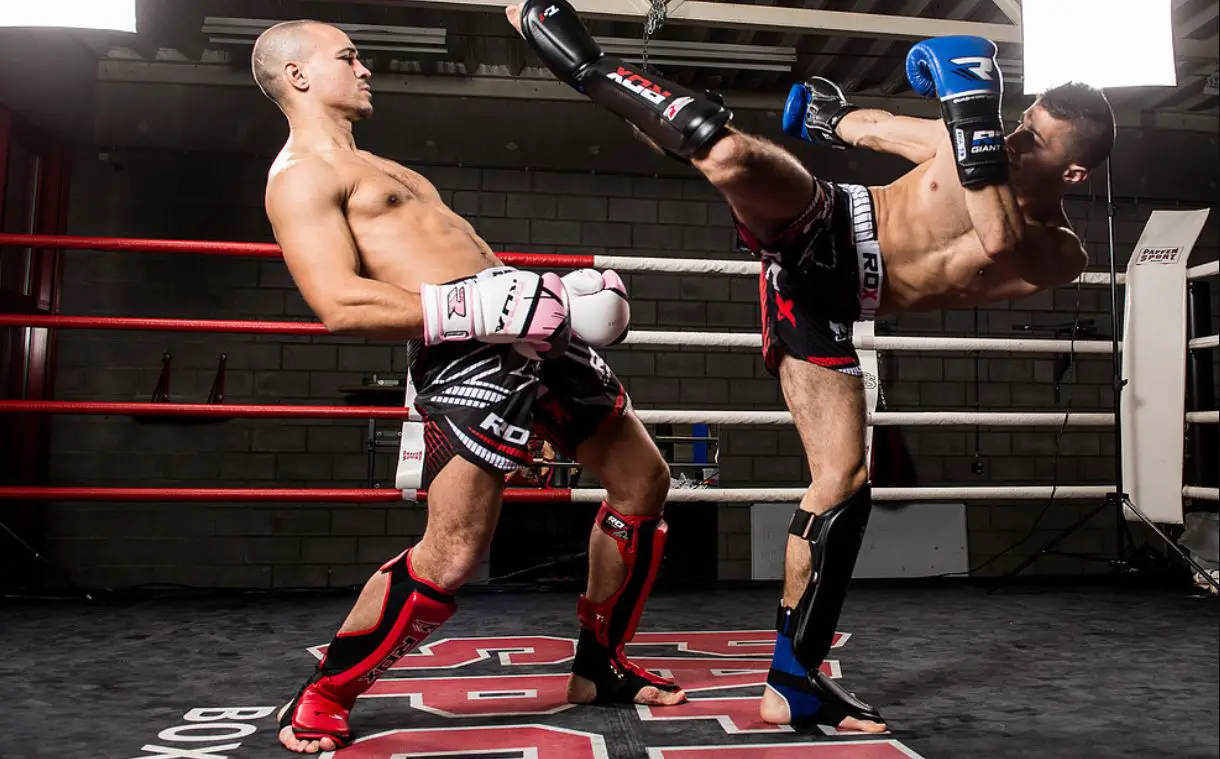 There are plenty of highly respected Thai brands to choose from. You can go with the trusted names of Fairtex, Top King or Twins or you can also go with a newcomer like Venum who we consider to produce the best Thai shin pads on the market at the present moment.
Venum Elite Stand-Up Shin Pads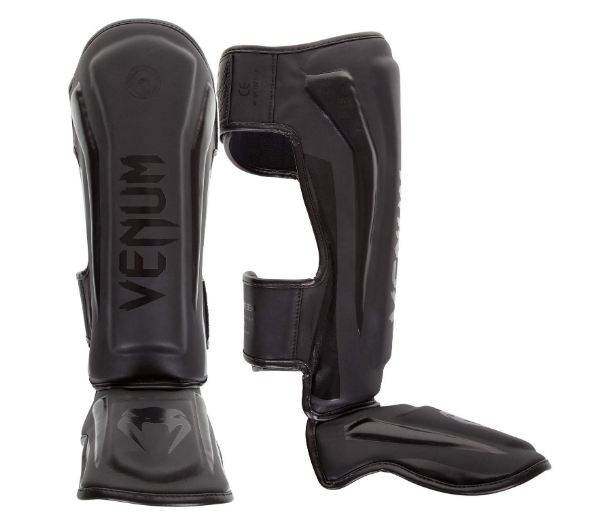 What we really like about these Venums is that they are non slip, they come with a ton of different designs that are really attractive and they offer maximum protection for the shins and the toes.
They are not too wide and not too narrow and they offer plenty of protection so that you don't feel any pain when you're sparing and you don't have any bruises left on your shins from hard blocks and kicks. They are also made of genuine leather for maximum comfort.
You get a variety of different sizes so check out the size guide here: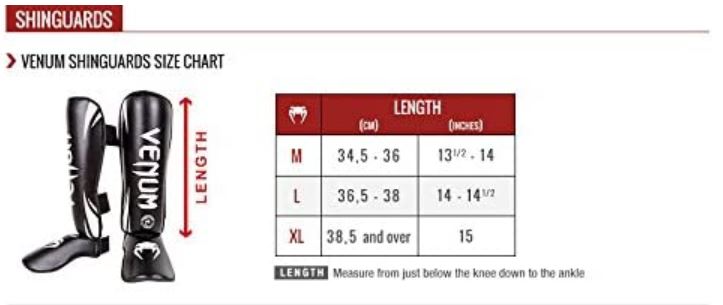 Check Out The Reviews Here:

Fairtex Muay Thai shin pads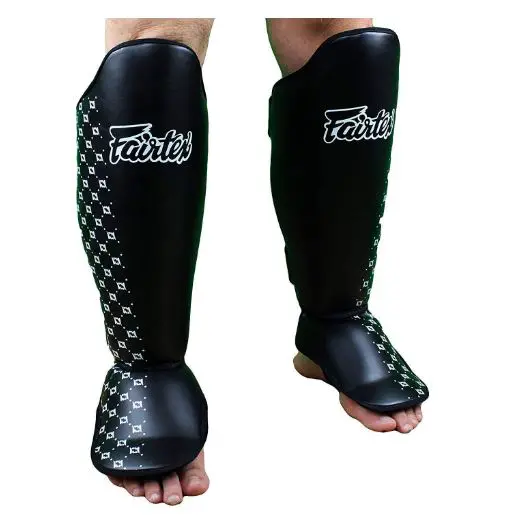 Fairtex are tried and tested as one of the leading brands of the past 10 years and you really can't go wrong with their shin pads although they do suit a wider shin and offer complete protection all the way around the leg.
Fairtex are hand made in Thailand as always and they've been around for so long that we know exactly how they age and these are perfect shin pads for beginners and professionals alike.
They are nice and lightweight, come with a nice, simple design in various colours and they will cost between 50 and 70 dollars which is great value.
Check Out More Reviews Here:

Conclusion
Shin guards or something that will be with you for at least a year or two so it's important to make the best choice possible and get that balance between speed and protection.
Try your friends at in the gym's pairs if you can before you make a purchase to see what suits you the best and do as was much research as possible.
You can also check out our best Muay Thai shin pads of 2020 to see all the best pairs that we recommend.