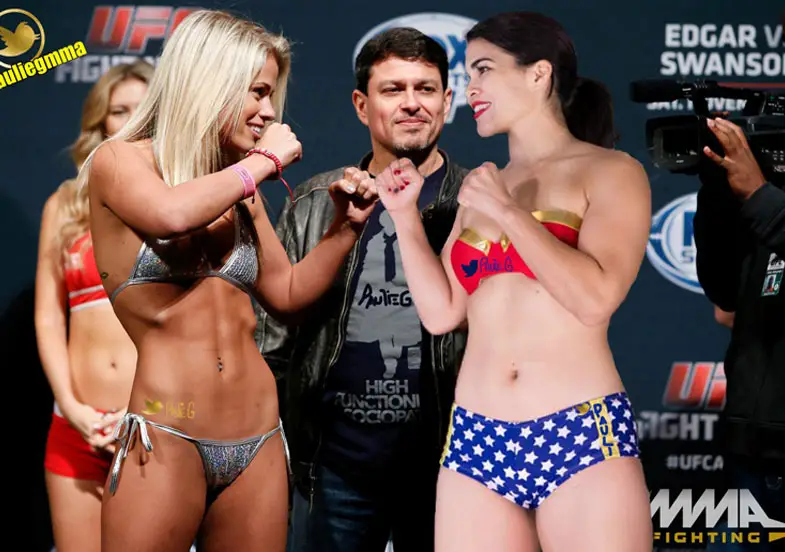 The Ufc and MMA is beginning to become packed with women showing the men that they have the heart and skills to put on great fights and look great while doing. Check out the Sexiest MMA fighters of 2020 right here:
1. Karolina Kowalkiewicz
Karolina is a hot polish fighter with plenty of class inside and outside the octagon. She has 12 wins and 6 losses in the UFC and the straw-weight hails for Lodz in Poland.
2. Paige Van Zant
Paige Van Zant will need no introduction as a hot MMA fighter. She also boasts an impressive record of 8-4. She hails from Nevada USA and is a knockout in and out of the octagon.
3. Anastasia Yankova
Anastasia is a hot Russian flyweight with 5 wins and 1 loss in MMA. She hails from Moscow in Russia and is rumored to be retired. Let's hope we see her in the Octagon again this year.
4. Lena Ovchynnikova
Lena 'Hunter' Ovchynnikova is a Ukrainian Flyweight who really packs a punch inside the Octagon and outside it. She is 12-6 in professional contests and one of the nicest people around.
5. Ariane Lipski
Ariane 'Violence Queen' Lipski Healis from Brazil and is 12-5 in professional contests. The Flyweight is currently 26 so expect to see much more of her in 2020.
6. Juli Firso
Juli Firso is a hottie with personality and the Instagram star loves to train and fight in muay thai and MMA. Personally, we can't get enough of this Russian Hottie.
7. Mackenzie Dern
Mackenzie hails from Phoenix in the USA and is 7-1 in professional MMA, She is truely one of the best fighters in the Flyweight division and a real beauty to match.
8. Claudia Gadelha
'Claudinha' is a smoking hot Brazilian who is dynamite in the Octagon with 17 wins to 4 losses. We look forward to seeing her score more W's in the Octogan this year 2020
9. Alexandra Albu
Alexandra Albu is a Russian strawweight who packs a serious punch. She 3-2 in professional MMA and she comes with the nickname 'Stitches'.
10. Rachael Ostovich
Rachel Ostovich is a Hawaiian based flyweight who has mixed it with the best of competition including Paige van Zant. Shes is 4-5 in professional MMA.
11. Michelle Waterson
Michelle Waterson AKA 'the Karate Hottie' is a force to be reckoned with in the Octagon, boasting a professional record of 17-7 with 12 stoppages to her name.
12. Tecia Torres
Tecia Torres AKA 'The Tiny Tornado' is a Florida based strawweight form American Top Team in Florida with a pro record of 10-5.
13. Bruna Vargas
Bruna Varga is Brazilian Beauty with awesome skills in the Octagon. She is currently 4-3 in Professional MMA and resides in the USA.
14. Joanna Jedrzejczyk
Joanna will need introduction to fight fans around the world after here absolute tear up with Weili in the UFC Strawweight division and the Polish Strawweight has the looks to match.
15. Valentina Shevchenko
Valentina hails from Lima, Peru and trains in Tiger Muay Thai in Phuket Thailand. She has an awesome record in MMA as a champion with 19 wins and only 3 losses.
16. Tracy Cortez
Tracy Cortez is 7-1 in the Flyweight division and this beauty is based in Phoenix, Arizona.
17. Cynthia Arceo
18. Randa Markos
19. Melissa Sophia Karagianis
20. Grace Cleveland
We hope you enjoyed the list and if we missed any sexy female mma fighters, let us know in the comments below.
***Disclaimer – We found these images freely available on Google and Instagram. Please get in touch if you want any images removed***