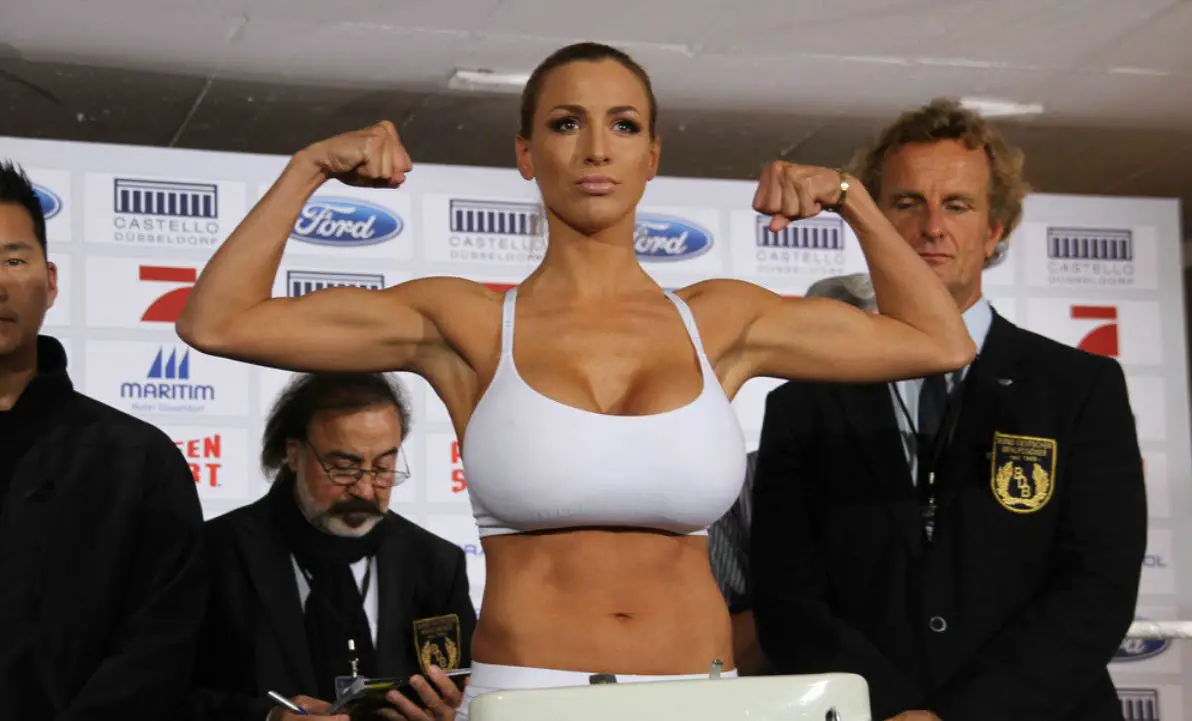 We have compiled the top ten sexiest female boxers of 2020 to raise awareness for these young ladies and for the enjoyment of everybody. Female boxing has never been in a better position and we love and respect every single lady that steps into the ring to compete in the sweet science. Check out the kist and comment below
1. Avril Mathie (Click For Slideshow)
Avril Mathie tops the list and she is absolutely smoking hot. Signed with MTK Global and with a 5 and 1 record. She hails from Sydney and resides in Miami Florida. Avril Mathie is a 10/10 knockout inside and outside the ring and our sexiest female boxer of 2020.
2. Amanda Serrano
Amanda Serrano will need no introduction to many. A P4p top womens fighter for Puerto Rico, she is an absolute hottie. This southpaw is 38-1 with 28 Kos amd multiple world titles. She is widely tipped for a bout with Katie Taylor and she is absolutely gorgeous to boot.
3. Hollie Dunaway
(Click For Slideshow)
Holly Dunaway AKA Hot Stuff is absolutely smoking hot and carries a record of 23-11 with 3 Kos. She resides in Las Vegas Nevada and we could watch her train and fight all day long without issue
4. Jessica McCaskill
Jessica McCaskill has beauty and brains. This well known world champion resides in Chicago, Illinois and has a record of 8-3. She fought Katie Taylor and is smoking hot inside and outside the ring.
5. Marlen Esparza
Marlen Esparza is 8-1 in the ring and 10/10 outside of it. The Houston, Texas native has Mexican roots and she is a stunner inside and outside the ring.
6. Mariana Barby Juarez
Mariana Barby Juarez will need no introduction to many, the veteran WBC Bantamweight champ is one of the hottest female boxers and she is top class inside the ring as well.
7. Ewa Whalstrom
Ewa Whalstrom is a legendary Swedish champ who held the women's WBC belt for many years and she is still active today. Ewa is hugely popular around the world and is not hard to see why.
8. Cecilia Braekhus
Cecilia 'The First Lady' Braekhus needs no introduction the world over. She has fought some of the best competition and she is smoking hot. Cecilia comes from Columbia but lives in Norway, she is undefeated and may even fight Christina Cyborg in the near future.
9. Zulina Munoz
Zulina Munoz has something about her, she is a beautiful Mexican fighter with 10/10 looks and a killer instinct inside the ring.
10.Shannon Courtney
Shannon Courtney completes the list and she is a real hottie who can fight. The London, Uk native is a top fighter and she has explosive beauty outside the ring.
We hope you enjoyed the list and if we missed any sexy female boxers, let us know in the comments below.
***Disclaimer – We found these images freely available on Google and Instagram. Please get in touch if you want any images removed***