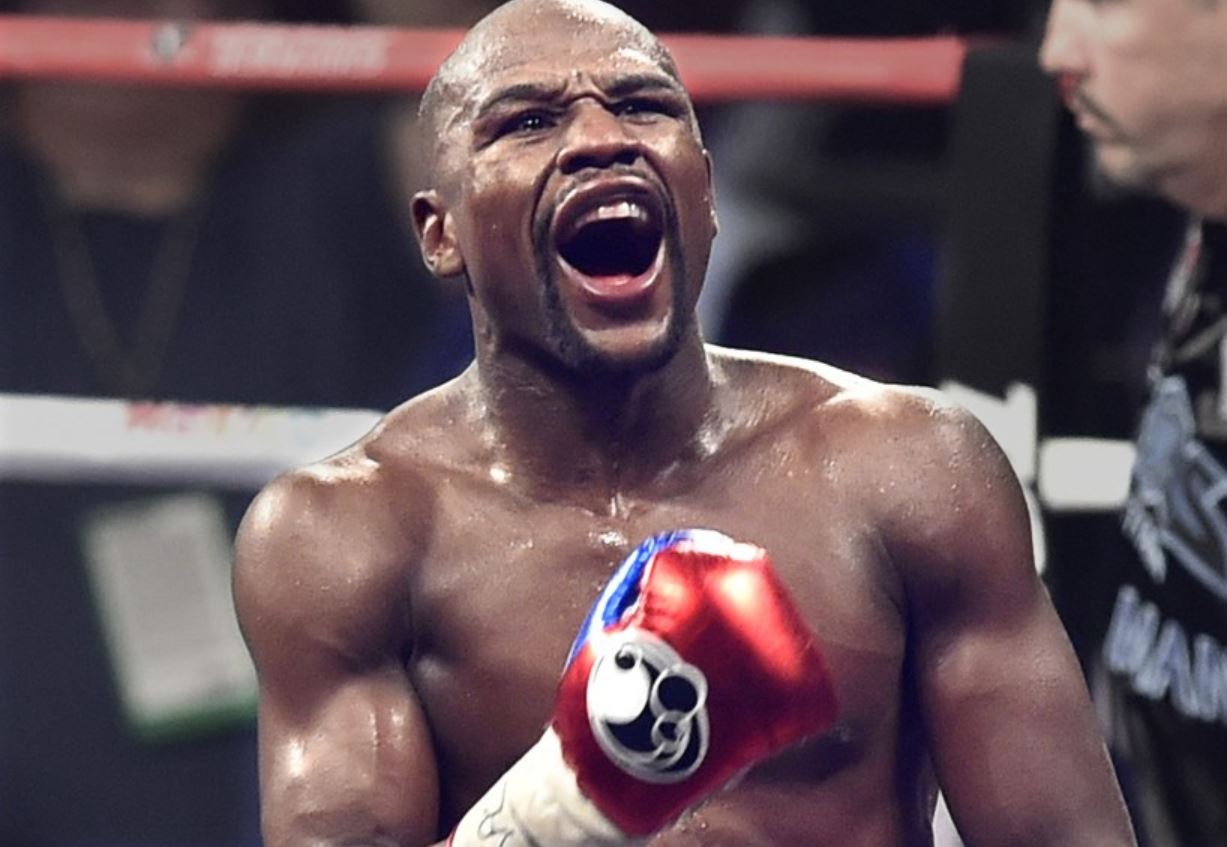 Floyd Mayweather may not be everybody's cup of tea, but I have to admit that I'm a massive fan, and that is not because of the trash-talking or when he likes to flaunt his money or even the strippers.
It is down to his sickening work ethic and while many casual boxing fans will say that he runs and that he ducked fighters, it can't be argued that he always turned up in incredible shape and he has got the job done every time.
Floyd retired from the sport with a perfect record of 50 wins and 0 losses. While a couple of those fights were close, he always came out on top and I believe it was because of the work he did in the gym, day in and day out since childhood, under the watchful eye of his father Floyd Sr and his late uncle Roger Mayweather, who taught him everything he knew, including how to be the hardest working fighter on the planet.
"Hard work, dedication!" – Floyd Mayweather

 
Floyds unconventional training
Floyd Mayweather likes the train in the evening and late at night saying it gives him an advantage to train while his opponent sleep. He often sleeps in until the afternoon and spends the rest of the day and night, honing his craft.

Floyd Mayweather running routine
Floyd Mayweather is one of the most solid runners that Boxing has ever known. His father used to make him run behind the car on the way to school and he still runs 5 to 10 miles every day or every night as the case may be.
He's known to run in everything from the proper gear to jeans and boots as he infamously started the training camp for Cotto by running out of a strip club in Las Vegas, the full 5 miles home, leaving 50 Cent to fend for himself.
Floyd Mayweather also runs fast, extremely fast, he's known to do sub-6-minute miles and there are reports that he will do even 5-minute miles and he can maintain that for up to 10 miles every day.
Since Floyd has been running since early childhood, he has built up a sickening aerobic base that can easily be topped up in a training camp for a fight and he stays in sickening shape between fights as well.
Floyd Mayweather Skipping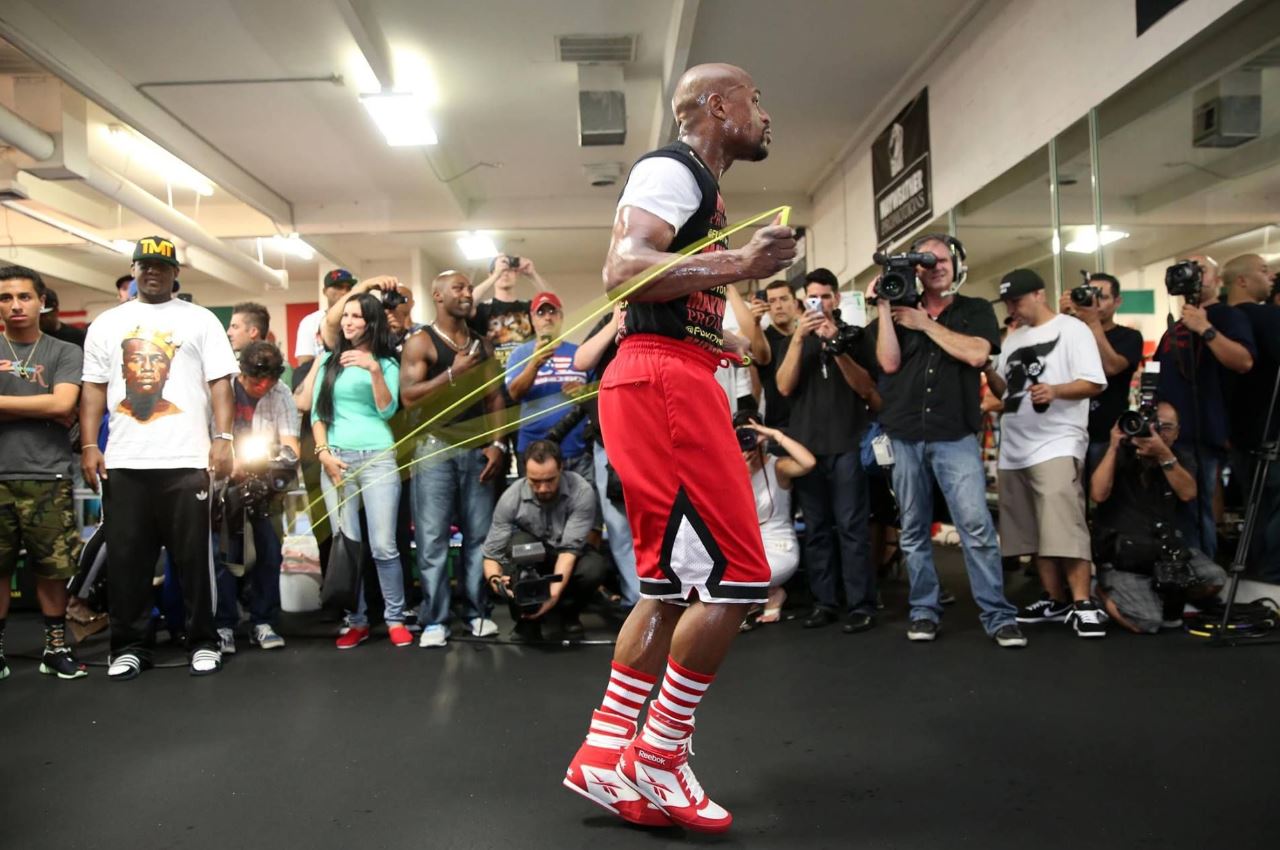 Floyd Mayweather is a king on the skipping rope, busting out double and triple unders for fun and moving at lightning pace for 10 – 15 minutes plus without a break. This guy never gets tired.
Floyd won't do traditional rounds where you would work for 3 minutes and then take a rest for one minute, he instead chooses to actively rest, where he will start talking to someone that is around him and keep moving very slowly while he is secretly taking a rest.
This is good practice for boxing where if you are tired you don't want to let your opponent know and you will never know that Floyd is tired and needs a break during his workouts.
"All work is easy work." – Floyd Mayweather
If you think Floyd makes skipping look easy, you should also consider that he usually does it wearing ankle weights to increase the power and strength in his legs and to help them to move around the ring as fast as only he can.
He will use skipping as a warm-up before moving onto some shadow boxing.
Floyd Mayweather Shadow Boxing
All top Fighters love to shadow box and Floyd is no exception. He will move around the ring, throwing jabs, lead hooks to the body & the head, he will glide around the ring, slipping shots, bobbing and weaving and visualizing what his upcoming opponent will do and perfecting his techniques that will lead to victory under any cicrumstances.
Shadowboxing is great for practicing the moves you have learned from your coach and trying out new things.
Floyd won't take any breaks but you can do 3 to 5 rounds of 3 minutes with one minute in the middle.
Shadowboxing with weights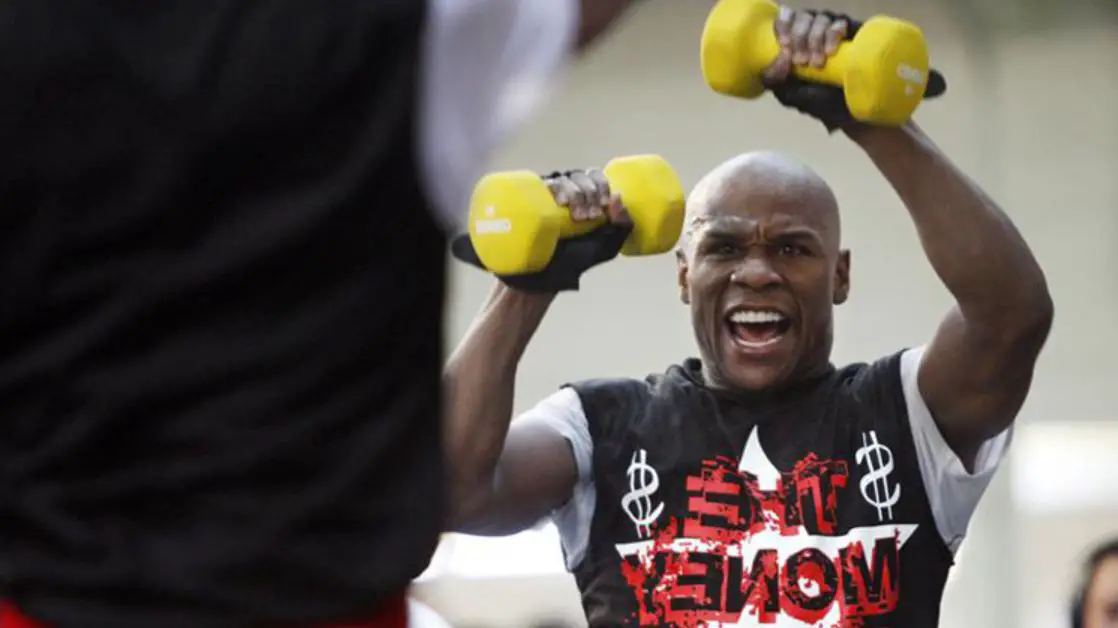 Shadowboxing with weights is excellent for building up arm endurance and punching strength and Floyd will switch between weighted and unweighted shadow boxing a number of times for 10 to 15 minutes without a break.
Floyd also wears the ankle weights for this part of the workout to make it even more difficult.

The heavy bag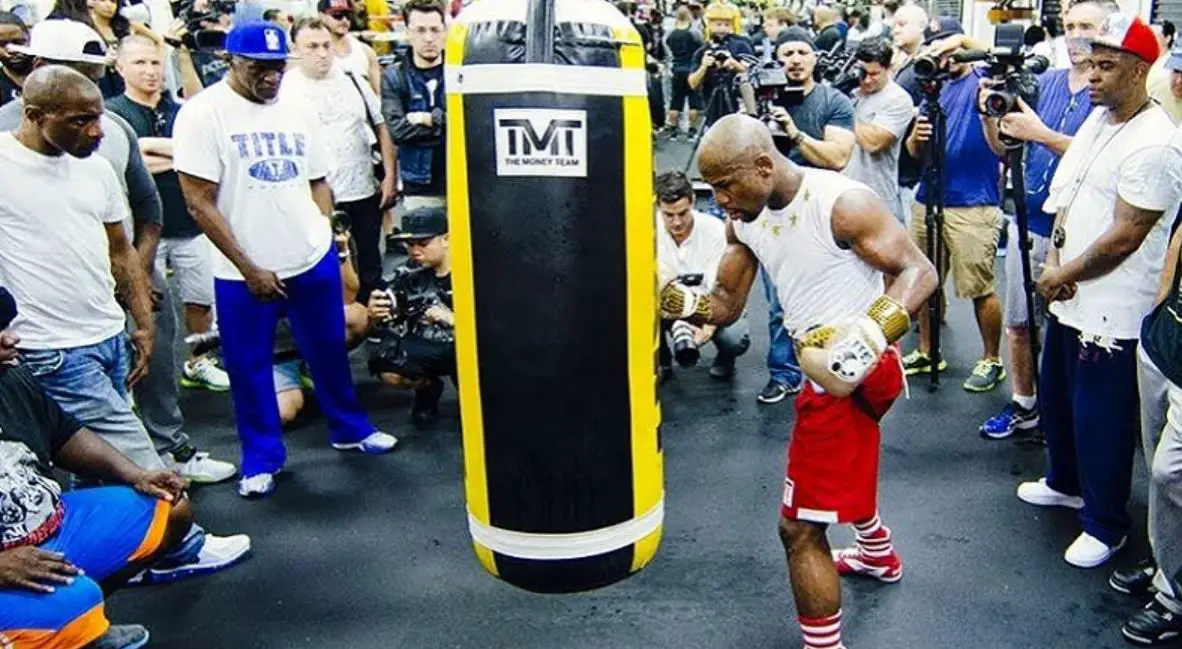 Anyone who has tried working out on a heavy bag will know how tiring it is but yet again with Floyd's incredible aerobic base and anaerobic conditioning he makes it look easy.
Floyd will work solidly for another 10 to 15 minutes on the heavy bag while stealing cheeky breaks by talking to the Spectators as he punches.
"No athlete works harder than Floyd Mayweather." – Floyd Mayweather
He will work to both the body and head with a wide range of soft shots peppering the bag and building up his aerobic strength and then he will unleash hard heavy hooks and straights to damage his opponent and build up his anaerobic conditioning.
Floyd doesn't take breaks but you could work 5, 3 minute rounds with 1-minute rest in between.
Boxing pad work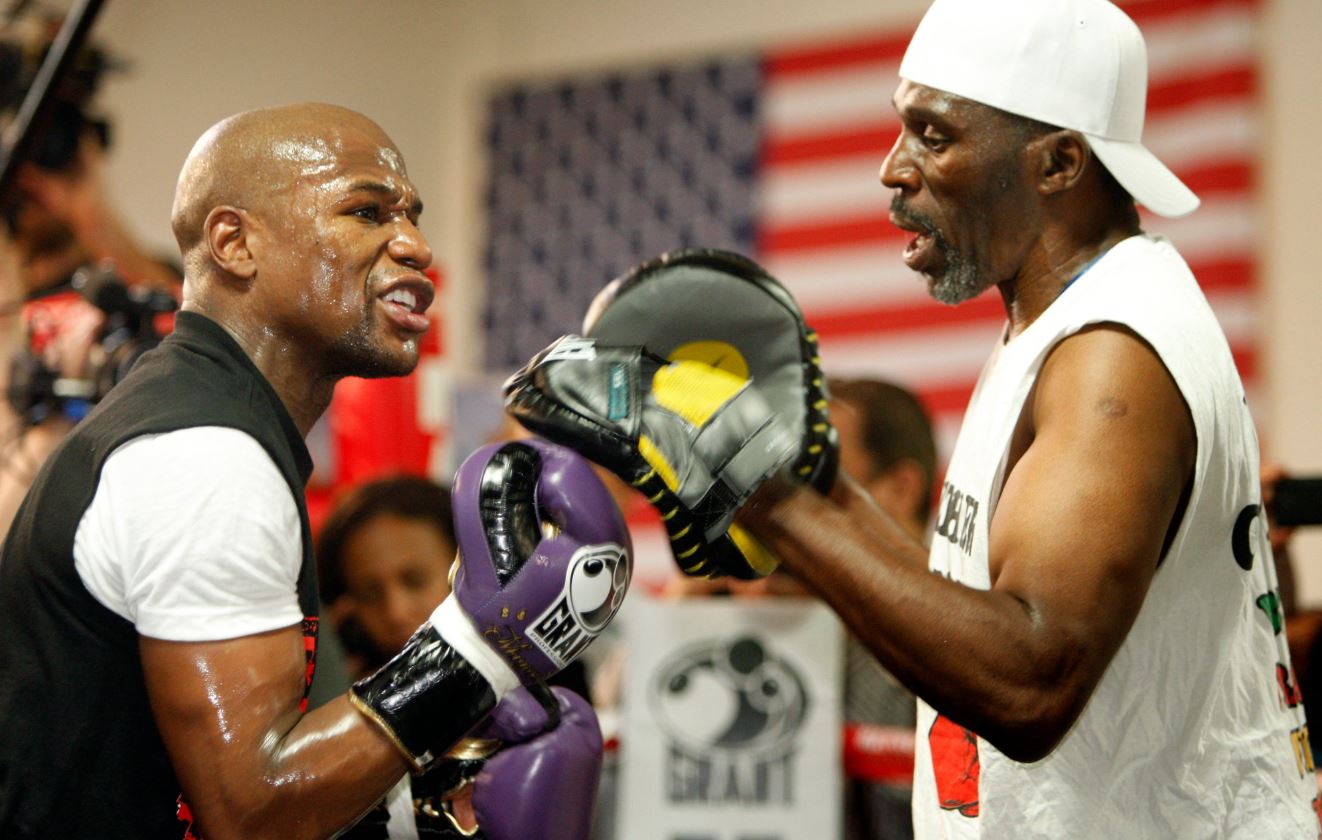 Floyd and Roger Mayweather have changed the game when it comes to boxing pad work. The coordination between trainer and coach is unmatched in boxing.
Roger Mayweather (RIP) will move the mitts with incredible speed similar to a swarm of bees and Floyd will throw punches just as quickly to meet the oncoming pad.
Roger will also throw shots to the head and body and Floyd will block these sometimes without even looking with his elbows, shoulders, and gloves and he will also slip and roll the oncoming shots with amazing synchronization between coach and fighter.
Body protector work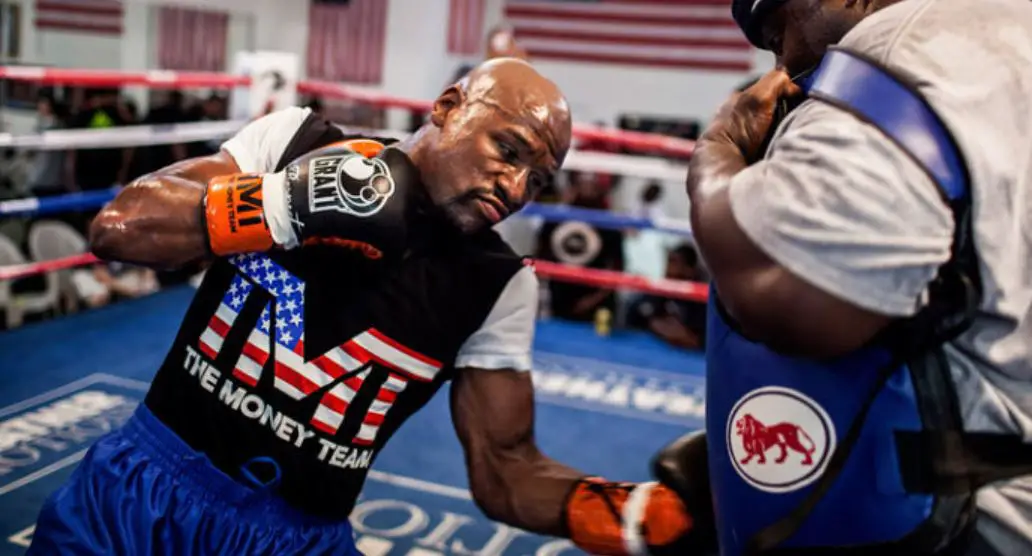 As usual, Floyd won't need any break in his boxing work. He will move straight from the pads onto hitting an oncoming heavyweight, Nate Jones, who is wearing a body protector and Floyd will throw hard straights and hooks to try and back the oncoming target up.
"I don't fold under pressure, great athletes perform better under pressure, so put pressure on me." – Floyd Mayweather
Again, Floyd will go between rounds of pads and body protector for 20 minutes without taking a break and he's inspired, aspiring fighters all around the world to copy this technique and build up their fitness.
He will only stop to have a brief chat with some of the admiring onlookers as he makes his grueling workout look easy.
Speed bag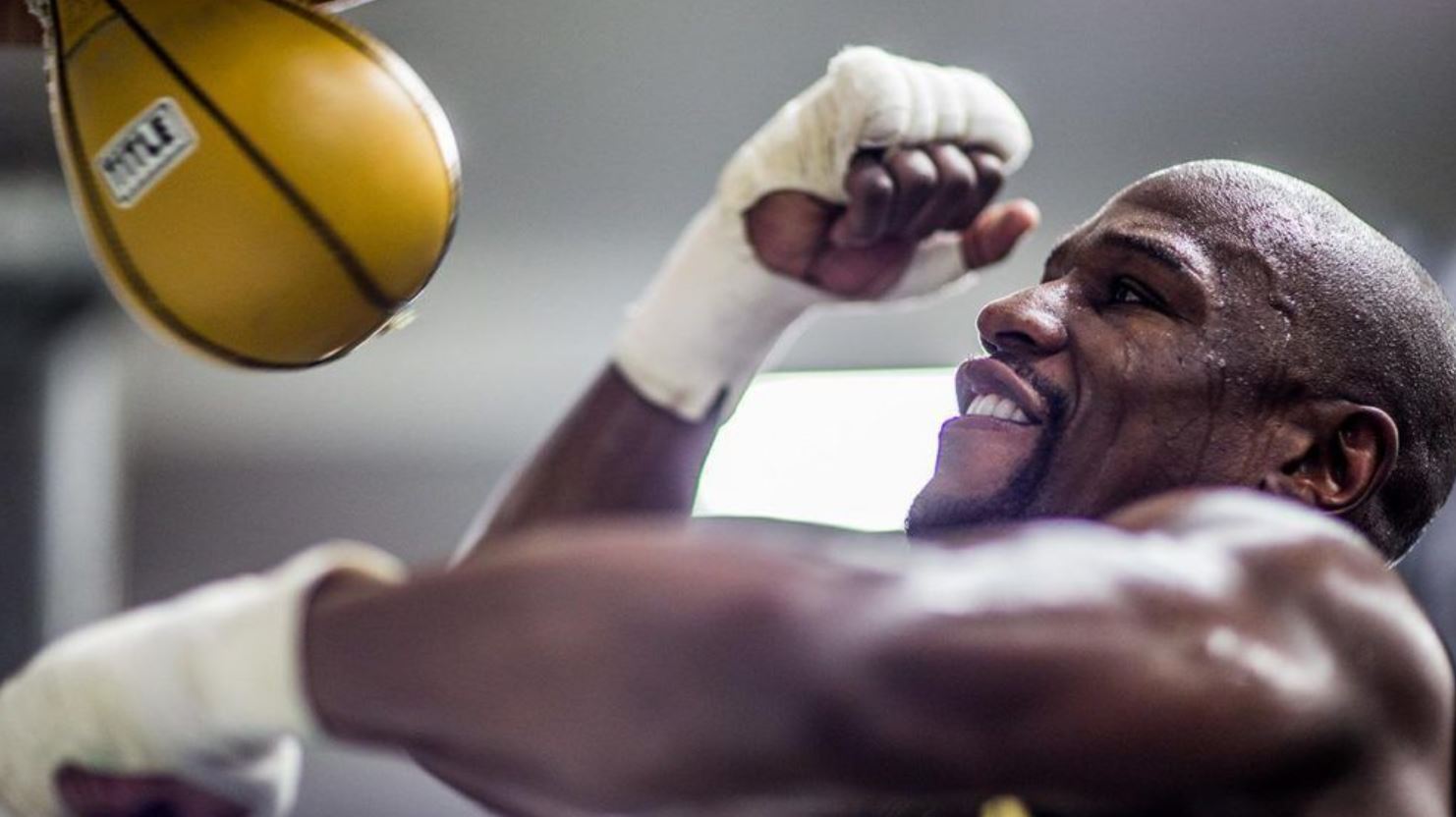 Most professional Fighters will have advanced speed bag skills but Floyd Mayweather takes it to the next level, just like in almost everything else he does.
Floyd is well known for his hand speed in the ring and this is more than evident as he works to speed bag with blindingly fast hands.
The speed bag is one of the best ways to build arm endurance and strengthen the shoulders and Floyd can go for up to 5 minutes without taking a break, such is the fitness of the man and after a short break is right back to work.
He can hit the bag with one hand, two hands and even when he's not even looking at it.
If you can do  5, two or three-minute rounds it would help you to build up your fitness and endurance tremendously.
Strength and conditioning
Floyd will then move from the speed bag onto some grueling strength and conditioning exercises.
Sit-ups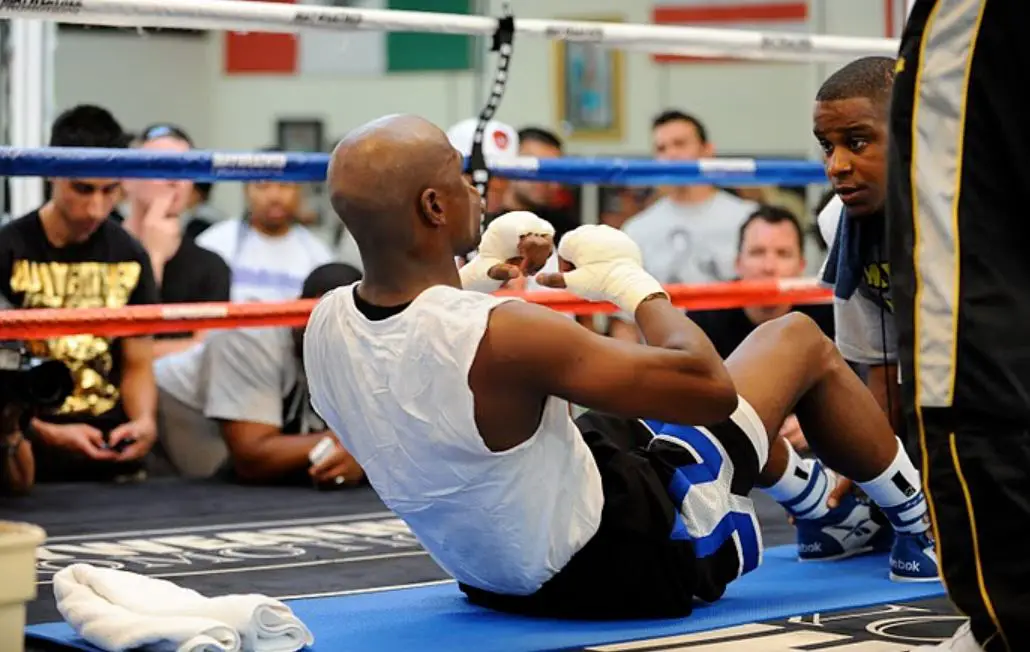 Floyd will do about 5000 sit-ups a day, he understands that outworking his opponent in the gym in every area will surely lead to victory in the ring and so he leaves no stone unturned.
When it comes to sit-ups, Floyd will doa wide range from regular sit-ups to sit-ups where Leonard Elobie will hold his ankles and he stands up straight, throws two punches and goes back down to lying on his back for upwards of 30 reps.
Medicine ball to the stomach
This is a favorite of Fighters all around the world and it is no surprise that Floyd includes these as part of his fight preparations.
He will lie on his back and Leonard will take the medicine ball and whack it off his stomach at the front and around the sides showing no mercy for Floyd who appears to be enjoying it on the ground and chips in with a quick-witted remark that he has become famous for.
"I want to be able to separate the average from the good and from the great. I want to separate the ordinary from the extraordinary." – Floyd Mayweather
The Ab Roller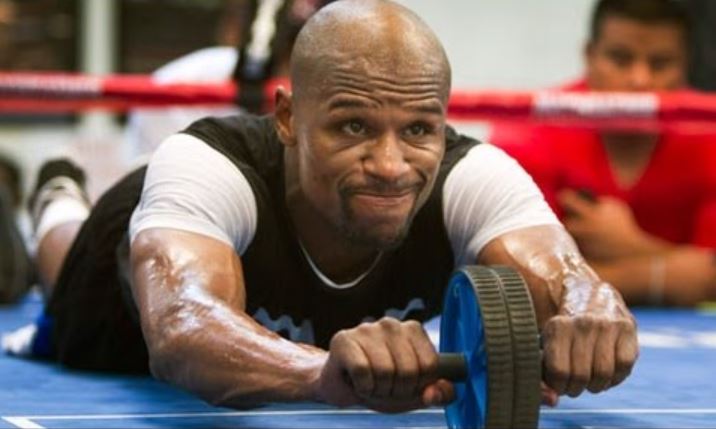 The Ab Roller is a great device for strengthening the core muscles and building strength in the lower back. Floyd Mayweather will do 50 of these in a row without taking a break and he will do that up to 3 times in his workout.
This one might look easy but if you give it a go yourself, you will see how tough it is.
Med Ball Throws
Throwing a medicine ball as hard as you can might not seem like much, but since you are expending your maximum force it is a great way to build power. Floyd throws these straight on to build power in his straight punches, and that patented right hand, and he will throw them from the side angle, to build power in his hooks and uppercuts.
Leonard Ellerby will happily grab the medicine ball and return it straight to Floyd so they can get a good amount of repetitions in one go without stopping.

Neck strengthening
Next up on the list is the neck. Neck strengthening allows you to take a punch better and recover more quickly. Just look at how quickly Floyd recovered when he was hurt by Shane Mosley or when he took a flush shot from Marcos Maidana.
Floyd will either do neck bridges for 2 to 3 minutes or he will use a neck harness and do up to 50 reps with a weight or kettlebell attached to the end of the harness.
Medicine ball pushes
Floyd will lie on his back and Leonard Ellerby will hold a medicine ball on one of his hands, Floyd will push up as hard as he can against the weight of Leonard pushing it down and the medicine ball. This is great for building strength and power up as Leonard forces Floyd to use his maximum power on each rep before switching arms and going again
Push ups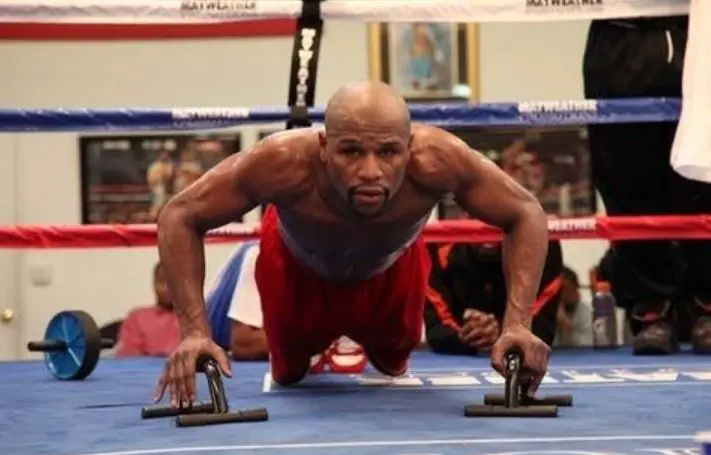 Floyd is a perfectionist as you may have noticed by now and it is no different with push-ups. He will use the perfect push-up training aid to bust out 50 to 100 push-ups in a row and he will do this for almost 500 push-ups a day to stay in ridiculous condition even when he is not in camp.
Floyd likes to make things more difficult in training so that it is easier in the ring and he will place a medicine ball under one arm isolating the other arm and forcing it to become stronger and increasing its endurance.
Sparring
Floyd May do sparring on the same day as his strength and conditioning and boxing work, or he may choose a day where he will replace this with just sparring and his 5 to 8-mile run.
Floyd is well known for toying with his sparring partners in the ring and each partner will last about 10 minutes, where they will miss all their shots, get tired, and then be on the receiving end of Floyd's punches.
"I don't have to run from none of these fighters. If I want to keep my defense tight and break em' down I can." – Floyd Mayweather
After the 10 minutes, a fresh sparring partner will come in and that trend will continue for up to 40 minutes without Floyd taking a single break, sparring against multiple partners in a single session. This way of sparring has been copied all around the world.
Weights Work
Floyd tends to favor bodyweight exercises in the gym but he has also been known to work with dumbbells and machines to strengthen his back, chest, and legs.

Floyd Mayweather Bench press
Floyd often hits the fitness gym and the bench press is one of his favorite exercises. Floyd can bench about 180 lbs comfortably for 5 reps to increase his strength.
"I don't feel that no fighter has the mental or physical agility to match Floyd Mayweather." – Floyd Mayweather
Pull-ups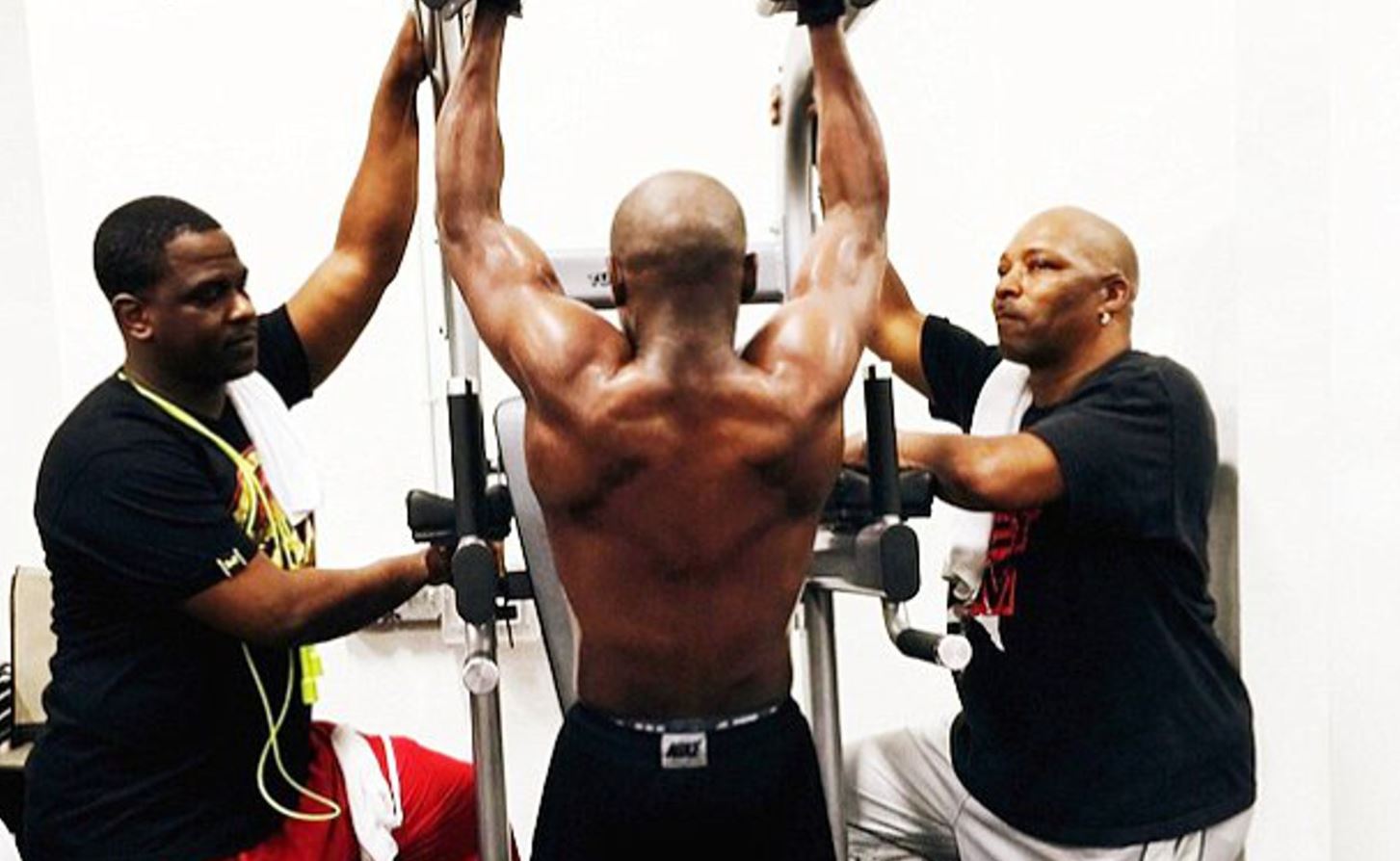 Floyd is the king of pull-ups he will do step pull-ups where he is wearing a weight vest and the infamous ankle weights. These are perfect to build back and arm strength, especially in the lats and biceps.
Weighted Dips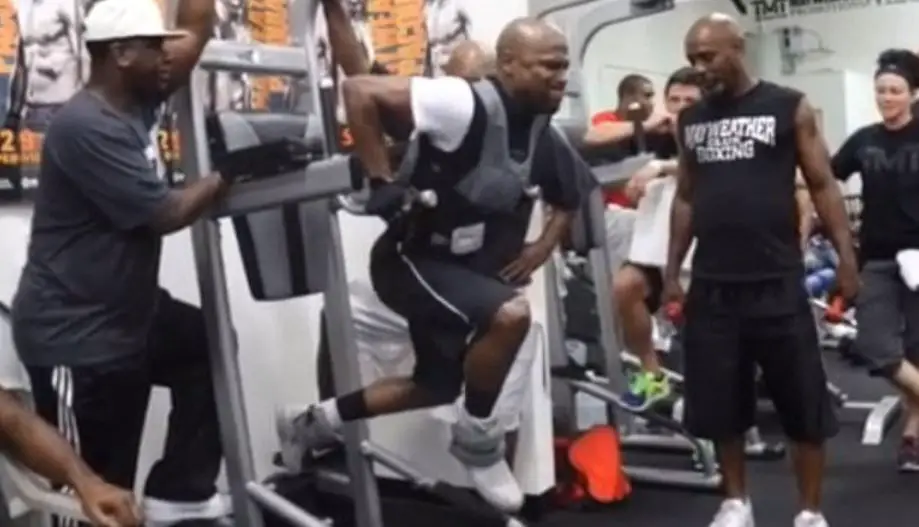 Floyd will put on the weight vest and ankle weights and do 10 to 15 dips to work his chest and triceps increasing is punching power and allowing him to get the knock out like he did against Ricky Hatton.
Conclusion
Floyd Mayweather is a beast in the ring. He's been training since childhood which has allowed him to build up a superior aerobic base and on this, he's developed strength and endurance in his anaerobic system and serious power to keep the distance from his opponents in the ring as he has moved up 5 weight classes and fights men that are much bigger than him naturally, beating all of them and retiring 50 and 0 and referred affectionately by his fans as 'The Best Ever'.