Check Out Dubois Shoving Joe Joyce & Joyce Barely Blinks
Dubois opened up at this afternoons press conference telling Joyce directly to his face that 'he's getting knocked out' and this is the start of a 'new era' with Frank Warren, Daniels' Promoter Frank Warren telling the crowd that had gathered that Daniel will be moving onto a world title after this one.
Joe Joyce Promoter had opened the press conference in style by saying that Frank Warren would need a full pack of Immodium for this one and some clean nappies.
These insults brought the usually reserved Daniel out of his shell and he claimed he was going to 'Wreck' Joe Joyce, to which Sam Jone replied, you have only got one option. Daniel quickly replied, Don't worry, I won't miss, he's too easy to hit.
Daniel also mention he would using Joe as a stepping stone to move up the ladder and taking all of Joes' fans. Daniel stated that this was his destiny since his father had started him on this journey.
The floor then opened up for questions where someone asked what he would say to Joes' mother about knocking him out and Daniel responded that he would tell her to stay at home to avoid the heartache.
Daniel was in particularly outspoken form even on Good Morning Tv saying that Joe would need to bring a sleeping bag cos he's going to sleep.
The tickets prices are ranging from £40 to £400 and we can't wait for this fight.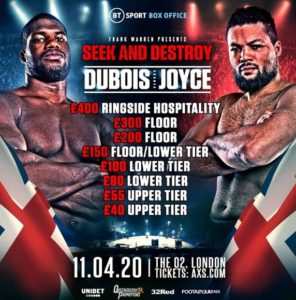 Press Conference Here: