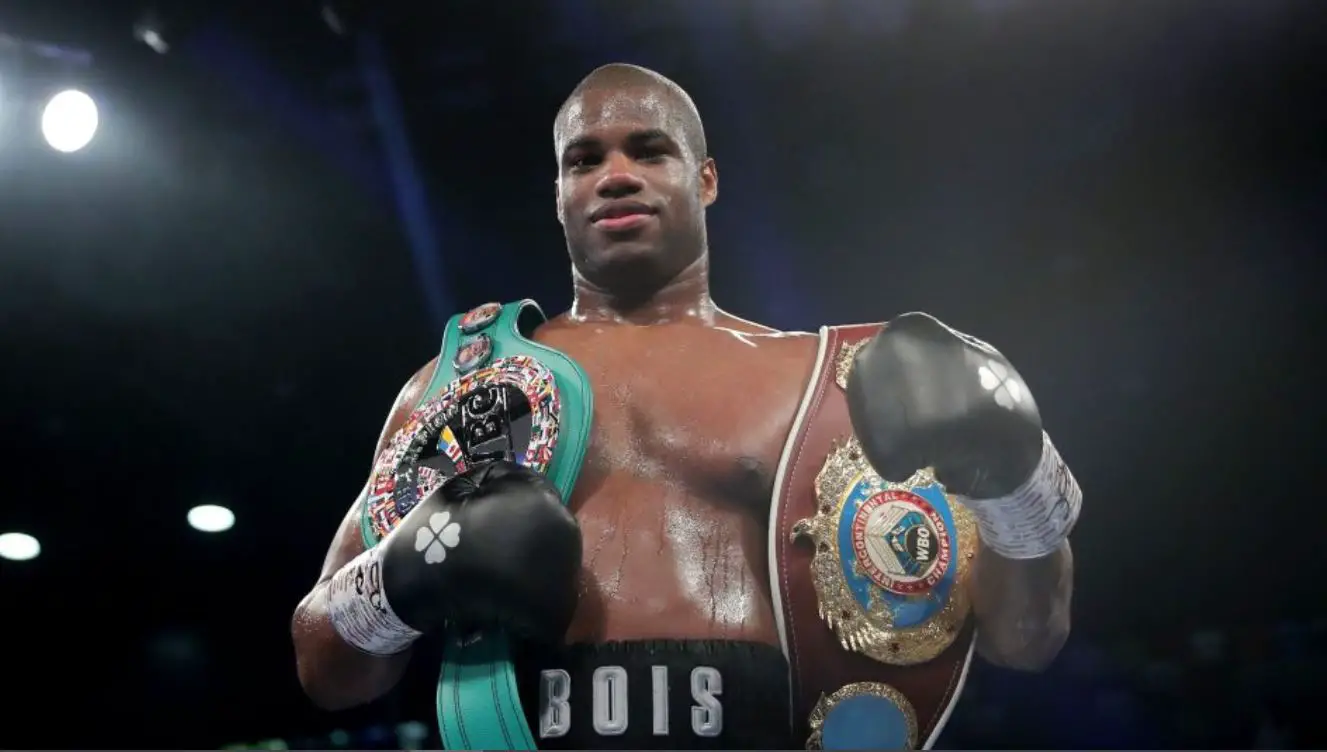 Daniel Dubois is a fighter that has exploded on the scene in recent years and has staked his claim as the number 1 heavyweight prospect in Britain if not in the world.
Dubois has quickly risen through the ranks beating plenty of Journey men and a few sticky challenges along the way and he looks certain for a world title shot in either 2020 or 2021.
Dubois has almost become a household name in boxing following a devastating string of explosive KO's that have left his opponents reeling on the ground or out cold.
Daniels days of flying under the radar seem to be coming to an end with his high profile win over domestic rival Nathan Gorman and another big knockout punctuated a great 2019 for Daniel who currently holds the WBO International Heavyweight Title, The British Heavyweight Title and The WBC Silver Heavyweight Title.
Daniel Dubois Knockouts & Notable Wins To Date
Dubois has only failed to finish 1 opponent and that was seasoned veteran Kevin Johnson who came to survive and did everything he could to survive in their fight which will definitely go down as the least fan friendly fight in his career.
Daniel has produced some devastating knockouts in his other bouts so it's a great time to go through some of these notable wins right now.
Daniel Dubois vs Nathan Gorman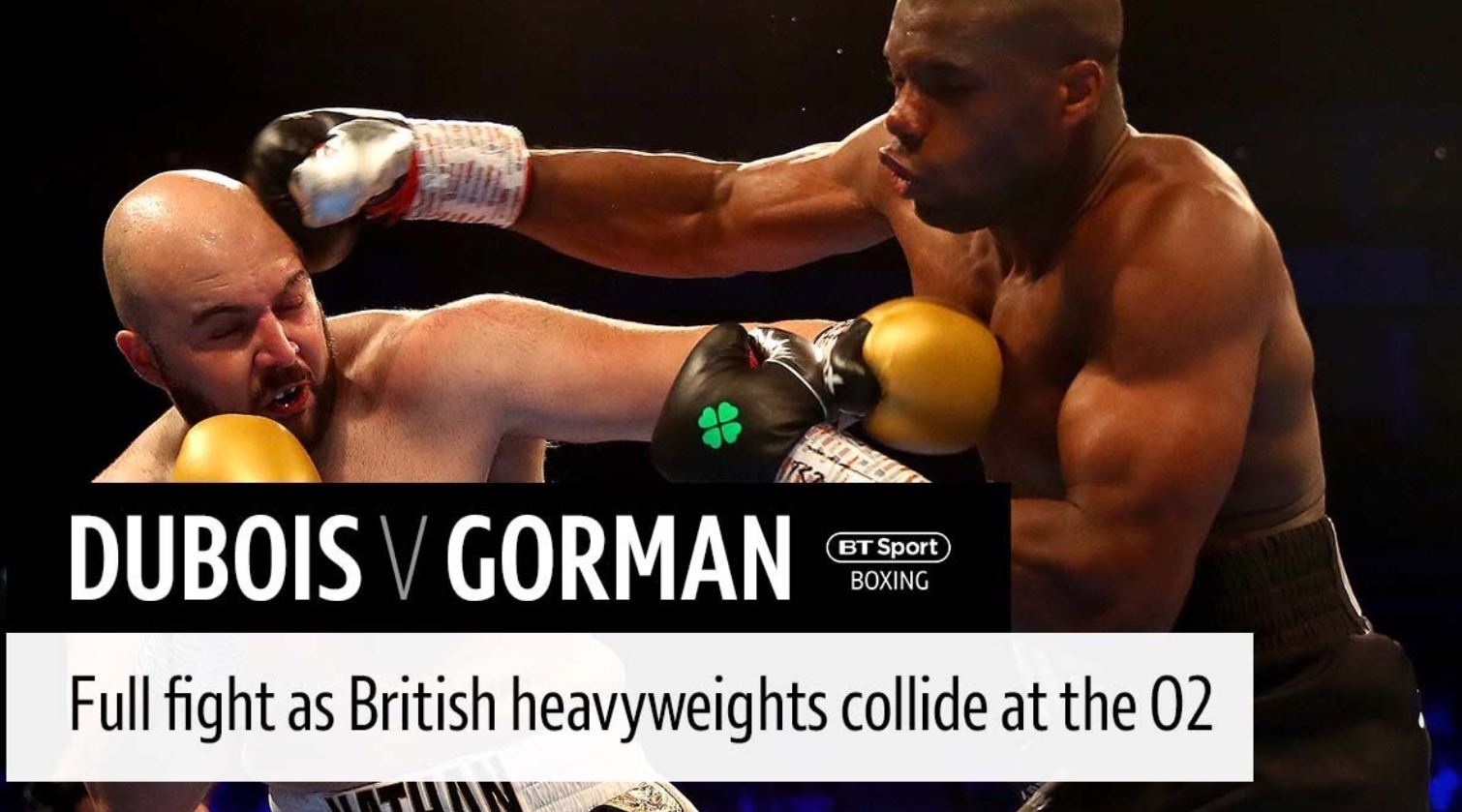 These two British heavyweight prospects put it all on the line for the British Heavyweight Title. Gorman talked a lot in the build about how he never lost a round in sparring to Dubois who remained calm and composed throughout their build up and as we all, sparring and fighting are two very different animals and it was Dubois who dominated with his solid jab before bringing the right hand in and finishing Gorman in the middle rounds.
Check Out The Dubois vs Gorman Highlights Here:
Daniel followed up his impressive Gorman win with Knockouts of Ebenezer Tetteh and Kyotaro Fujimoto to end the year style with 14 wins, 3 belts and a 92% KO ratio. It is also getting much harder to avoid discussing Dubois on the world stage with his impressive KO ratio and growing reputation as one of the hardest hitters in the sport.
Other Notable wins on Daniels early career include AJ Carter who he knocked out viciously in the first round, Dorian Darch, Tom Little, Kevin Johnson and Razvan Cojanu who had taken Nathan Gorman the distance before being stopped by Daniel.
Check Out Daniel Dubois Best Knockouts To Date Here:
At only 22, there is plenty of reason to exercise caution with Daniel and there are plenty of big fights to be made with domestic rivals before he takes his shot at world titles and domination on a global level.
Daniel is a very solid all around fighter. He has got a great Jab, good feet, a rocket of a right hand, an incredible work ethic and a big heart. It is this all round base that makes us sure that Daniel is going to continue to rack up those victories and become a world champion.
Possible Next Opponents For Daniel
Daniel Dubois Vs Joe Joyce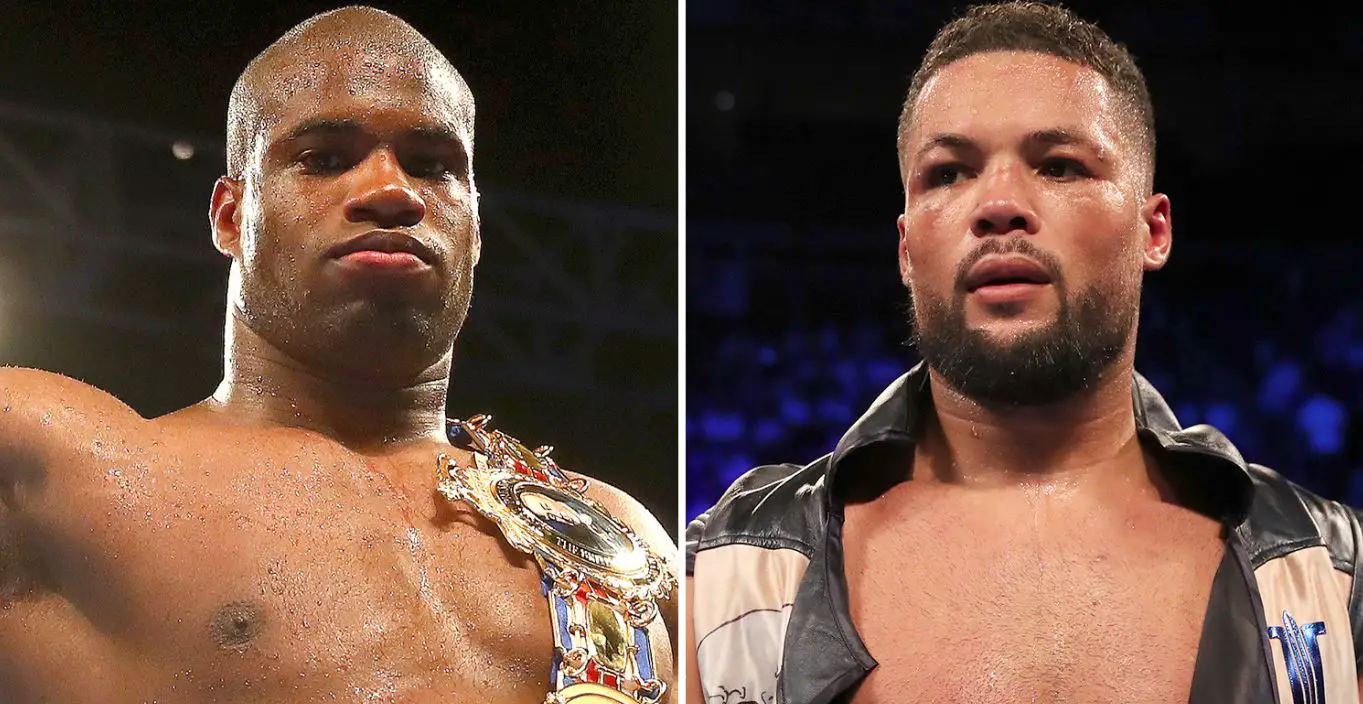 This is a fight that is expected to be made between two top British Heavyweights who are again looking to put it all on the line.
Joe Juggernaut Joyce is a hard hitting tough fighter who likes to come straight forward and land straight punches although he is a bit easy to hit. Joyce is 10 – 0 with 9 Knockouts and his latest outing against Bryant Jennings is probably his best win.
Given Dubois heavy handedness and the ease at which Joyce can be hit, we only see Dubois winning by knockout in this one and we cant wait to see it unfold. Joyce is also 34 and this may be the big payday he is looking for.
Daniel Dubois vs Derek Chisora
Derek War Chisora is a name that is well know to boxing fans around the world. He fought Klitschko for a world title only barely coming up short and he has two losses against Tyson Fury. He has recently put together a couple of impressive wins and pushed Dillian Whyte all the way in two fights.
Chisora is coming to the end of his career but this can be seen as a tough stepping stone for Daniel who will have to dig deep to overcome this tricky heavyweight.
Daniel Dubois vs Dillian Whyte
Dillian Whyte is often referred to as the most accomplished and qualified fighter not to get a world title shot. He has been mandatory challenger for Deontay Wilders WBC belt for over 2 years with no sign of getting a shot coming.
Whyte lost to Joshua and has been in some epic battles since and is currently looking for big pay days.
This is a fight that we see as competitive but one that Dubois can win. We wouldn't see this fight happening until later in the year but it is sure to be a quality fight when it does happen and we are looking forward to it if it does.
Who Trains Daniel Dubois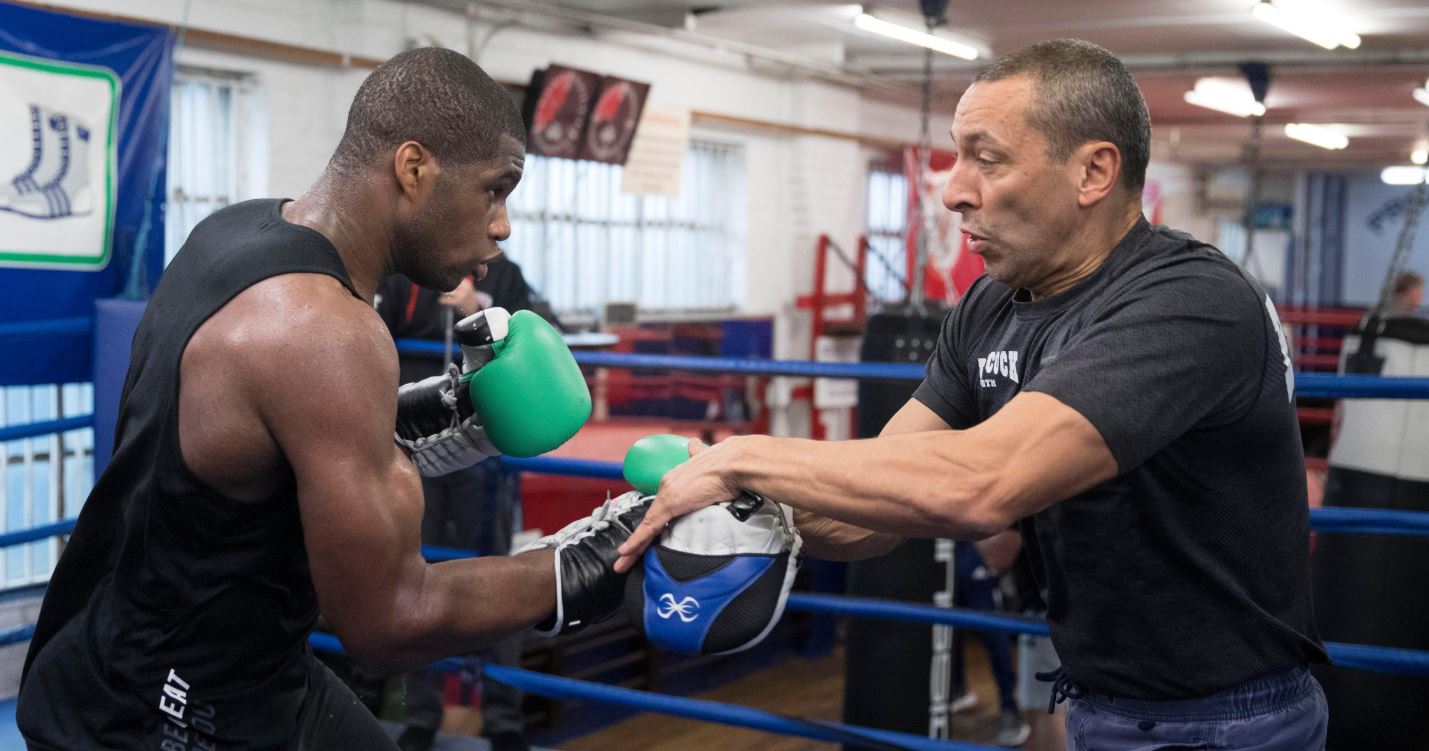 Daniel Dubois Trains in the Peacock gym in London and the Commando gym in London where he does his strength and condition work. Daniel is a gym rat who spends all his time working out, running, hitting pads, sparring and conditioning his body and mind for battle.
It would be very hard to say that Daniel is not in great condition and we cant wait to see him in tougher fights that will push him the limits
Daniel Dubois Family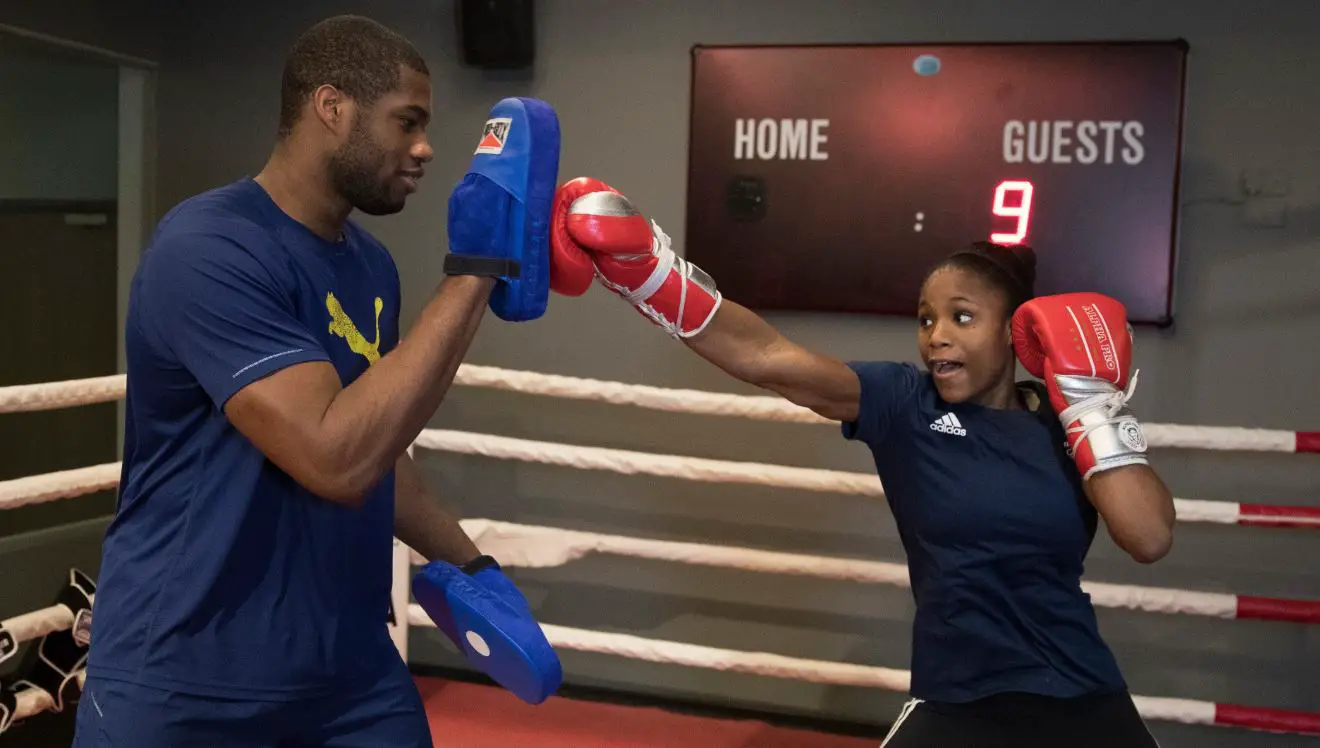 Young Solomon is the latest in a line of fighters with Daniel Dubois leading the way under the guidance of his father
Dubois Sister is one of the best fighters in the world at her age. Caroline is the European and World Youth Champion at 60kg and is certainly one to watch in the future as she inevitably makes here way into the pro game as she comes of age.
Daniel's father Dave took Daniel to the gym at 9 years old so he would stay out of trouble in South London, unknowingly starting a family tree of serious contenders for world honours. Dave's hero was Frank Bruno who would go on to be a mentor for Daniel and a friend, taking him on the pads before the Nathan Gorman fight.
Daniel Dubois Net Worth
Dubois has had some big fights and we can imagine some big paydays. Daniels fight against wasn't on Pay Per View but we can image he earned a tidy sum and has current net worth of between £200,000 and £500,000.
Daniel is a knockout of a big name away from the biggest paydays in the game and we believe Daniel could amass a serious fortune from the fight game. Who doesn't want to see a heavyweight who knocks everybody out concussively.
Who Is Daniel Dubois' Promoter?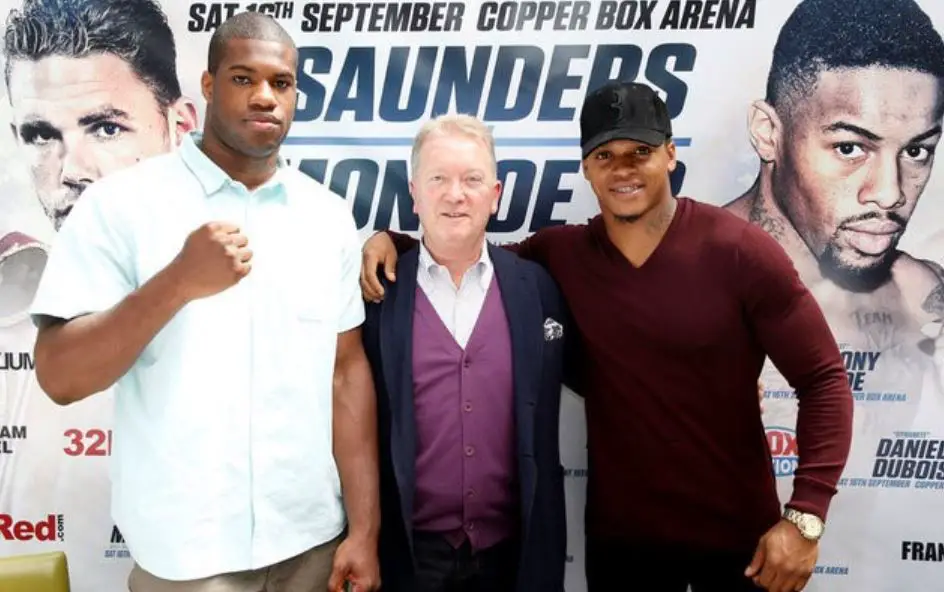 Dubois' promoter is one of the biggest in Britain in Frank Warren who has managed some top names included Tyson Fury and Billy Joe Saunders.
Frank Warren will be in no rush to get Daniel into the biggest fights as he knows he has plenty of time to grow into his body and fully mature with his man strength but he won't want to leave Daniel Idol either and a good string of solid fights will be just the job for The Dynamite Kid from Greenwich South England.
Frank Warren has also teamed up with Bob Arum, the legendary US Promoter and this partnership could see Dubois breaking into the US market in 2020 or 21. We look forward to seeing this exciting career unfold.
Who Trains Dubois?
Dubois is trained in the Peacock gym by respect trainer Martin Bowers from London who keeps Daniel fresh and sharp with bags, pads and conditioning work.
Dubois Likens himself to a mix between Lennox Lewis and Larry Holmes and he cites Mike Tyson as his childhood hero and we are glued to the career of this exciting prospect.
Check out Daniels Blistering Knockout Of AJ Carter Here: