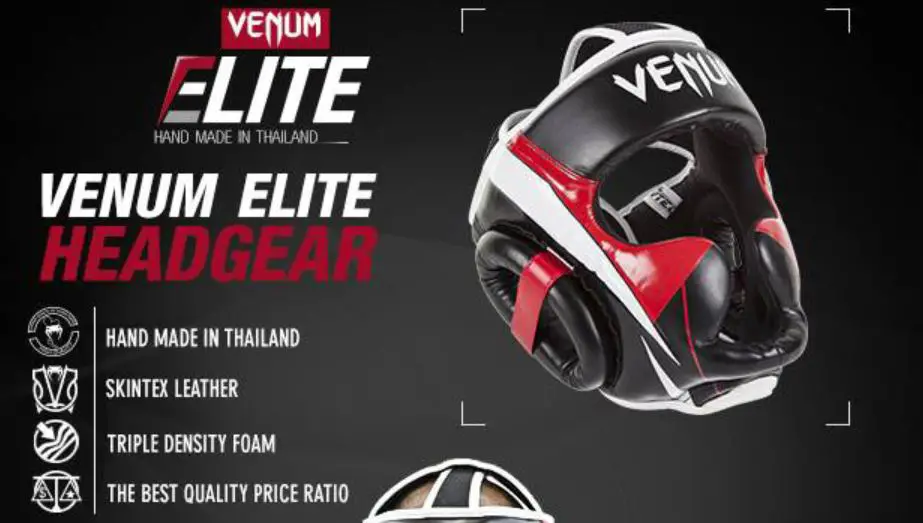 Venom are quickly becoming one of the leading boxing brands in the market, sponsoring athletes such as Katie Taylor, Jorge Linares and Vasyl Lomachenko and the gear is also becoming extremely popular boxing gyms all around the world.
Venum don't just make gear for boxing but all fighting Sports including MMA and Muay Thai as well. I currently own the venum elite headgear and boxing gloves and I love the quality, comfort and fit of this gear.
Venom are quickly becoming my go-to brand for boxing Gear.
They have also stepped into the headgear market with a number of different options to choose from that are all vastly popular and very well-reviewed on Amazon.
Venum Elite Headgear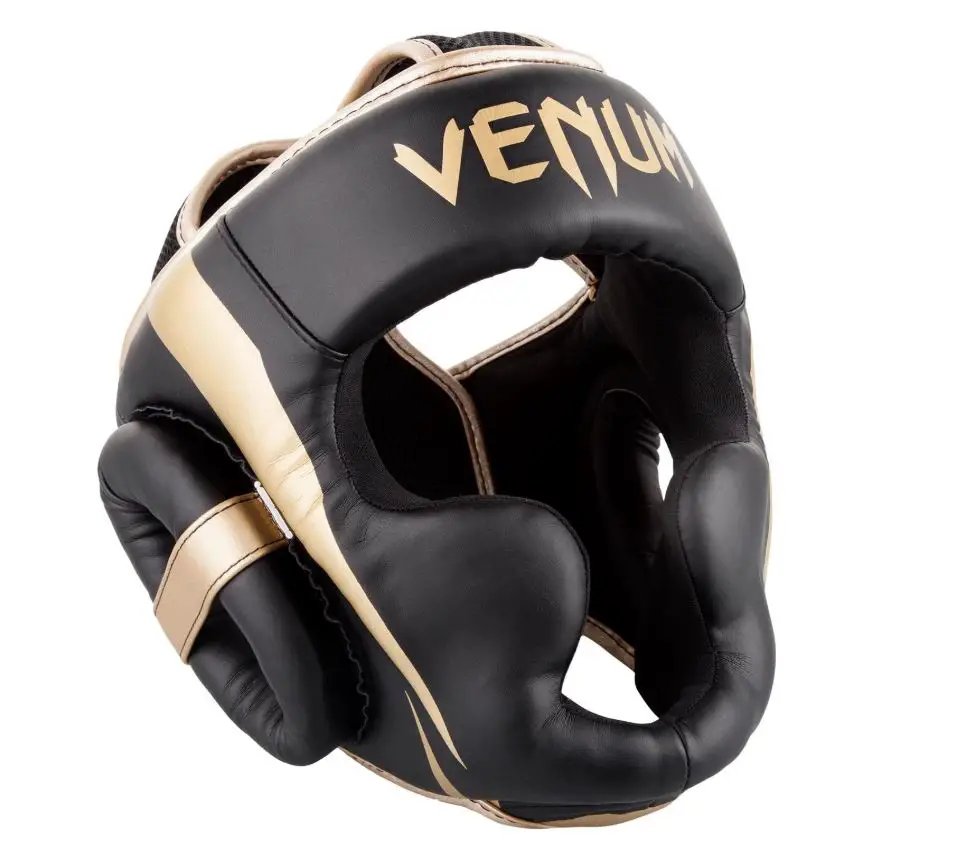 After a couple of early versions with the champion and contender headgear, Venum have finally got it right with the elite set.
When it comes to boxing headgear, it is a game of trade-offs. You want the Maximum Protection but you also need the gear to be lightweight and to give you maximum visibility and we feel that the Venum Elite headgear ticks all of these boxes and more.
Comfort and fit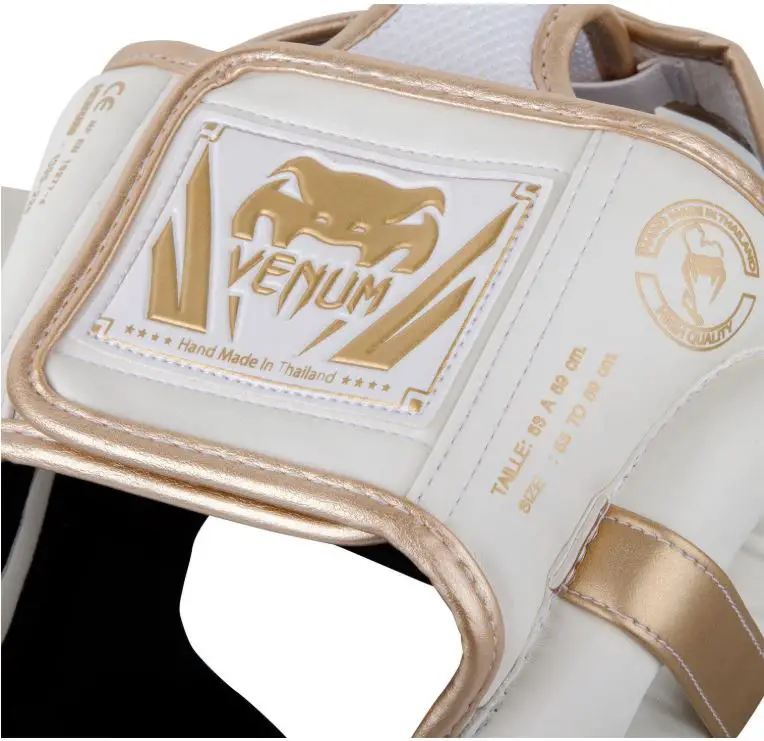 The Venum headgear comes in a one size fits all version and this fits tightly to the head with advanced velcro strapping at the back.
It comes with cheek protectors that fit snugly against the cheeks for maximum protection from cuts and bruises whether are you are in boxing, Muay Thai or MMA and it's got a durable chin strap that protects you from shots down the middle, while still remaining lightweight.
This one has got plenty of openings around the back and sides that enables you to stay cool and make sure it doesn't get too sweaty when you're in the middle of your spars.
A boxing headset that I had before used to get really sweaty on the forehead and then roll down into my eyes and if something like that happens with boxing headgear you are better off to not be wearing any headgear at all.
Visibility
With so much protection, you are going to wonder whether the visibility is impaired at all with this headset. This one has got a wide visor that enables me to see 180 degrees around and it offers perfect visibility for any hooks, uppercuts, knees and kicks that come in which is an absolute must in boxing headgear.
Style and design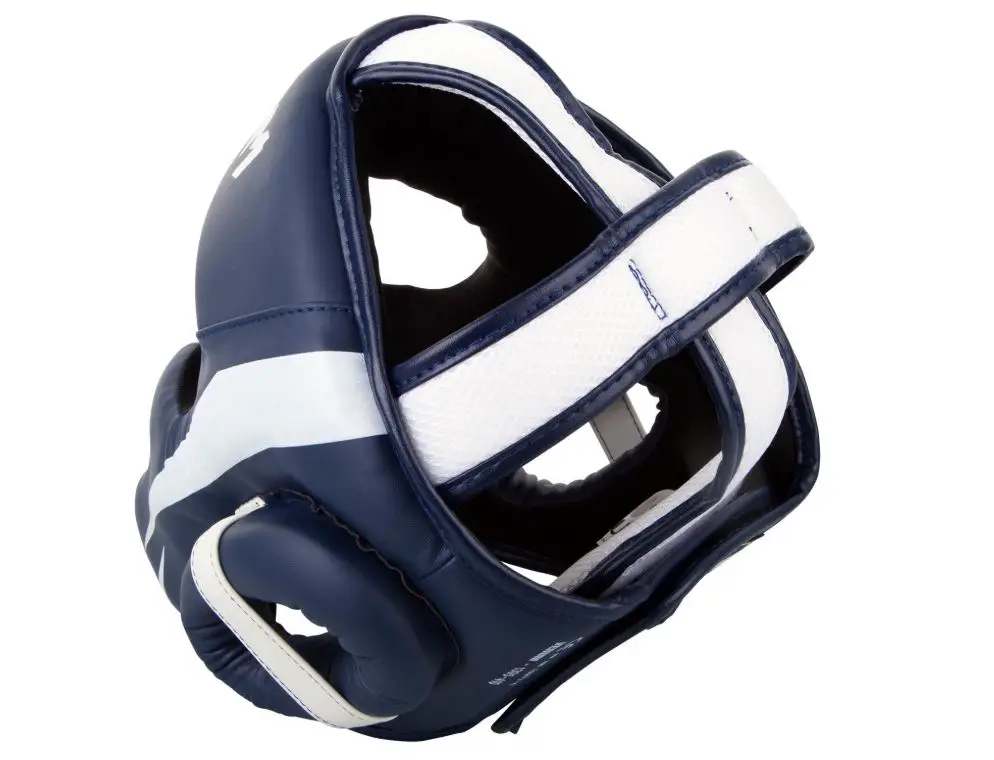 This one has got one of the best designs around. It's open back and sides allow great breathability, it has ear protectors attached to give the perfect protection on the sides from hooks and punches around the side of the head and even for MMA wrestling and Muay Thai Kicks.
The way this headgear looks draws a lot of people in, and it is definitely something that caught my eye before I made the purchase.
It comes a whole host different colours, from Black and Gold, white and gold, blue and white to pink, green and grey.
This also has an ergonomic design that doesn't turn your head into a huge target for your opponent.
Weight And Material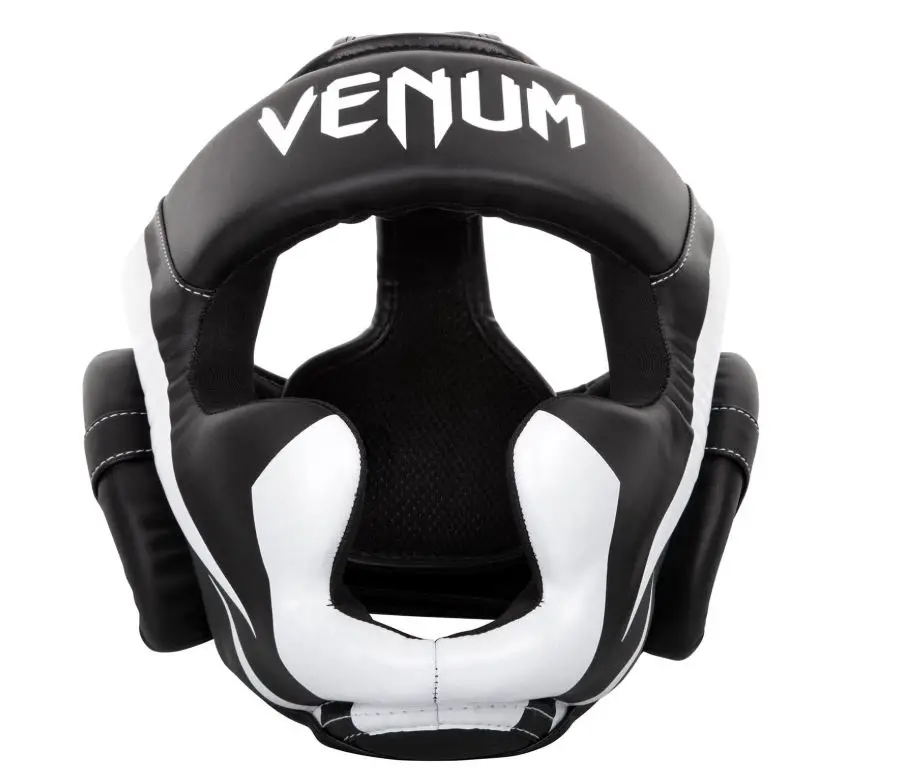 The product weighs in at 13.1 oz making it one of the lightest models around for the amount of protection you get.
Venom Elite headgear is hand-stitched in Thailand and it is made of the trademark skintex leather making this a durable headguard that will last for years to come.
The product is lightweight, tight-fitting and it offers maximum movement, it is also packing triple density foam that will allow you to take the impact of big shots and come back quickly with your own punches.
Overall we have to say this is probably the best headgear on the market today and it ranks right up there with some of the best head guards that we've used through the years.
Make sure to check out all the reviews here:

The Venum Iron Elite Headgear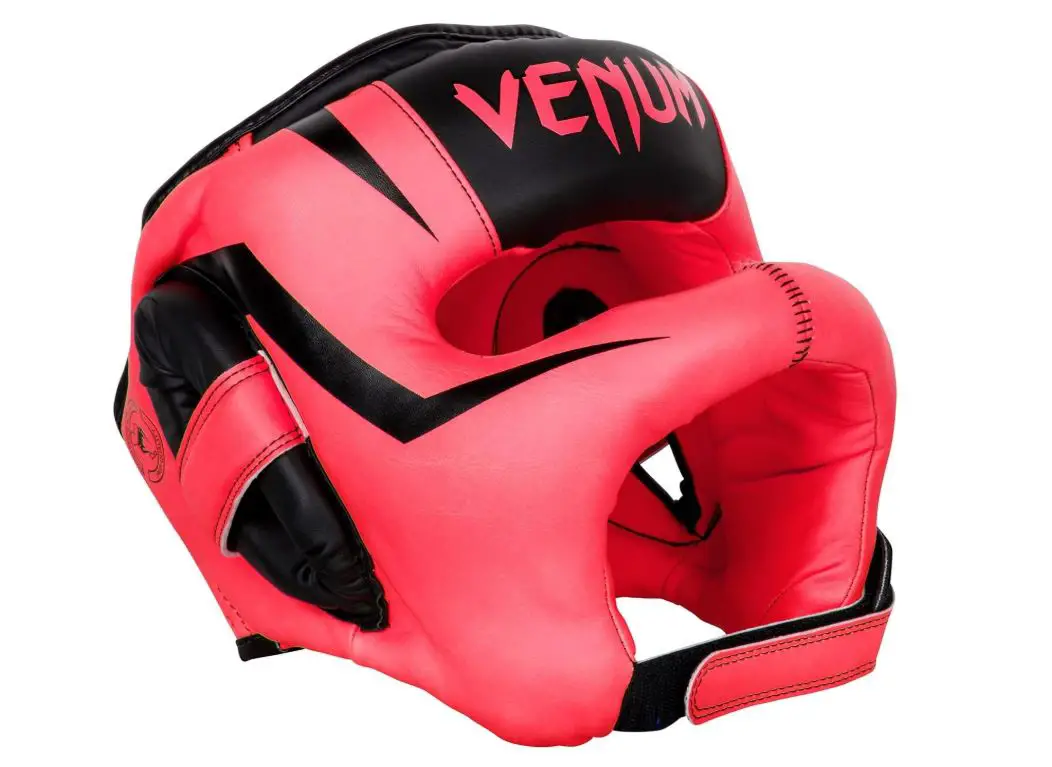 The Venum Iron Elite Headguard offers even more protection than the elite version. It comes with a skintex leather protection bar that comes across the face and offers full protection for the nose and eyes.
These are hand made in Thailand and the thing that is so good about this, is that it is so much more compact the most of the full face protection headgears that we tried so far. It doesn't turn your head into a massive target that your opponent can land on at will.
Visibility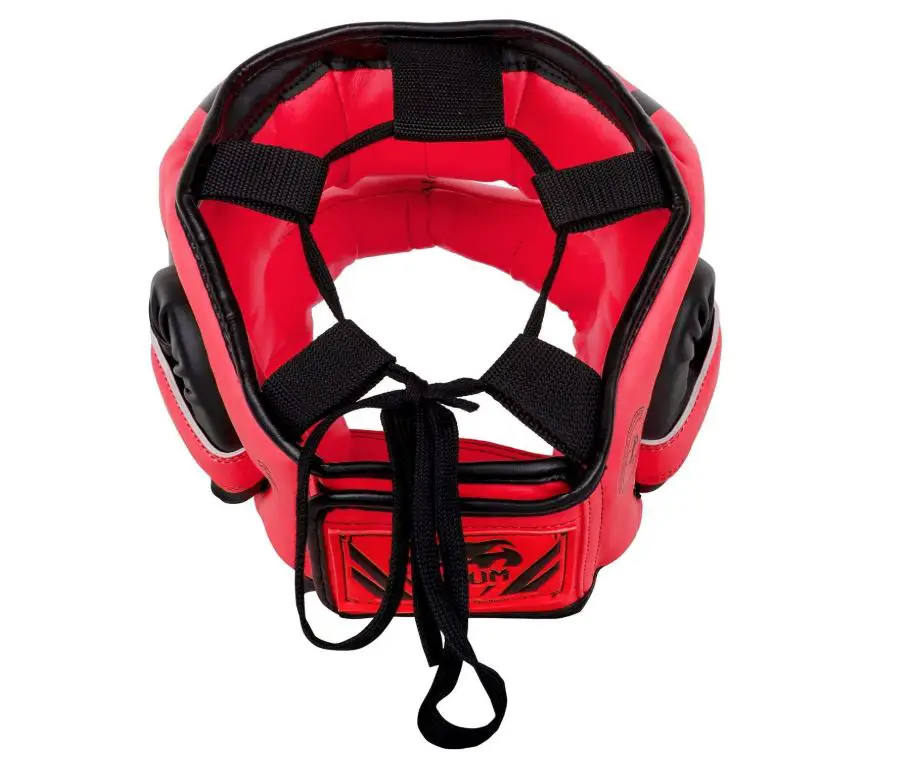 The big thing you are going to be thinking about when buying full-face headgear is the visibility. If you can't see punches like wide hooks and uppercuts coming in then you are much better off without any headgear at all. The same goes for kicks and knees in Muay Thai sparring or MMA.
Style And Design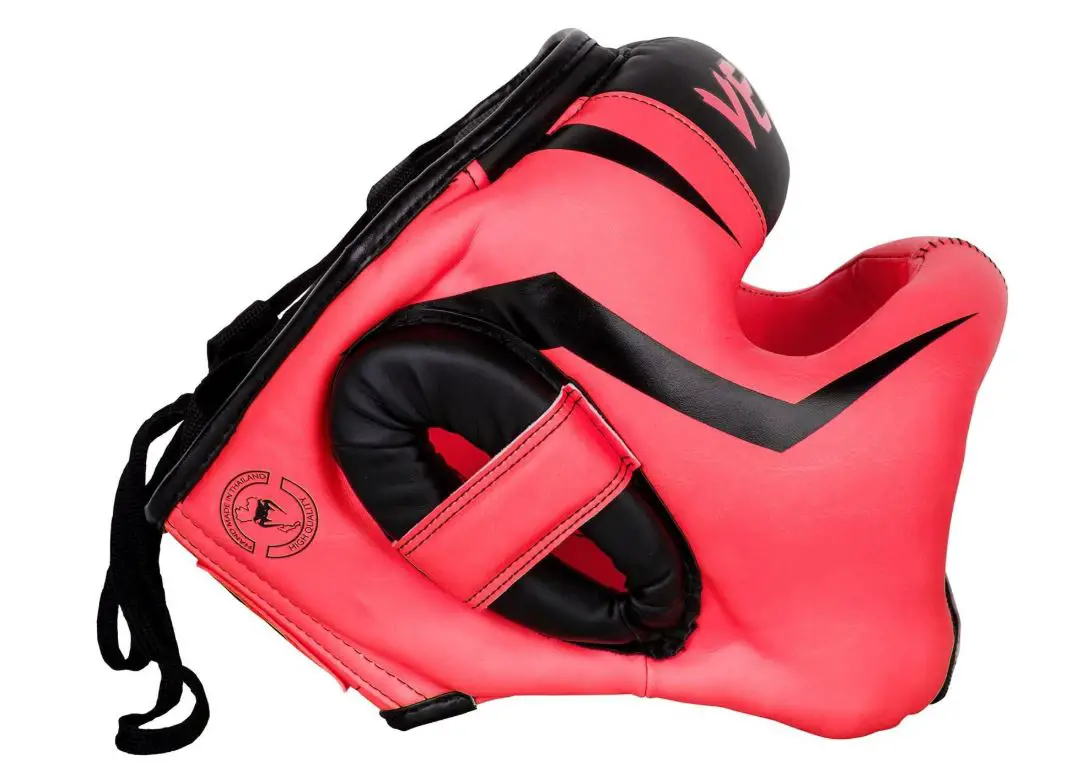 This one comes with a velcro strapping underneath the chin and velcro strapping at the back to offer complete protection. It doesn't protect the chin like the elite one does but it does offer protection for the full face so you don't take any marks if that's important to you if you work in an office or something like that.
It comes in a Neo pink color that will definitely stand out and a host of other bright colors like yellow, black, blue and green will help you to look the part in your gym.
Make sure you check out some more if you was here:

Other Headgear To Consider
Ringside Competition Like Headgear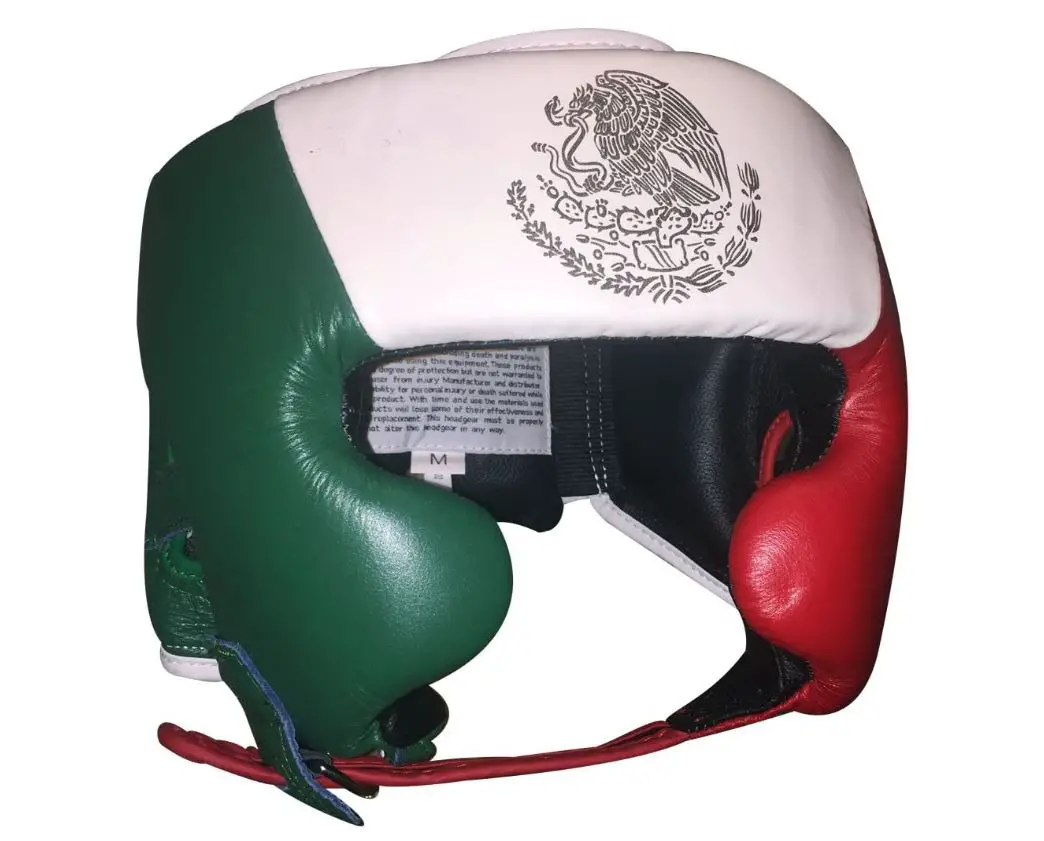 This is a quality headgear, that comes in at around $50. It offers complete protection against cuts and bruising to the face with cheek protectors that fit snugly against the cheeks, protecting the eyes and preventing any marks from sparring.
The product is made from genuine leather ensuring durability and a long-lasting product. You can also get the competition ready version for an extra $20.
It has an open design at the top ensuring breathability and it comes in a number of different sizes so you can definitely get a perfect fit for your head.
What we really like about this one is that you can get cool different designs like the Mexico flag, the American flag and other cool patterns and designs.
You got a durable strap under chin making this a leading headgear a and good competitor to the venom elite.
Check out some more reviews here:

Hayabusa T3 MMA head guard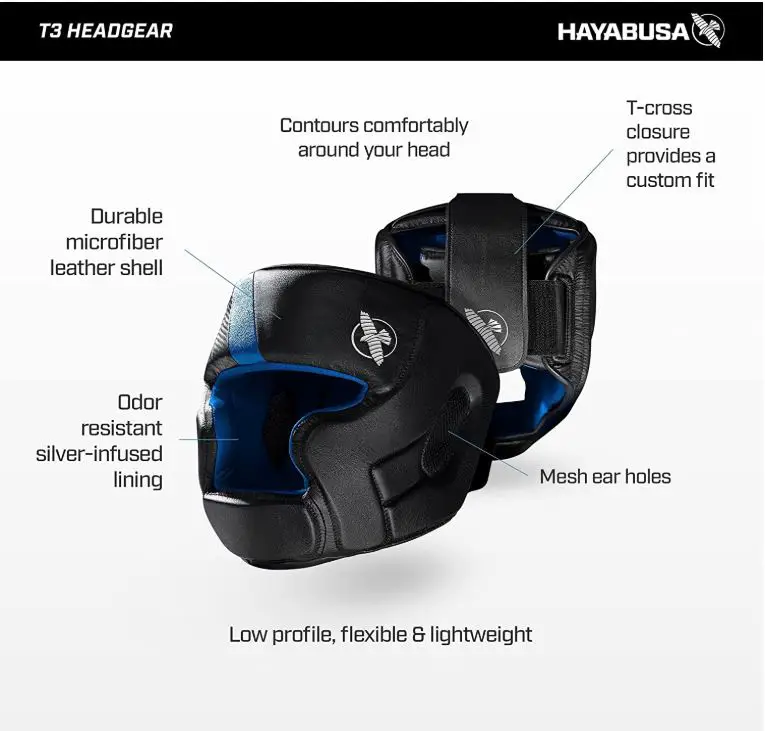 Hayabua is another name that has become very well known in the MMA world in recent years and I have seen plenty of people in the gym that are covered head to toe in their gear from the shin pads, gloves, headgear and even the shorts.
The T3 is a full face headguard and it's a one-size-fits-all design. With a patented T lock velcro strapping system on the back to ensure a perfect fit.
99 times out of 100, this one is going to fit perfectly without blocking division, but if you have a larger head and if you're worried that vision will be impaired then make sure you do your research first.
This one offers good protection for the full face, with cheekprotectors and a chain guard blocking almost all oncoming punches, kicks and knees.
The Hayabusa costs $99 and you can get the full Italian leather version for $180.
We do prefer the Venom headgear but this one is definitely worth a look as well.
Check out some reviews here:

If you want to know more about the benefits of boxing headgear then don't forget to check out our buying guide and you can also check out our top 10 list boxing headgear here.