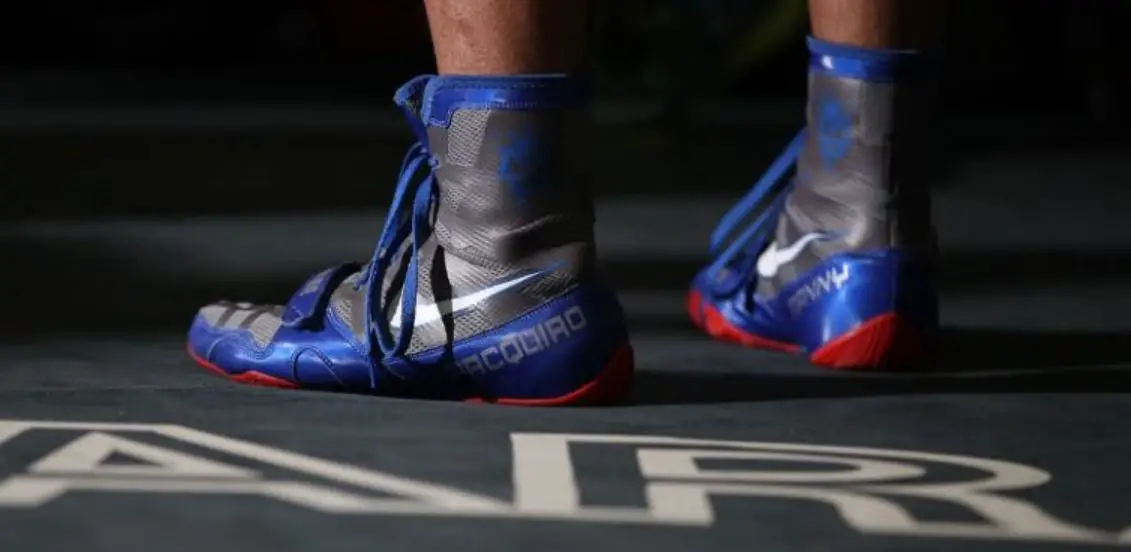 If you are considering buying boxing boots then I will presume that you have made it out of the Beginner class and you are finally improving at the sweet science and I commend you for that.
When I started in boxing I wore regular trainers for the first 2 years, even having my first white-collar fight in a pair of running shoes. As time moves on and you start to get better, you start looking at more gear that can give you a better advantage inside the ring and boxing boots can do just that, in fact, it is probably the best way possible to make an improvement in your game. All gyms would prefer you to wear proper footwear in the ring and some gyms will enforce it as regular trainers will make up the canvas over time.
Not only that, boxing boots will have a lot of advantages for your movement, support and overall boxing ability so they are well worth taking a look at.
Do You Really Need Boxing Shoes?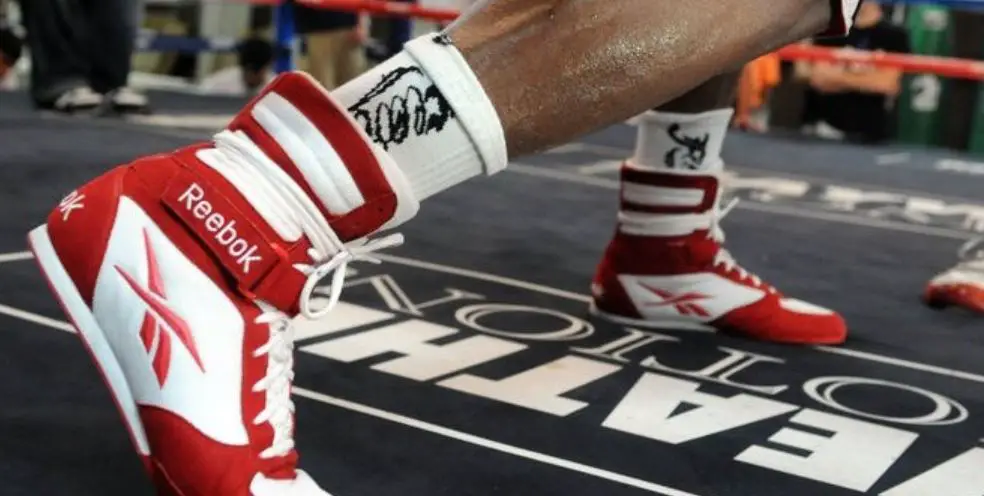 If you are just starting out in boxing, you should probably just use a normal pair of tennis shoes until you have learned the basics like your footwork, head movement and the basic punches like the jab, cross, hooks, and uppercuts and learn how to block and evade punches as well.
If you're training in a place we are just working out on the timber flooring or on a gym mat then you probably don't need a proper pair of boxing shoes, but if you are training in the ring, hitting pads are sparring, then you should probably consider buying a pair of boxing shoes, sooner rather than later.
Benefits of boxing boots
Since boxing shoes are made specifically for the sport, you would expect them to have some benefits and there are plenty.
Movement
Boxing shoes are designed to allow you to glide effortlessly around the ring while a regular pair of training shoes will grip to the canvas too much making your movements slower and more labored and it will also tear up the canvas and cause it to degrade over time which is why most coaches will push you towards getting the proper footwear, sooner rather than later.
Flat feet
Most Boxing boots come with flat soles without too much grip to enable you too Pivot on the balls of your feet, make some angles and find openings for your punches. Since pivoting and creating angles is so important in boxing you should be pleasantly surprised at how easily you can slip and slide around the ring elegantly when you first try on a pair of boxing shoes.
The main problem with running shoes is that they are made for running on hard surfaces, they not only provide too much grip, but too much padding on the bottom as well so you can't feel the canvas which stops you from planting your feet as effectively as possible and transferring your power through the legs and hips and into the punch.
It is important to note that boxing boots come in tons of different varieties, shapes and sizes and you can get higher soles to suit high arches in the feet and you can also get boxing boots with more grip if you prefer that then the ability to pivot more gracefully. When it comes to gear, it is a game of trade offs.
Support
When we first think about boxing, we think about the hands straight away but most of the movement is with the feet.
Whether you are on the offense trying to close the distance or on the defense trying to create distance and evade your opponent, footwork is key and with training shoes sticking to the mat, you can put pressure on your joints and actually cause you to go over on your ankle on occasion or hurt your knee joints.
Boxing shoes come with the proper support for your ankles so can move around the ring at ease while keeping your joints intact.
Comfort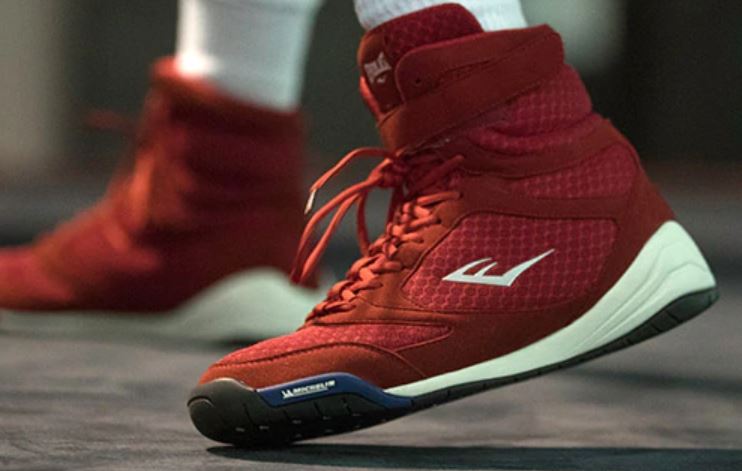 Comfort is another thing to take into consideration, these shoes are designed specifically for the sport and they offer maximum comfort once you break them in and get used to wearing them.
Lightweight
There's an old saying in boxing that power is a blessing but speed kills. Boxing boots designed specifically for the ring offer much lighter weights than traditional running shoes allowing you to move around the Ring with lightning pace.
Breathable
The best boxing shoes will come with plenty of spaces for the air to escape like wire meshing, allowing your feet to stay cool and not sweating up too much inside the boot and causing it to smell over time.
Stylish
Some of the best boxing shoes are very stylish and if you want to be a pro then you should definitely be looking the part as well. These shoes not only help you to be the part, but they also help you to look the part and by having the correct gear it's cements' in your head that you want to improve in the sport.
Perfect for planting your feet for power and small movements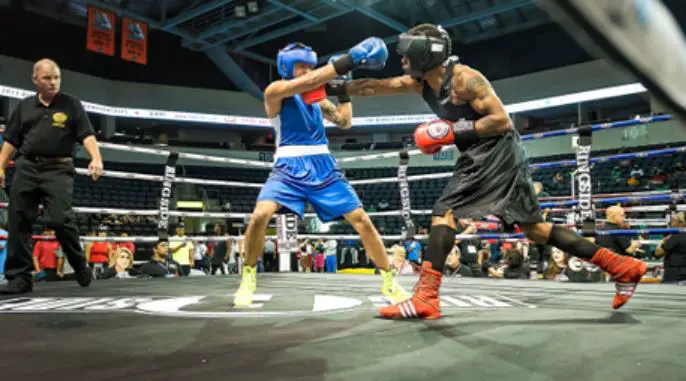 Running shoes are made for fast movements, stop-start movements from a high speed to complete stop and changing direction with all different kinds of footwork, and running all over a court or playing field.
The movements in boxing is much more calculated, there is a correct way to move and your feet will always follow the same patterns no matter what you're doing, whether it is moving forwards and backward, pivoting or skipping to the side. Sport-specific shoes are designed to give you the maximum feeling of the canvas and complete control over your footwork.
The fastest way to improve
Getting the right footgear is the fastest way to improve at boxing. I waited years to get a pair of proper shoes and now I realize that was a mistake. If you are anything like me you are constantly reading blogs, watching YouTube videos, training and finding ways to improve and new tips and tricks that can help you land your shots without getting hit.
Little did I know at the time was that I was only one purchase away from instant improvement and that was with a quality pair of boxing shoes.
Different types of boxing shoes
There are three main types of boxing shoes to consider each coming with their own advantages. There are low tops, mid tops, and high tops and they're also the old school boots that come up almost to the knee.
Boxing shoes just like headgear is a game of trade-offs between support, comfort, maneuverability, and speed and it's all about finding the best pair for your individual needs.
Low Top boxing shoes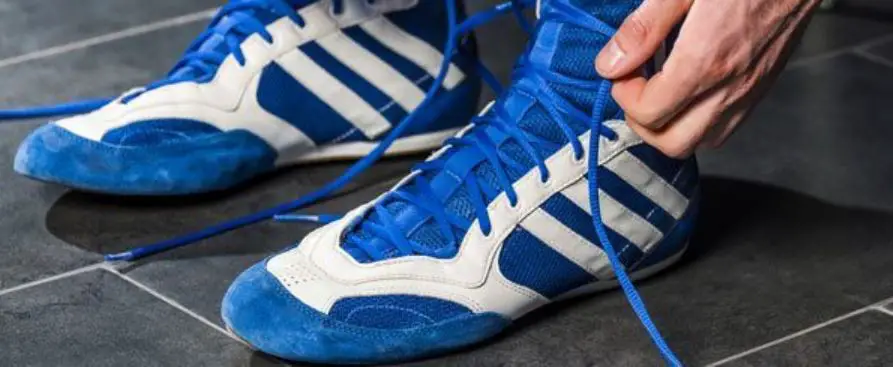 Low top boxing shoes will come up just under the ankle and they contain the least material and therefore they are the lightest allowing you to move with the most speed while providing the least amount of support.
That being said, a good pair of low tops can still provide great support for the ankles and these are my favorite type of boxing shoes, generally speaking.
Mid Tops
Mid-top boxing shoes offer the perfect balance between support, movement and speed for many. If you're someone that could do with the extra support then the mid-top shoes might be the perfect fit for you.
If you're someone that likes to move from side to side a lot and change angles and you might like the extra support of the mid tops. Or if you do do your research and the pair that you like the most are mid tops there is no reason not to go with them. I currently use the Venom Elite Mid Tops and I love them.
High tops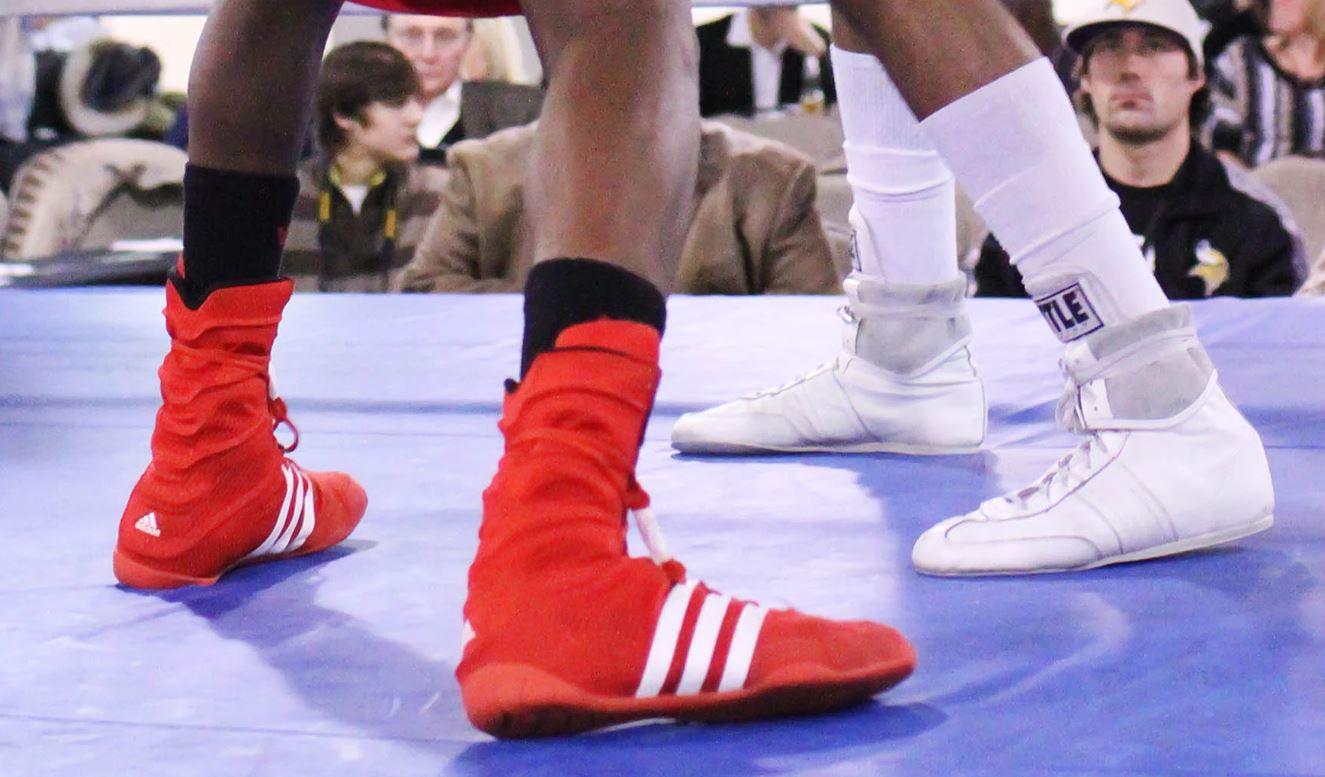 These are made with support in mind so if you're someone that likes the plant their feet come straight ahead and land big punches these might be the perfect boot for you. These are made for the punchers more than the movers and there are plenty of excellent brands of boxing shoes to choose from in the high top range.
Beware, that some of the budget high top shoes will actually be loose around the ankle and not give you the support you need so where it's possible, spend the extra few dollars and avoid the bargain basement Pairs.
Comfort is King – wide or narrow feet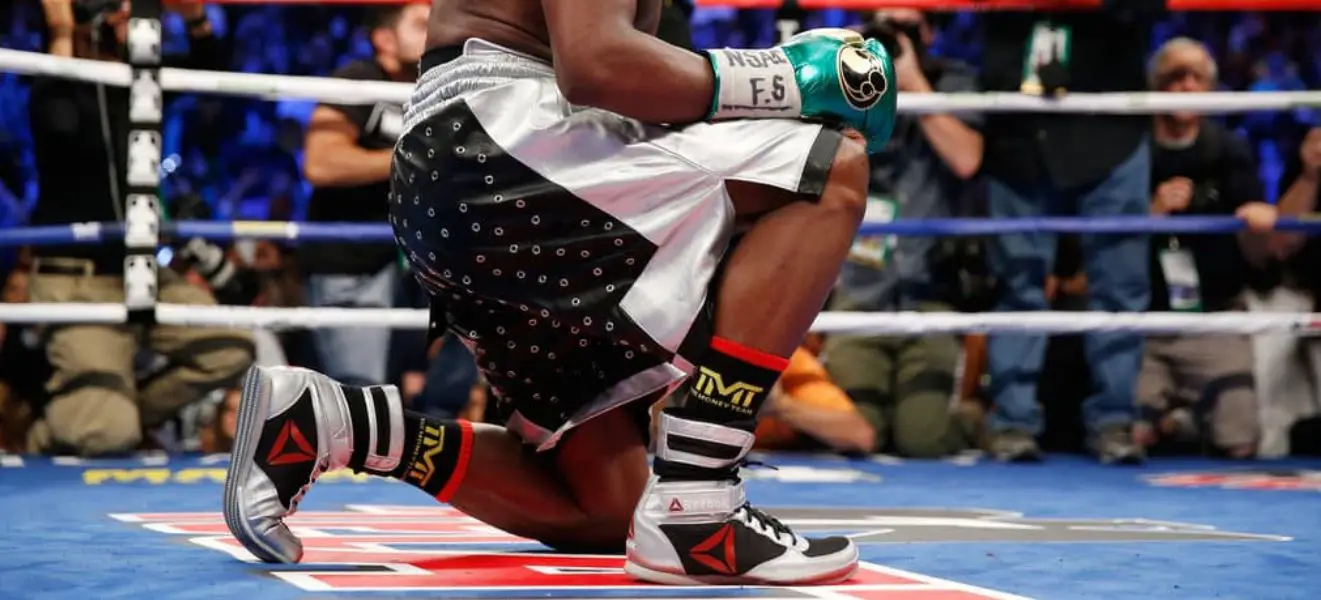 You are buying a pair of boxing shoes for complete comfort in the ring, these should feel like slippers allowing you to get your footwork 100-percent correct and move around the Ring with ease.
If they are not comfortable, find out as quick as you can and send them back to try for a different pair because getting a pair that suits your needs is the only reason that you buy them.
You need to figure out whether you have wide feet are narrow feet because different shoes will suit different size feet.
Do your research on each pair, get out the measuring tape see where you have wide or narrow feet, if you don't know already and check out the specs and reviews on each pair to see which pair suits best.
Create a list of narrow or wide shoes that you like and then narrow it down until you were left with the one that you like the most. It is worth putting the time in to do the research and end up getting the best pair for your game.
Amazon is great for buying, because of the Consumer Protection, if you buy and they don't fit or if they are not comfortable, too tight or too narrow, you can send them straight back, without issues.
Quality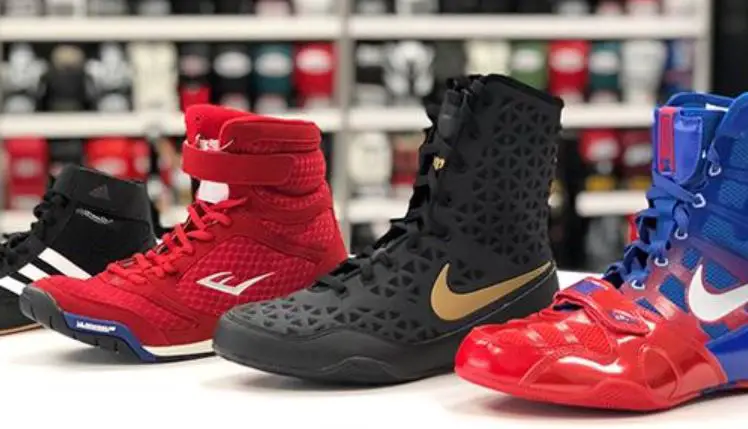 Quality is the last thing you really need to focus on when you want to buy a pair of boxing shoes. The biggest nightmare situation you can face is buying a pair and watching the sole tear-off from the rest of the shoe after two uses leaving you needing to buy a new pair.
Always be sure to check out as many reviews as possible to be as confident as you can be that you're buying a pair of good quality.
Best choice
Venum Elite Boxing Shoes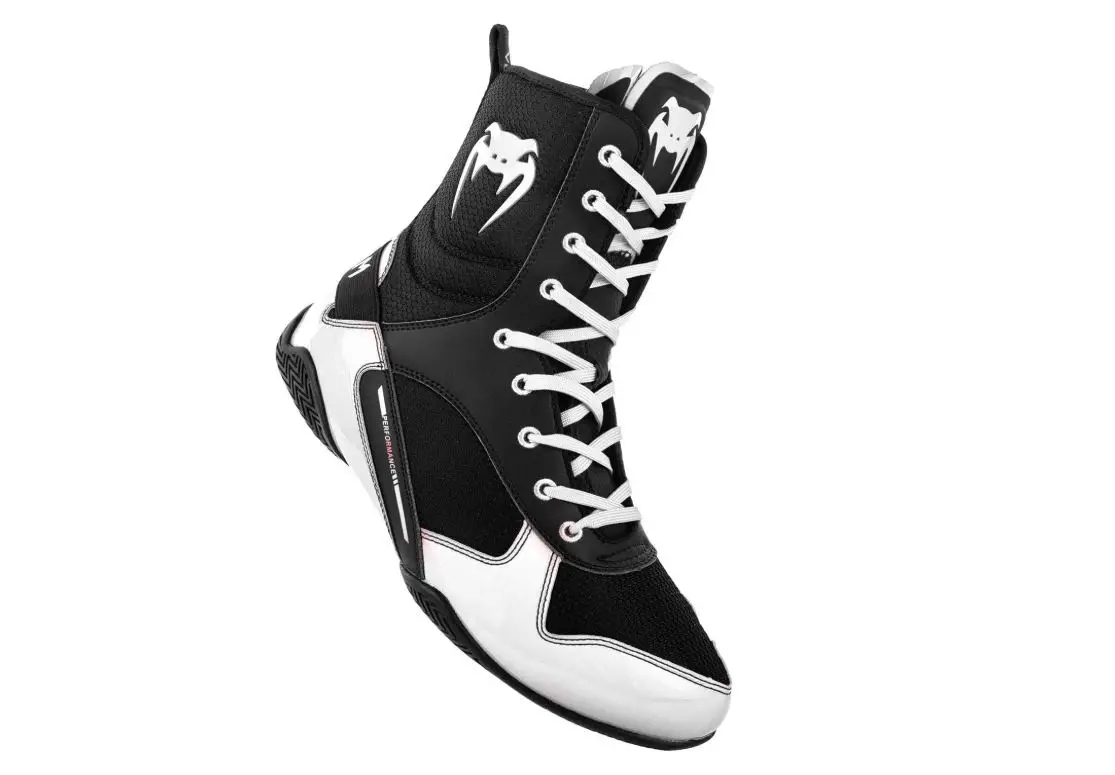 This is the pair I personally use myself, which is why I am recommending them as the best choice. What I like about these, apart from the sleek design is the balance between comfort, stability, maneuverability, grip and speed. Venom have, also become my favorite boxing brand in recent times and all my gear is becoming venom as time moves on.
I've been using these for 6-months now, and I have to say they are the best pair I've used to date. I am quite tall with wide feet and these ones really suit the wider feet and since I am tall, the mid-tops offer good support on my ankles.
It's easy to pivot with these ones as you also get an excellent grip.
One thing to remember is that you should order a full size down on your regular shoe size for a tight fit and half a size down for a comfortable loose fit.
These come in racy red, gorgeous gold, sterling silver, midnight black and black and white. I have the black and white pair and they look awesome.
I know that Katie Taylor is also sponsored by Venom and she wears the black and gold pair which I really like as well.
Check Out The Reviews And Get The Best Price:

Nike HyperKo Boxing Shoes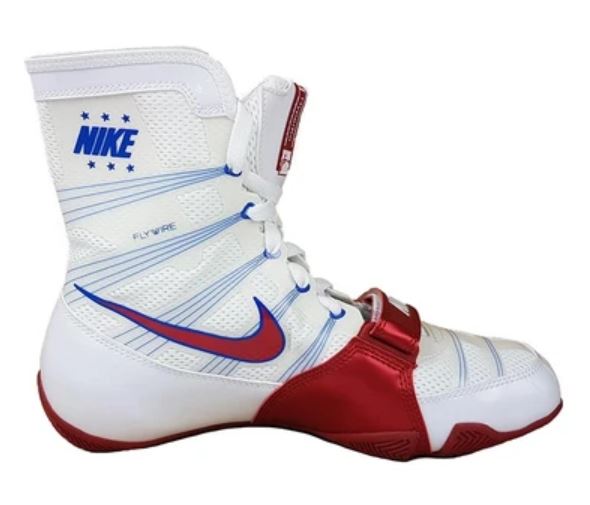 These are the premium choice and they fit like a slipper, made famous by Manny Pac-Man Pacquiao, these are an extremely popular pair with pros all around the world.
The HyperKo boxing shoes offer excellent support for the ankles, superior grip, they are lightweight and maneuverable and easy to pivot with.
They also have an extra strap around the middle of the foot to ensure a snug fit. They come in blue and white and with excellent reviews, the fitting is true to size and they support a moderately wide foot.
Check out some more reviews here:

Adidas Hog 2 boxing shoes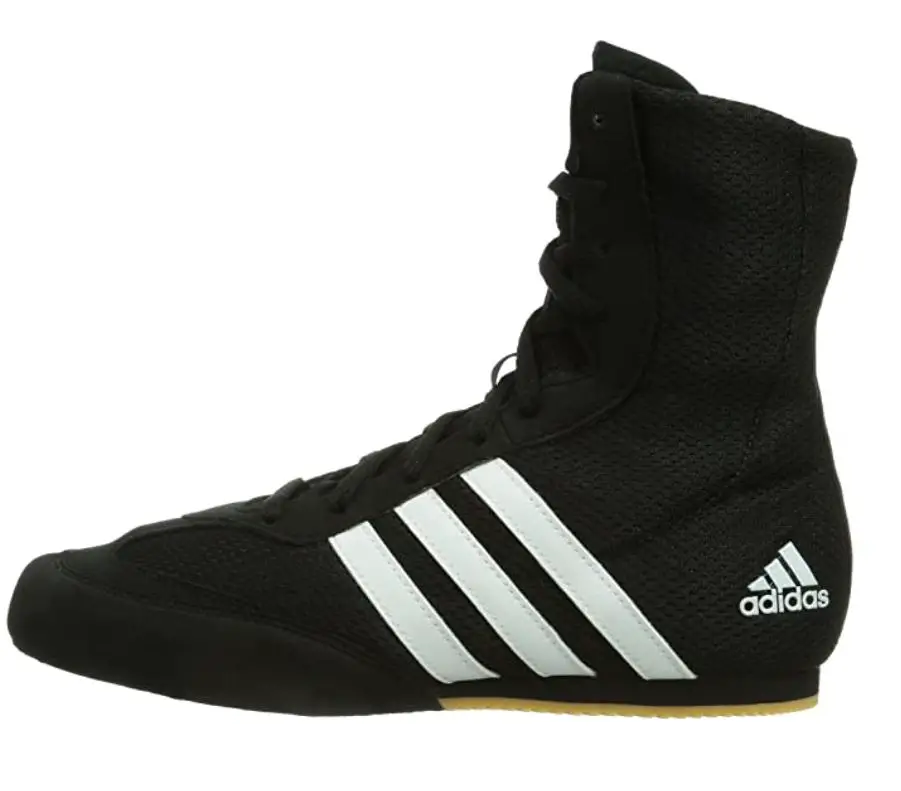 Another well-known pair of boxing shoes, the Adidas hog 2 come highly recommended by pros at all around the world. You should order the same size as your shoe and these support narrow feet.
They are extremely comfortable and the high tops offer a good stability for the ankles, they give you a good feel of the canvas and the snug fit make these an excellent purchase.
These are also extremely lightweight are allowing you to glide around the ring like a s******r version of Muhammad Ali. 🙂
Check Out Some More Reviews:

F a q
Are boxing shoes really worth it?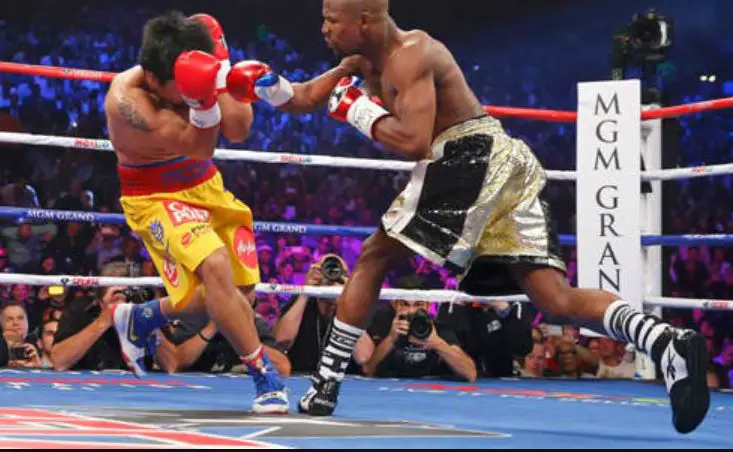 If you are serious about improving as a fighter, then boxing shoes are probably the number one piece of equipment that's going to make a difference immediately.
Everyone is going to start out with a pair of tennis shoes and that is fine, but the extra improvement offered by boxing shoes is definitely worth trying out and something that led to vast improvements in my boxing ability.
What kind of boxing shoes should I get?
The answer really depends on personal preference. Low top shoes provide less support but they offer more speed. High top shoes give more stability and ankle support and they still should allow you to move almost just as fast so check out all the pairs you like and then make a decision based on your research.
What kind of boxing shoes does Floyd Mayweather wear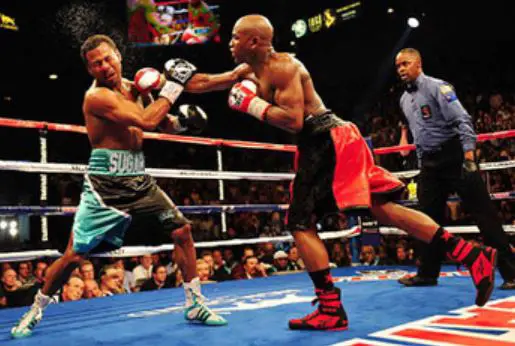 Mayweather goes for the Reebok hi-top boxing boots as he knows he can't risk any injuries in the ring. If he goes over on his ankle it may risk his unblemished record of 50 and 0.
These Reebok shoes are some of the best around and they definitely feature high on and our best boxing shoes for beginners and improvers list great support, perfect maneuverability and grip, speed, comfort and quality.
Can wrestling shoes be used as boxing shoes
The answer is yes, plenty of wrestling shoes are used and loved by boxers all around the world as they are lightweight, maneuverable and extremely comfortable.
Shoes made especially for boxing might come with a lot of grip compared to wrestling shoes and this could cause injury to your opponent in wrestling, so while wrestling shoes can be used in boxing, we wouldn't recommend boxing shoes to be used in wrestling.
Can you run in boxing shoes?
Running in boxing shoes is not advisable, they're designed to be as light and to give you as much feel of the canvas as possible so they won't protect you as you run on the streets.
You should also want your boxing shoes to last a long time and running on the streets will probably degrade them very quickly. Boxing shoes are designed for the set movements of boxing forward and backward, side to side with a few stutter steps included but nothing that's going to push the shoes too hard like other sports.
Can you wear boxing shoes casually?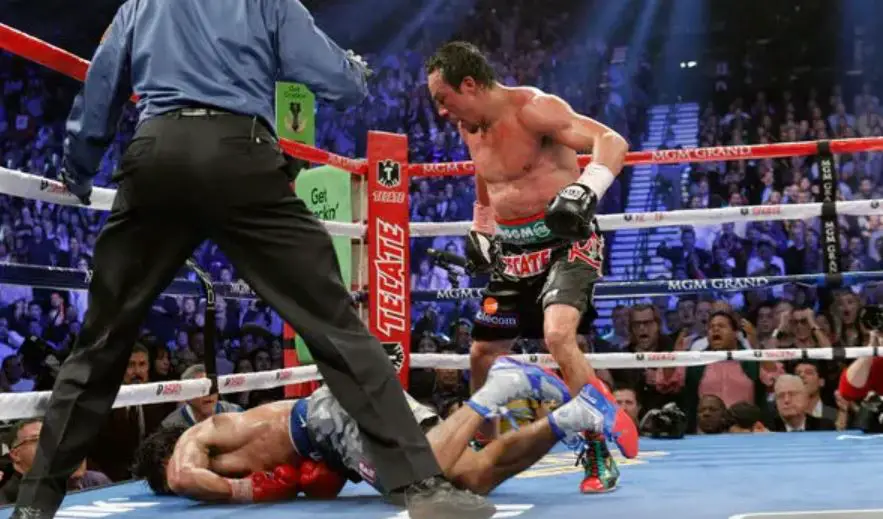 My boxing shoes have an awesome design and I would love to wear them casually, I'm sure I will get plenty of admirers, but it would wear out my boxing shoes quite a bit if I'm wearing them on the street, it will wear down the grip and I will need to buy a new pair much quicker and they're quite expensive so I don't want to do that.
Are boxing Shoes Flat
Some Boxing shoes are flat but some shoes are curved to support high arches in people's feet so it is really a question of finding a pair of that does suit you whether they be curved or flat. Both options should be quite comfortable in the ring if you buy the right pair that are of good quality.
Can I use boxing shoes for weightlifting?
You can do anything you want but boxing shoes are not designed for weightlifting. While weightlifting shoes are flat they offer a lot more protection than boxing shoes so if you dropped a dumbbell, or a weight plate on your foot you could easily do some damage.
I lift weights in tennis shoes but if you're serious about weight lifting then you could consider getting a proper pair of weightlifting shoes with the right protection.
Boxing Shoes vs Bare feet
Boxing shoes suit boxing a good bit more than their feet just because of the amount of pivoting that's involved in boxing and this will I prefer to your foot on the canvas.
Kickboxers and Muay Thai Fighters will train all the time in bare feet and there is a lot of pivoting with the kicks in Muay Thai, you need your feet to be bear for the kicks because you won't want to be lifting the weight of the Boot and causing injuries and it is a different type of movement, Muay Thai is more square on and come forward.
Boxing shoes offer a lot better stability and movement in the ring so they are superior for improving at boxing.