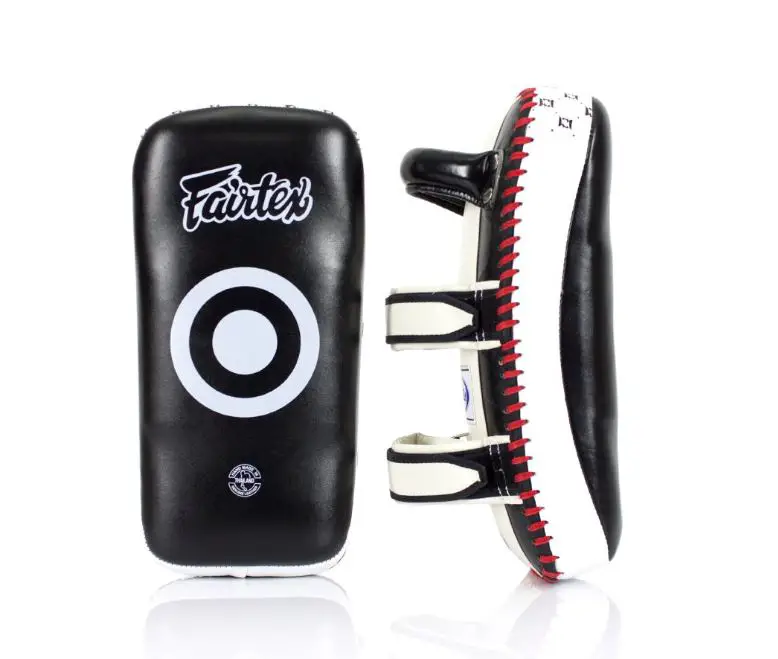 Fairtex Curved Thai Pads
Fairtex Superior Thai Pads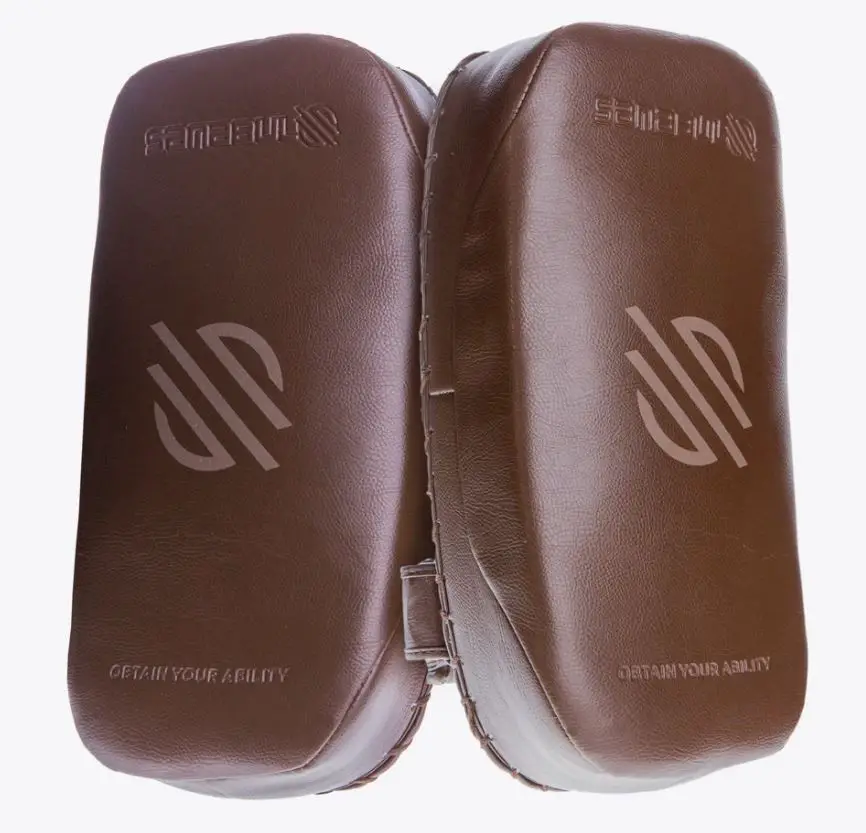 Sanabul Curved Thai Kick Pads
Muay Thai is quickly becoming the most popular sport for young people to train in, competing strongly with boxing and MMA for the numbers of people training in this discipline.
Muay Thai, unlike boxing relies on heavy kicking to cause damage to your opponent, whether that be leg kicks, body kicks or head kicks.
Muay Thai fighters are well known for their heavy kicking training on Muay Thai pads which are also suitable for taking punches and knees so it is a perfect simulation for a real fight.
Muay Thai pads come in plenty of different shapes and sizes:
Curved Thai pads are usually better for catching the kicks in the sweet spot, right in the middle and as a result they usually cost a little bit more as well. These are also better for catching punches right in the middle of the pad so we recommend Curved pads nine times out of ten.
Flat Pads absorb the impact straight on and are still very effective for training Muay Thai Fighters. These are used by holding the two pads together either the left or the right side so the fighter can kick straight into the middle of the pads and all of the impact is absorbed. Flat pads don't usually catch the punches as well either but they are still fine to train with, more old school in nature.
Large vs Small Pads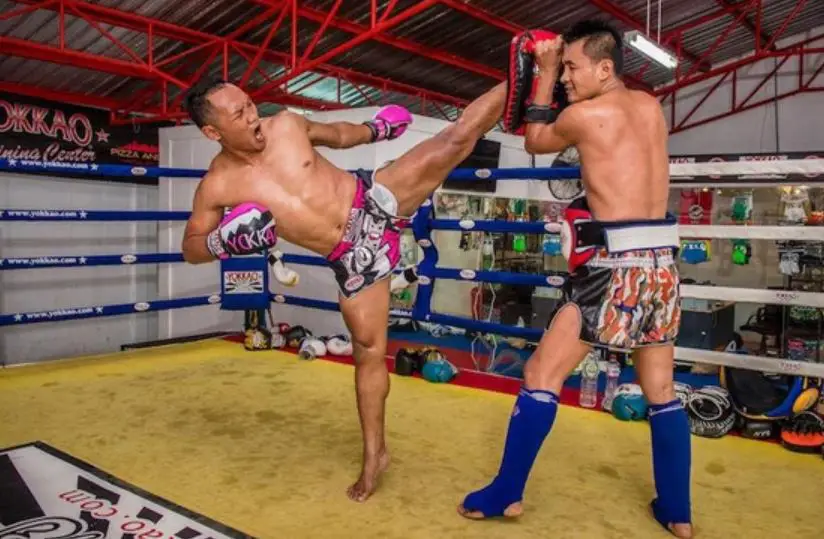 It can be very difficult to train a heavy Muay thai kicker on a small pad as the chances that they will miss the pad and kick you to your stomach or your head are increased significantly.
We would always recommend going with a pad with a larger surface area, approx 15″ – 17″ so you can be sure that you catch any misplaced strikes and the ones that will land flush.
The Amount Of Padding
The amount of padding in Muay Thai pads is also going to be important. If the pad doesn't have enough impact absorption, you're going to feel it straight through onto your wrists and forearms which will cause them to take damage, but a hidden benefit of this is that it will toughen up your wrists and forearms over time.
A lower quality pad will lose impact absorption much quicker than a Fairtex or Twins pair of pads.
You are much better off with a thick Thai pad if you will take kicks from heavy hitters which many people training Muay Thai will be. If you're training big guys, then it's an absolute must to have good absorption in your pads.
Buckle vs Velcro
The type of strapping for the holders forearms is also important, buckles are more of an old school type of pad and as the pad breaks down over the years the buckle might dig into your arms and cause some problems.
Velcro is the new way of doing things with pads and the one that we recommend. These will fit more comfortably and the way they are made today these can last for 5 to 10 years no problem.
With that being said we have compiled a list of the best Muay Thai pads available in 2020 so let's jump straight in.
1 Fairtex large style kick pads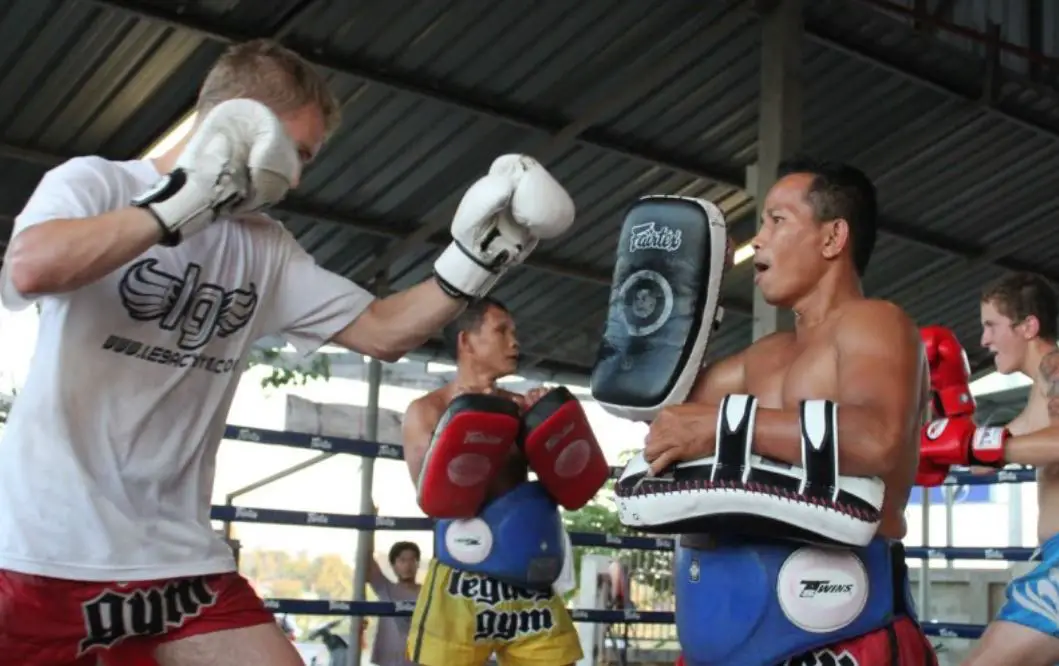 Fairtex dominate the market for Muay Thai kicking pads, they have been tested for many years with the toughest pro Fighters in Thailand and all the high level foreigners that train there every year. These have stood the test of time so you know you're getting real quality with these.
Size and Style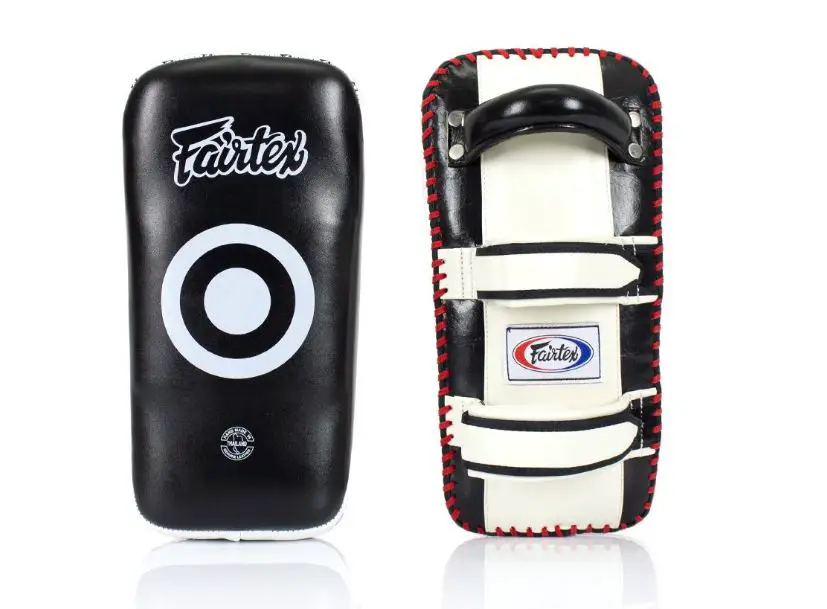 These are 15″ in length which is a good size, and they are curved style pads with a large sweet spot designated by 2 circle rings allowing the fighter to hit it bang on every time.
They are black and white with the distinguishable Fairtex logo on the front and we would say 80% of the top trainers in the world are using these pads.
Padding and protection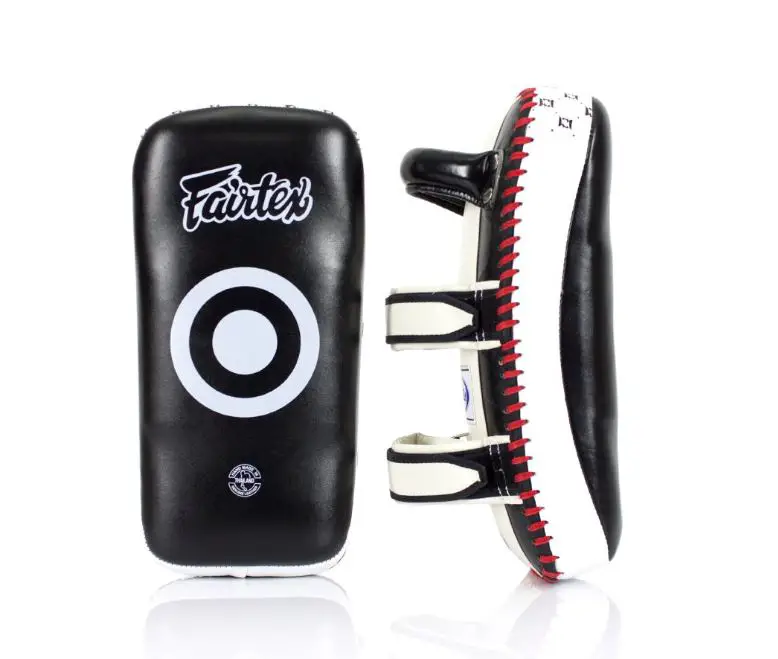 These come with 6 inches of dense foam protection, there is two velcro straps on the back with a synthetic leather handle that ensures a tight fit and ultimate comfort for the pad holder and these are also lightweight for fast, heavy workouts.
Overall:
There isn't much of a need to have a full top 10 list here, these are the best pair that you can buy, so if you're in the market, we would recommend that you go with these pads. They look great and they perform even better with 310 5-star reviews at the time of writing.
Check out more reviews here:

2 Fairtex Superior Thai kicking Pad
This one is very similar to the Fairtex Standard Thai Curve Pad, but this one comes with a premium cow hide leather on every part of the pad and if you're looking for something a little more premium, this is the very best Thai Pad on the market.
This one costs $200 if you're looking for something extra special or if you're looking for a present for someone who's mad about Muay Thai this could be a great option for you to choose.
The performance will be slightly better than the Fairtex standard pads and these are only for the people who want the very best quality.
Nine times out of ten I will recommend you buy the Standard pair.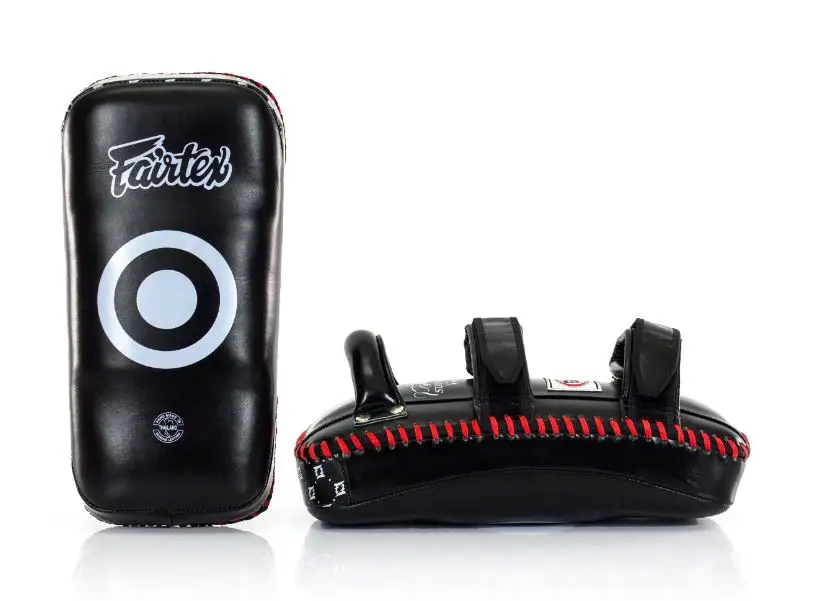 Check out the reviews here:

3 Sanabul Curved Muay Thai Kicking Pads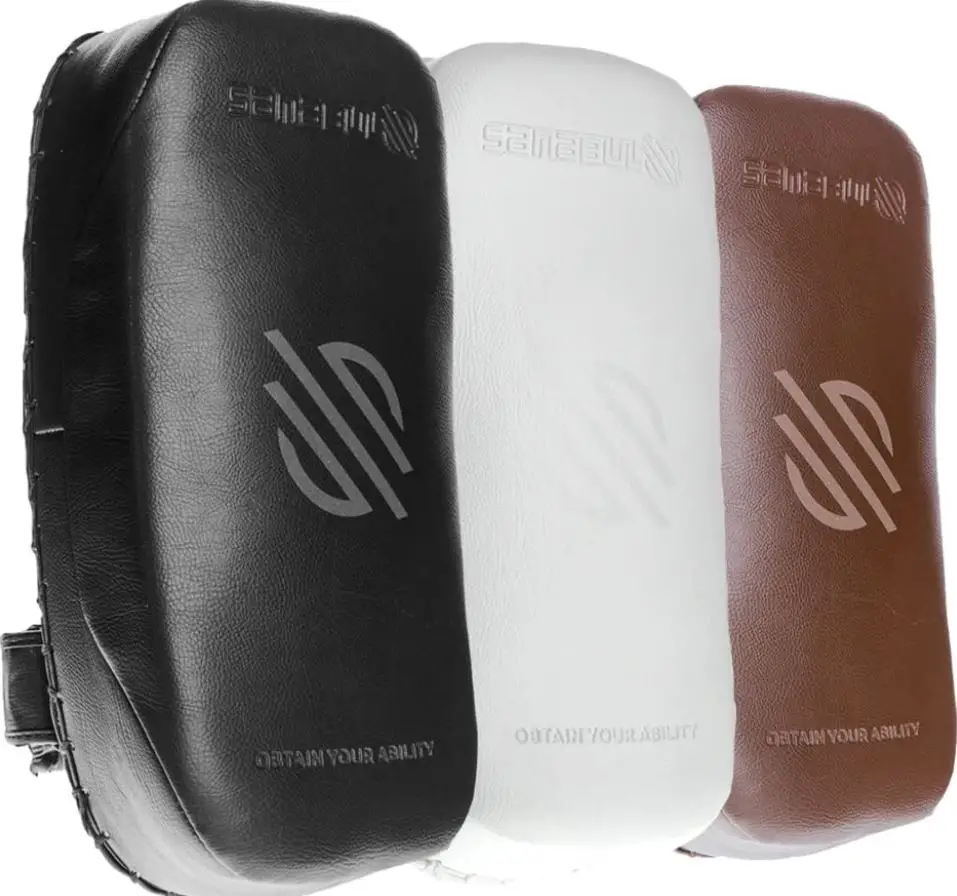 Sanabul have taken the MMA and Muay Thai Gear market by storm over the past couple of years. They offer the same great quality at lower prices and these products are built to last.
Size and Style
These are built with a premium synthetic leather and the front face is 15″ by 7 1/2″ which is a perfect size to hold for even the larger, heavier strikers.
These come in white, brown and black varieties and you've got traditional embossed logos that make for a genuine and high quality finish.
Padding and protection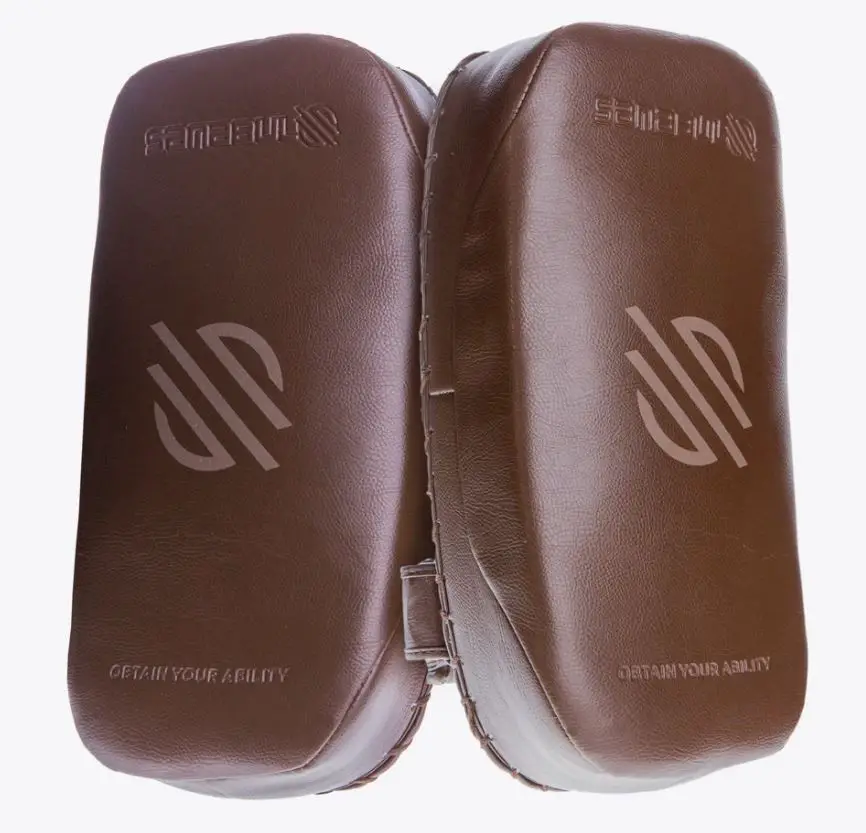 These are slightly lighter than the Fairtex, they weight at 1.5lbs for each one one.
The lighter weight mean slightly less padding but these can still take the hits from the heaviest of kickers and you can perform a fast-paced workout with punches and kicks more easily with these.
There's two hook and loop velcro straps and a solid handle for a tight, secure fit and good comfort during your workouts.
Overall
These are as good as many pairs on the market except they only cost $50. These have tons of positive feedback so make sure you check them out today if you are looking for a good quality and durable, beginner set of pads.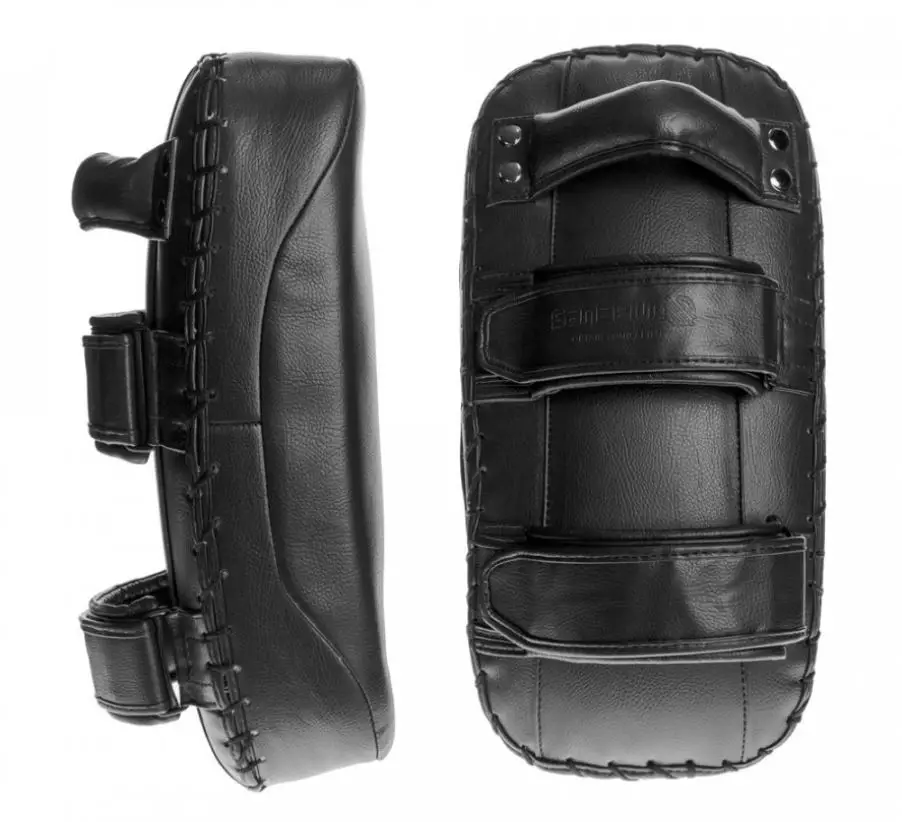 Get The Best Price Here:

4 Twins Special Flat Muay Thai Pads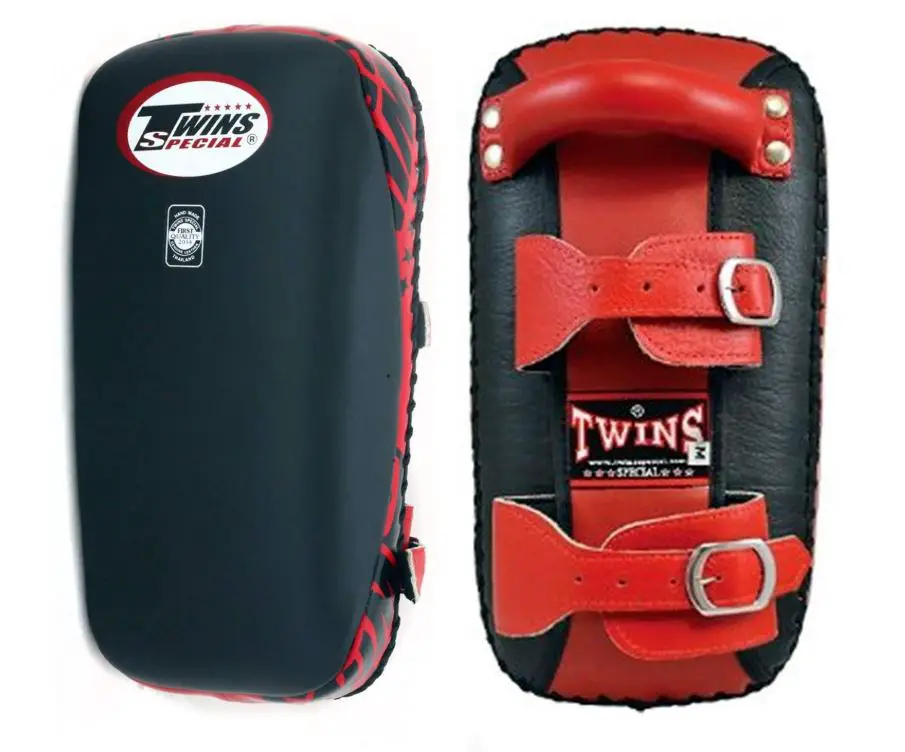 Twins are another of the best-known Muay Thai brands, my first two pairs of Muay Thai gloves were made by Twins and they both lasted over 5 years without any problems.
You know you're getting premium quality when you order a set of Twins kick pads.
Style and size
These come in different sizes from medium to extra large, to suit everybody's arm size and to suit the level of competition you will train with.
You can get a 12″  up to 17″ length and these are secured by two old school buckles at the back, and you've probably seen these around plenty of Muay Thai gyms, especially if you've been to Thailand, they are very popular with the Thai trainers.
They are flat style pads so they don't absorb the impact quite as well as the Fairtex pairs but these are still right up there with the best.
Padding and protection
These are made of a durable genuine leather and they have 3.5″ of dense foam that has been proven to take the impact of even the heaviest kickers for years and years without degrading.
These come in a red and black colour with the patented twins logo and we know from years of use that the first thing to go on these will be the buckles at the back, when they rust.
Overall:
These are going to last you easily for 10 years and there are high quality pair of pads.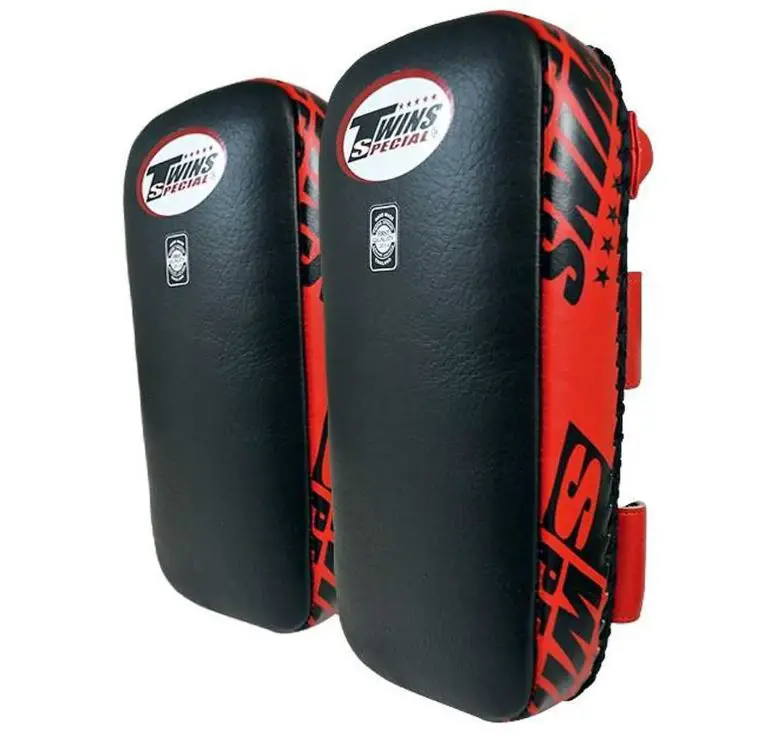 Check out more reviews here:

5 Meister Curved Style Kick Pads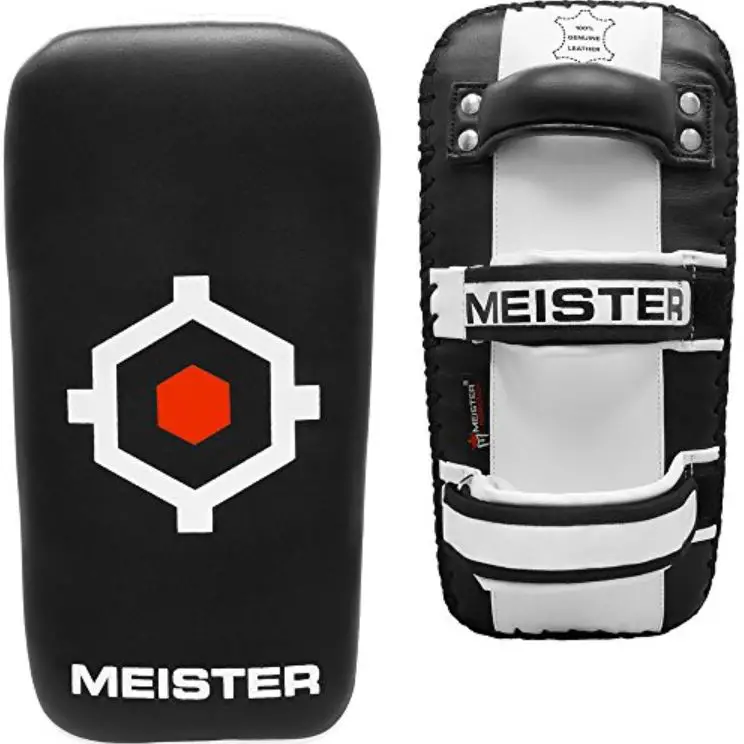 Meister are a brand that are becoming known for their high-quality products at excellent prices and also one of my favourite brands at the moment.
Style and size
These are made from genuine cowhide leather and they are very similar to the Fairtex except they're a bit cheaper at $99, so if you're looking for a bargain these could be the ones for you.
The Meister pair are slightly smaller than the Fairtex at 14.5″ by 7.5″ but are still big enough for training even the biggest and heaviest fighters.
You've also got a 4.5″ and have a large sweet spot target right in the middle of the pad to ensure the fighter is hitting the target every time.
Padding and protection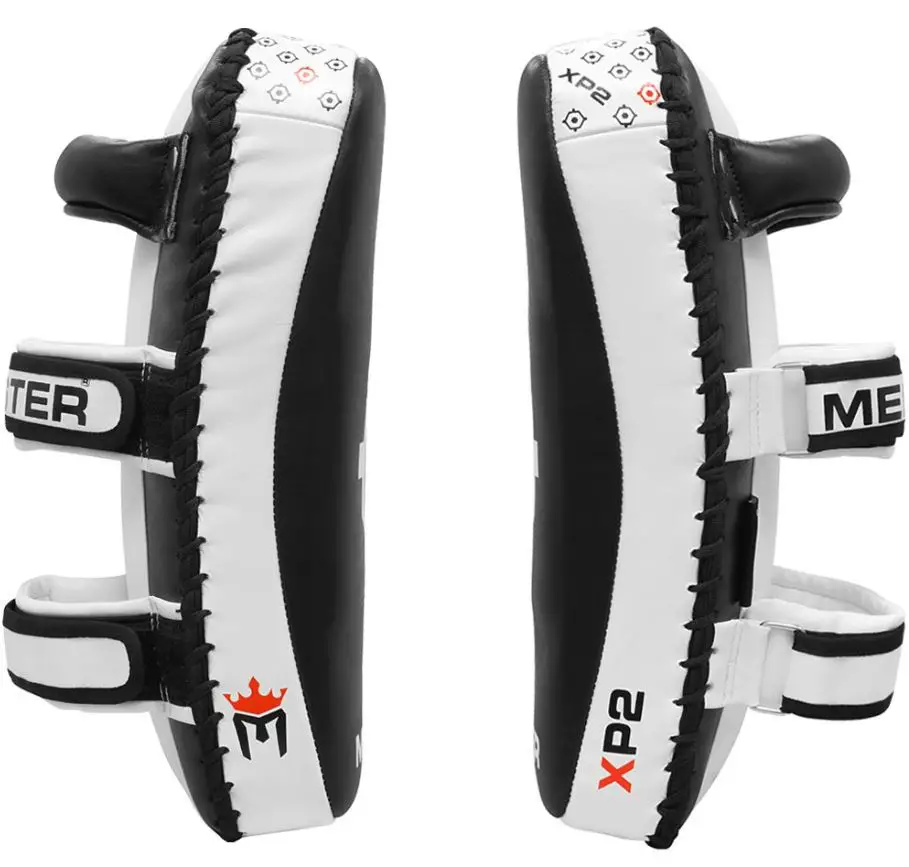 They are secured at the back with two hook and loop, velcro straps and a durable handle ensuring a tight fit and comfort for the pad holder.
They weigh 2 lbs each with triple density foam for maximum comfort and the forearm straps are also padded so you can take big shots without feeling any recoil.
Overall
These are superb quality pads for an awesome price and we recommend that you check them out.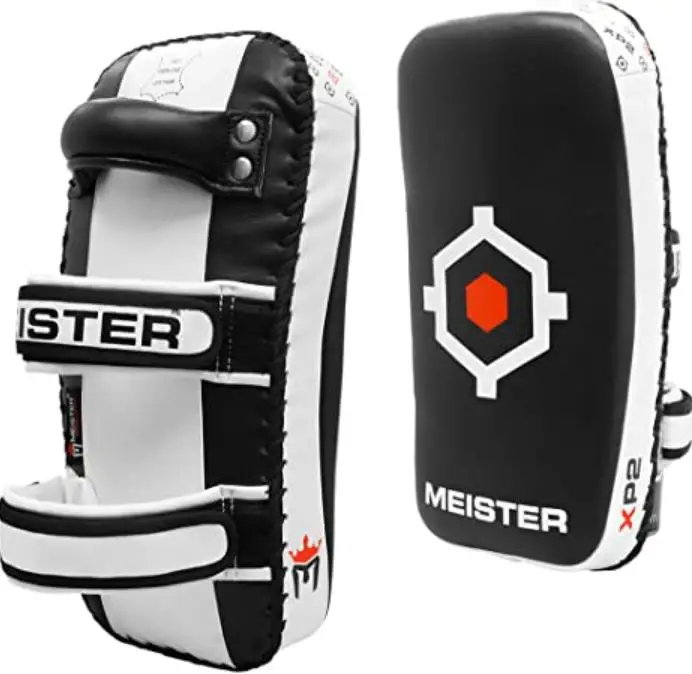 Get the best price here:

6 Thaismai Muay Thai Kick Pad

Thaismai are another genuine Thai brand that are very popular in professional gyms throughout out Thailand and these are a good quality, durable and high end pair of pads.
Style and design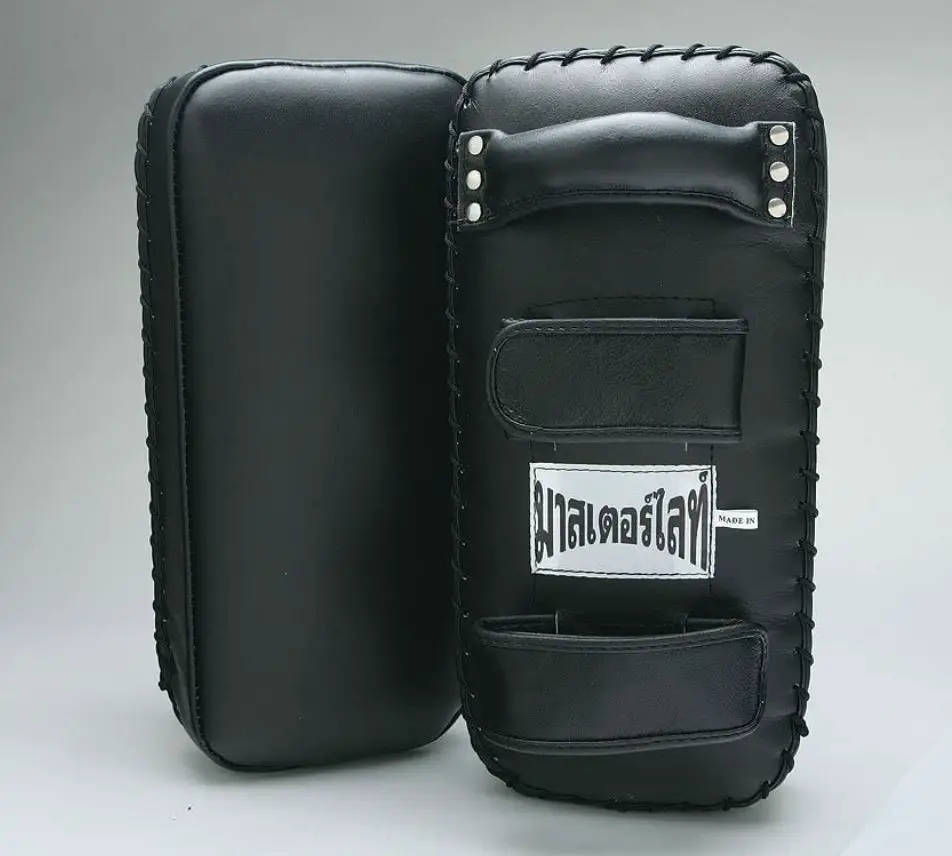 These have a large hitting area of 15″ by 7″ and they're handmade using genuine leather in Thailand.
These come with two hook and loop velcro straps for a tight enclosure and you get to choose between black and red in the colouring.
Their flat style pads that won't absorb the punches quite as well as the Fairtex pair but they are still high quality and very effective.
Padding and comfort
These are no nonsense pads that are built to last and to absorb the heavy kicks of professional Muay Thai Fighters.
You get 4 inches of extra high density foam for absorbing the impact of big shots and the handle for the trainer is riveted for extra strength and comfort.
Overall
This is a tried and tested genuine brand from Thailand and if you go with this pair, they will last you for many years to come.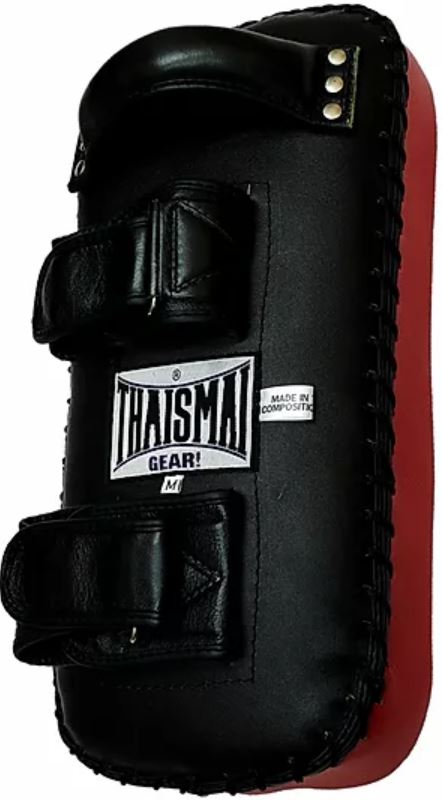 Check out the reviews here:

7 Fairtex KPLC6 Muay Thai Kickboxing Small Curved Thai Pads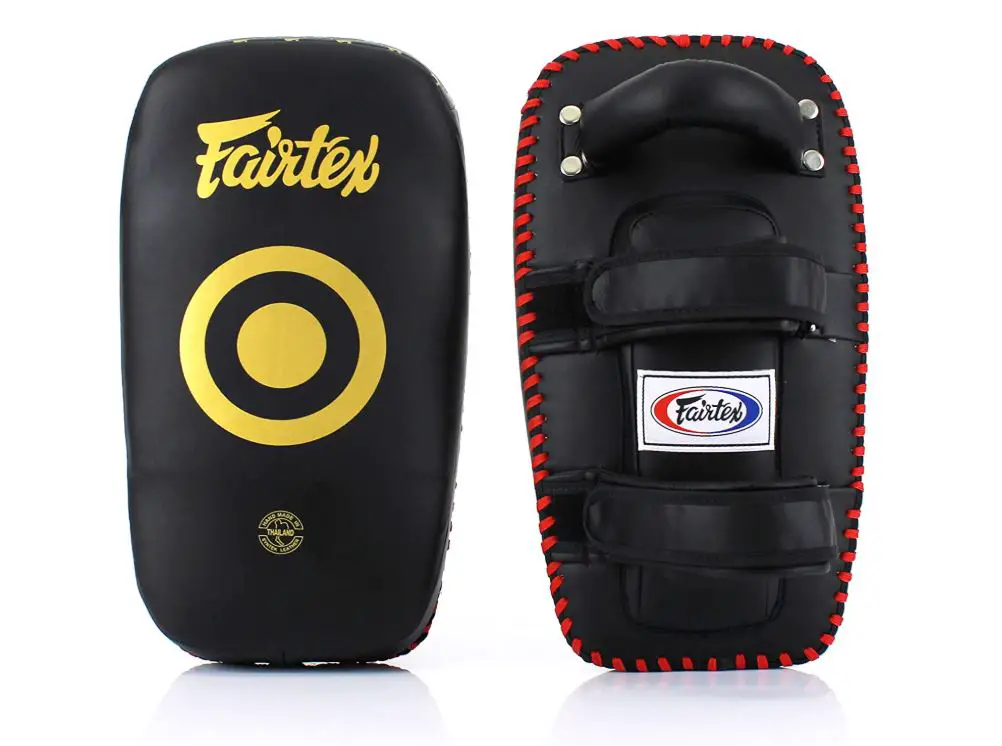 Another quality pair from our favourite brand Fairtex this time in a smaller curved version.
Style and design
The smaller style design of these pads is perfect for training juniors or smaller fighters and they can be a good tool to have in the Arsenal for any Muay Thai coach.
The smaller design is also perfect for fast training with punches and kicks as opposed to a heavy kick based workouts on the pads.
They have one hook-and-loop strap with a durable handle.
The front face of the pad at 12″ gives you plenty of target to aim at and the pads look great in the black, red and gold colouring.
Padding and protection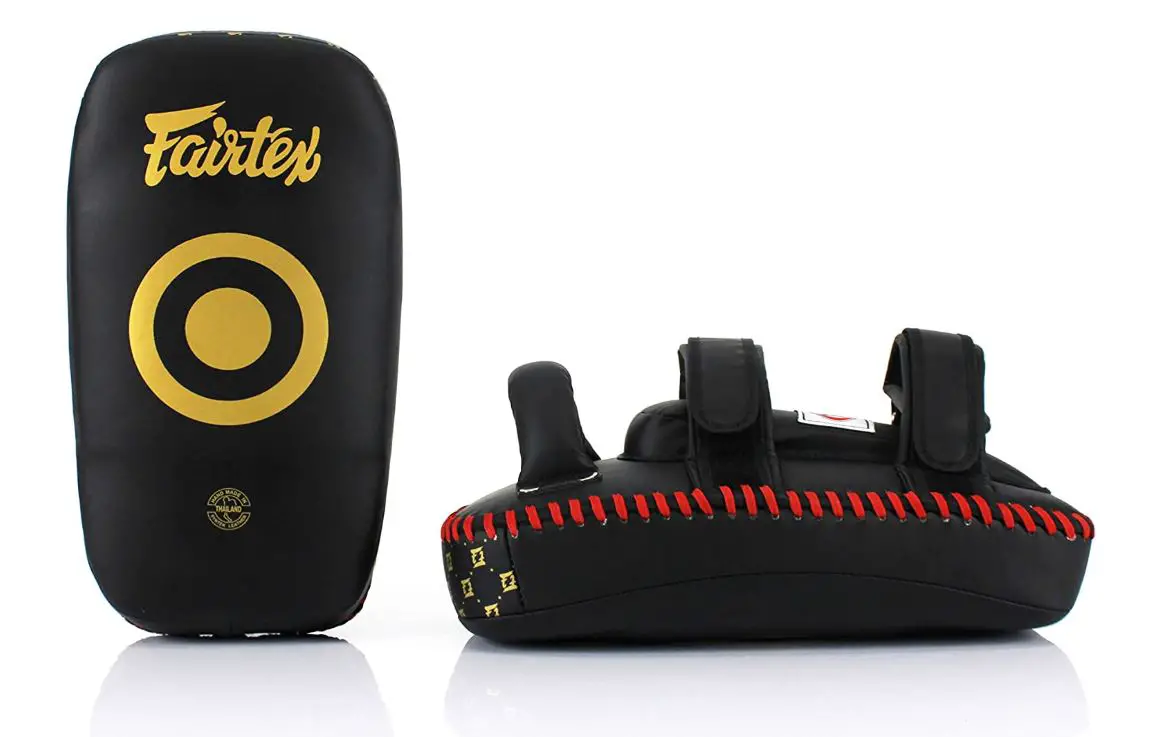 There is a cushioned support for the forearms on the back of these.
You've got 3.5″ of high density foam that we know will stand the test of time and absorb the impact of even the heavy hitters as this is the most respected brand from Thailand.
If you're looking for a smaller pad that can still get the job done for any fighter without feeling too much recoil in your wrists and forearms this could be a good pad for you.
Overall
These are perfect for working out with smaller fighters, for smaller trainers or fast pace workouts with a lot of punches.
These cost $125 and it's a 10/10 from us.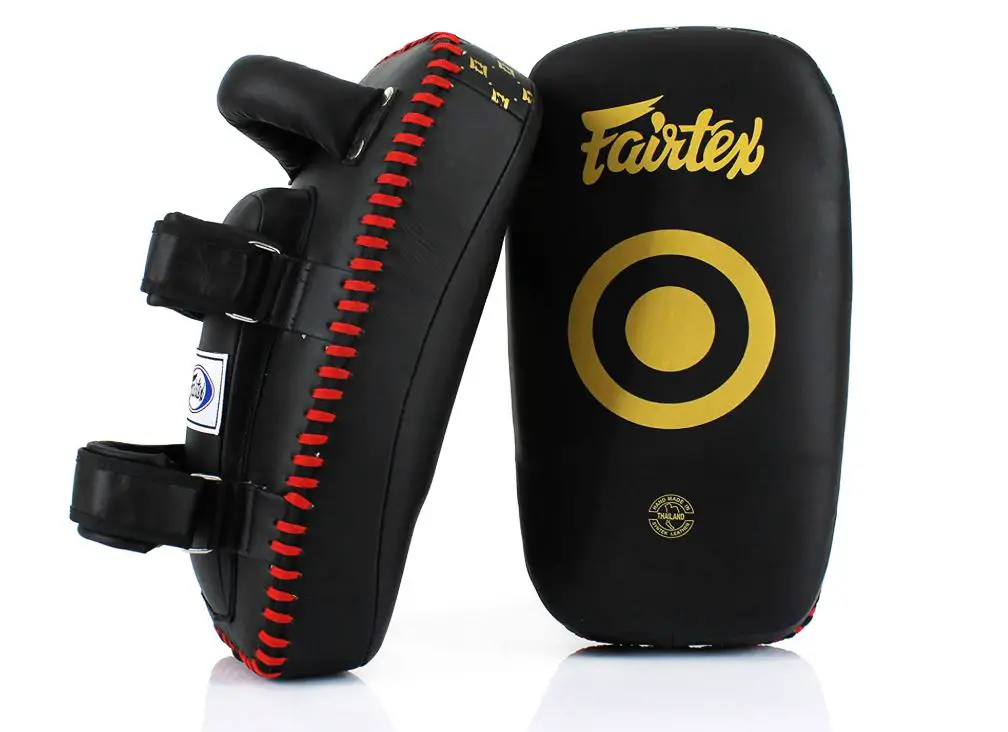 Check out more reviews here:

8 Ring To Cage Pro Curved Thai Pad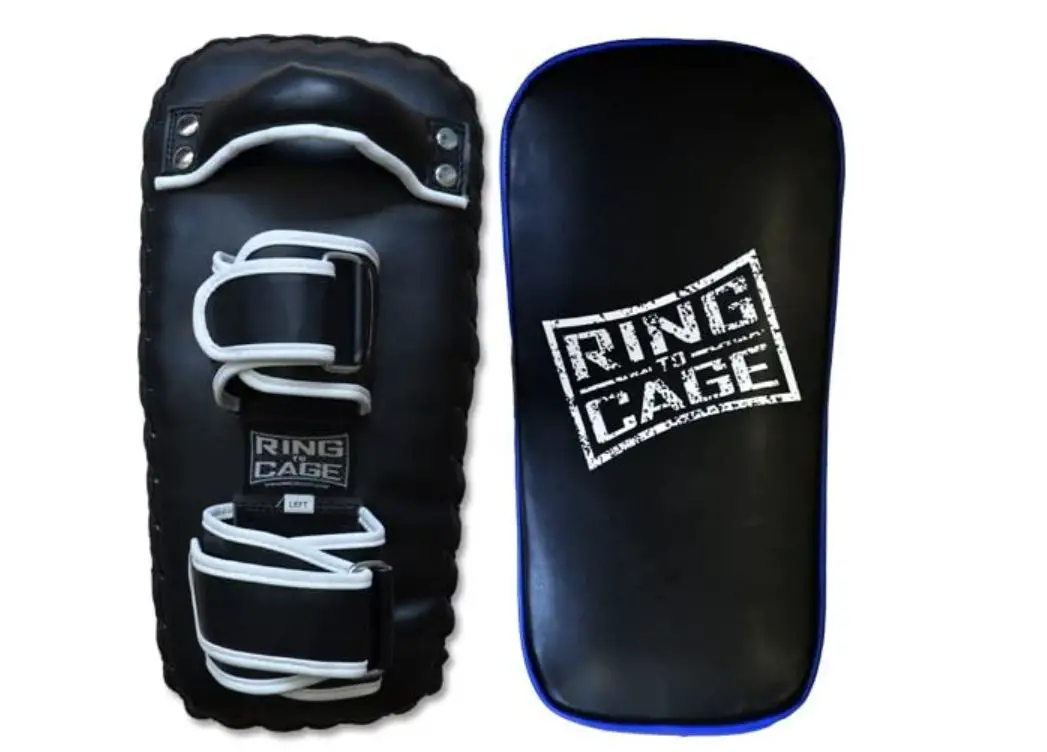 Ring the cage offer good heavy-duty durable Muay Thai Kicking pads. These are good quality, built to last and they're also great value.
Style and size
These are made with highly durable synthetic leather and they  absorb heavy blows over a long of time without breaking down.
These are curved pads and they're quite heavy at two lbs each and they are enclosed on the back by 2 hook and loop, velcro straps with a comfortable and durable handle for the holder.
These are a good size of 15″ long and 7.5″ wide and with the heavy design they are perfect for training bigger fighters and heavy hitters and also for trainers that are bigger with longer hands that would be more suited to this pair.
Padding and protection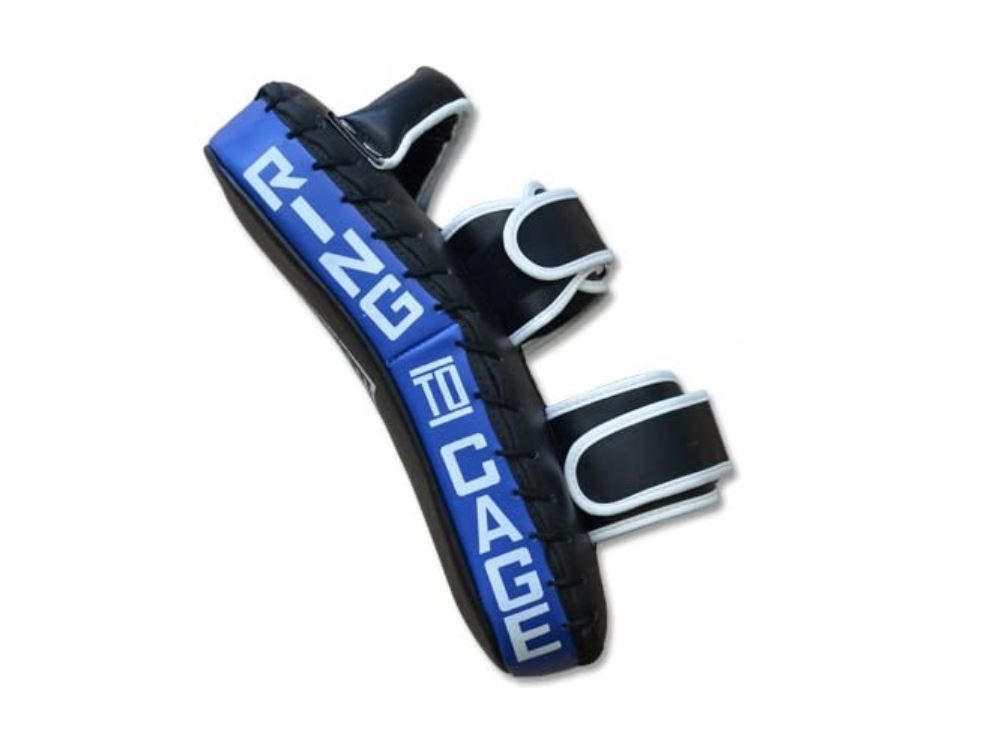 Padding and protection is the major selling point of these, you've got a tonne of high-density impact absorbing foam inside this pair and if you're looking for a bargain, these will only cost you $65 so they could be a better option than the Fairtex and Twins if you're on a budget, but they obviously arent as high quality as those pairs.
Overall
Overall, we really like this brand and  these can be perfect for decking out a full gym or for anyone that's on a budget.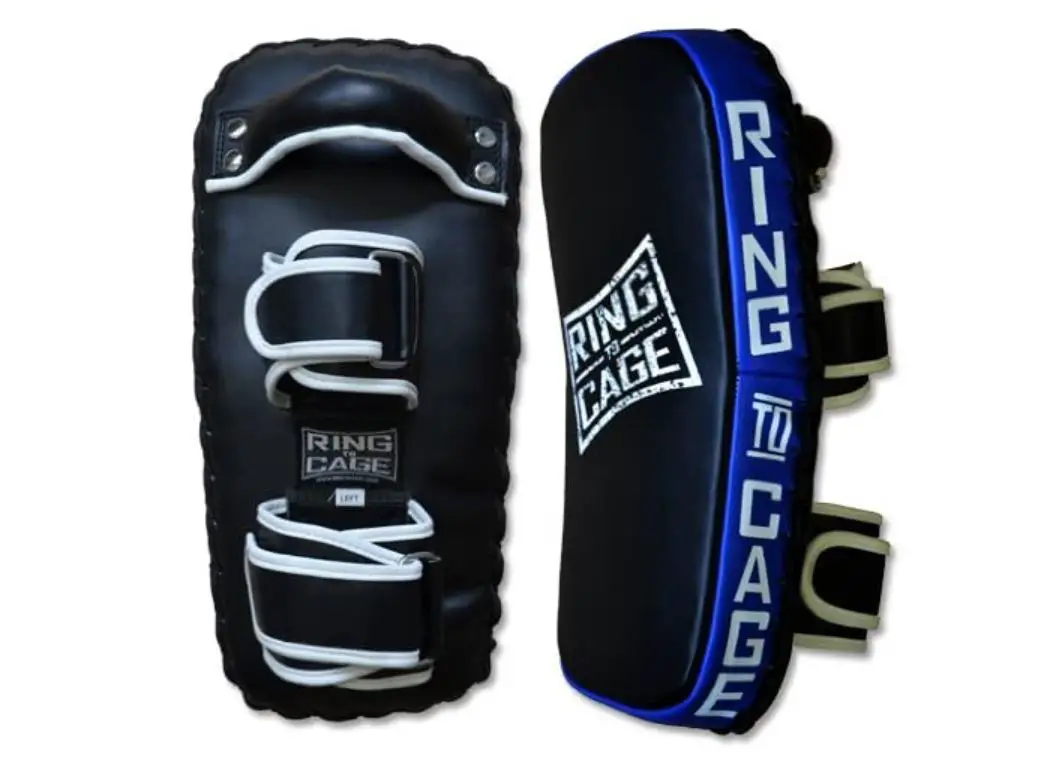 Check out more review here:

9 MaxxMMA Muay Thai Kick Pad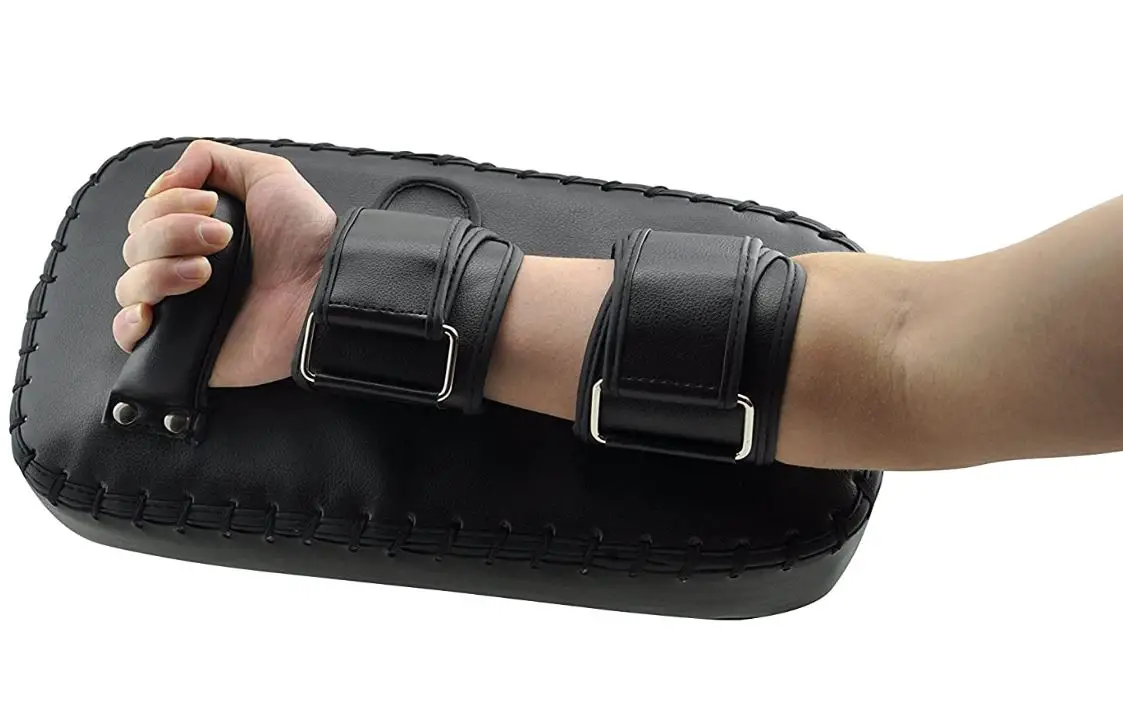 Max MMA are becoming a respected brand in the fight Gear industry and he's a good quality durable pads for a very competitive price.
Style and design
These are plain black, no frills, heavy-duty kicking pads that are secured on the back with two velcro hook and loop straps which are the standard today.
The face is 17 inches which is pretty big and these are 7 inches wide so you can really train big and heavy fighters on these, just don't expect the same high quality you get from fairtex or twins as these only cost $60 for a pair.
These are quality beginner pads that are designed well and should last for at least a year of heavy use.
Padding and protection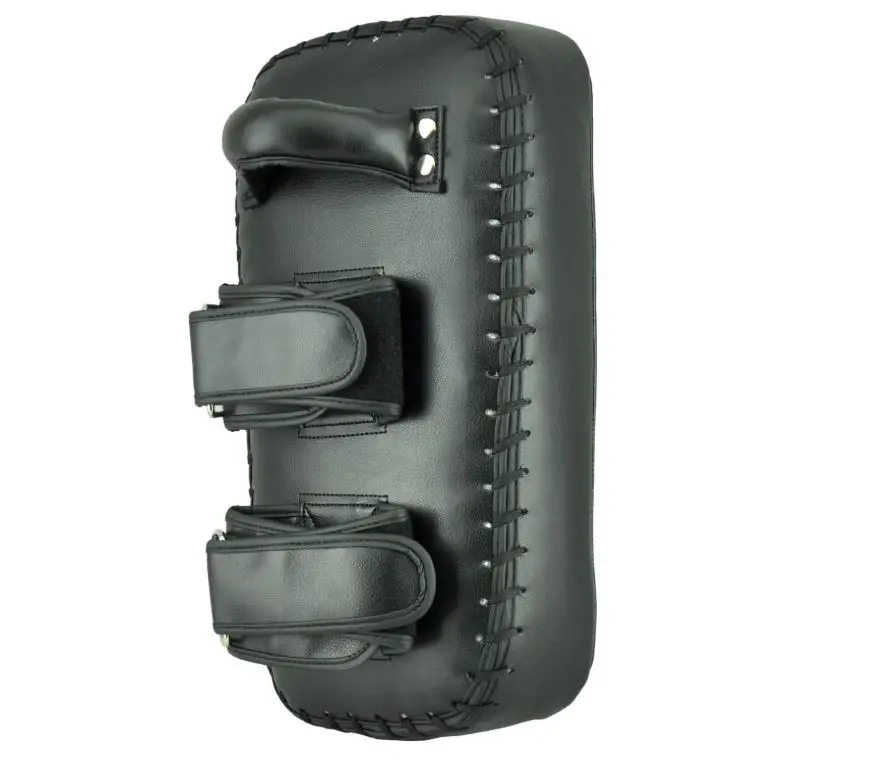 These have extra dense impact foam to withstand heavy shots from the bigger Fighters.
These are 6 inches thick so there's plenty of padding in there to take even big and heavy round house Kicks from professional Fighters although they're probably better as a beginner pad.
Overall
These offer great value for money and we can recommend them as a good beginner pad, they have a lot of positive reviews.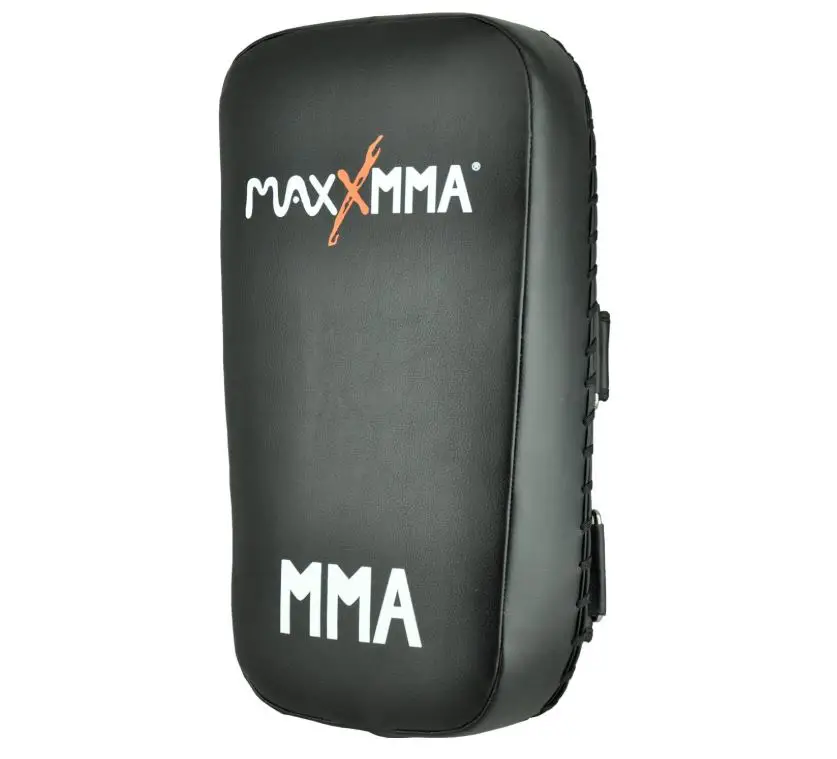 Check out the reviews here:

10 RDX Curved Muay Thai Kick Pads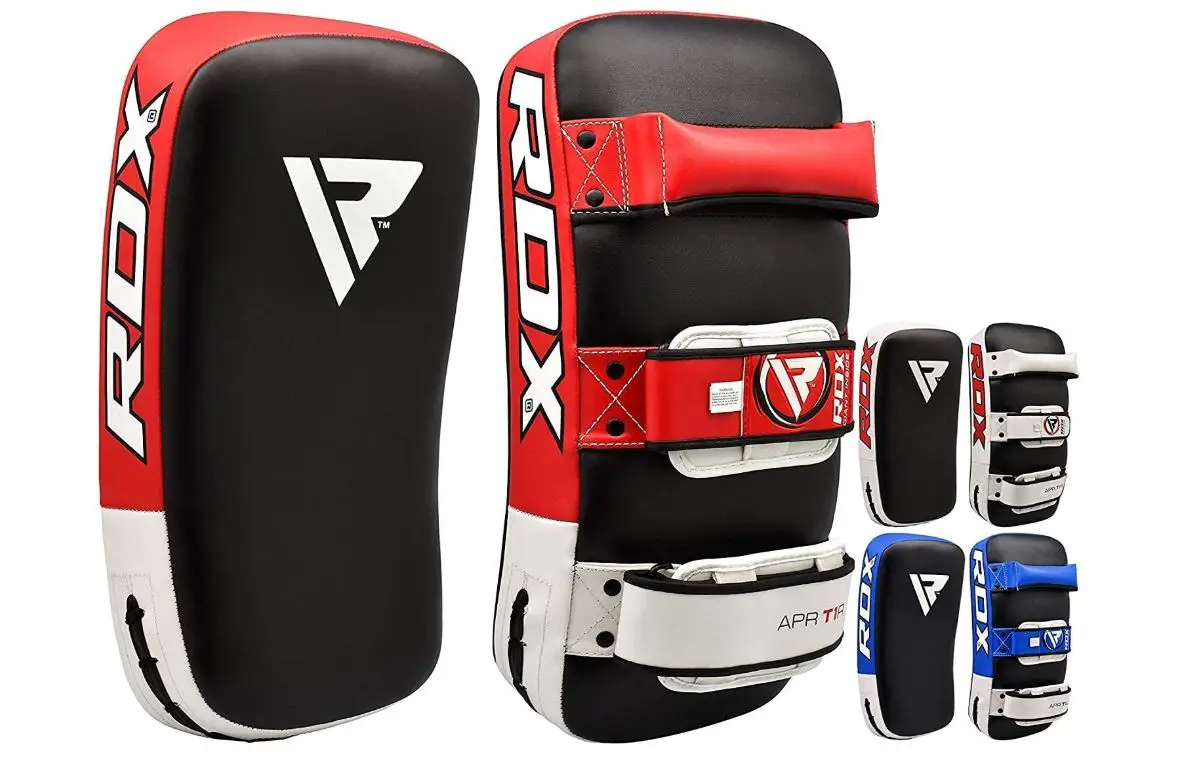 RDX are quickly becoming one of my favourite brands for martial arts gear and they make good quality products for unbeatable prices. I use the Thai shin pads myself and I'm very happy with them. I have also tested the RDX Thai kicking pads and they are good quality and competitively priced at $46 for a single pad. Dont know why they dont sell as a pair?
Style and size
These have a 14.5″ long and 7.5″ wide face, perfect for even bigger fighters and heavy hitters.
They are curved Thai pads that you can get in red, blue or white and they're closed on the back by two velcro hook and loop straps with a comfortable handle for the holder.
These are made using the synthetic leather that RDX have made famous for its durability and long-lasting nature and these are decent pads for a budget price, just dont expect anywhere near what you will get from Fairtex in terms of longevity.
Padding and protection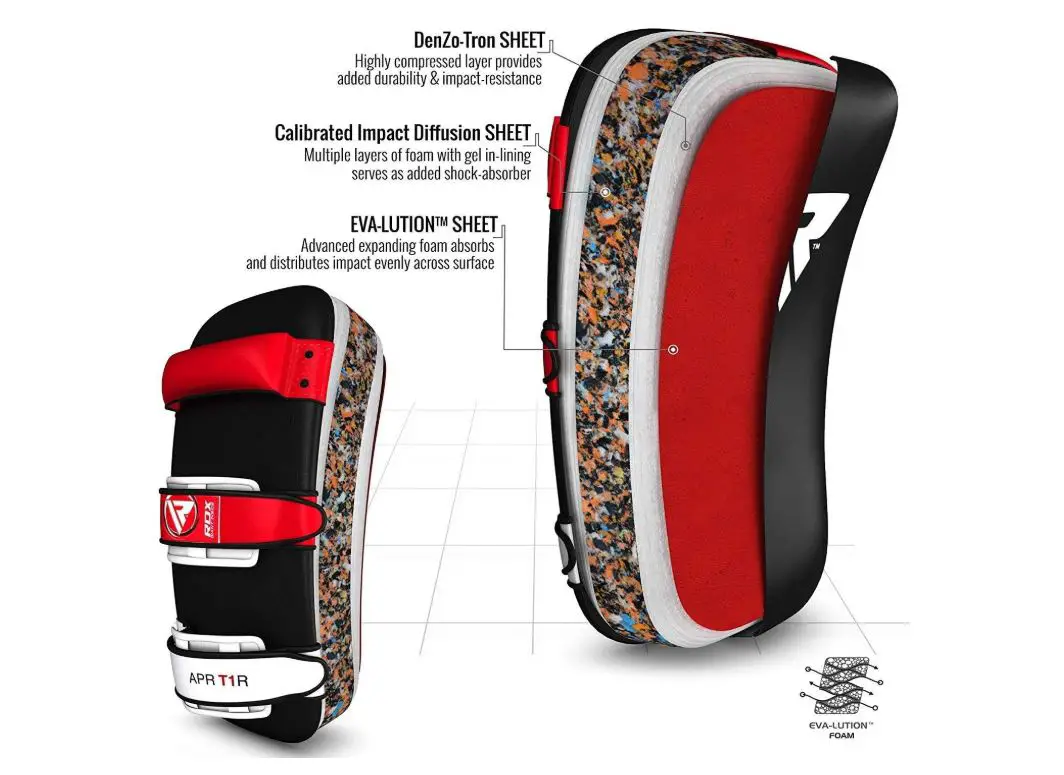 These contain 3 layers of gel infused foam padding which absorbs the impact and makes it comfortable for the pad holders wrists and forearms even under heavy duress.
Although it must be noted that the stitching on these can come loose after some time and that the price listing on Amazon is for one pair so these will actually set you back $92 for the pair.
The pads are also quite light and they don't feel as good quality as the Fairtex or Twins pairs.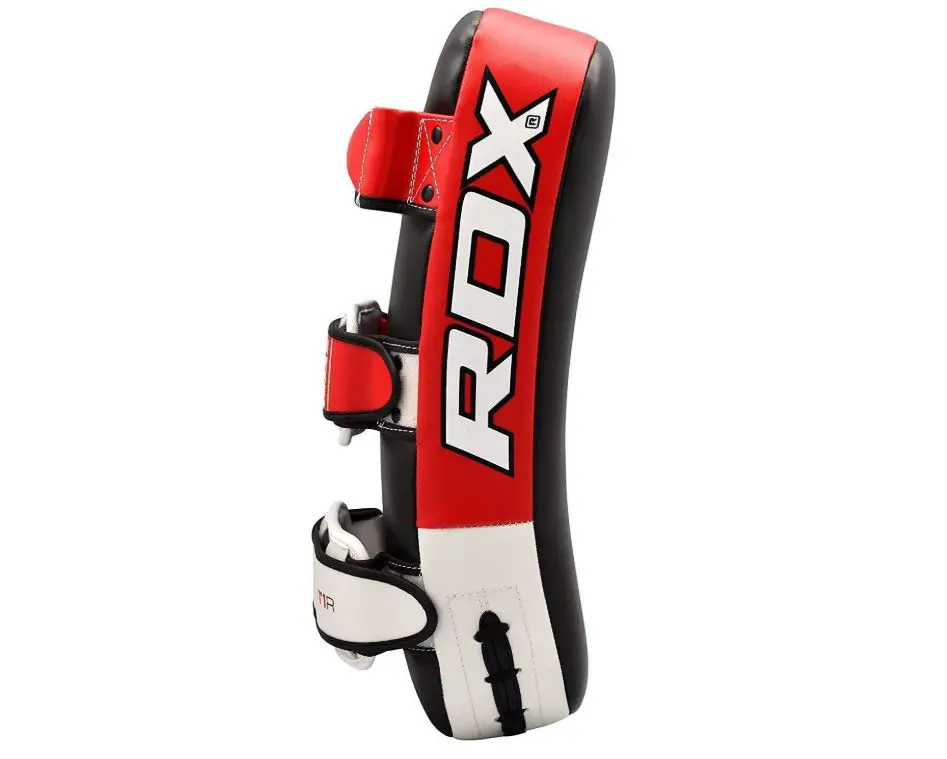 Check Out More Reviews Here:

Conclusion
Having been around the fight game a long time, I know the difference between a good quality and a cheap pad. If you have the budget go with the Fairtex every time for top quality Muay Thai pads and it will last you probably twice as long as the budget pairs as they provide more cushion for the impact and they don't get soft and useless over time.
Twins and Thaismai are also quality brands, but if you're looking for a bargain and you're on a budget, there's nothing wrong with Sanabul and Meister.