When it comes to training at Muay Thai, being at the level where you are ready to spar is a big step up and once you reach that level, you will need to get a pair of 16 oz gloves for sparring so that you don't hurt your partners excessively and to protect your hands and wrists from any injuries.
There are plenty of things to consider when you are buying a pair of sparring glovesone of the most important things to keep in mind if that you will need to clinch in these gloves as well and some of the boxing gloves are not suitable for clinching as they have velcro straps that stick out and will scratch your opponent's neck making it very uncomfortable for them.
That being said, we recommend that you go with the strong Thai brands as they are purposely built for the sport and they're also very good quality, almost always handmade in Thailand using genuine leather and our list is vastly comprised of these gloves.
My Personal Experience
I have used twins gloves myself in both 10oz and 16oz and these are high quality gloves. My latest pair are the Fairtex and I like these just as much if not more. One problem I had with the twins gloves is that the thumb sticks out too much and it caused me to pick up a couple of injuries along the way.
I don't have that problem with the Fairtex gloves which is why we recommend them as the number one at the moment.
Things To Consider
When it comes to choosing 16 oz gloves for sparring we need to remember that there are vast differences between the brands of gloves.
The amount of padding in each glove will vary from brand to brand and you are better off having a good amount of padding for sparring.
The quality of the leather or synthetic material, will determine how long the glove will last for along with the stitching and overall craftsmanship of the brand.
If you're going with brands handmade in Thailand, it is hard to go wrong are they have decades of experience in creating the best quality gloves on the market.
There are plenty of solid brands to choose from so let's jump straight into the list.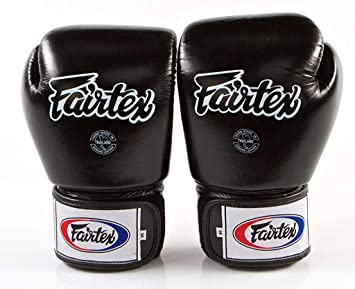 Fairtex Muay Thai Style Sparring Gloves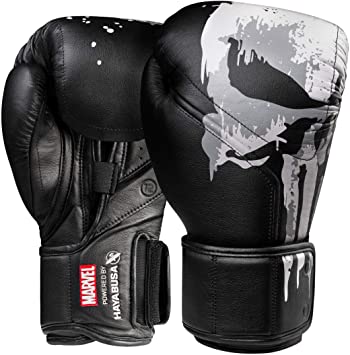 Hayabusa Marvel Boxing Gloves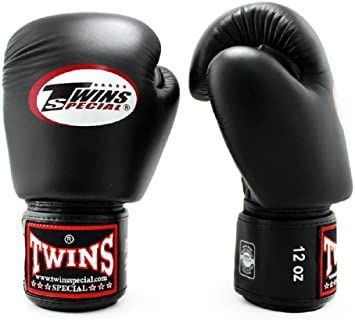 Twins Special Muay Thai Sparring Gloves
1 Fairtex Muay Thai Style Training Sparring Gloves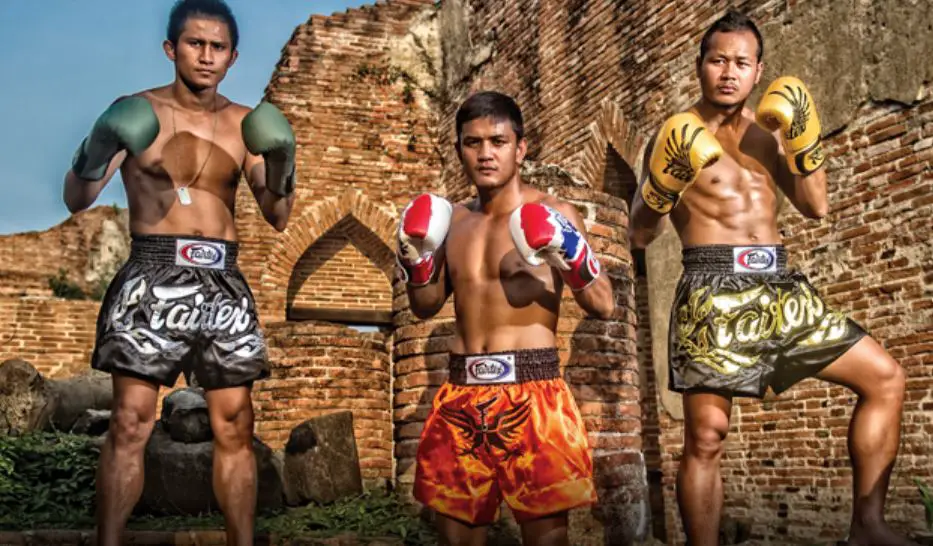 Fairtex are one of these famous Thai brands that have been handcrafting gloves for decades and we know pretty much everything about how these gloves will last over time and the quality involved as they have been around for so long and not much has changed in how they are made.
For that reason, from our own experience and because of the thousands of positive reviews online we are ranking these as number 1 on our list.
Comfort and padding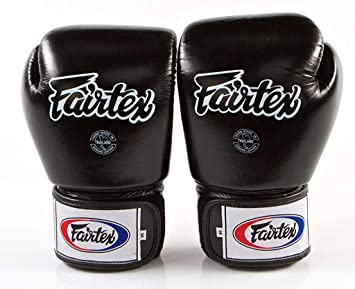 The 16oz version of the Fairtex gloves, come with plenty of padding, not as much as the Twin Specials, but easily enough to be comfortable for your hands and your partner during sparring.
They're designed for male hands and they fit snuggly, even on larger fists.
They have a velcro strap, that closes perfectly to allow for clinch wrestling during sparring.
Design and price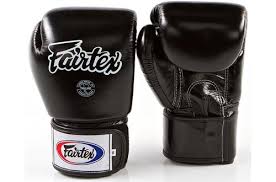 The gloves come with about 20 different designs, all sorts of colors from blue, red, orange and yellow, to pink designs with stars, Thai Flags, USA flags and everything in between.
The price is also right for these they are normally $110 but they are currently selling for $70 which is an absolute bargain.
If you want to buy a top-quality that will last 5 years + without question, go with a pair of fairtex.
Check Out More Reviews Here:

2 Hayabusa Marvel Boxing Gloves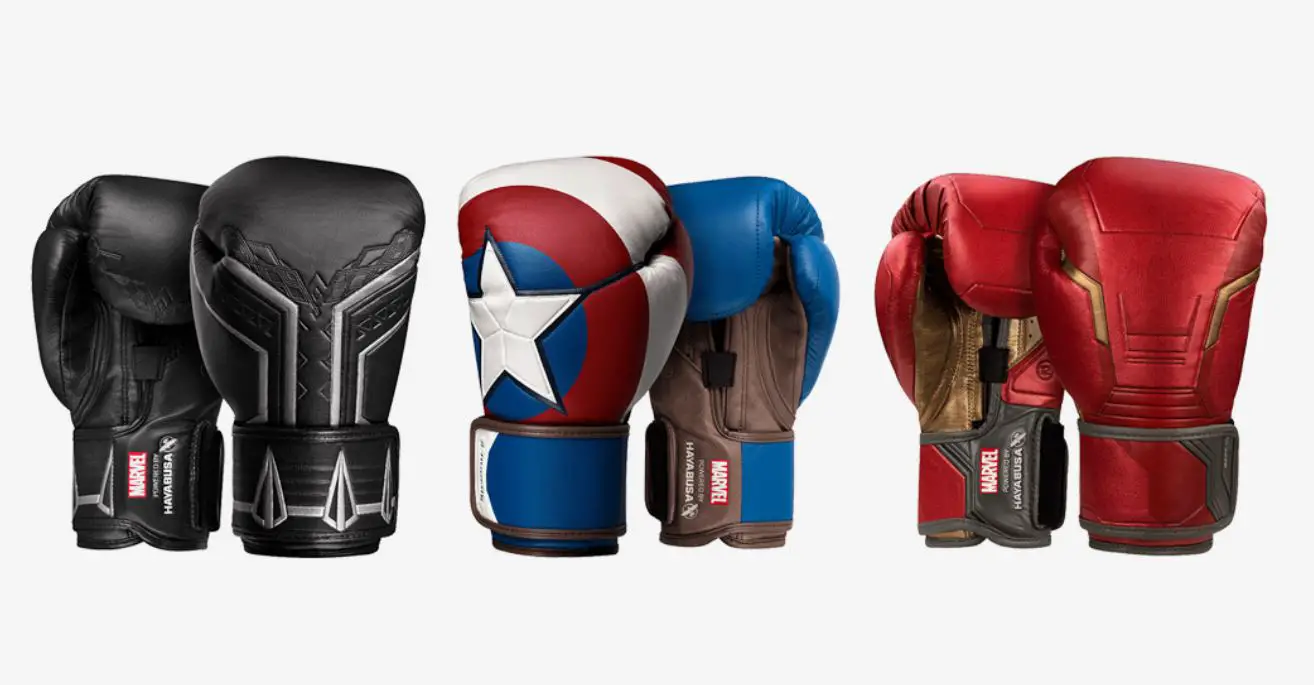 Hayabusa are a name that is taking the Muay Thai and MMA world by storm in recent years and there Marvel boxing gloves are a sight to behold.
I had the pleasure of trying these out in the gym and the comfort and design on these is second to none and I am not just saying that because they come designed like the Marvel comic books.
Comfort and padding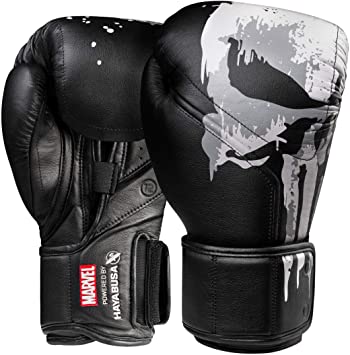 These are built to fit perfectly with a patented Dual X closure system that is also perfect for the clinch. The gloves are guaranteed to fit smaller or larger hands because of this adjustable closure system.
The Marvel gloves are quite firm for a 16oz and the four layer foam design has been researched in the University of Waterloo to protect you and your partner with maximum impact absorption, especially for the wrist.
Design and price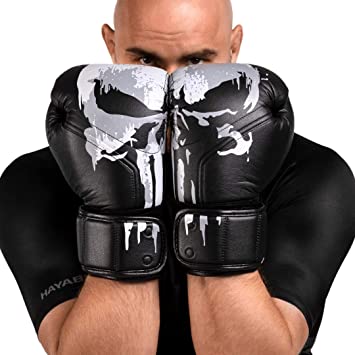 These come in 12 or 16oz and there are four designs from the Marvel Comics to chose from, there is red, blue and white, red blue and gold, plain red or grey and black.
These are superior quality gloves,they look and perform amazing but they will cost you $230, if you are looking for a head turner at the gym and a top of the range sparring glove, check these out.
Check Out More Reviews Here:

3 Twins Special Muay Thai Sparring Gloves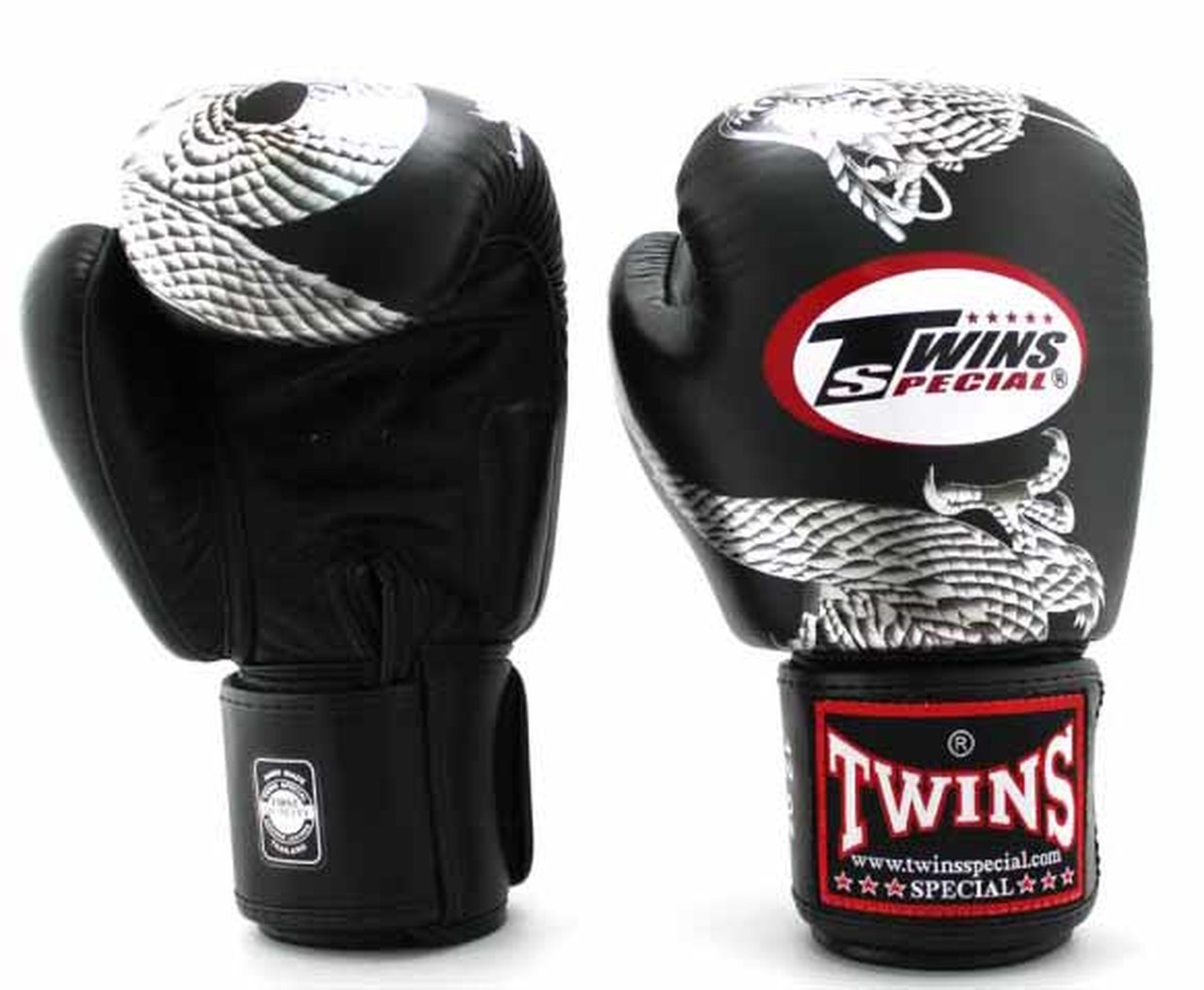 I've said it before and I'll say it again, the premium leather gloves that are handmade and hand stitched in Thailand by experienced crafts men and crafts ladies are going to be the best gloves you can buy and that is certainly true for these Twins Specials.
I've used two pairs of these myself for years and they have proven to be of the highest quality and they weren't even fully run down when I decided to replace them.
Comfort and padding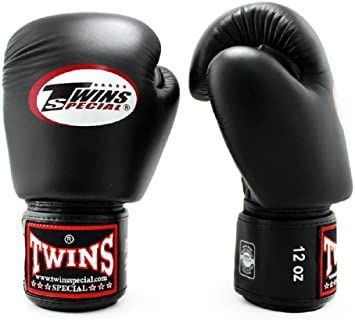 The amount of padding on these gloves is on the large side. The 16oz version have a ton of padding which is really good for the largest fighters that hit hard as you won't hurt your opponent too much or hurt your hands.
These have adjustable velcro straps that you can use to secure a real tight fit on the gloves and these are also perfect to use for the clinch.
Design and price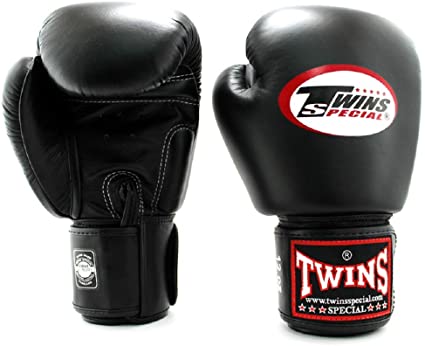 I wish I had seen all the cool designs when I was buying mine, I got the plain black pair on my first day in Thailand from the shop in the gym, but there are tons of designs to choose from, you can get any color, Thai Flags, USA Flags and all different types of cool patterns that are worth checking out.
These come with glowing reviews and they will cost you about $80 for the 16 oz they are also the highest quality
Check Out More Reviews Here:

4 Top King Muay Thai Sparring Gloves

If you want a quality pair of Thai gloves that you won't have to replace in six months time, go with a brand that is handmade in Thailand, they are built for the sport and the quality has been proven over time.
Top King another one of these brands that you will see the top professionals wearing all the time.
Comfort and padding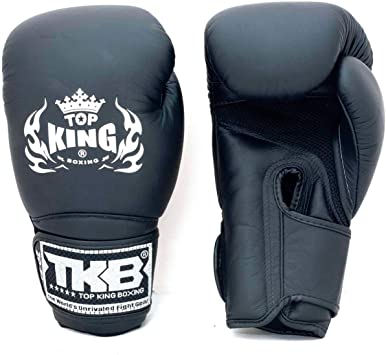 These offer ample padding and you can get a tight fight for any size hand using the adjustable velcro strapping.
These ones are well suited to sparring as they're not too big and not too small, they offer good protection for both you and your opponent.
I've seen these around gyms loads of times and been on the receiving end of them too and they are a little more firm than the Twins pair but still cushioned enough.
Design and price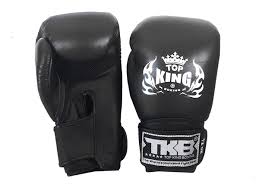 These are genuine leather, hand stitched in Thailand and the quality shows. These are right behind Twins and Fairtex as the leading brand of Thai gloves.
They come in a range of different colours from red to orange, yellow and green as well as some more beautifully designed styles and they will set you back around $88.
Check out more reviews here:

5 Yokkao Matrix Breathable Muay Thai Boxing Glove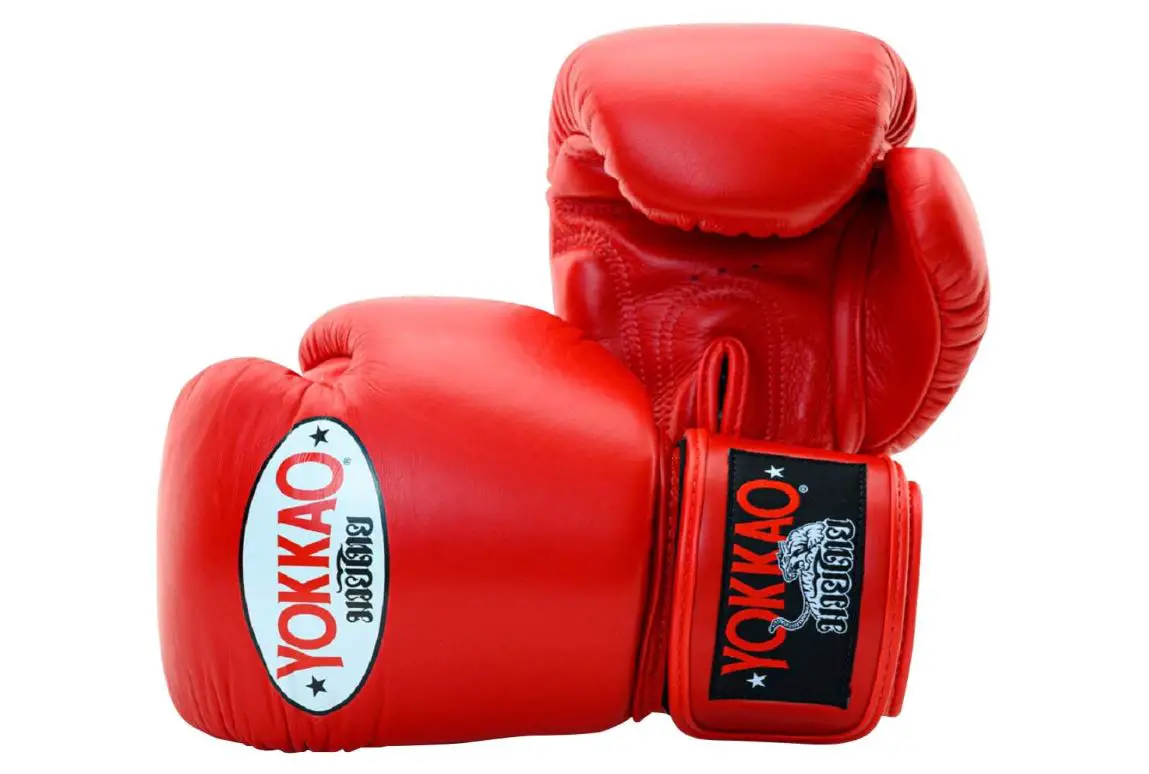 Yokkao are a name that have exploded on the Muay Thai scene in recent years and they've taken their rightful place among  the heavyweights of the division.
These gloves are handcrafted in Thailand and made from genuine leather. A lot of people that have these gloves have been raving about them in the gym and online and from what I see, they look good so far.
Comfort and padding
The 16oz pair of the Yokkao gloves are on the heavily padded side with plenty of cushion to protect your partner as well as your hands and wrists.
You've got extra dense foam insuring the padding in soft and these are double stitched to reinforce the quality of these well reviewed gloves.
They have breathable air holes to make sure they don't get too hot even in more intense sparing.
Design and price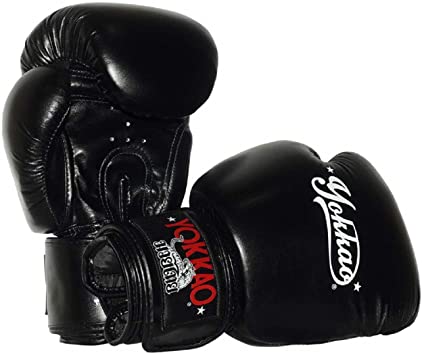 These have a plain design with the Yakkao logo on the front and they are quite similar to this twins in design and feel. The velcro strapping allows you to adjust the tightness of the gloves and these are perfect for Clinch as well.
They come in plain colours from black to red to Green to yellow. They look amazing and perform even better.
Check out the reviews today:

6 Venum Elite Boxing Gloves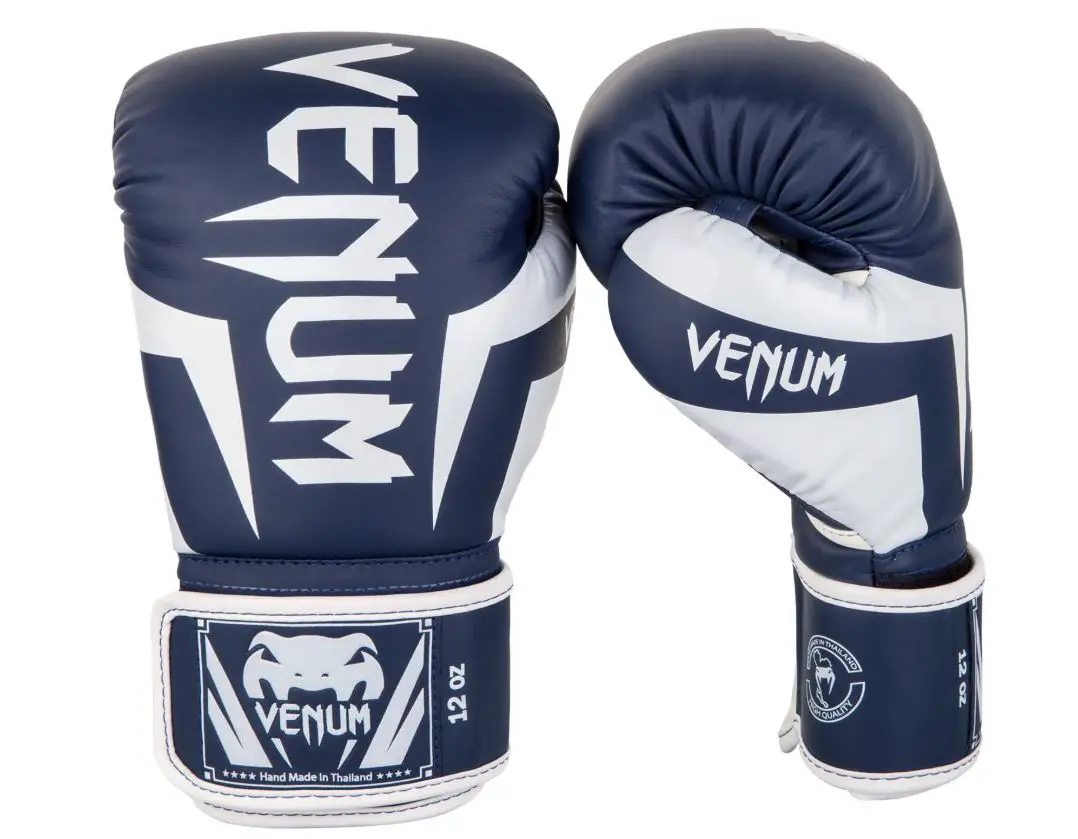 It seems the name Venum is everywhere you look in the Muay Thai and martial arts world these days and these are some of our favourite gloves on the list.
Comfort and padding
Venum have earned their spot as a top-ranked glove after many iterations led them to the Venum elite.
This pair has ample padding for sparring and the velcro strap ensures a tight fit for any size hand and for comfortable clinching.
These have triple dense foam and re-enforce palms for full protection for you and your partner and these are on the paddy side which I prefer than the hard pairs which would hurt your training partners and make you unliked.
These are also hand stitched in Thailand and made from patented Skintex leather.
Design and price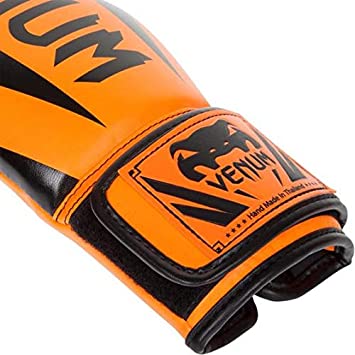 Venum Elite have a beautiful design with an embossed logo on the velcro strap and another logo on the front of the glove and they come in various colours from black, red and white, to plain white, yellow and even orange.
These are real high-end gloves competitive price of $80.
Check out more reviews here:

7 Hayabusa T3 Leather Boxing Gloves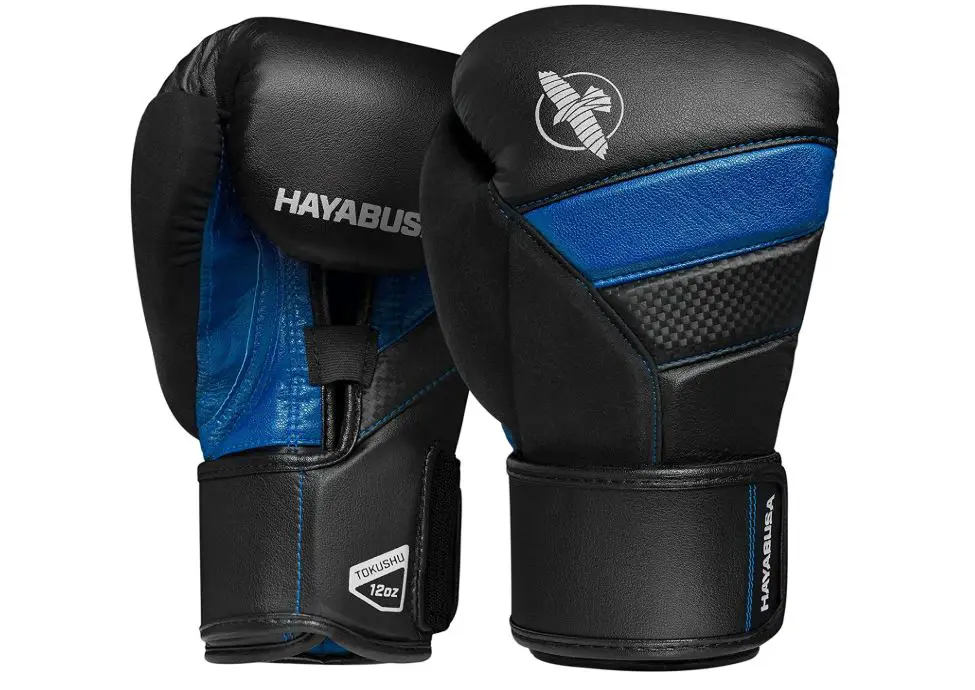 If you like the high quality of Hayabusa but you don't want to pay $240 then the T3 glove may be an excellent option.
Comfort and padding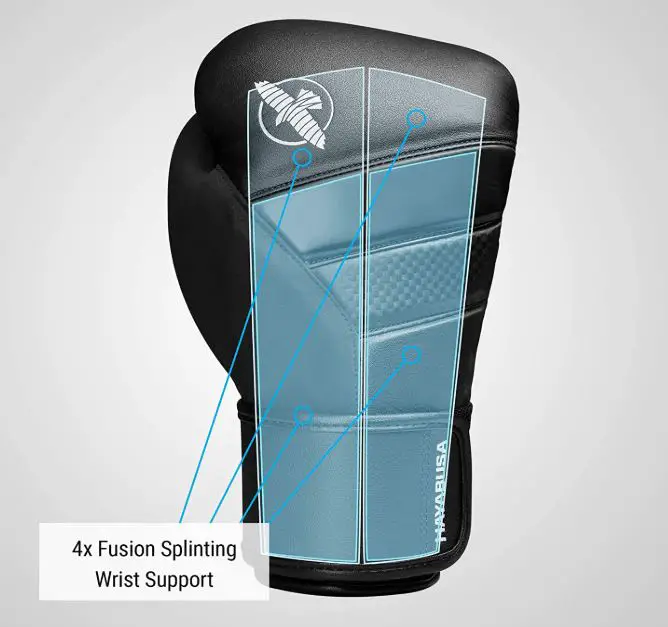 The T3's have all the same features of the more expensive pair, they have a four layer foam structure that allows for greater comfort for you and your partner and they also have an innovative 4x fusion wrist support.
These are handcrafted with synthetic leather and they even have a fabric thumb to wipe sweat off your forehead so it doesn't get in your eyes.
Design and price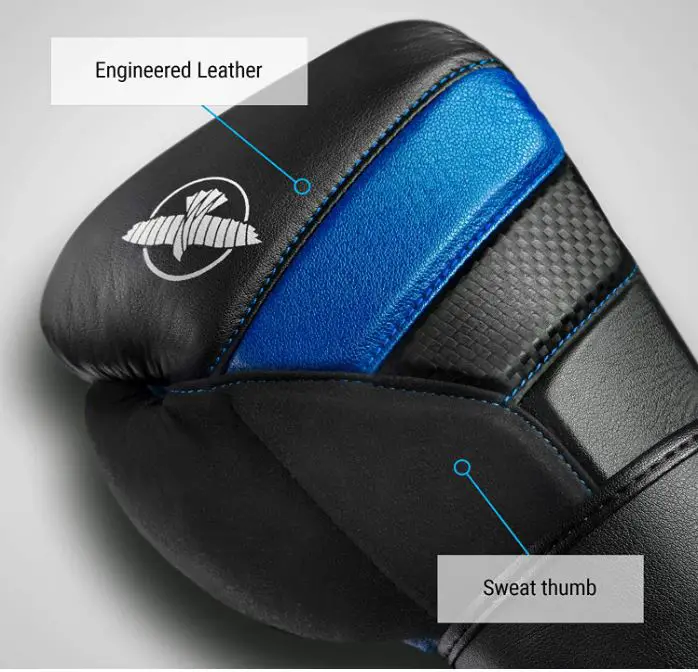 These will still cost you $140 but for a quality design and an excellent pair of gloves so we think that they are a very good purchase.
You've got a dual colour pattern ranging from red and black, to white and pink and to black and blue which is our favorite.
Check Out More Reviews Here:

8 Sanabul battle forged Muay Thai Gloves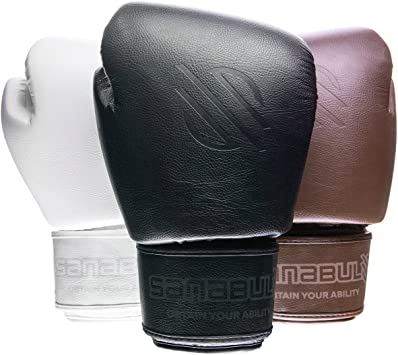 Sanabul have become a major player in martial arts boxing and Muay Thai in recent years will quality gear for competitive prices.
Comfort and padding
These are made with synthetic leather in a traditional Thai shape and you get a snug fit with an adjustable velcro closure that is built for friction free clinch and sparring.
Sanabul gloves are built and tested with pros and you really get good quality in all the sanabul gear that will last a number of years but these only cost $50 compared to $70 plus for the more premium gloves.
The 16 oz gloves are on the cushiony side which your training partners will be happy to know, cushioning any punches that you draw nicely and protecting your hand and wrist as well.
Design and price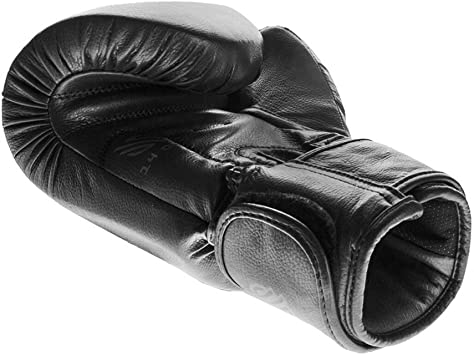 These are nice and simple in design, they have a vintage look and feel with the sanabul logo embossed on the front and on the velcro strapping.
They come in black ,brown and white and they're made of synthetic leather. While you don't get the same quality as the Fairtex, Twins are Top King, they do come across very well and offer a lot of bang for your buck.
Check out the reviews here:

9 Leone 1947 Boxing Gloves Italy Leather Muay Thai Sparring Gloves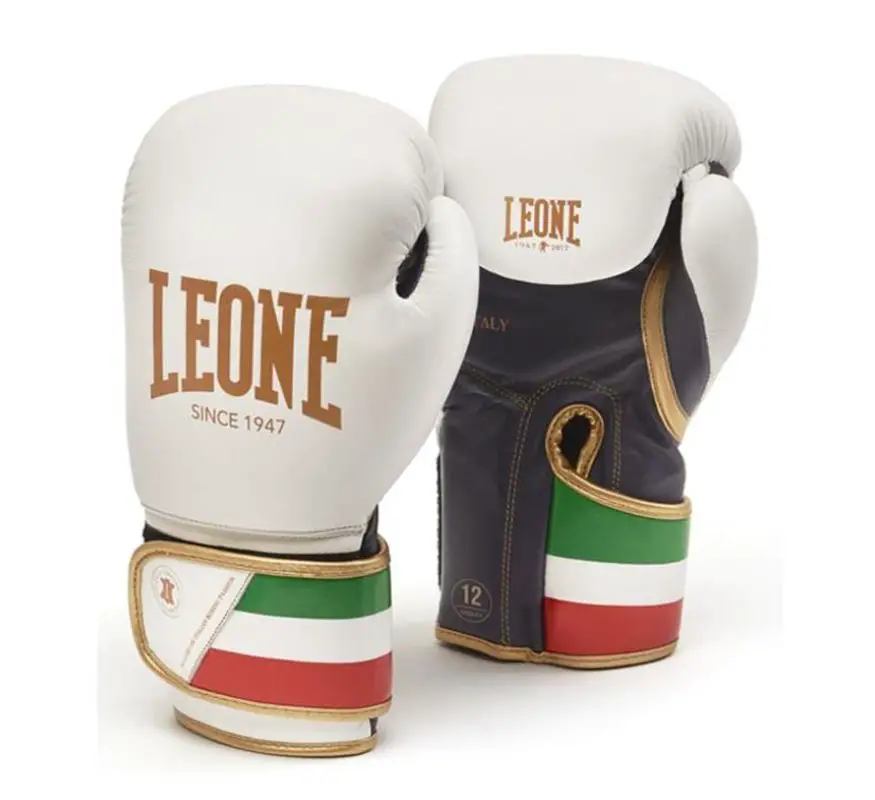 Leone 1947  is one of the most famous brands to come out of Italy when it comes to martial arts gear and we know the high quality that is associated with Italian leather and gear in general.
Comfort and padding
These are made out of premium leather and you get that beautiful smell as soon as you open the package, they are a snug fit and these are on the cushioned side with loads of protection for you and your partner or even when you're hitting the bag of training in the gym.
This is made with buffalo leather and a velcro strap that wraps all the way around the glove making them perfect for sparing and for the Clinch.
Design and price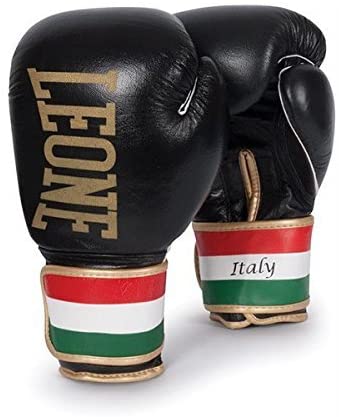 These are reasonably priced for the premium buffalo leather and come in at $77. They are hand made in Italy and Leone is quickly becoming a brand well known for their high quality products.
The gloves come all black or white with Italian flag colours on the velcro strapping and the word Leone runs down the front face of the glove.
These are really beautiful gloves and a pleasure to box with.
Check out more of us here:

10 RDX Muay Thai Sparring Gloves
RDX are good quality brand and besides the muay thai kicking pads, I found all the gear to be really top-notch including these Muay Thai sparring gloves.
Comfort and padding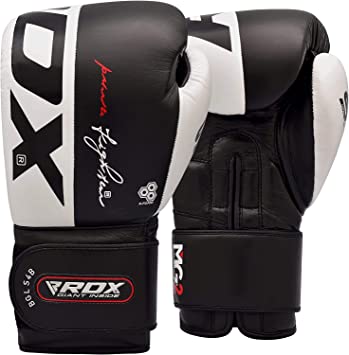 The gloves have been made from authentic cowhide leather and these have plenty of padding in the top in the 16oz version allowing for plenty of protection for you and your partner especially for your hands and wrists.
These have low density Max shock absorption foam that's really nice for sparring and hitting the bags or even the pads.
These are closed with an innovative 'Takka' velcro strap that is a comfortable and secure fit for any fist size.
Design and price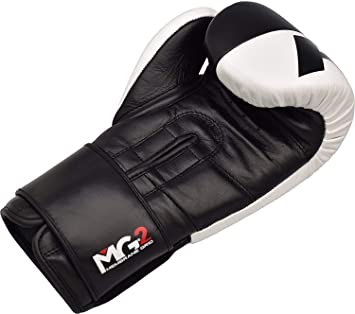 These have a really nice black and white design with red writing and they look and perform like high-end, top quality gloves.
These costs $72 which is good value and  they are really comfortable, good quality gloves that we can't fault in any department.
Check out more reviews here:

Conclusion
Muay Thai sparring gloves come in all different types, styles and designs with different quality and different amounts of padding affecting you and your sparring partners. A good pair of gloves is going to cost you anywhere between $60 and $100 so if you're going to be spending that amount anyway you may as well go with the tried and tested top brands like Fairtex or Twins that are proven to last 5 to 10 year with no issues time and time again.
Go with the handmade Thai brands that are well reviewed and you can't go wrong. Our top pick is the Fairtex Muay Thai sparring gloves.