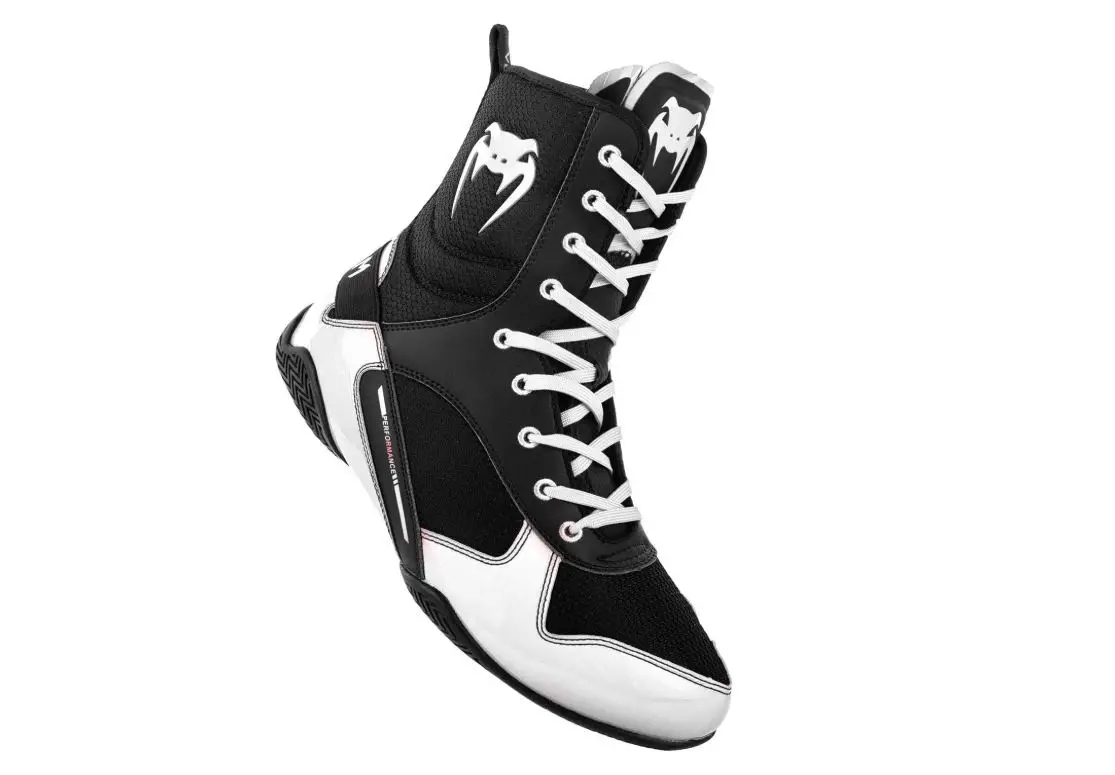 Venum Elite Boxing Shoes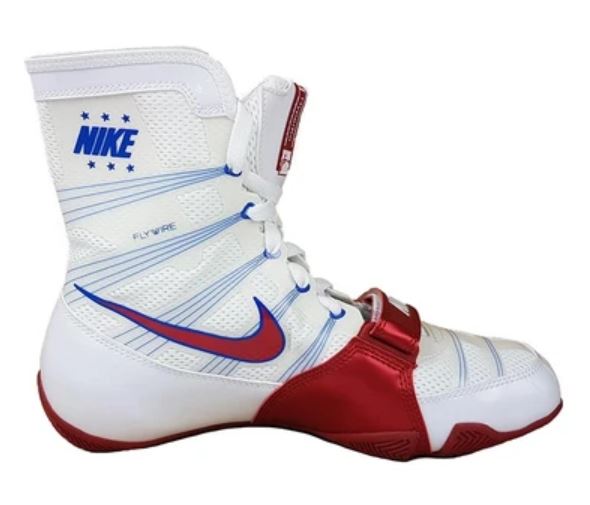 Nike Hyper Ko Boxing Shoes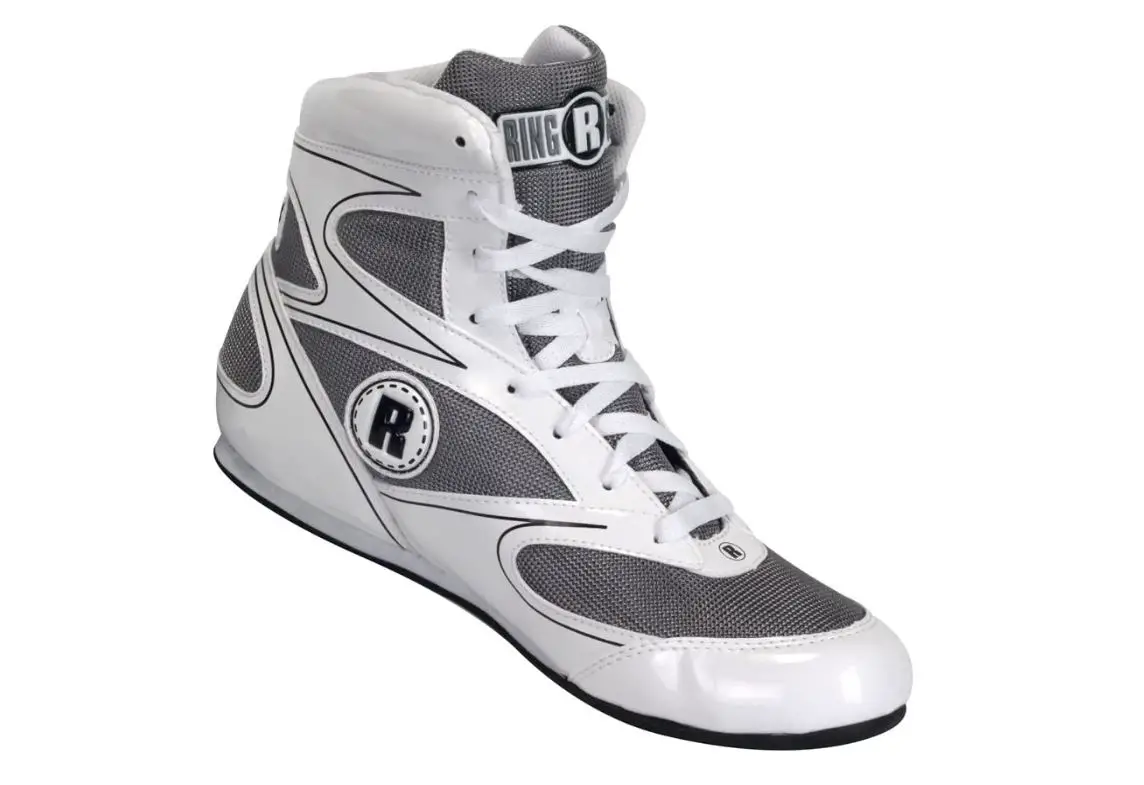 Ringside Diablo Boxing Shoes
If you have just started boxing and the gym is insisting that you get a pair of proper shoes before you go into the ring or if you are just getting better and have decided you want to up your game with the proper footwear, then you are making an excellent choice, once you know boxing is the sport for you, you should immediately be looking to get a pair of quality shoes.
There are plenty different types to choose from, including low-tops, mid tops and high tops and the benefits are endless from feeling the ring better under your feet, moving faster, having more support, being able to sit down on your shots better and finally getting the better of your sparring opponents.
Boxing shoes are often overlooked by beginners, I didn't get my first pair until after I've had my first fight and it's something I regret as they help you to improve a lot quicker at your game.
All the items on this list are good, so don't think it's just the top couple that you could pick from, if you are looking for comfort and value there's plenty on this list to suit everybody, from wide to narrow and flat to high arches, different shoes will suit different feet, body types and boxing styles.
1. Venom Elite Boxing Shoes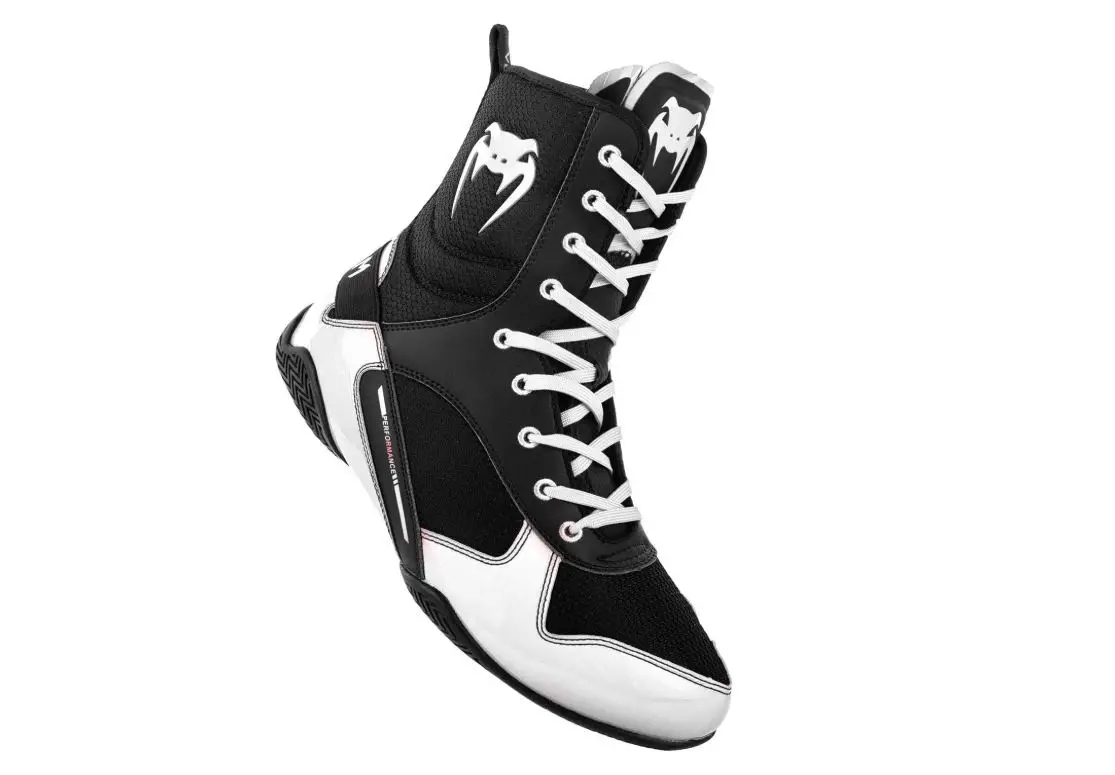 These are the pair that I currently wear and they also sponsor Katie Taylor. Venom are quickly becoming one of my favorite brands in boxing and having tried these out for 6-months I'm very happy to recommend them to others.
Comfort and stability
These are mid tops that offer excellent support to the ankles, they suit my wide feet perfectly and they are low to the ground so I can feel each step on the canvas allowing me to place my feet with precision every time and plant my feet to land and big shots. They're also very light allowing me to move in and out as fast as I possibly can.
Soles and grip
The soles on these are quite flat as is the case with most boxing shoes and the grip is sufficient but not so much so that you can't give it off your hooks with ease. The biggest difference between boxing shoes and running shoes is the feel on the canvas and that they have less grip allowing you to save it and slide around the ring more freely as is the case with the venom elite.
Fitting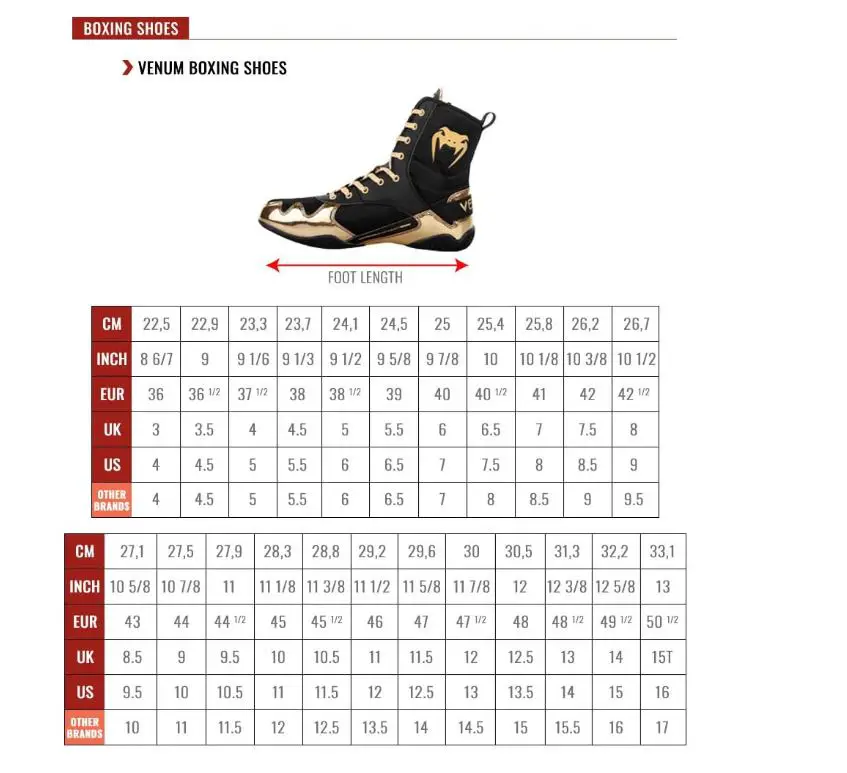 Fitting is one of the key things to get right with this. You need one size less than your regular American shoe size for a tight fit and half a size less for a comfortable loose fit. Don't buy your regular size to avoid disappointment
Design and price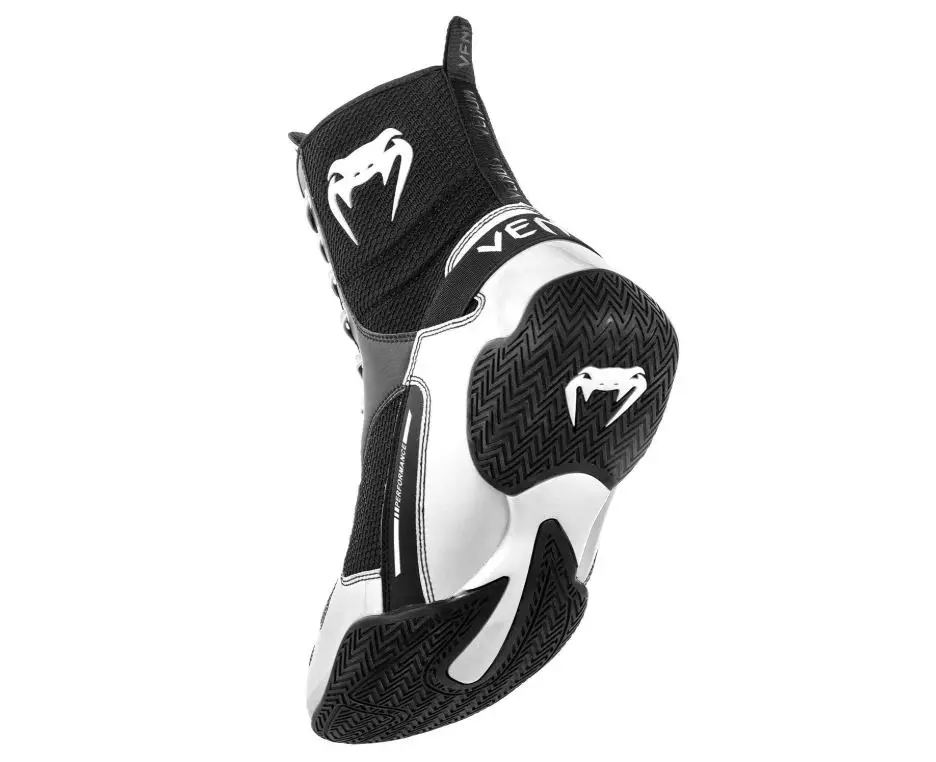 The design on these are quite flashy, becoming red, gold, silver, plain black and black and white. There is a snake printed on them and I wish I could wear these in public I'm sure I would get a lot of attention, it's bad enough in the gym already. Pricewise they are quite expensive but, given the quality I think was a good purchase. The cost around $140.
Check out more reviews get the best price here:

2. Nike Hyper Ko's Boxing Shoes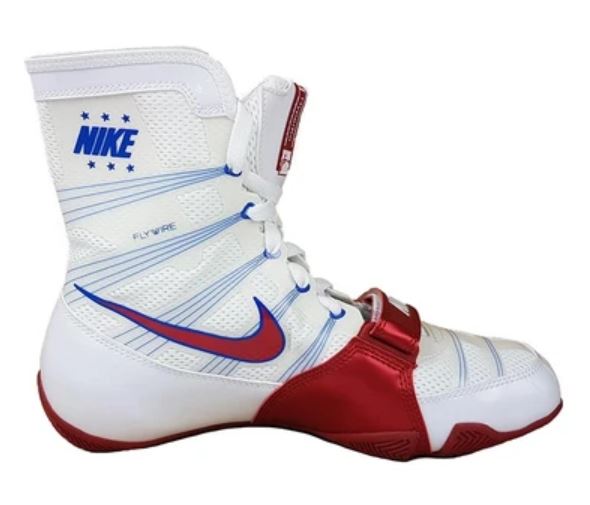 Ok, let's get the premium Choice out of the way, these were made famous by Manny Pacquiao and they need no introduction for seasoned boxers, they're very popular in professional boxing gyms all around the country.
Comfort and stability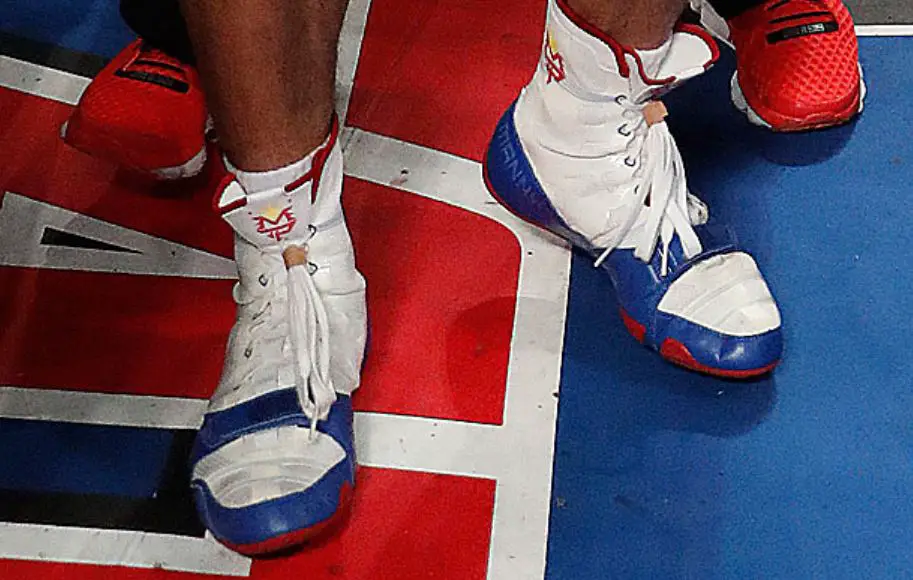 These high tops are amongst the most comfortable boxing shoes available today, they offer perfect support for the ankles, and they allow you to glide around the ring the utmost comfort and support. These way and Incredibly light 300g and the flywire technology makes them feel even lighter. They even come with an extra strap around the front of the foot to ensure a perfect fit.
Soles and grip
Please come with rubber soles that extend up around the back and sides of the boots offering you a lot of traction but you can also pay this effortlessly in the ring. Everything about these shoes is premium and the souls and grip is no different.
Fitting
Nike shoes run true to size so you should be able to buy your regular shoe size in these but remember to check out the sizing guide just to make sure.
Design and price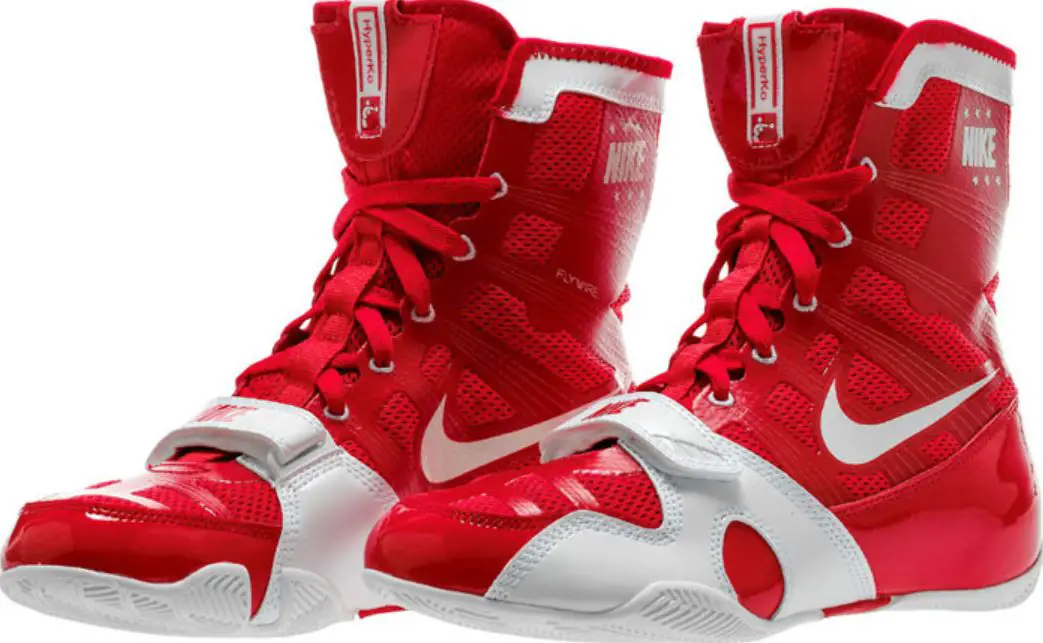 This will set you back upwards of $200 but they are Premium quality and the design is extremely slick, you can get a range of different colors blue and red to white and red to grey and luminous green Manny Pacquiao has made the red and blue, worldwide famous
Check out more reviews get the best price here:

3. Ringside Diablo boxing shoes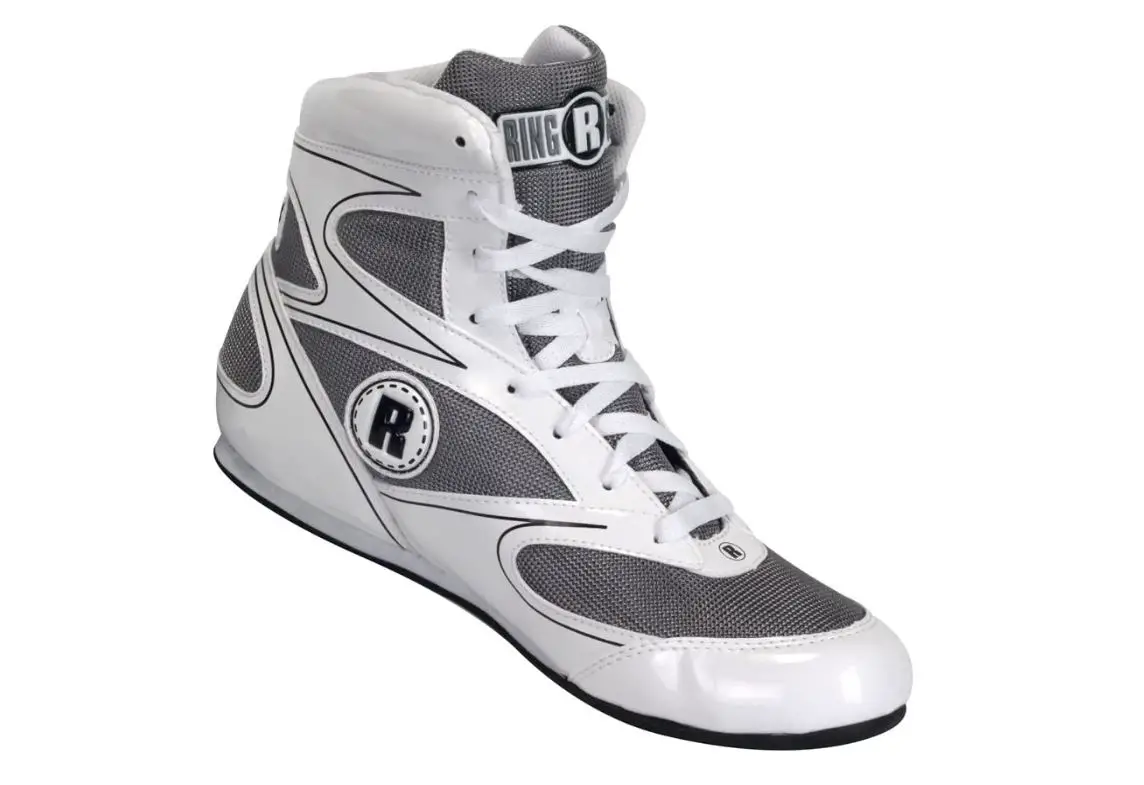 These double as wrestling shoes but they're also perfect for the squared circle. They are light, tight-fitting and they offer excellent support and plus the price is right.
Comfort and stability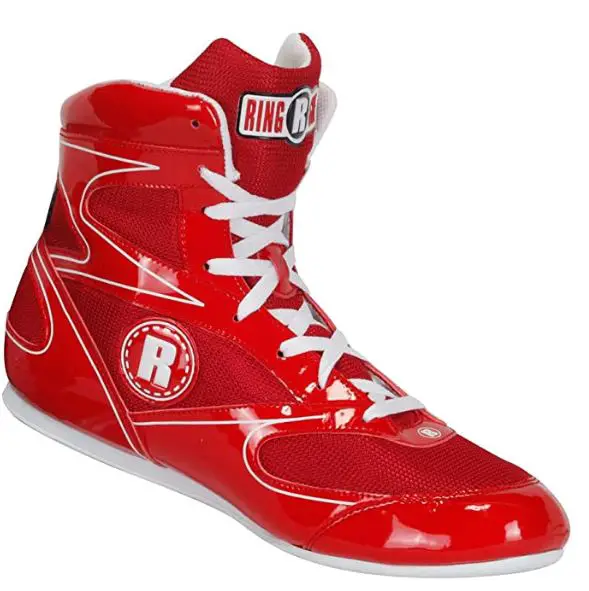 These are high tops with tons of positive reviews, and they also fit like a glove allowing you to glide around the ring. The high top design offers perfect support for your ankles allowing you to move in and out from the target with ease and land your shots.
Grip And Soles
The Diablos are made with durable rubber soles and plenty of grip to suit both wrestling and boxing and you can also pivot effortlessly on the canvas with the lightweight boxing shoes.
Fitting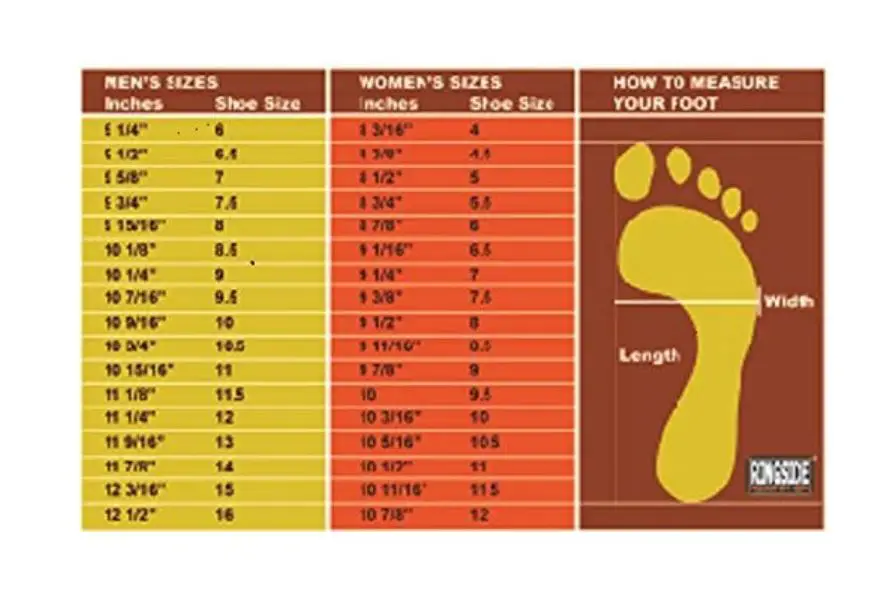 These sizes run small, if you are size 12 in normal running shoes then you should be going for a size 11 in these bad boys as there are quite big for the suggested sizes but always check the size and graft to make sure you're getting the best fit.
Price And Design
The price is right with these there are only $40, they're very well-reviewed, it's a quality brand and they come in just various plain colors, so you can have black red blue yellow or pink. I think the black ones look pretty nice.
Check out 391 Positive reviews here:

4. The Adidas Hog 2 Boxing Shoes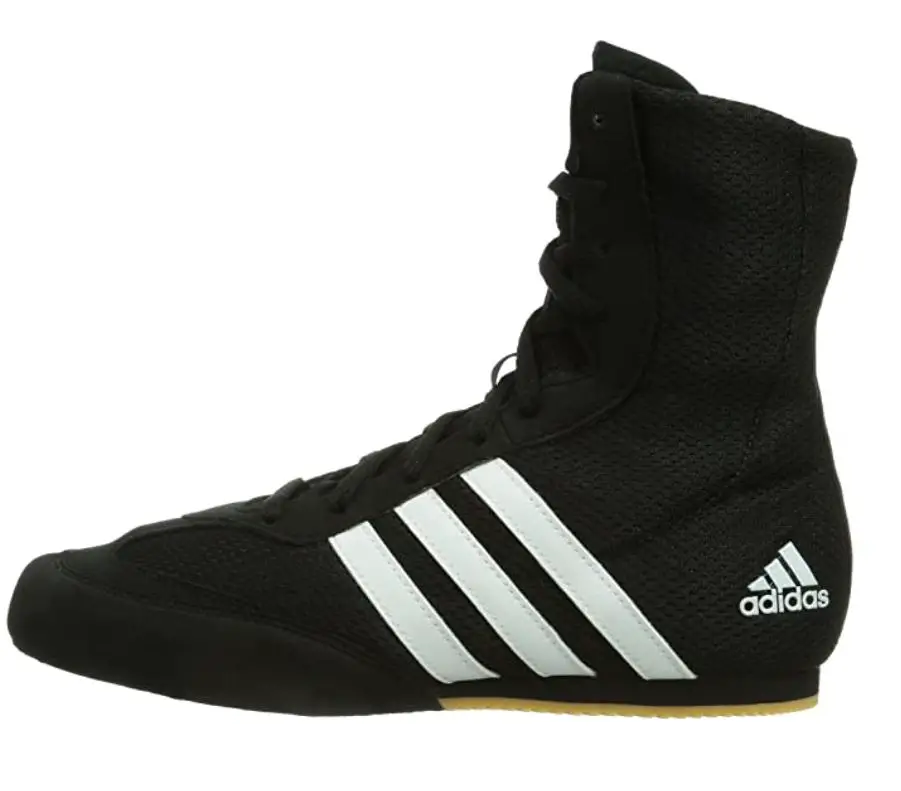 These are quality pair of high tops from Adidas that are highly regarded in the boxing world and very common in gyms all around the country.
Comfort And Stability
When you buy Adidas, you know you can expect good quality and there is no exception here. The high-top sides perfect protection for the ankles can you can bounce off the cushion with these lightweight shoes as easily as any on the market.
Grip and Soles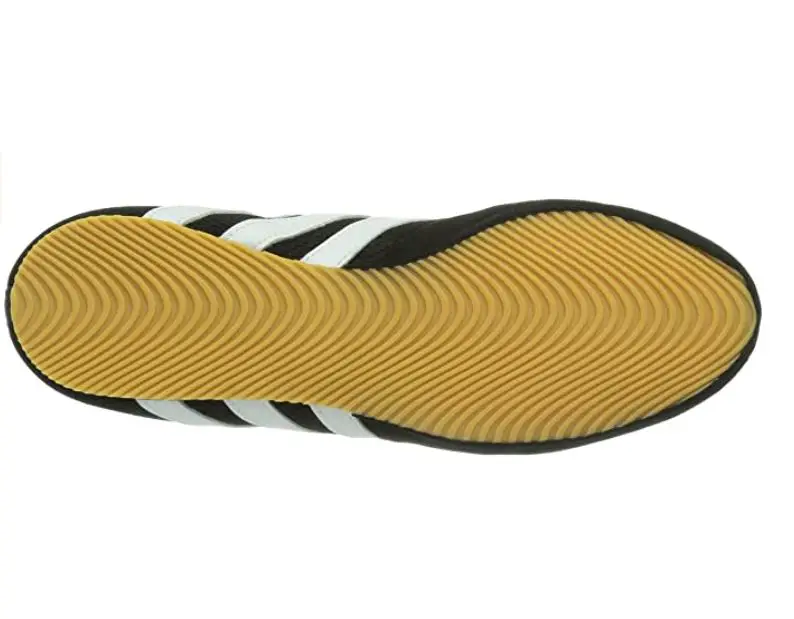 The rubber soles on these offer an advanced grip but also allow you to feel the canvas under your feet for Precision movements. These are flat shoes that allow you to pivot with ease close the range or increase the distance with maximum speed.
Fitting
Adidas are always a small shoe, so you should definitely go up half a size on your regular size when ordering please.
Price and design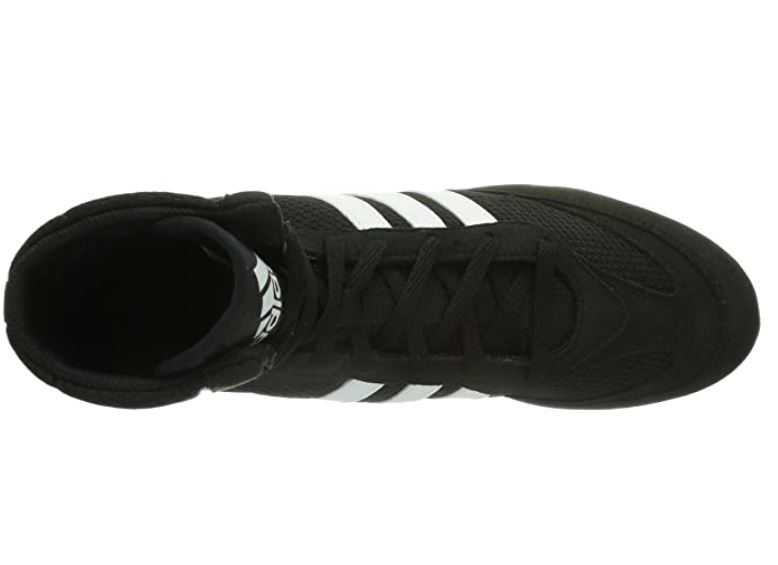 These are plain black but the Adidas branding is always strong so you will be well respected wearing these in any gym around the world. These will set you back around $70 which is very reasonable in today's market.
Check out the positive reviews here:

5. Everlast high-top boxing shoes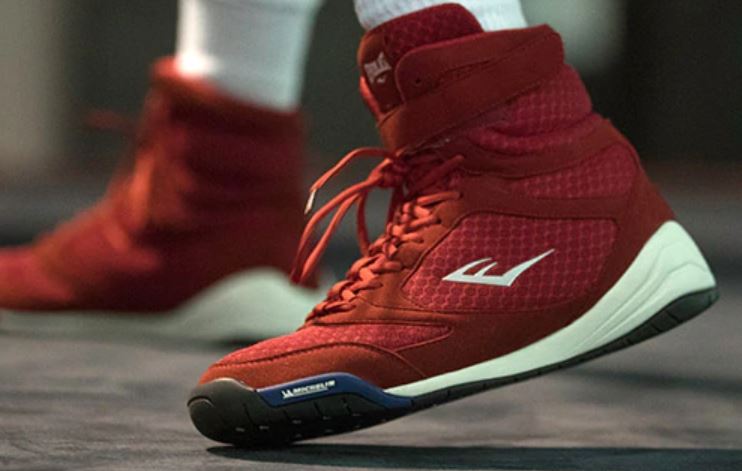 These are a new entrant from a strong boxing brand and the reviews to date have been vastly positive.
Comfort and stability
They look like a running shoe accept they offer that proper ankle support that you need in the boxing ring. They even have an extra strap to make sure that the shoe fits tightly around the ankles.
These might look heavy but they are extremely lightweight and they offer great traction for bouncing around the ring.
They also offer meshing that allows them to be more believable
Soles and Grip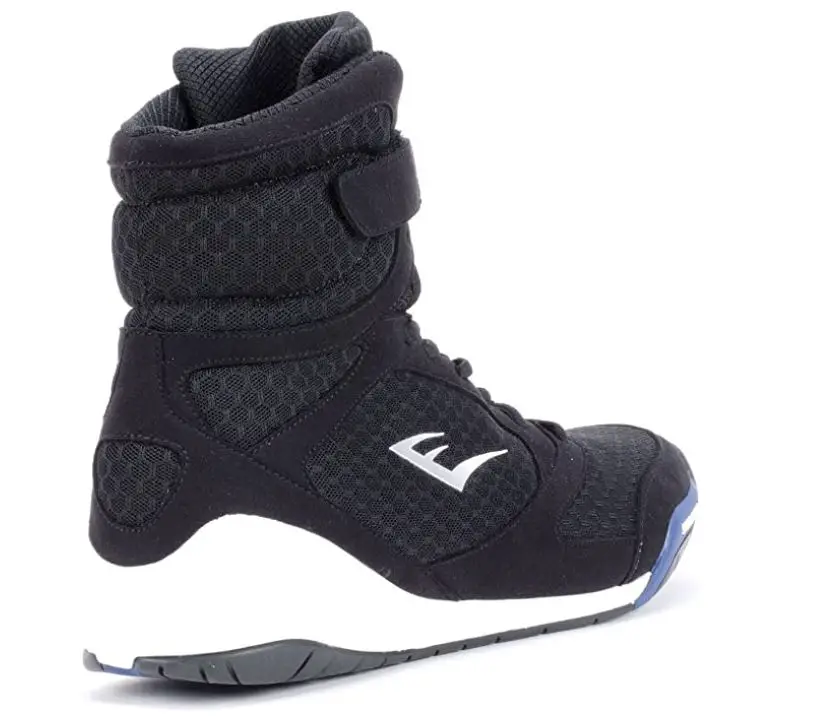 Some people say that after trying these they couldn't go back to any other brand of boxing shoe. You get a rubber hybrid sole that allows you to work in the ring and in the gym. It's also technically designed for maximum traction and the innovative tread design gives you a decent amount of grip on the canvas well allowing you can pivot off after your shots.
Fitting
These ones run a bit small as well so you should order at least half a size up from a regular running shoe size.
Price and design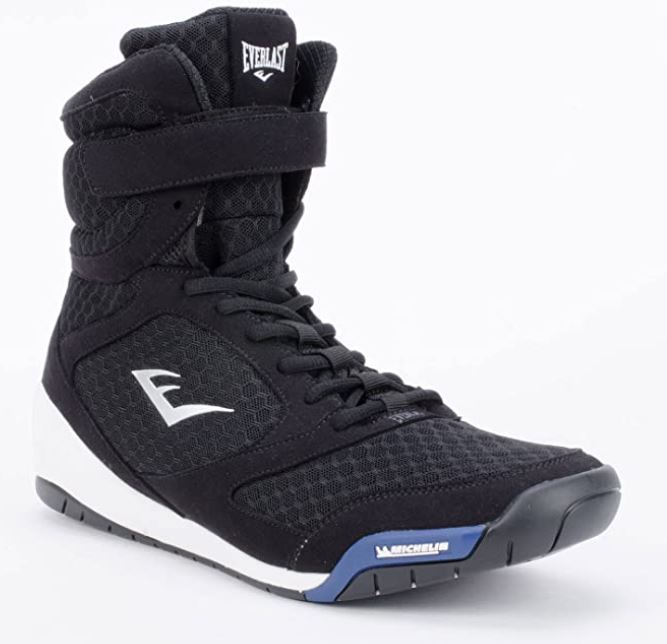 These ones are designed very nicely with a red-blue or black base color and white soles running around the edge. They are slightly curved at the front supporting high arches more readily and these are perfect for wide feet as well. They come in and around $100 which is mid-range for the shoes on this list.
Check out more of you and get the best price here:

6. Reebok men's boxing shoes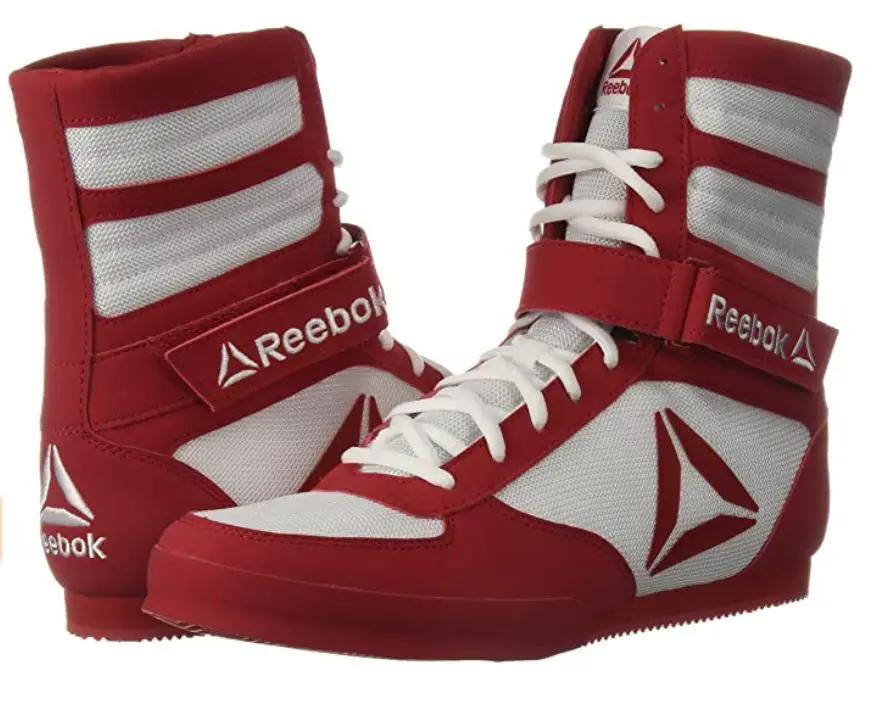 This design has been made world-famous by Floyd Mayweather and these are his shoes of choice. These tick all the boxes we are looking for in a high-end boxing shoe.
Comfort and stability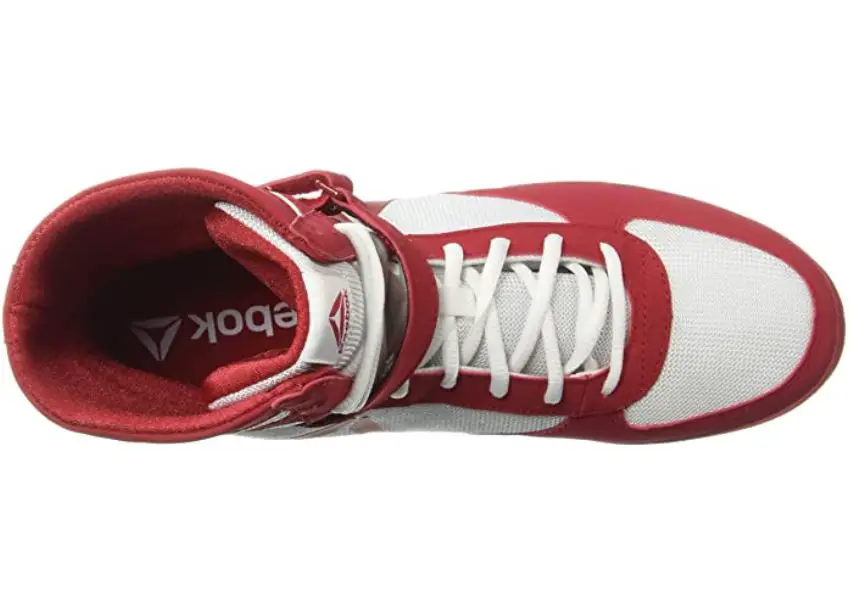 Reebok have left no stone unturned with the design of these shoes making them fit for a champion like Floyd. The high tops offer perfect stability for the ankles and there is even an extra strap that you can tie on.
They are slightly arched and the cushioning on the sole provides an excellent feel and respnsiveness on the canvas as you put it around you can plant your feet easily to let your punches go. These are also made for narrow feet you might consider going with something else like the venom elites.
The design is made from leather and textiles which gives a durable finish.
Soles and Grip
The souls of these are slightly arched at the front supporting feet with high arches and the soles have some extra cushion in them that makes them extra comfortable as you move around the ring.
These pivot well and the group of spot on so that you don't slip over and fall. These also look kinda heavy but they are extremely light and nimble in reality.
Fitting
The reeboks are true to size so if you are a size 12 then order a size 12. Just remember that these suit more narrow feet.
Price and design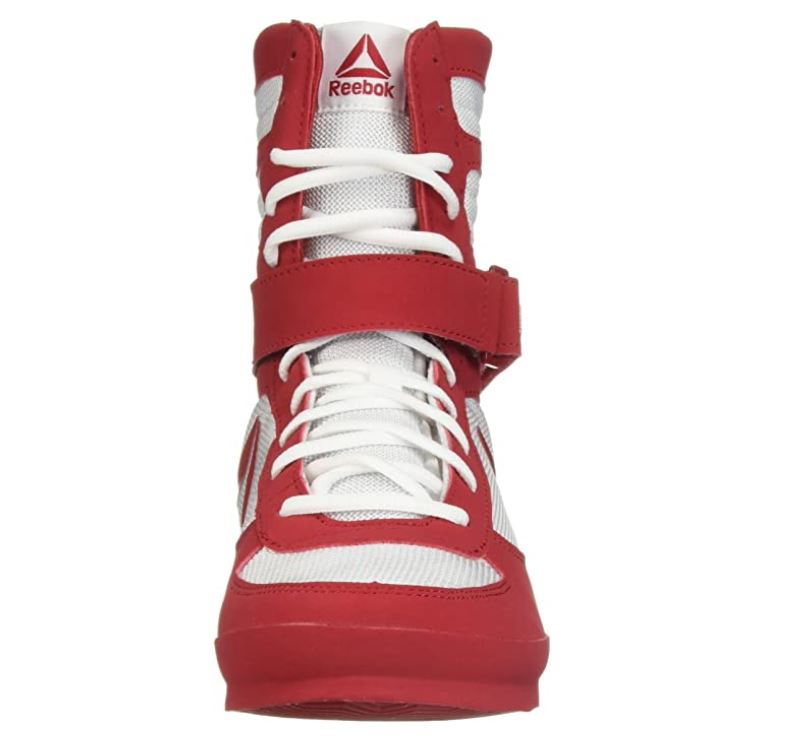 These are priced reasonably enough at $120 and the design is one of the most recognizable in any gym around the world because of their affiliation with Floyd Mayweather for so many years what has been the most famous boxer around for a long time. Becoming plenty of different colors from plain Black to Silver, to red and red and blue and these are a really great shoe.
Check the reviews out for yourself at Amazon:

7. Lonsdale contender boxing shoes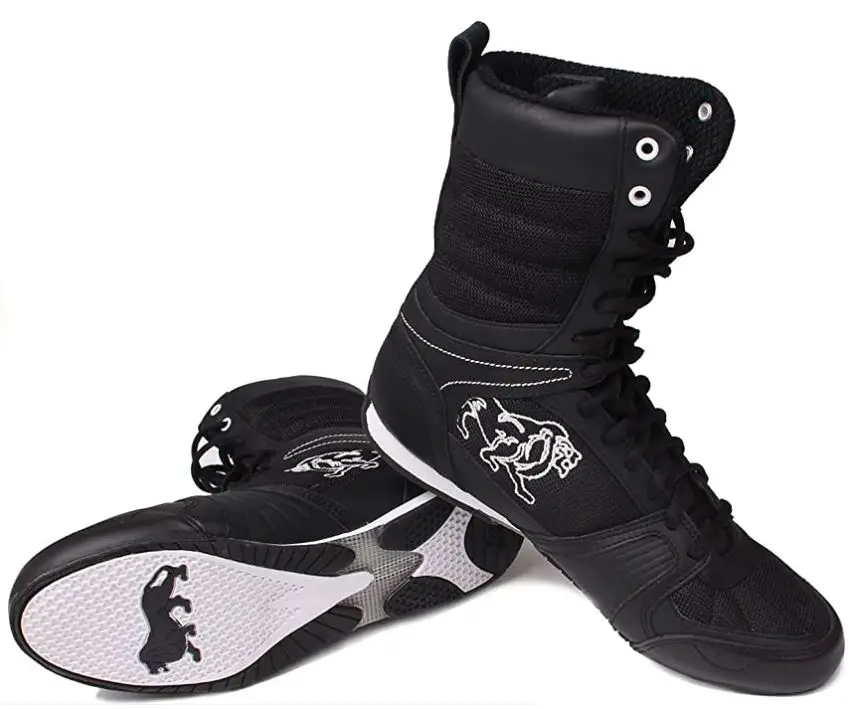 Lonsdale are a well-known brand in the boxing world, especially in the UK and these high top shoes offer a great combination of quality and value to the market.
Comfort and stability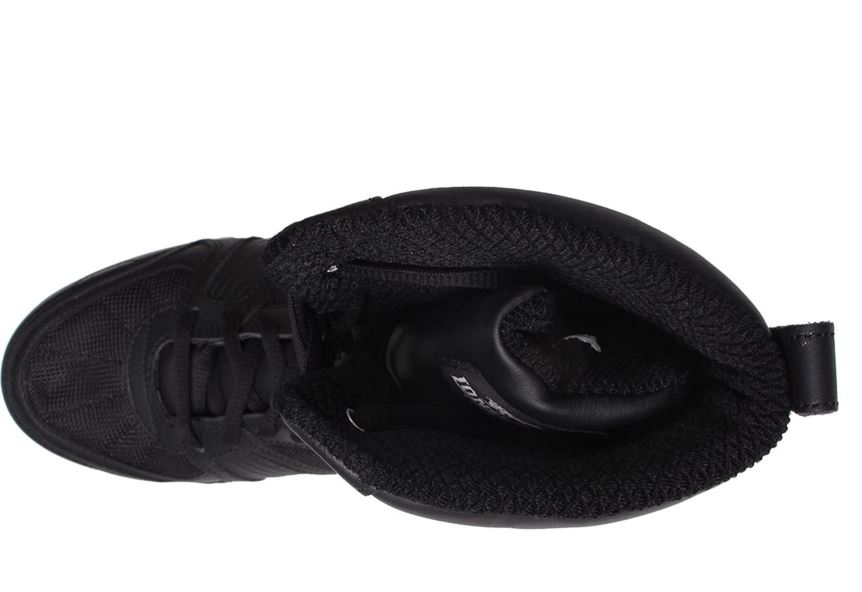 These high tops replacing all the way up to ensure a tight and snug fit and the offer a padded, quilted ankle collar to ensure sufficient stability. They are lightweight are on once you break them in they offer a tonne of comfort.
Grip and soles
The soles on these are flat without too much padding and they're responsive against the ring as you push off and move around with ease.
The gripping is superior and it still allows you to prove it at will and let your shots go.
Fitting
Order the same size as your regular shoes in these and you'll be very happy with the comfort they provide.
Design and price
The design is rather plain, they are black with the trademark Lonsdale lion on the side and they look pretty damn good. The price is also excellent at these they come in at $70 so be sure to check them out.
Check out some more reviews here:

8. Everlast PIVT Low Top Boxing Shoes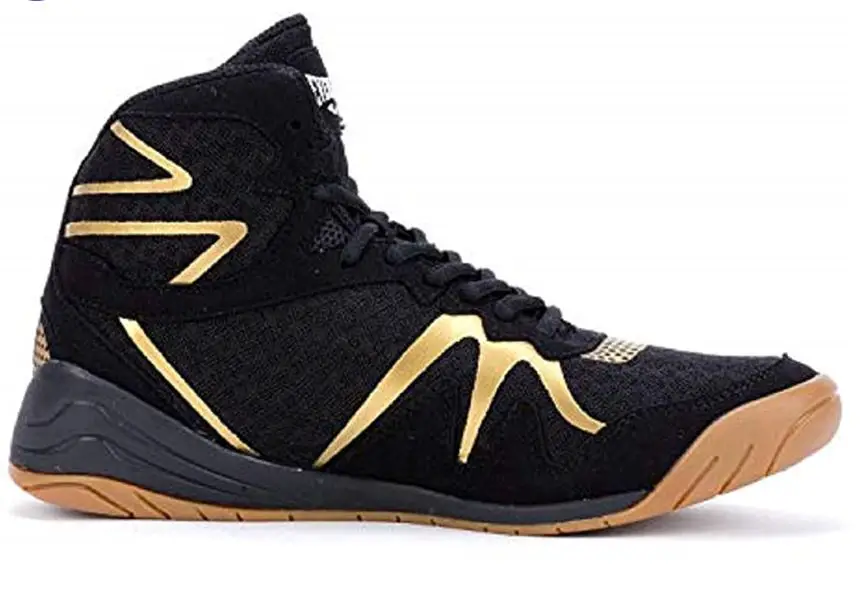 Very similar to the high top everlast shoes, the pivot low top boxing shoes are lightweight and comfortable offering quality stability and allowing you to move effortlessly around the ring to.
These can double as shoes used in the gym I never left has done well to reduce the stylish pair of black and gold boxing shoes for under $90.
Check out some reviews here:

9. Title Predator 2 boxing shoes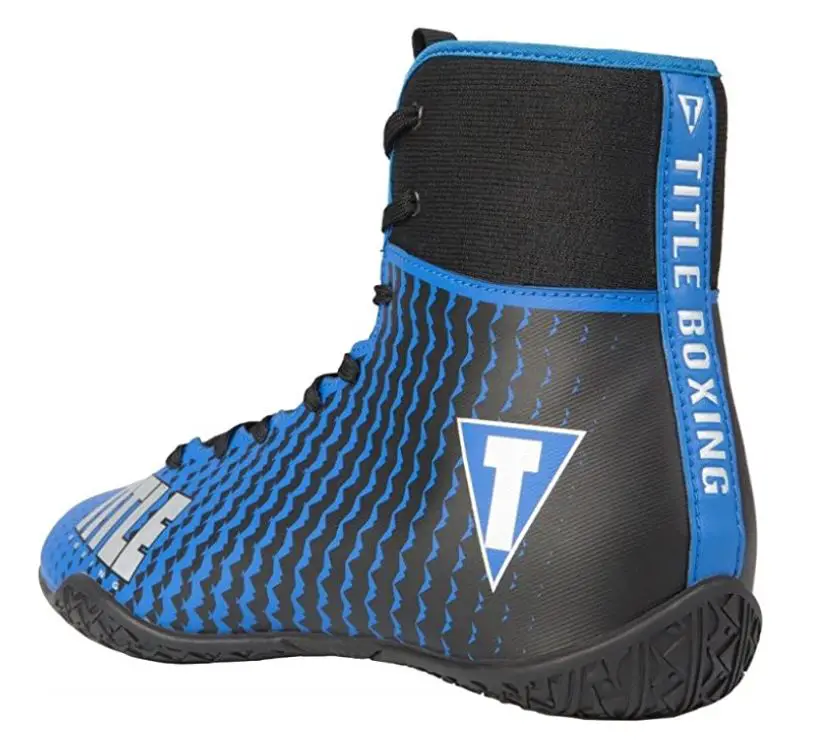 These are stylish and lightweight low top shoes and the comfort ankle supports of a great stability as you move around the ring.
They are well priced at $90 and they come in three different colors blue, red and black.
The flexible gum rubber under sole provides great traction on the canvas and allows you to feel each step up position and the main selling point of these shoes is that they are extremely lightweight coming in at 10 oz.
They have tons of good reviews so make sure to check them out yourself.
Get the best price here:

10. Adidas Hog 3 Boxing Shoe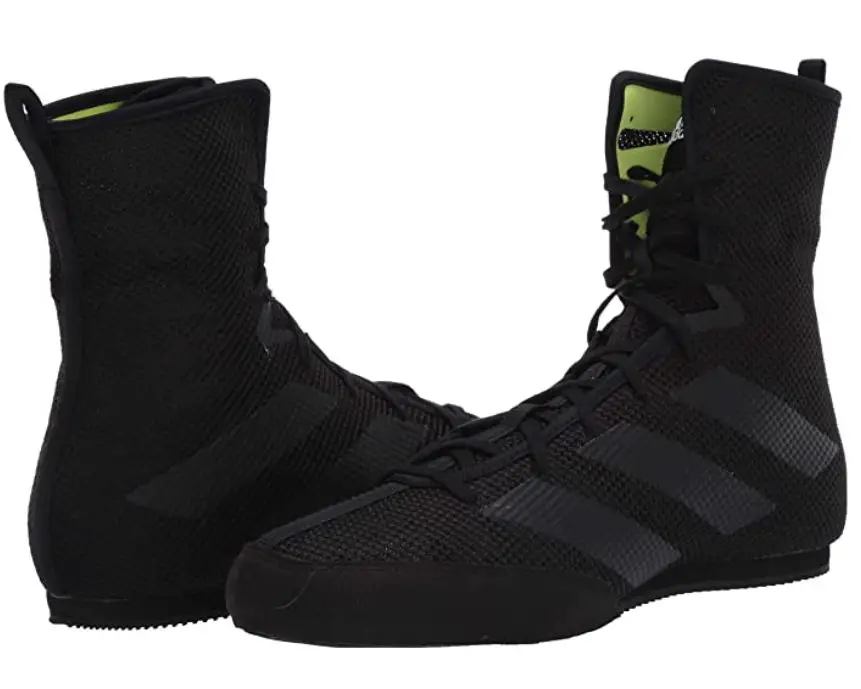 Very similar to the Hog 2, the shoes offer comfort, stability, speed and maneuverability in the ring in abundance.
They are high tops with laces securing a tight fit and the rubber soles allow you to bounce effortlessly around the ring with speed and precision.
The designer similar to hog 2, accept the Adidas stripes referred in more the design rather than standing out as white and these are from the Innovations that Adidas have developed over the years in one shoe.
They come in at around $80 can I see these shoes around the boxing gyms all the time.
They have got nothing but positive feedback the day so make sure to check them out for yourself.
Get the best price here:

Many of the shoes on this list or an excellent choice so go through them all do your research and pick what is the best option for you.
Let us know in the comments how you get on.